When Dr. Mar Doering first applied to the University of Missouri's college of veterinary medicine, being a veterinarian and a woman was unheard of. Doering always knew she wanted to work with animals and remembers being a little four-year-old girl with a big dream. As she got older, people kept telling her a woman couldn't be a veterinarian. These words did not discourage Doering but only made her determined to prove them wrong. Now, after treating and training thousands of animals over her career, Doering is about to celebrate owning her own practice, All Paws Medical and Behavioral Center in Holts Summit, for 40 years this August.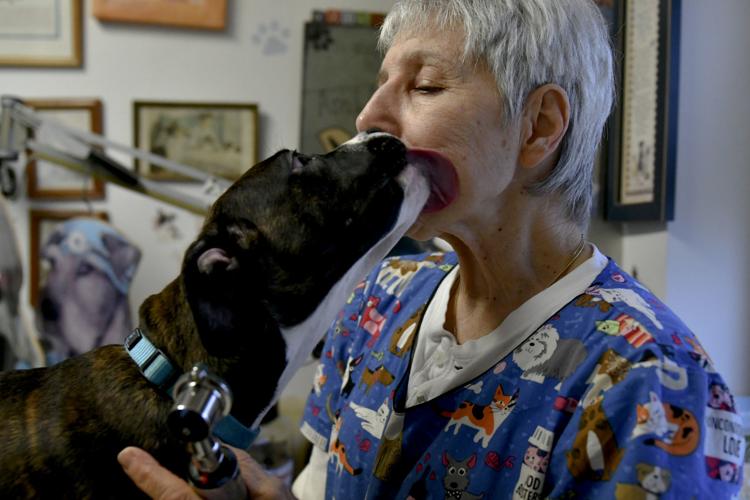 "I've had many dreams, and luckily, so far they've all come true," Doering says. "But one of my dreams was to do animal behavior, specifically dog and cat behavior. I spent years trying to learn as much as I could about communicating with animals on their own level, but also years trying to figure out how I could do it to the best of my ability."
This training has paid off, according to longtime client Michelle Yahnig. Yahnig and her husband have been loyal clients since the '80s and says Doering has helped them through countless ups and downs. "She is absolutely the most caring vet I have ever worked with," Yahnig says. "They say animals can always tell when someone likes or doesn't like them, and my dogs absolutely love to see her. They are so happy to be there." Yahnig visits Doering at least once a week to pick up prescriptions for one of her dogs. "At this point, she is part of my family," she says.
Doering recognizes her talent when it comes to communicating with animals and their owners, but it wasn't always easy. In fact, she remembers a time when she found it much easier to communicate with the animals she cared for than with the people.
A birthday surprise
Doering was a longtime fan of dog trainer Cesar Millan when he was still an up-and-coming celebrity. Millan is known for doing the same type of work as Doering on his National Geographic Channel TV show, The Dog Whisperer. Doering says she believed that Millan would understand the one problem she was still struggling with — connecting to people.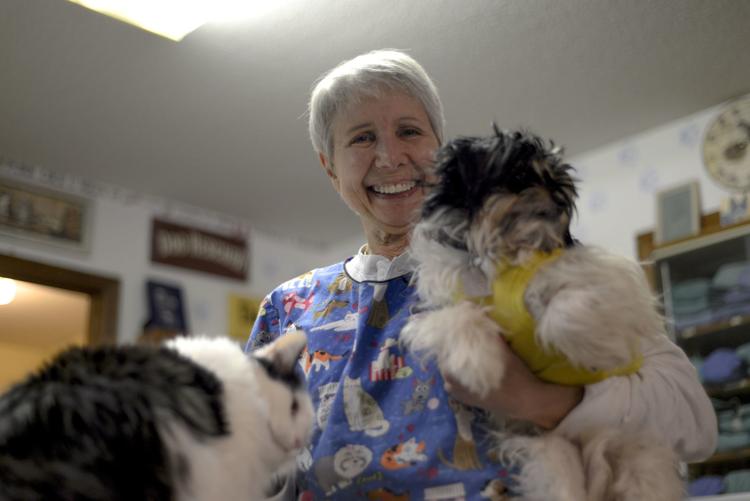 Doering recalls watching his show with her husband, Dave, and thinking, "If I had a week with Millan, I think I could better understand how to continue helping animals' behavior and not just their obedience training, but help people understand their animals."
To her surprise, he contacted Millan's team in 2006 and coordinated a birthday trip where Doering could learn first-hand from her idol. The next thing she knew, she was flying to Los Angeles to spend a week with the dog whisperer.
"It's not that he taught me animal behavior; I've been studying that for years," Doering says. "It was what he did for me in just one single day. He taught me that I needed to learn more about myself and how I could work differently with people, how their emotional states affected the animals."
Back to work
Doering came back to Missouri and started volunteering with Puppies For Parole, in which selected offenders in Missouri prisons have the opportunity to train rescue dogs.
"It was the most beautiful thing," Doering says. "I wish everybody could see it and understand how amazing the human-animal bond really is." She helped write the Puppies For Parole manual that is used in correctional facilities statewide.
As her clinic's anniversary approaches, Doering says that it has been a gift to work with animals every day over the past 40 years, one that will hopefully keep on giving. 
Related Stories