You'll recognize it by the weathervane chicken on a neon sign, the one hanging above North Ninth Street. More than 60 years since its inception, the name on that sign is still instantly recognizable to locals. It's as much a downtown staple as Booches Billiard Hall or The Blue Note. Without even reading the name, it's surely popped into your head: Dryer's Shoe Store.
Justin Riley, the store's current owner, is part of the third generation to take over the family business. Riley's grandfather started the shop when he was 20 years old, and it's been passed down from parent to child ever since. "My grandfather used to pay me for lacing up work boots — like a dime a pair — when I was like 10 or 11," Riley says. "For me, here, it feels like home."
Riley only left for about three years to try a different career before he returned to his roots. He says Dryer's is the right place for him; it feels natural working in the store. "It's such a neat legacy in Columbia," he says. "To continue it on … it's just the right thing to do."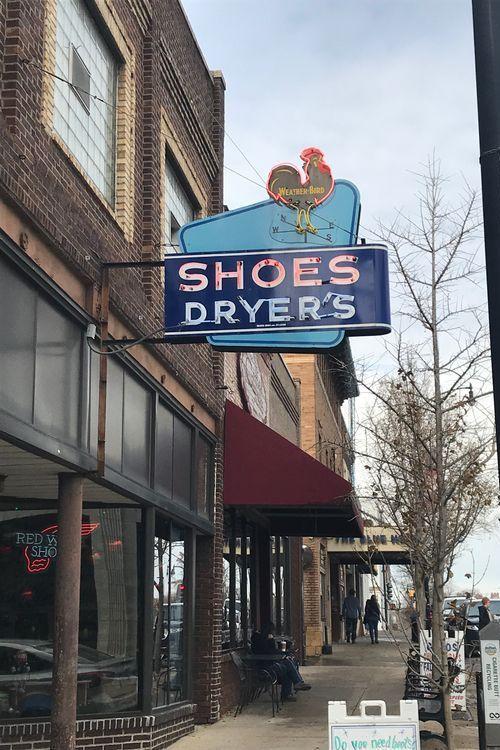 Customers of the store agree wholeheartedly. Manager Amy Briscoe says employees receive numerous compliments in-store from patrons impressed with their products. "One person at least every day is walking out super happy because of happy feet," she says.
Riley says one customer, in particular, left a big impact on him. She had a large foot size and braces on her legs, and she was unable to find shoes that fit. Until experiencing Dryer's service, she'd worn only men's shoes for years. "She came in here, we helped her, and it was so good of an experience that we provided her with that she left with tears in her eyes," Riley says. "She said we changed her life. I don't know if it was that much, but we really gave her a lot of abilities back just with her footwear. She was a friend for years for us."
Dryer's extensive customer service is what keeps people coming back. Riley explains that they do consultations with each customer: They'll measure feet, put the shoes on customers and make sure to find a pair that matches each person's lifestyle and preferences. "It's a sit and fit, which is an old school phrase, but that's what we are," Briscoe says. "We're a mom and pop sit-and-fit shoe store, and they're so hard to find anymore." 
Riley says that he'd rather a customer return multiple times before making a purchase than initially buy the wrong shoes. "We don't believe in selling shoes for the sake of selling shoes," he says. "We want people to have what we feel is correct for them and what they want." This has become easier in recent years as traditionally comfortable shoe brands make more fashionable styles. They've seen this compromise increase in the past 20 years as brands become more health-focused. That's why Birkenstocks are doing so well, Briscoe says. At Dryer's, the employees have been promoting both functionality and fashion. "Your feet will get spoiled, but that's not a bad thing," Briscoe says. "It's a good thing."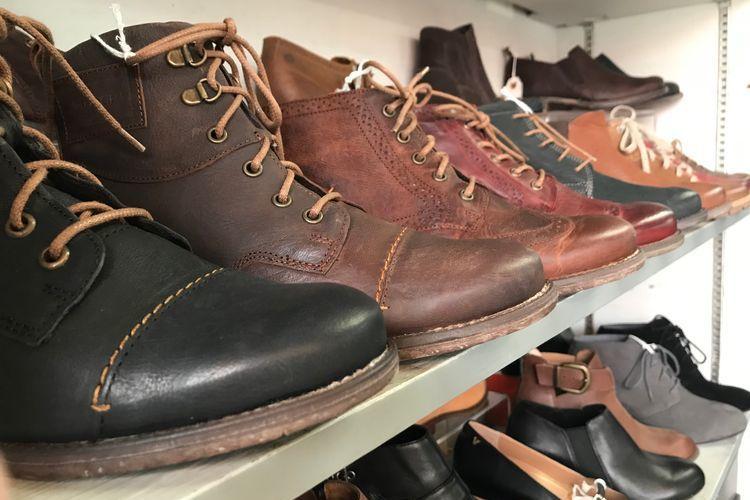 Although Dryer's customer service has always been consistent, they've been working on technologically updating the store. Riley says that when he took over, he started utilizing social media to expand the company's reach. Dryer's also has advertised on the radio over the past few years. "We feature a lot more new products online," Briscoe says. "I think the online has helped get us back repeat business." In addition to exploring advertising platforms, Riley says they also hope to update their checkout register. "Believe it or not, we still handwrite our tickets," he says. "We want to go to a computerized system."
Don't worry about too much change, though — Dryer's stands by its motto of comfortable footwear above all else. "When we look at products or lines, we check out the support, we check out the comfort, and if it doesn't have it — no matter how great it might look — we don't carry it," Riley says. The employees of Dryer's want to provide Columbia with the best footwear experience they can, and in return the community supports the small local business.
"It's good for them, it's good for us, and it's good for the service," Riley says.