I first learned about the idea of America being a "melting pot" in a social studies class in elementary school.
It's a nice sentiment, to be sure, but the reality of America is more complex. If we must stick with kitchen metaphors, I'd compare America to an uncooked stew: a mix of chunky ingredients, not quite harmonious but with the potential to combine its unique flavors to create a wonderful whole. It's messy; it's full of mistakes. There's rampant inequity everywhere you look.
If we're all in this country together, I'd say that many of us look forward with a kind of tunnel vision. We struggle with concepts like intersectionality and privilege and lose all sense of nuance, especially on issues of race.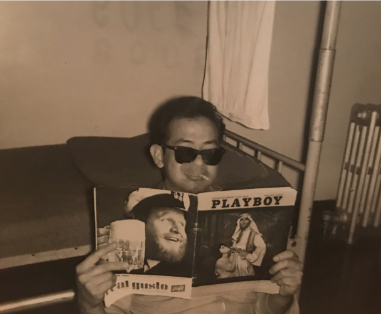 My grandparents view race differently than I do. They grew up in a country where race wasn't the important identifier that it is here. In the Philippines, divisions are more often formed because of political or religious disagreements. Despite having been in America in the wake of the Civil Rights Movement, they view themselves as separated from it. They don't deny racism's existence, but it isn't something they have much to say about, to my surprise.
"What do you think the American Dream is?" I ask my grandparents.
Yes, it's a loaded question.
"After you work so hard for so many years, then you can gather the fruits of your accomplishments for all your hard work," Grandpa answers. "That means no more mortgage because you've paid off your house, no more car note, and no more job."
I think of the fact that I'm deep in student-loan debt for the next decade or so of my life, of the woeful financial outlook for my generation. I think of how I wonder if I'll be able to retire.
"Has that vision changed?" I ask.
"No, it hasn't changed."
"When you get a good education, you find a good job," Grandma adds.
I can't blame them. They accomplished it after all.
I started thinking about their story after a chance find on Thanksgiving Day 2018. The photograph would have been easy to miss. Its colors have long since faded, leaving the whites a pale yellow and the blacks a muted brown. On the top of the photograph is the caption "Jun 65," the year and month that the United States enacted the Immigration and Nationality Act of 1965, which radically changed the landscape for immigration, more than quadrupling the number of migrants to the United States in the five years following its passing.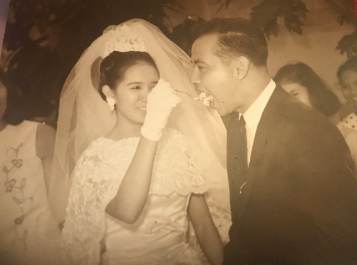 The posed portrait sits on a shelf of my grandparents' study. I was struck by the image of this young couple, years away from traveling 8,636 miles from the Philippines to Virginia, the first in a long list of states they'd live in as a military family. Staring at that photo of my grandparents, I realized I knew little about that journey. I wondered, "Who were they then?"
Perhaps if I knew their story, I could find some wisdom to carry me into my next chapter, I thought. I could move forward by working backward.
This is an American story.
It's also a Filipino story.
It's a March afternoon in 1965. The weather in Cabuyao, Laguna, is hot and humid, as it always is in the Philippines.
Myrna Masim, 23, is a busy woman; teaching at a school in Pulo, Cabuyao, while also helping her mother at her family's gift shop and corner store.
She's celebrating the Pabása ng Pasyón, a Catholic ritual during Holy Week, at a lunch party thrown by the president of the PTA, Felipe Velasquez. David, one of Velasquez's sons, stands before her and her coworkers, holding a film camera. His father had asked him to take pictures of the teachers.
David snaps a few shots of the group, then clears his throat.
"Can I take a picture of the girl fourth from the left?" he requests. "Just her."
The women instantly begin counting off, trying to figure out who's been singled out by the handsome sailor who's in town on leave for a few short months.
"It's you!" one of Myrna's co-teachers says excitedly, poking her in the arm.
"Come on, Miss Masim," her principal says with a coy smile. "Mr. Velasquez wants to take your picture. Be a good sport."
She follows David outside, to a garden near the house's outer brick wall.
"Can you smile?" David requests.
He is not her type. She could never imagine herself with a sailor, especially one for the U.S. Navy. Why should she put any stock in this one, winning smile aside?
"You'll have to see me again," he says. "So I can show you the pictures."
Something begins.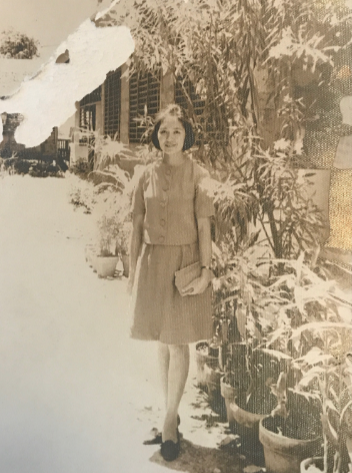 My grandparents, David and Myrna, came to America in 1970 with two of their three children, one being my father. My uncle remained behind in the Philippines with my grandma's family until he was old enough to travel and the family was grounded enough to support three kids.
Philadelphia is where they truly made a home for themselves. It's the city my grandma claims as the favorite place they've lived, where my dad and his siblings spent their formative years. It's where they were as citizens.
Adjusting to the United States was made easier with new friendships and, quite simply, time.
"When I was in the Navy, I met all sorts of people," my grandpa says. "I learned from them, and they learned from me."
"What connects you to your roots?" I ask my grandparents. "How do you go back to your childhood or remember the Philippines?"
Nothing, really, my grandpa responds. I blink, surprised.
"We sort of adapt to the environment, we can adapt to people, we can adapt to new friends," he says. To them, their roots transcend location. Staying true to their roots meant family; it meant raising their kids the way their parents had raised them.
When I was in kindergarten and at the peak of my Mulan obsession, I told my classmates that I was born on the Great Wall of China (to be clear, I was not). The other children assumed that meant I was Chinese, so I trusted them and adopted "Chinese" as my identity. When I got home from school that day, I was shocked to discover that no, I was not Chinese, but something else: Filipino.
There have been many moments in my life where I've struggled with my sense of identity as not just a biracial woman, but as a second-generation immigrant. I was born and raised in Memphis, Tennessee. I am an American citizen and have a college education. I am half white, though no one would ever mistake me for anything but an Asian woman.
My struggle is not unique. Sociologist Diane L. Wolf published a study in a 1997 Sociological Perspectives journal about the conflicts Filipino youth in the United States face. "Many Filipino second generation youth struggle with an emotional transnationalism which situates them between different and often conflicting generational and locational points of reference," Wolf wrote. In other words, we're pulled in a lot of different directions.
I am proud to be Filipino. I think the culture, with its sense of hospitality, love and family, is one of the most beautiful things in the world. But many times in my life, I have hesitated to claim it.
The recent American political climate inspired me to embrace my immigrant roots. The dialogue surrounding immigration has shifted drastically; so many people are eager to define what a real American looks like and who can call themselves one.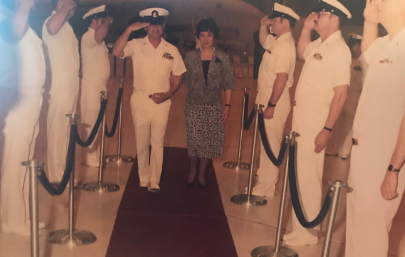 A 2001 study by Princeton University found that political engagement in immigrant generations spiked with the anti-immigrant legislation being passed in post-9/11 America. Perhaps, this is part of why I find myself embracing this element of my identity with the kind of fervor I withheld in the past.
My grandparents are examples of everything America can be. They worked hard, made life-long bonds, and created opportunities for their family to succeed.
Near the end of our talk, I ask my grandparents what their hopes were for their children.
"I hoped they could think for themselves," Grandpa replies.
"We didn't have too much money," Grandma says, "But we gave [our children] a good education. Watching them growing up, getting married and watching their marriages working… and then seeing our first grandchild who's growing up and has a boyfriend now…"
I cut her off there, but I appreciated the sentiment.
"We're very blessed," she finishes, winking at me.
The American Dream looks different now than when my grandparents first set foot in this country. There's something to be said about whether the American Dream exists at all for my generation.
"What do you hope for my generation?" I ask my grandparents. "Because we live in a different world."
"We hope you are ready to tackle what's here for you," Grandpa says. "Whatever you want, you should achieve it through hard work, education and effort. You cannot just hope for it, you have to work for it."
I can definitely tell that they raised my dad. He always pushes me to be the hardest worker in the room, even if I am not the most naturally gifted or talented person there.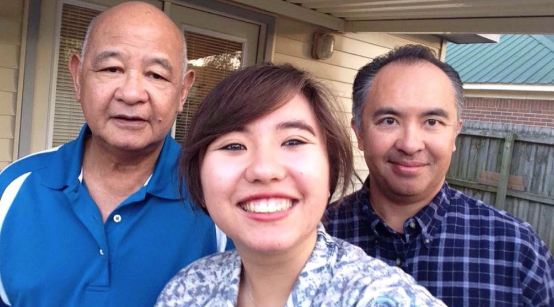 I'm already stepping forward into that new chapter. I, like many of my peers, am terrified of my looming student-loan bills, of the realities of adulthood, of the search for a life partner, of starting a family someday…
I can't ignore that work alone won't provide security for my generation the way it has for past generations. I live in a different world than my grandparents, but not everything has changed. Fear of uncertainty is a universal concept; only the details change.
I think of my grandpa, and how he must have felt stepping onto a Navy ship for the first time. How his heart must have pounded stepping forward to ask to take my grandma's picture.
I think of my grandma, how much courage it took for her to leave everything she knew to come to America with a new family.
They took those steps with no clear answers. No guarantees.
Yes, I live in a different world. But I'm still the granddaughter of the same people who took those steps. My path is different, but my drive is the same. I want that bright future. I have different obstacles to face, but my family remains.
My grandpa's words ring in my head.
"You cannot just hope for it, you have to work for it."
Well, I'm here. Consider the work begun.
Related Articles