Students protested and demanded action, MU divested, shanties fell and eventually, apartheid ended. After 30 years, racial tension runs deep on campus, in this community and across the globe. But there were once 41 students who fought racism with empathy from more than 8,000 miles away. 
St. Louis, 2014

 

Protesters stood in a circle with their hands up. "This is how he died with his hands in the air," shouted Kendrick Strong, one of thousands protesting the death of Michael Brown, an unarmed black teenager shot by a white police officer. In daylight, the protests were peaceful. But at night, police in helmets and body armor fired smoke grenades. Protesters set ablaze and looted a QuikTrip.

Columbia, 2015

 

The crowd linked arms inside the cold, dark tent on Carnahan Quadrangle at MU in November 2015. Rain fell, and wind blew as members of Concerned Student 1950 sang hymns inside one of the dozen tents. "Pray for our mental strength," Curtis Taylor Jr. said. "Pray for our physical strength." Water poured into the tent. Ropes struggled to keep it secure.

Western Cape, 2015

 

Students at the University of Western Cape in South Africa used garbage bins to shield themselves from riot police ring rubber bullets. They ran from stun grenades. Protesters started fires. The campus closed after protests continued for more than a week. UWC was founded as a "colored college" in the 1960s, and the perpetual inequality means the students never stop protesting. The University of Western Cape has had a partnership with MU since 1986.
---
They called themselves Missourians Against Apartheid. They were a group of students who protested against $100 million the UM System had invested in businesses in South Africa.
The country was practicing apartheid at the time, a system of segregation and discrimination based on race. Apartheid began due to racial tensions in South Africa. In 1948, the Afrikaner National Party won the South African general election. One of its main policies was apartheid, or "perfect racism" as South African comedian Trevor Noah calls it. By 1950, marriages and sexual relations between white people and people of other races were illegal. The government passed the Population Registration Act of 1950, which classified each South African by his or her race: black, white or colored, which means mixed descent and includes subsections of Asian and Indian. In 1958, newly elected Prime Minister Hendrik Verwoerd implemented separate development, which geographically separated South Africans and forced blacks into townships called Bantustans. On Nov. 6, 1962, the U.N. General Assembly passed a resolution calling for nations to impose economic and diplomatic sanctions against South Africa, but MU still had investments with businesses that had assets in the country.
The anti-apartheid movement started at MU on April 21, 1978. A group of students petitioned the UM System Board of Curators to divest tens of millions of dollars from businesses in South Africa. Just a few months after the petition, P.W. Botha was elected prime minister of South Africa. Although Botha legalized interracial marriage and sexual relations, he didn't give any political power to black South Africans and enforced more security on anti-apartheid activists. He also refused to negotiate with the African National Congress, the leading anti-apartheid political party. But he was the first government leader to allow contact with Nelson Mandela, the leader of the ANC who was sentenced to life in prison on June 12, 1964, for sabotage against the government.
Botha was prime minister until 1984 when he was elected president of South Africa. Up until this point, the university ignored the students' request to divest. Botha's pro-apartheid government inspired a group of students more than 8,000 miles away in Missouri to fight back against this system of racism.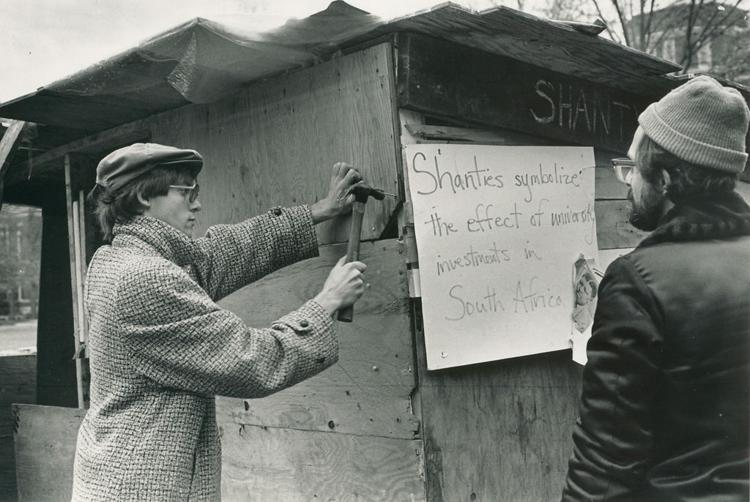 STUDENT PROTESTERS
It's early 1985 at MU. President Ronald Reagan is beginning his second term, everyone's listening to Madonna's "Like a Virgin," and a few students have organized a group demanding the university divest nearly $100 million from businesses with assets in South Africa. MU students Kathryn Benson, Barb Brents and Craig Eckert were among the members of Missourians Against Apartheid. The leader of the movement was Carla Weitzel, a sociology graduate student. Their first big demonstration was on April 26, 1985, at the inauguration of then-UM System President C. Peter Magrath.
Several months after the protest, on Aug. 15, 1985, Botha delivered the Rubicon speech to more than 200 million people worldwide. He announced he wasn't going to end apartheid, nor would he release Nelson Mandela from prison in Pollsmoor, which is described even today as hellish.
One month later, Weitzel and two other students presented reasons to divest to the UM System's South Africa Investment Policy Task Force, a committee appointed by Magrath to look at the moral, political and financial issues with the investments. At the time of the meeting, it was estimated the UM System had more than $95 million invested with businesses that have assets in South Africa.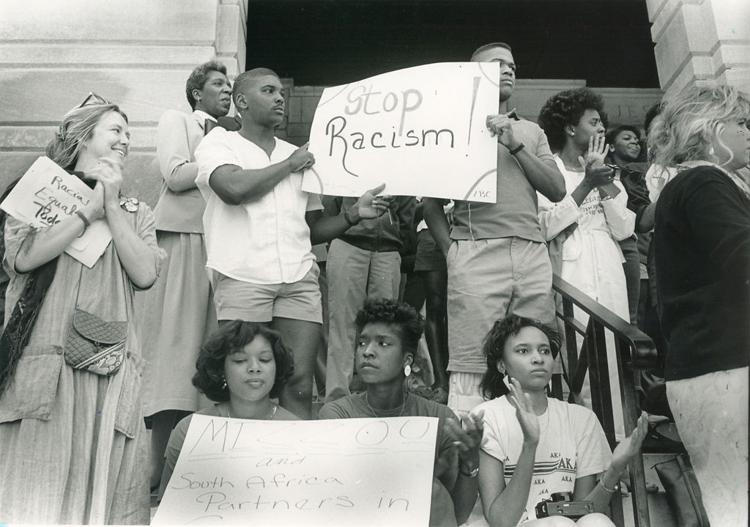 An article published by the Columbia Missourian in September 1985 stated some students discussed the financial benefits of divesting, but Weitzel focused on apartheid and the Sullivan Principles, a document she believed didn't adequately address workplace inequality. These principles, created by a General Motors board member Leon Sullivan, promised workplace equality but would affect only 0.5 percent of workers in South Africa.
In November, shortly after the meeting, the task force recommended the university limit investments only to companies that had signed the Sullivan Principles. This plan had been criticized for months.
In December, activists stood silently during the vote on the policy. They shook their heads at the result — the curators voted to divest $5 million of UM System's now $93 million. It was a small victory but not the result the protesters wanted. "We cannot let the curators forget that there are still persons who care about what is happening in South Africa," Weitzel said after the meeting.
As MU voted to partially divest, Botha was taking away more rights. In June 1986, Botha declared a state of emergency over the entire region of South Africa. He increased measures to end anti-apartheid protests and implemented heavy press censorship.
---
"We cannot let the curators forget that there are still persons who care about what is happening in South Africa."     —Carla Weitzel, Missourians Against Apartheid leader, Dec. 8, 1985
---
The way to cripple a country that is engaging in immoral practice is through economic sanctions, says Sandra Davidson, an attorney and professor at the Missouri School of Journalism. Davidson had just begun teaching at MU at the end of the protests in fall 1987. The partial divestment was the first step, but activists needed to do more to get their point across to curators that it wasn't good enough. Benson, an undergraduate student at the time, says the group wanted to put the issue in front of the university in a way that was hard to ignore.
So they built shanties.
SHANTYTOWNS
Small forts made of plywood, cardboard boxes, tree limbs and other scraps stood on the Francis Quadrangle. On Oct. 10, 1986, the first shantytowns were built; they represented the Bantustans in South Africa. Like MU, the U.S. was partially acting on apartheid. Just before the construction of the shanties, Congress enacted the Comprehensive Anti-Apartheid Act of 1986, which imposed sanctions against South Africa until the country worked toward ending apartheid.
Benson frequented and helped build the shanties. "It was a warm, inviting experience," Benson says. "We were trying to draw people in and engage in the discussion, so we'd have fliers outside the shanties. It wasn't a cold, desolate place." It was where people went to socialize. Along with serving as a meeting place for protesters, the structures had another purpose. "The shanties were a way of publicly shaming the university, not letting this just be swept under the rug or keeping people quiet about it," Davidson says. "They were bringing it out in the open in a very visible way."
MU student Tom Manig balanced on a metal folding chair as he hammered a stake into the ground to erect a banner that said "MU DIVEST NOW." At 12:30 a.m., just three days after the shantytowns were built, UMC police tore them down. Seventeen protesters were arrested, detained for an hour and given summonses for trespassing and littering. Police said next time they'd be going to jail. Weitzel, among those arrested, said the group would put up a sign that said "This is the past and future site of the shantytown."
The day of the MU arrests, thousands of South African students planned a walkout in about 40 high schools in Soweto, located in Johannesburg. Soweto was one of the segregated black townships. The walkout was to protest the government closing schools in Soweto, the military presence in townships and the detention of children by the government.
Although MU's shanties were torn down, the protesters' plan to get the curators' attention had worked. Two weeks after the demolition, the Columbia Tribune reported Magrath agreed to meet with the students to discuss the investments. But the meeting never happened. The students invited Magrath to the shanties. Magrath wanted to have a closed-door meeting. "The conditions of the meeting were one-way," Weitzel said in the article. "The main reason the shanties went up is that the administrative channels had been exhausted. We do not hide behind closed doors."
LEADING THE MOVEMENT
A harsh wind blew on a cold afternoon in November 1986 in front of Jesse Hall. A band, Three-Legged Dog, blasted music to a crowd of chattering teeth. But Weitzel glided and danced with her long blond hair swaying. After the rally, Weitzel joined a Tribune reporter at a restaurant. Questioning authority wasn't something new for Weitzel; she began doing it in junior high school. "I was always the one they were dragging into the office for wearing miniskirts or asking why the girls couldn't take electronics," she said with a half-smile. She had a tumultuous life. Weitzel dropped out of college, began heavy drug use, attempted suicide twice, had a short marriage and a two-year stint in the Army all before she turned 26. She discovered sociology and found it to be the perfect mix of science and creativity, and it brought her to MU.
---
"The shanties are a way of publicly shaming the university, not letting this just be swept under the rug or keeping people quiet about it. They were bringing it out in the open in a very visible way."                    — Sandra Davidson, attorney and MU School of Journalism professor, 2016
---
Weitzel's turbulent life mirrored her emotional state­­ — the laid-back, loose dancer at the rally earlier that morning, compared to the enraged activist passionately talking about her cause over coffee just hours later. "When we talk about apartheid, we're talking about killing," Weitzel said. She slammed her fist on the table, tears streaming down her face. "There are people out there hurting every day, and we are responsible," she said. "We are responsible."
Meanwhile, in November 1986, South Africa lifted restrictions on the Red Cross, which had been banned from helping the country after it had removed South Africa from a conference the month before because of the apartheid.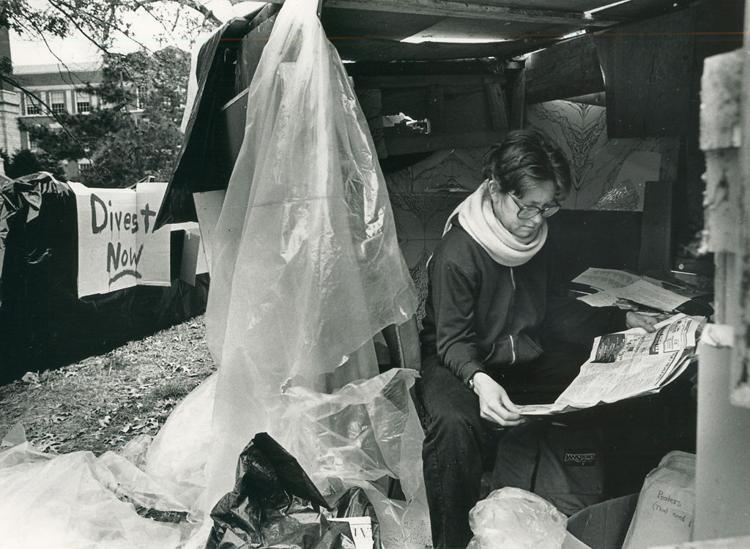 When the first shanties were torn down, Weitzel said more would be rebuilt. Police said if the shanties were rebuilt, the protesters would be arrested. On Feb. 6, 1987, Weitzel kept her promise, and the police kept theirs. At a rally of about 200 people, 41 protesters were arrested for occupying the shanties. Duane Stucky, MU's interim chancellor at the time, said he would press for state prosecution, and some students could face student-conduct regulations.
About a dozen students lounged in Magrath's office 20 days later. They drank soda and smoked cigarettes. Some watched TV; others did homework. Around 7 p.m. they had pizza delivered. The students were there to see the president and demand divestment. His office telephone rang; a student answered: "Shantytown protesters. May I help you?" One protester placed a note in Magrath's "out" box — "Things to Do: Divestment." They wouldn't leave for 27 hours.
THE FIGHT CONTINUES
Brents, Benson and Weitzel were among the 41 students arrested at the shantytowns in February. Dan Viets, a freshly minted lawyer, was just as opposed to apartheid. He represented the protesters alongside lead counsel Gary Oxenhandler, former Boone County Circuit Court Judge. He says the Boone County Jail didn't have room for the students, and it would cost the university a lot of money to take them to another jail. A judge offered to release the students if they signed a paper agreeing to abide by the university's rules. The students refused, but the judge let them go anyway. Some students stayed in jail voluntarily. One of them was Weitzel. The Tribune reported that Weitzel hadn't eaten since the arrests, and Brents says Weitzel remained in jail and on a hunger strike until at least Feb. 9. Viets says, "She wasn't scared."
On the day of the arrests, the university had $127.5 million invested in companies doing business in South Africa where, according to a UNICEF report, more starving refugees populated the Bantustans than ever before. The report said apartheid and war had a greater impact on the region than drought.
Back in Columbia, Viets was ready to fight for the protesters. He says the arrests were illegal, and the police infringed on the students' First Amendment rights. But was the university really stifling the protesters' rights? Davidson agrees with Viets. She says the quadrangle is a public forum. It's open to the public 24 hours a day, 365 days a year. "You have a First Amendment right to protest," she says.
Before the arrests, some professors were reluctant to protest. But, according to the Tribune article that reported the arrests, faculty members planned to join students for a protest on the quadrangle. One of those professors was Ted Vaughan, the chair of the Sociology Department at the time.
The protesting professors helped the movement gain more attention. Eckert says they were role models because of their commitment to social justice causes. He says Vaughan, who taught Theories of Sociology, was the godfather of sociology and pushed his students to live their lives to the fullest. "While we all took classes from him, we all learned as much from him sitting in The Heidelberg as we did in class," Eckert says. "And that's not to minimize what a great professor he was in class."
Seven weeks after the February 1987 arrests, former President Ronald Reagan arrived in Columbia and received a less-than-warm welcome. Reagan faced harsh criticism after he vetoed the Comprehensive Anti-Apartheid Act of 1986, which went into law because of a Congressional override. A Tribune article reported about 30 activists from different groups, including Missourians Against Apartheid, The Sierra Club and the Missouri Rural Crisis Center, met to map out protesting strategies before Reagan came to town. Weitzel decided "outrage" would be their catchphrase. The day of his visit, Reagan's staff did not seem pleased with the protesters. "I remember we were at the end of Broadway, and the press car with all the photographers and videographers turned off their cameras when they saw us," Brents says.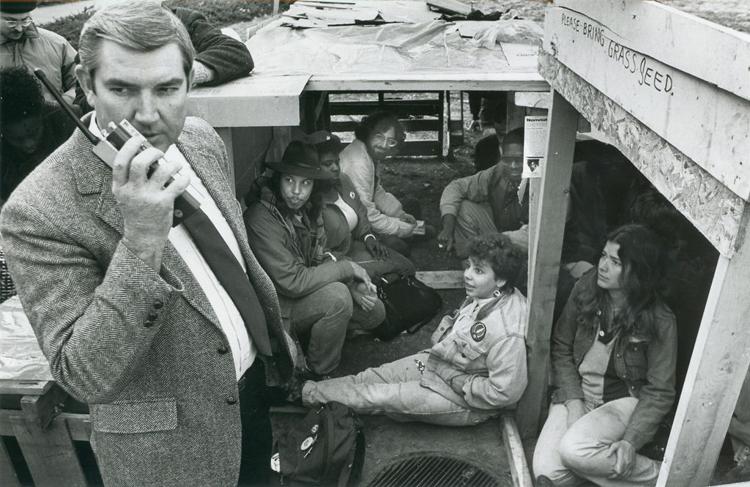 The school year was almost over after the Reagan demonstration. Weitzel spent her summer with other organizers and planned the months ahead. Benson and Brents were still students, but Eckert had graduated and was an assistant professor at Eastern Illinois University in the Sociology Department.
Right before the fall semester, Gov. John Ashcroft signed a bill to require Missouri's largest pension funds to divest holdings with companies doing business in South Africa. The bill affected the Missouri State Employees' Retirement System, three public school retirement systems and the Highway Employees and the Highway Patrol System, but not MU. The investments being pulled were estimated to be between $300 and $700 million.
Around 400 protesters wore sweaters and heavy coats as they gathered on the quadrangle for a candlelight vigil on Oct. 10 1987. It was a chilly 40 degrees as they shielded their candles from the 15-mph wind. Some were huddled around a new plywood shanty; others stood in a half-circle on Jesse Hall's steps. The Legion of Black Collegians choir sang hymns as the speakers denounced apartheid and MU administrators. "The wind may blow out a candle, but it won't blow out the fires in our hearts," Weitzel said in a Tribune article. "Lighting candles is a symbol of our refusal to be silent in South Africa and this campus." It was estimated MU still had $92 million in investments at the time.
Five days later, Margaret Thatcher, the Prime Minister of Britain, spoke at the Vancouver Commonwealth Heads of Government meeting. She called the ANC a terrorist group and said she'd have nothing to do with it. Her press spokesman, Bernard Ingham, said it was "cloud-cuckoo-land for anyone" to think that the ANC would overthrow the current South African government.
THE TRIAL
In November, the 41 protesters who were arrested for trespassing were preparing for trial. Then the prosecution and defense made a deal: One person would stand trial, and the result of that case would apply to everyone. The protesters would sink or sail, together.
Kathryn Benson was chosen.
"She was bright, articulate, local and her dad was on the faculty," Viets says.
"I felt like if I believed in it, then I'd be willing to do whatever is necessary," Benson says. "So many people suffered so much because of apartheid, and it seemed like a very minor sacrifice. And of course, I was probably a little melodramatic. If Nelson Mandela can spend so many years in jail, then I can go to jail for a misdemeanor!"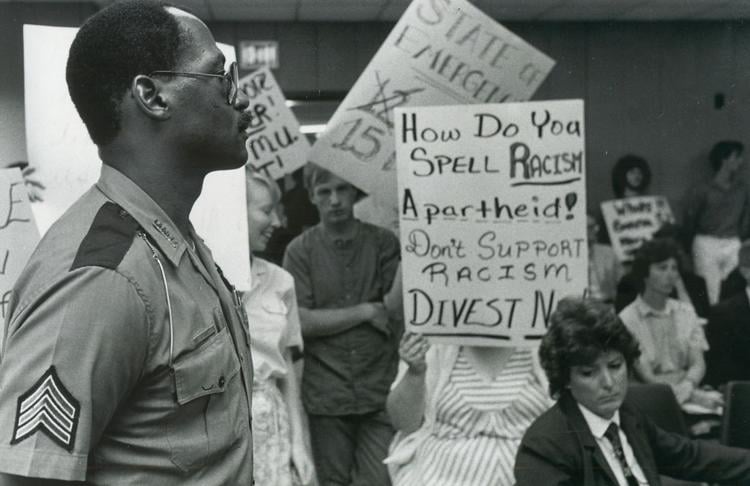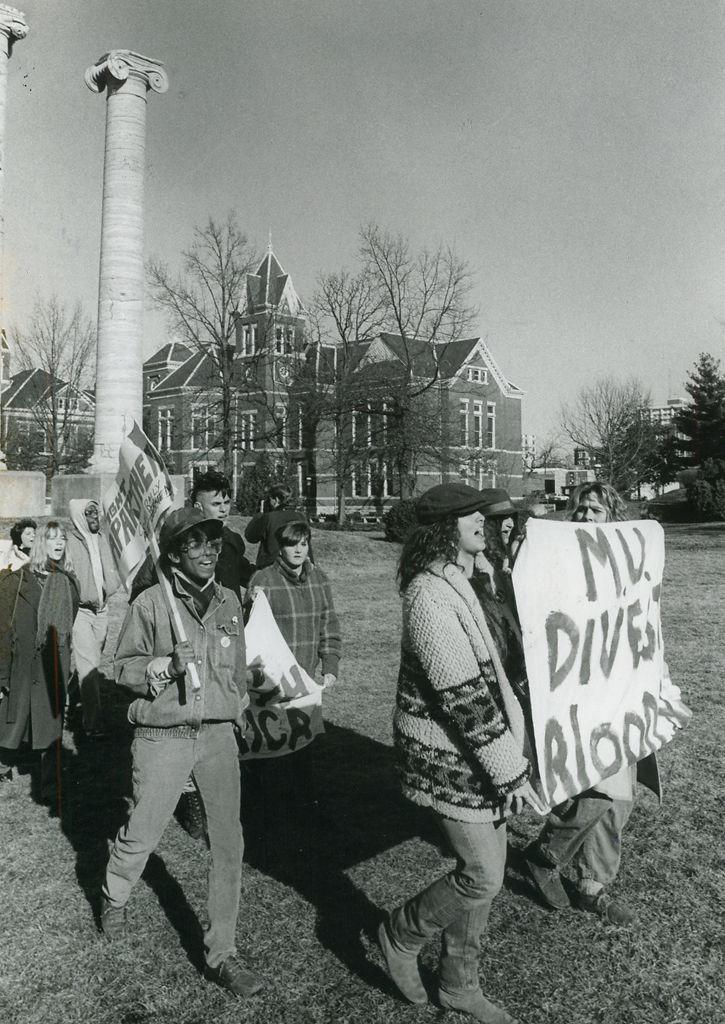 Benson's trial began on Nov. 20. She says the trial wasn't conducted in the traditional style. There were no testimonies, and the facts were undisputed. Each side submitted briefs and argued its point. Judge Patrick Horner looked at freedom of expression and prior use of the grounds (the quadrangle) to make his decision. The trial lasted four weeks. Viets claims that Horner said there was no such crime as trespassing on the quadrangle. The judge ruled in favor of Benson, and all 41 students were acquitted. "Despite being willing to make the sacrifice, I was a little uneasy about it," Benson says and laughs. "It was a tremendous relief."
At the time of the trial, Mandela was still serving time in Pollsmoor. He would soon contract tuberculosis because of the horrific conditions of the prison.
Not long after the group's victory on Dec. 18, curators finally voted on whether to divest the remaining $75 million.
THE END OF APARTHEID
Six anti-apartheid activists stood silently during the vote. One held a sign that read "DON'T BUY CHAINS DIVEST NOW." Next to him, Weitzel wiped a tear from her face. The curators voted 5-2, in favor of divestment. The protesters quietly left the room. Once outside, they cheered and embraced. "Academic freedom can only be preserved if our institution rests on a commitment to democracy and freedom, which is what divestment stands for," Weitzel said.

MU had finally divested, but apartheid still ravaged South Africa until 1989 when Botha suffered a stroke and resigned from power. He was succeeded by F.W. De Klerk, who said he would end apartheid and release Mandela from prison. Mandela was freed Feb. 11, 1990. Negotiations to end apartheid lasted until the presidential election of Mandela in 1994. Over 3.5 million people had been displaced and impoverished by the end of apartheid just because of the color of their skin. The anniversary of the election, April 27, is now celebrated as Freedom Day in South Africa — the country's Independence Day.
While she was fighting for the rights of people she even didn't know, Weitzel continued to fight depression. She would never see her legacy of activism continue. On July 4, 2000, America's Independence Day, Weitzel died by suicide.
NO JUSTICE, NO REST
Outside the tent with Concerned Student 1950, wind continued to blow tarps off the ground as protesters rushed to tie down the tents. In the next month, the intense scene in the tent would explode further. Jonathan Butler would go on a hunger strike, and the football team would refuse to play until UM System President Tim Wolfe resigned. Chancellor R. Bowen Loftin stepped down after nine deans asked for his removal. They said he created "a toxic environment of threat, fear and intimidation." Wolfe followed.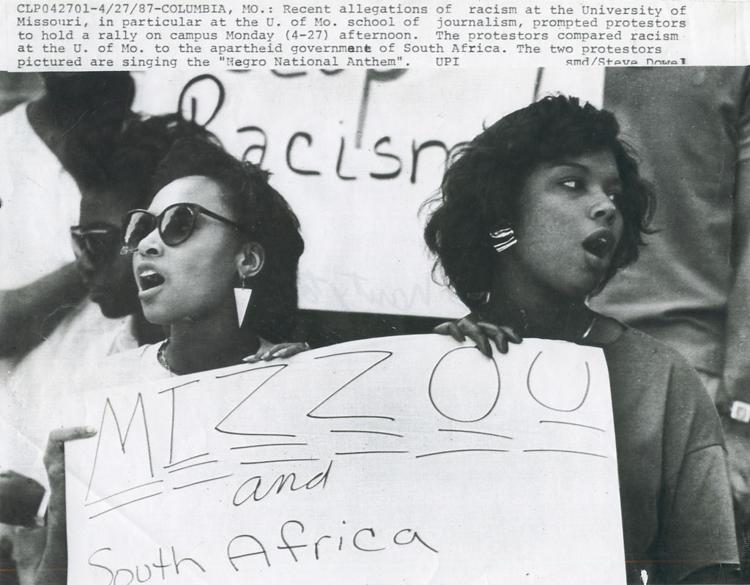 In Ferguson, Missouri, in 2014, protests grew larger after a grand jury decided not to indict police officer Darren Wilson who shot unarmed Michael Brown. The killing of black Americans by white police officers plagues a country trying to overcome racial divisions. On July 5, 2016, Alton Sterling was shot several times by a white police officer while another held him down in Baton Rouge. That night, about 100 demonstrators took to the streets of the city chanting "Hands up, don't shoot." The next day, a police officer pulled over Philando Castile in Falcon Heights, Minnesota. The traffic stop ended with the officer shooting Castile seven times while Castile's girlfriend and her 4-year-old daughter watched in horror. Peaceful protests followed in St. Paul, Minnesota. Protesters asked for charges against the officer and a federal investigation. At least 258 black people were killed by police in the U.S. in 2016 alone, many of them unarmed.
It's been 30 years since the shantytowns stood on the quadrangle. It's been more than two years since Michael Brown's body lay in a Ferguson street. It's been a year and a half since Concerned Student 1950 sent a list of demands to MU to make the campus more inclusive.
At University of Western Cape, protests against inequality continue. At a January 2017 MU panel, UWC student Zizipho Royi noted the police at MU are rather peaceful with protesters, but in South Africa, they're brutal. "In South Africa, it's militarized," she said. "It's toxic water, it's hot water, it's stun grenades, it's rubber bullets, it's tear gas. They beat you physically." Protesters at UWC are arrested and sent to Pollsmoor prison, the same damp and filthy place that Mandela contracted tuberculosis. Students are held there until they can pay the 3,000 rand bail, about $226. Royi says whether she's the minority race in the U.S. or the majority race in South Africa, she's oppressed just the same.
Today on MU's campus, it's difficult to imagine the shantytowns ever existed. Students play Frisbee on the quadrangle; they don't camp out on it. Faculty walk into Jesse Hall to work, not protest university policy in front of it. The leaders are people like the tour team members showing prospective students the MU Columns. But 30 years ago, there were shanties. There were protests. And there was one fearless leader. Carla Weitzel knew her fight, the fight we should all have, to see one another as equals, regardless of the color of our skin, was still not over. In her words, "There isn't a fairy tale happy ending."
Related Articles: