Four months ago, the Rev. Charity Goodwin stood before her 136-person congregation at the Missouri United Methodist Church and delivered a sermon about "worshiping fully" during the holidays, a time when many put consumerism before faith. Dressed in a black shirt, a thin, draping coat and bright blue pants, the church's pastor of discipleship paced back and forth, gesticulating passionately and engaging with the crowd. She stands just over 5 feet tall, but she is dynamic and captivating. This sermon, at the inaugural gathering of church's new contemporary service, The City, is unlike any she's given before. It challenges the traditional ideas of what a service should be, and that's exactly what she wants.
Blazing a new path
Goodwin's goal with The City, which she began developing last April, is to change the way people worship. She and the Rev. Fred Leist, MUMC's lead pastor, were considering potential changes to the church's Sunday services. They wanted to add a fourth service to the existing three but were unsure about the logistics.
Goodwin felt constrained by the rigid structure of traditional Methodist services and had no interest in leading them time after time. "Maybe I would consider preaching every week if it didn't have to look that way," she remembers saying. That night, she woke up at 3 a.m. and made a list of ways she could "turn church on its head." She brought the list to Leist, who approved the idea, and after about eight months of planning, The City made its debut.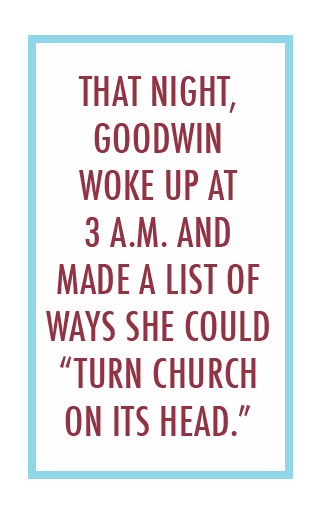 The casual and engaging service occurs in the church's upstairs gym on S. Ninth Street every Sunday at 10:45 a.m. and features a live band with guitars, drums and a keyboard. Beyond eschewing the setting, music, rhythm and structure of a traditional Methodist service, The City is different from most services in Columbia because it is led by a 42-year-old black woman.
In a religion that is 94 percent white, Goodwin is working to open the church to new members by fostering diversity and talking about pertinent social justice issues in her sermons.
Following her passions
Goodwin was born in Centreville, Illinois, a small town near East St. Louis, where her paternal grandfather was a Baptist minister at New Macedonia Church. Growing up, Goodwin frequently helped her grandfather write his sermons. This early exposure to faith was important in her path to ministry.
When she was about 5, Goodwin and her family moved to northern St. Louis but still made the drive to Centreville for church on Sundays. At 18, She came to MU's journalism school, whose founder, Walter Williams, also attended MUMC. She graduated in 2000 and worked as a journalist around the Midwest while volunteering at local Baptist churches in her free time. After covering a murder-suicide for the Des Moines Register, she realized she needed a change. "I remember thinking I couldn't keep waking up and doing this," she says.
In 2003, she walked away from journalism and enrolled at Saint Paul School of Theology in Overland Park, Kansas, to become a minister. "It was a very scary step," Goodwin says. "I was walking away from what I have only known was my life's call." While studying at Saint Paul, her views on her Christian faith evolved. Eventually, she was drawn from the Baptist denomination she grew up with to Methodism because of its emphasis on putting faith into practice.
She graduated from Saint Paul in 2005, worked at three churches near Kansas City and gave birth to two sons — Gabriel, 7, and Levi, 5 — before coming to MUMC in Columbia in 2015 to serve under Leist and focus on youth and family ministry.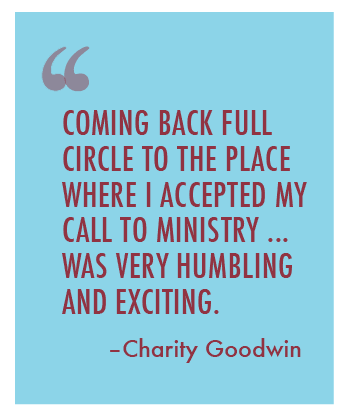 "Coming back full circle to the place where I accepted my call to ministry, across the street from the school where I got my degree, was very humbling and exciting," Goodwin says.
Creating heaven on earth
With The City, she hopes to form a community within the church. She wants to create an inclusive and diverse space where people can worship freely. In addition to developing bonds inside the church walls, The City reaches into Columbia's community with their City Diner events, which are a way to gather with neighbors to share a meal, their stories and prayer. The goal is to encourage those in the congregation to pay more attention to the people around them, a sentiment echoed by Goodwin, and for everyone to find a place to belong. "She's reminded all of us in The City to have conversations with our neighbors," Hayden says.
In addition to fostering community, another The City hopes to "uncover purpose" by helping people discover their natural gifts. She applied this with the members of the congregation who composed The City's launch team. At one of the planning meetings in November Goodwin began by having the group read 1 Corinthians 12, a passage focusing on "spiritual gifts," and then had them discuss their personal gifts and talents in smaller groups. "The way you get to creating heaven on earth is [having] people know what they're good at and get to do it and love it," she says. Each Sunday, Goodwin puts her faith into practice by doing what she's good at and bringing a little bit of heaven into that church gym.