Exhaustion compounded my anxiety as I drove to Gans Creek Recreation Area on a Sunday morning in September. I didn't know much about the car fanatics I was going to meet, but I had a feeling they would use four-wheel jargon such as "turbo" and "carburetor" and "V12." I probably should have marathoned Top Gear instead of going out Saturday night.
Cars with untold amounts of money, sweat, ego and personalized parts poured into them occupied almost every space in the back parking lot. Automobile enthusiasts from all over Boone County popped hoods and pointed at engines like something out of a Pennzoil commercial. I drive a 2010 Hyundai Elantra with a massive dent on the back bumper, and I'm not sure how to even change my own oil. I decided to park in a separate lot.
CoMo Car Culture is a group of car enthusiasts based in Columbia, and they were granted permission to use Gans Creek Recreation Area for their annual September showcase. As I drove to the park, I kept thinking about The Fast and The Furious and how some Dominic Toretto-type would make me do a highly dangerous or illegal rite of passage if I was going to write a story about their renegade gang. I wasn't really sure what to expect, but I envisioned a lot of gauge earrings, Monster Energy and vape cigarettes.
I wasn't wrong, but I certainly wasn't totally right, either. The weather was warm and sunny, which resulted in a sizable turnout for the group (which currently totals more than 1,171 Facebook members), and the overwhelming majority of the 250 parking spaces at Gans Creek were occupied by member-owned cars. The makes weren't anything jaw dropping: Nissan, BMW, Mitsubishi, Dodge, Volkswagen, Jeep. There were even Hyundais, which made me regret parking so far away. People weren't ogling the types of cars; they were pointing out engine parts and modifications to the outside of the car, which I found out is called the body.
The atmosphere was informal; members parked their cars, popped their hoods and walked around the lot to talk to other members. Conversations happened in clusters around someone's engine, people pointed out work that had been done and discussed new parts or regaled those within an earshot of past motor vehicle escapades.
Here's just one of the overheard conversations they were having, which I hardly understood:
"Efficiency is the key. Efficiency and displacement."
"That's why they have direct-injected motors nowadays. There are 2-liters banging 420, their wheels from the factory. That's how you do it, man."
"The new f***ing Mustang with the 4-cylinder is faster than the V8 with the tailing car. It's like Bye! Bye! Bye!"
I would stand around these circles and awkwardly nod. My vocabulary generally consisted of noncommittal terms such as "mmmm…" and "ahh" and "word." I felt like the chess team captain who accidentally sat down at the jock lunch table.
Big Daddy's BBQ was on hand serving up orders out of its food truck. The group showcased a disc jockey as well, DJ Vanquish, who played synchronized mashups of Rihanna, Journey, The Outfield and G-Eazy, among many others. The tan, dark-haired DJ didn't say much into his microphone. He just mixed tracks and let the music play. DJ Vanquish is apparently a member of CCC himself, but his car recently caught fire. He was too busy mixing tracks, and it was too loud near his booth, so I never got the full story. Toddlers waddled all over the parking lot with their parents. I got the feeling this wasn't the first time most of them were surrounded by cars. One little girl in a pink stroller barely flinched when an engine revved about 3 feet away from her tiny head.
A large, furry German Shepherd named Trouble split time between patrolling the lot, meeting new friends and panting in the shade. Some members sold water bottles and black-and-white shirts with "CoMo Car Culture" written over the Missouri state outline. Brandon Qualls and Somrith Lem, founding members and two Facebook group admins, watched over the event like proud parents.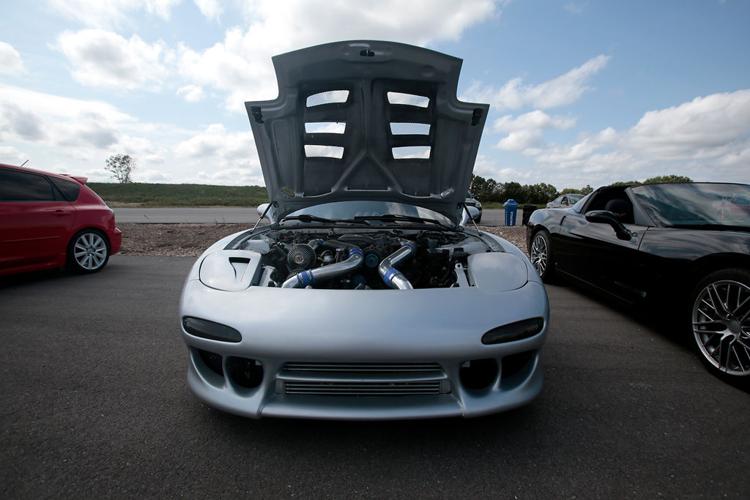 "As long as you like cars…"
Qualls and Lem started the group almost three years ago, toward the end of 2013. The original group was called ShowMe Fresh and was primarily a Facebook group for people to talk about their interest in various cars. Lem was eager for the group to grow, so he added any random person who wanted to be in the group, a practice Qualls quickly nixed. They created a new Facebook group called CoMo Car Culture and started being more selective about who is allowed to join.
The two say there is no strict membership criteria. "As long as you like cars and have a passion for it, you're more than welcome to join CoMo Car Culture," Lem says. He and Qualls say they generally do some light vetting of new members who want to join, checking their Facebook pages to make sure they actually like cars and aren't robots. Members do not pay dues and are not subject to any sort of initiation. I said I was writing this article and was let in the group immediately, and I have not been forced to fight/race/kiss anyone.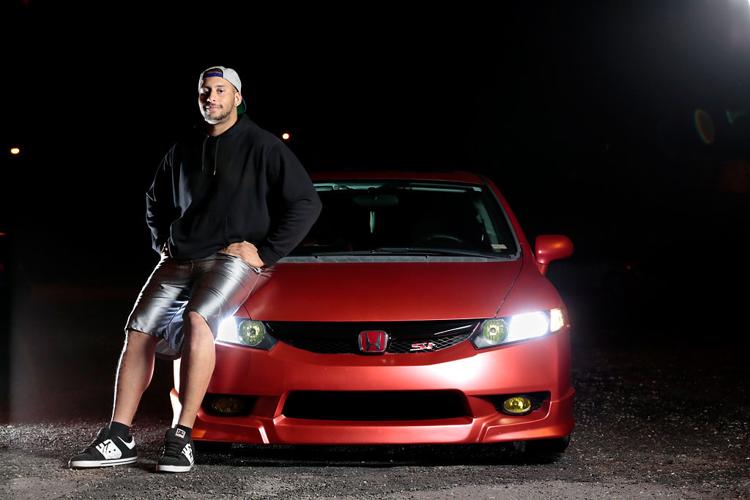 These guys really like cars. At one of their Wednesday night meetings, I heard a big guy with a dark beard and a purple sweatshirt tell a story about a "meth-head" who hit Purple Sweatshirt's car with his vehicle. Purple Sweatshirt, in his mid-20s, got out of his car and started berating the alleged meth-head, almost getting into a fight until the meth-head's girlfriend convinced him to return to their car. Purple Sweatshirt, in his fit of rage, called his insurance agent, who also happens to be his mother. When the couple took off, Purple Sweatshirt instantly hung up on his mother/insurance agent and called 911.
Purple Sweatshirt recalled the 911 call: "You better listen very carefully while I give you this license plate," he said. No squad came.
As of Nov. 30, CoMo Car Culture has 1,171 members and is still growing. There are six admins (Lem and Qualls are two of them) charged with adding new people and keeping the Facebook page under control. New members generally hear about the group through word of mouth. "We've got connections in every dealership here in town," group admin Ryan Elbert says. "Car audio places, tinting, detailing. You name it, there's somebody in the group who does it."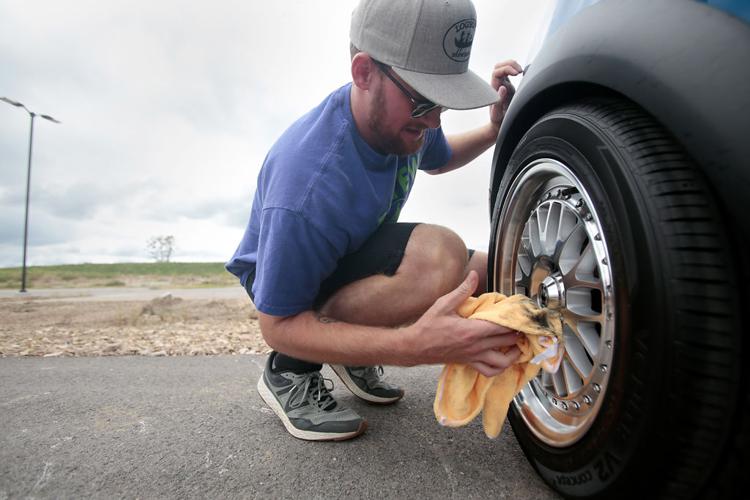 When the group was first getting started, they met at the Andy's Frozen Custard parking lot every week. Andy's was initially cool with the dessert and automobile enthusiasts meeting in its lot back when only 20 or so people would show up.
The group eventually outgrew the small parking lot, as now about 50 to 75 people show up when the weather is nice (attendance drops off when it gets cold). Group admin Adrik Bryant talked to a manager at The Home Depot on Clark Lane and got permission to use the lumber side of the parking lot. For weekly meet-ups Bryant also set up "cruises" for the group, which can best be described as the automobile equivalent of a fun run.
"We would stay away from the traffic, have some fun on some windy roads," Bryant told me during a Wednesday evening CCC meet at The Home Depot.
"Get together and get our car fix in"
The group gains new members on a regular basis. Although the six CCC admins can make sure every new member is a car enthusiast, making sure the member isn't a prick is a different story.
"We have the occasional people who will do something stupid," Lem says. "Something stupid" consists of, but is not limited to, starting a fight, burning out of a parking lot, abusing the allotted meet-up space and street racing. The admins say they feel it is their job to police the group and make sure these things don't happen.
Irresponsible behavior will get you kicked out of CCC, but there is only so much the admins can do. "We just kick them out of the (Facebook) page," Lem says. "But for a meet like this, they've been here before, they're going to show up."
Lem said this to me on Oct. 5 when I attended my first Wednesday night meet at The Home Depot. The meets don't include any formalities; people just show up and talk about their cars. Although the group does not organize any official racing and forbids that behavior at all CCC events, the admins can't control what members do on their own time. Think of it like the school principal who knows that two kids are going to fight around the block after school and can't do anything about it.
That night, there were about 20 to 30 car enthusiasts near the lumberyard parking lot, most people forming small clusters together as they talked about cars and what they had worked on the past week. No small children or pets attended, but two 17-year-old high school students, a guy with a moped doing timed trials around the parking lot and a bizarre three-wheeled motorcycle showed up. The group located itself as far away from the front entrance as possible, lest they get in the way of someone buying late-night mulch. These weekly events are the heartbeat of the group.
Lots of jackets at these meets have car-related logos stitched across the chest such as O'Reilly Auto Parts, Nissan or Jiffy Lube. If you want to avoid judgment, your best bet is to arrive early and leave late, or else park far away. All eyes are on the cars. A massive white pickup that peeled out of the parking lot elicited comments such as "Better go to the fuel station" and "There goes Daddy's money" and "That's hot."
"People talk in the (Facebook) group about what they've done to their cars, and people know on Wednesday night they'll get to see that car," Qualls says. "It's just a day during the week for us to get together and get our car fix in."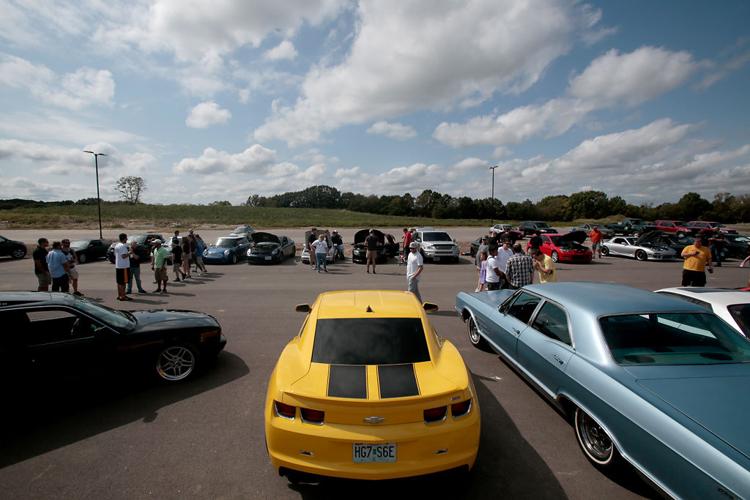 People might occasionally race on their own, but Qualls says police and news media often assume people were racing when they weren't. Take, for example, the roll-over crash on St. Charles Road that made news in early October. A Honda Civic and a Chevy Corvette were involved in roll-over accident (both drivers walked away fine). The Missourian headline reads, "Car race ends in crash near Battle High School," and the opening sentence says the two cars got in an accident as a result of racing.
But Qualls says it's not true. Qualls is friends with the driver of the Corvette, who is also a member of CoMo Car Culture. The Corvette driver told Qualls the Civic was slowly driving in front of him in an attempt to be irritating. The Corvette driver tried passing the Civic, hit a puddle and lost control of his car. If this sort of thing happened with two Toyota Priuses, the police report and newspapers would've probably called it an accident resulting from foolish driving. But it was a Corvette and a modified Civic (Qualls says the Civic had a little custom work and a unique paint job that made it stick out).
This view is contrary to the eyewitness account of Boone County Sheriff's Deputy Patrick Richardson, who saw both cars racing and clocking in at 60 mph. Richardson tried to catch up to the cars before the Corvette wiped out, he told the Missourian.
"When the cops see something like that, they think The Fast and the Furious car culture," Qualls says. "So obviously they thought racing with those two cars being in the same vicinity." The accounts differ, but that aside, the group frowns upon such incidents. Afterward, the Corvette driver was berated online as people in the group posted the news article and speculated about his driving.
Reputations of CCC members can change just about overnight. When searching for new group leaders, Qualls and Lem make sure the member is active in the car scene, well-spoken and level-headed (having a dope car helps, too). The admins monitor the Facebook page to make sure nothing gets posted that might offend anyone. For example, one member posted a picture of a girl's Facebook profile so the group could make fun of her, which the admins quickly took down.
"We don't want people who aren't active members to look on the page and be like 'These guys are slandering a girl's name,'" Qualls says. "That's not the image that we want to portray."
"You should start coming to our Wednesday meets"
Cameron Jones pops the hood of his Subaru BRZ STI Series Blue. A crowd of fellow CCC members gathers around the engine, talks about modifications on the car and warms its hands on this chilly November night at The Home Depot. Jones wears a black Ansai jacket and gray OP shoes as he tells me about his job selling motorcycle parts at Jones Honda (yes, family business). He has been around cars and bikes his entire life. Jones patiently walks me through the work on his car the way a lifelong NFL fan would explain American football to someone from Spain.
Jones does all of his own work on the Subaru. The BRZ doesn't come with the higher performance STI, or Subaru Tecnica International, parts, so Jones made it himself. His end goal is to equip the car with 350-wheel horsepower and have it around 2,600 pounds. Its weight currently sits at 2,750 pounds. He says he wants to shed the weight to make the car faster and more aerodynamic. Jones is now 25 years old, but he started working at the shop when he was 14. He joined CCC a month after the group's creation.
Jones closes the hood of his car, and the group scatters to its respective cliques in the dark parking lot.
Across from Jones, Tyler Woods sports a flat-brim baseball hat with a floral pattern as he walks me through the modifications to his 2015 Ford Focus Titanium. The 18-year-old Central Methodist University freshman wears white Nikes, black frame glasses and diamond stud earrings. The Ford isn't so simple.
Woods sounds embarrassed when he tells me his car isn't that cool and probably shouldn't be in a magazine article. He gets giddy when I tell him we want to take photos of his car anyway.
His roof rack has his BMX bike and a cooler strapped on because he is heading home to Lake Ozark for the Thanksgiving break.
Dylan Quisenberry, 18, tells me about how he ended up at The Home Depot. This is the first meet for the St. Louis native.
A "dude in a truck" tried racing him at a traffic light. Quisenberry dusted the poor truck, which was driven by a CCC member.
After winning the impromptu race, the driver of the truck buried the hatchet. "You should start coming to our Wednesday meets," he told Quisenberry.
Quisenberry is wearing red Nikes, multicolored socks and shorts despite the 30-degree temperatures. The Missouri freshman runs the 1-mile and 800-meter races for the track team. Just as he trains his lean frame to run faster, he wrenches his Mitsubishi Lancer GTS into racecar form.
"Don't race them"
Young men, testosterone and fast cars: They're inevitably going to mix (although the group doesn't condone lead footedness).To make sure relations with police and public perception stay positive, "racing" is a matter of semantics.
A member named Derek (he wouldn't give me his last name) referred to it as "spirited driving." He claimed that members will only do things like speed heavily or burnout if the situation calls for it — basically, if there is nobody around. A general sweep of internet message boards confirmed Derek's definition. The Reddit crowd (as well as many other forums) all seemed to agree that driving is spirited when you are pushing your car to its limit, possibly speeding and crossing over double yellows, maybe turning a little aggressively. There cannot be other people around. The driver needs to be alert, the car needs to have been checked for safety, and road conditions need to be favorable (no ice, rain, etc). Driving this way around other motorists or, God forbid, pedestrians is a cardinal sin. This is where the internet clique draws the line between "spirited" and "reckless." However, Columbia Police Department Public Information Officer Latisha Stroer says any aggressive driving represents a hazard to others on the road and strongly condemns it.
Members will occasionally talk about racing at Wednesday evening meets, but that's about it. I got some unsolicited advice from a member named Jordan one night. "If someone says they have a slow car, they're lying," Jordan says. "Don't race them."
To some CCC members, police sometimes can be unnecessary pests. I was told that, even though nobody races at the Wednesday meetings, cops are on the lookout for anything illegal.
There are no official racetracks in Columbia. The closest ones are in Rogersville, Missouri; Topeka, Kansas; and Madison, Illinois. Columbia native and NASCAR pro Carl Edwards tried to open one here, but it fell through. Qualls says an official track in Columbia would be a great way to stop people from taking to the streets.
Even at the family-friendly annual meeting with dogs and toddlers present, police made a brief appearance. "They're already here," a member behind me said half-jokingly. The cops left immediately after a quick drive around, only to reappear a few hours later. They left again after realizing that nothing illegal was happening. The whole thing felt like a family auto show, not a sketchy racing event.
After voicing my interest in seeing some illicit racing at my last Wednesday night meeting, a younger member explained that I was looking in the wrong place. Serious racing, he explains, happens in bigger cities such as St. Louis and Kansas City. CCC, he says, was just for people who do hands-on work under the hood to get together and talk shop.
"I hope you have thick skin and like shenanigans"
Every time a mechanic suggests I get something done to my car, I usually end up calling my dad or a handy friend to make sure I'm not getting taken for a ride. In other words, I don't fit CCC's one criteria for membership: liking cars. Luckily for me, they let me through the gates of the Facebook group, which is an inside look into the automotive banter that reads more like hieroglyphics than English to me.
One common inside joke, for instance, is that Ford Mustang drivers, due to a relationship between the car's brutish torque curve and unrefined traction management tendencies, often lose control of their vehicles during spirited driving and crash into onlookers.
The digital terrain can quickly become harsh and personal. New members aren't always welcomed warmly on the Facebook page. One new member posted a picture of a white BMW. Another member commented "Great...another bmw guy," while another member commented "Dude rolling in a 335? Why not just go ahead and have your dick cut off."
In August, Qualls had about $3,000 worth of car tools stolen from his garage. I think that's more money than my car would get right now on the open market. Take into consideration how important these tools are to a car enthusiast, and the loss becomes even more devastating.
However, CoMo Car Culture came through for Qualls. Despite the bad rap around car fanatics and the mental picture of drag racing, burnouts, Tokyo drifting, Monster Energy and Vin Diesel, CCC really does foster a sense of community.
The group organized a fundraiser in September at Cosmopolitan Park to help Qualls get back some of the money for his tools. In total, they raised $800.
"We're a tight-knit group of people," Elbert says. "Everybody knows each other, and we're all willing to help each other out."
Members of the group put together a toy drive for Rainbow House Emergency Shelter in Columbia last December. The group hosted a Thanksgiving food drive at Albert Oakland Park on Nov. 6 and collected 551 pounds of food for the Central Missouri Food Bank. Qualls delivered the food himself. CoMo Car Culture shouldn't be mistaken for a charity, but the admins have a mission beyond the testosterone-ridden cliché that comes to mind within car culture.
A general belief in the group is that the amount of money you put into your car isn't the point. Members are more impressed by passion and hard work than disposable income.
"A $500 car can still be a good car if it gets you from Point A to Point B," says Shelby Guy, a CCC member for the past two years.
The group will continue to meet, word of mouth will continue to spread and new members will continue to join. Lem, Qualls and the other admins will groom new moderators to police the group, both online and in person. They will try to keep it fun, safe and centered around the simple passion for cars. And they will continue to deal with punks.
Before I left the showcase that Sunday, a member stepped on the gas hard enough to burn out. His wheels spun in place before he accelerated out of the parking lot, leaving behind a trail of skid marks on the pavement. Remaining members groaned and shook their heads.
"That's how you get kicked out."