At 6 a.m., Loui Briones rolls out of bed tired and gets ready for another day at Rock Bridge High School. The 16-year-old puts on a hoodie, gym shorts and wristwatch and brushes his teeth; his backpack is already good to go. He usually doesn't feel like eating, so he skips breakfast. Around 7:20 a.m., Loui gets into the car with Uziel, his 10-year-old brother, and his mother to drive to Rock Bridge Elementary School, where they drop off Uziel first because he's a safety monitor at the school. Next, they commute to Rock Bridge High School down Providence Road to drop off Loui. He arrives at school 10 minutes later and heads to a common area by the main entrance of the building.
Loui, a junior at the school, sits down at a brown foldout lunch table with his friends Alex Elms and Dominic William and pulls out his Yu-Gi-Oh! cards, a Japanese card game based on a manga series. Only a few other students gather, talking with one another and joking around. For Loui, playing Yu-Gi-Oh! and other card games provides an escape before having to traipse to classes such as honors chemistry, U.S. history, Spanish 3, pre-calculus and Advancement Via Individual Determination (AVID). Loui examines his deck of about 40 green cards with different monsters, wizards, spells and traps printed on them. The boys decide to begin a game and shuffle their decks of cards. Alex will make a move first, then Dominic and finally Loui. Their friend Dylan Van Hise joins and the battle begins.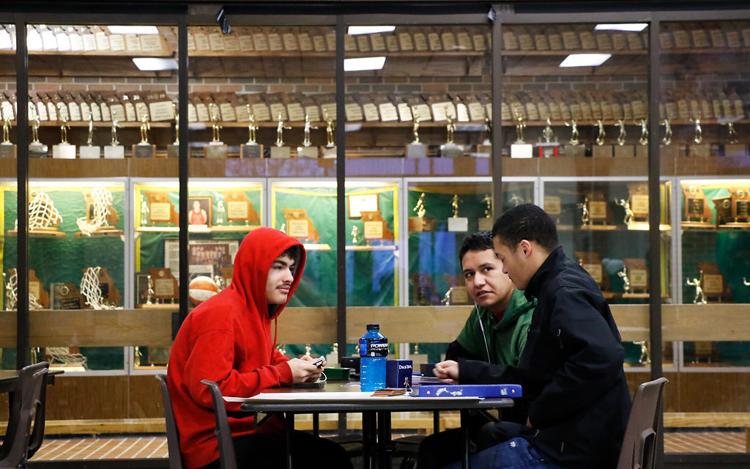 Loui holds his cards with both hands. He anxiously bounces his leg up and down as he looks at all the cards spread across the table and waits his turn. He's a man on a mission. His brown eyes are laser-focused on what is happening in the game; he's not thinking about classes.
Over the next 40 minutes, a few more of Loui's friends join the group at the table and watch as a battle among Loui, Dylan, Alex and Dominic presses on. They continue to play Yu-Gi-Oh! as the common area fills with students grabbing breakfast and others traveling to their classrooms or to meet friends. The boys focus on which card to use next rather than what their teachers will assign in class or how much homework they could have to do by the end of the day. In the end, Dylan defeats Loui by bringing Loui's total life points down to zero. "I put up a good fight," Loui says.
Off to class
Loui leaves for his first class of the day, AVID, at 8:51 a.m. AVID helps students prepare to get into college and succeed academically once they enroll. Students swarm around him as he fights against the current to get to class, walking with his hands in the pockets of his black shorts. He turns right into a hallway dotted with only a few other students and heads to room 215. The classroom is not just for AVID; it is also a U.S. history classroom. The only visual cues of AVID's presence are the 64 pennants of different colleges and universities hanging along the top of the walls. Loui enters the classroom and sits in his assigned seat in the front row, right by the Smart Board and closest to the door. He pulls out some of his class materials and waits for his teacher, Stephanie Brown, to start class. Before class begins, all the students, 14 juniors and six seniors, stand for the Pledge of Allegiance.
Afterward, Brown presents the "bell ringer," an exercise to help students practice their writing abilities and critical thinking. The bell ringer for the day is: What triggers anger in you or someone else? Loui takes his time responding on a sheet of loose-leaf. He writes what makes him angry in brown pen. Once he's done, he waits for Brown to say the five minutes are up and listens in on the conversations happening around him. Dariana, who sits behind Loui, tells him the dream she had about Doritos Locos Tacos from Taco Bell. Brown calls for the attention of the class. Four students share what makes them angry as Loui listens attentively. Then, Brown calls on him. He waits as the class calms down and becomes silent. "I get angry when someone is disrespectful to my mom," he says. Brown shares what makes her angry, and the class goes on.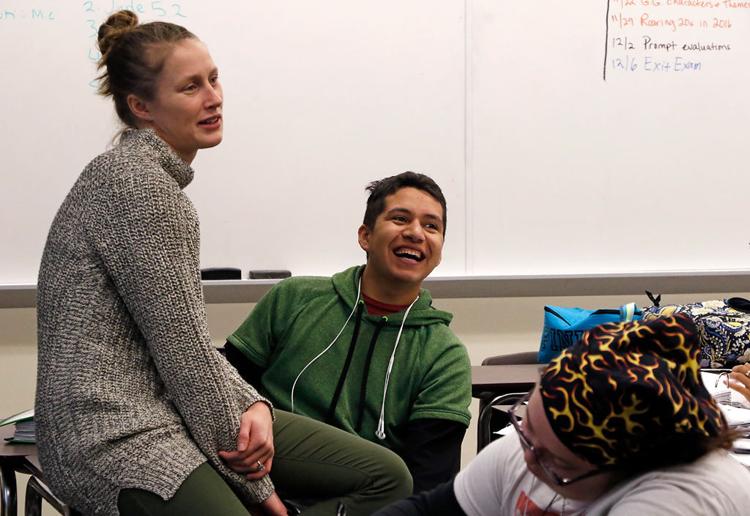 When Loui was in eighth grade at Gentry Middle School, a teacher suggested he look into AVID, and, after learning more about the program, he decided to enroll. "For me, I was pretty determined just to get through high school because I just wanted to pass all my classes and take some advanced courses," he says. Loui is one of the 71 students participating in AVID at Rock Bridge. Debbie Feinberg, Senior Director of Marketing, Communications and Development for AVID, says it's rare for students to drop out of the program because they simply don't enjoy the class. If a student does drop the program, the decision is usually a result of a student wanting to take a different elective course.
AVID's mission is to "close the achievement gap by preparing all students for college readiness and success in a global society," according to the organization's website. Rock Bridge, Battle and Hickman High Schools are among more than 6,000 elementary, secondary and higher education schools that have utilized AVID since its inception over 35 years ago in California. The program has grown to include more than 1.5 million students who are considered to be in the academic middle, meaning they receive grades in the B to D range.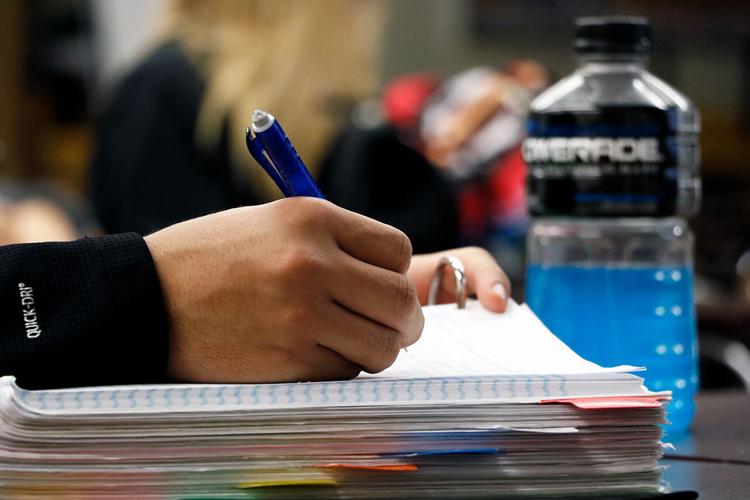 "To say that we've only hit 1.5 million, we have a long way to go," Feinberg says. "We are figuring out how to access more of the schools through superintendents, social media, visits and conferences." AVID can be either an elective or a school-wide program, but one of the largest obstacles AVID faces is finding funding in schools because of other competing expenditures in a school's budget, Feinberg says. To convince superintendents, principals and other academic administrators how valuable the program can be, AVID staff has worked to administer more training for educators as well as researching and testing new ways to refine the program.
As Rock Bridge's AVID guidance counselor, Rachel Reed works with students to see if AVID is the right fit. She also provides guidance throughout high school on which classes to take and post-high school plans. AVID staff selects students based on their GPA, standardized test scores, behavior, attendance and students' determination and desire to be successful academically. "If you've always been smart and you've always been at the head of your class, it's one thing," says Lisa Holt, AVID coordinator for Rock Bridge. "But if you've been down here, kind of the lower grades in your classes, and now suddenly you're closer to the top, it just makes you feel really good. We see that in kids quite frequently."
Loui says before starting in AVID, he earned mostly C's in school, but with the skills he has learned from the program he has brought up his grades to a B range. Loui says the organization and notetaking skills he learned through AVID are reasons for his growing confidence and higher GPA. Holt says she has noticed a change in Loui's personality since he enrolled in the program. He is not as shy as he once was and is now more of a leader and more self-assured about his academic performance. "I would say I'm one-of-a-kind, unique, really helpful and respectful," Loui says. "The Dr. Pepper commercial says everyone's unique, and I feel like that's true."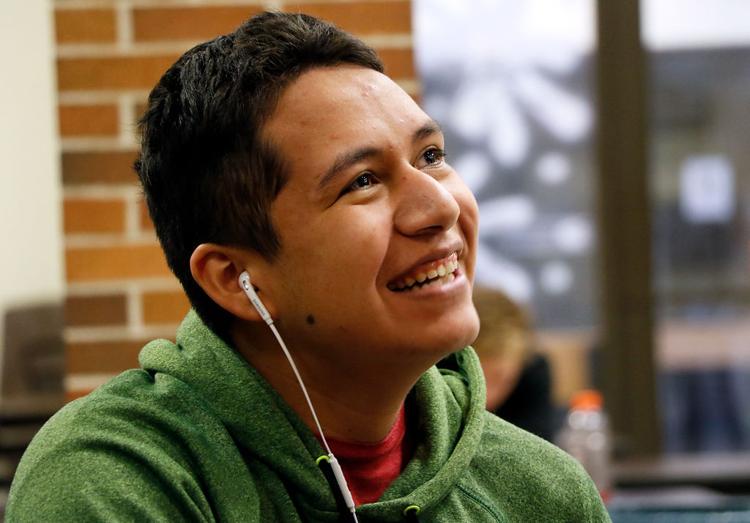 AVID uses a student's freshman and sophomore years to teach basic skills to guide them in a direction that will help raise his or her grades and test scores. To assist with organization, each AVID student must have a 3-inch green binder to carry all papers, assignments and anything else received in classes. Feinberg says the students have been working to become more technologically advanced instead of using paper for tasks such as writing the bell ringer or taking Cornell notes, which teach students to write down an essential question from a lecture and answer it in summary form to elevate their understanding of a subject.
Once per week, the class will conduct tutorials during which students separate into groups. Each student does a tutorial on a point of confusion they have from one of their classes. "It's a student-led study group," says Brown, the 11th and 12th grade AVID teacher. "There are tutors from universities that come and facilitate the group. One person presents their question, and the group asks them questions to help their thinking along."
By 9:15 a.m., Brown separates the class into three groups for the AVID tutors to take control of tutorials. Loui is in a group of seven students who crowd around a small brown table. He doesn't have the official tutorial sheet, so he makes one out of a blank piece of paper by creating three columns. Loui's classmate Alyssa tries to convince him to be the first to present his tutorial. After some deliberation, Loui agrees and heads to the dry-erase board at the front of the table. His question is from his honors chemistry homework.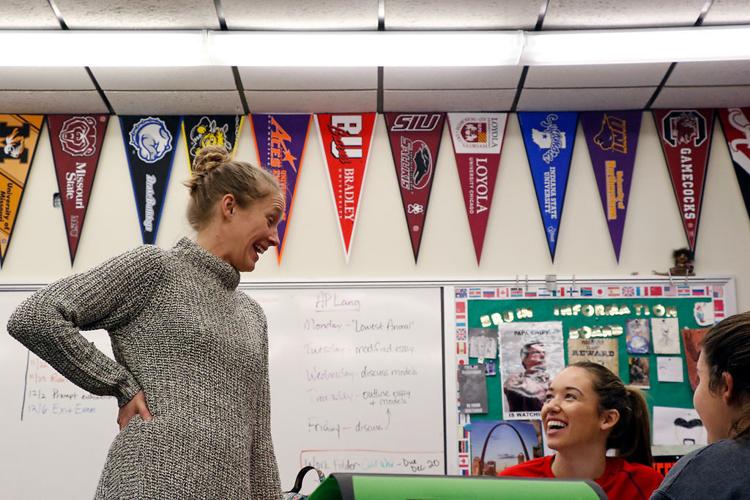 AVID highly recommends that each student enrolls in at least one foreign language, Advanced Placement, dual-credit or honors course. In Loui's case, honors chemistry fulfills the requirement. "We want to take these kids and put them in classes that are going to challenge them," Holt says. "They are going to have to work really hard to be successful, and we try to support them and help them to be where they can do well in the class."
As his point of confusion, Loui writes on the board "how to solve mixed energy" in neat handwriting. He then provides the specific problem: 1,200 grams of steam at 118 degrees Celsius to water at 100 degrees Celsius. He explains each step as he goes but speaks so quietly that he can barely be heard over his other classmates. He uses two equations to solve the problem. Alyssa, who is also in chemistry, attempts to assist him in solving the problem. Bill, the AVID tutor, questions Loui on what the symbols in the equations mean and what his next steps are going forward. After plugging the numbers from the problem into the equation, Loui gets his answer. Afterward, Loui erases his work and copies down the steps he took to get to his answer.
Honors chemistry has been one of Loui's biggest struggles throughout the semester. He tells Alyssa that he has trouble memorizing all the equations and that he's nervous about the exam. As they continue to talk about the exam, the next student presents a tutorial. The students finish the tutorials around 10:15 a.m. and write their reflections on the presentations. Loui is one of the first in his group to finish. He turns it in to Bill and packs up his materials as he puts worksheets into his folder and back into his backpack. Loui and his classmates talk about AVID and work as they leave the room.
First in the family
Loui's mother picks him up from school around 4:15 p.m. She takes him to Walmart on Grindstone Parkway, where he works three days per week returning carts to the store. He has some downtime to relax and grab a bite to eat at the in-store Subway before starting his five-hour shift. Once 5 p.m. rolls around, he punches in for work and puts on his bright yellow vest. He ventures outside to start collecting carts and begins with the areas that contain the most carts then moving to those with fewer. For safety reasons, he can only push 10 at a time. When there aren't too many carts to collect and he sees trash on the ground, he will recycle it or throw it out.
Loui passes any down time by talking to his co-workers, sharing stories (which he jokes are classified) and helping customers in any way he can. His shifts generally last four to five hours, which gets him home between 9 and 10 p.m. on school nights. Although he doesn't have much time to do his homework and comes to school tired, Loui says working doesn't have an effect on his academics. Brown says the AVID class structure assists in helping Loui keep track of his schoolwork. Occasionally, he will use his earnings to take his family out to dinner or treat them to ice cream. "I feel happy because we don't usually get the opportunity to go out," Loui says. "I'm trying to make them happy." Family is important to Loui, which is why he wanted to start working at age 15.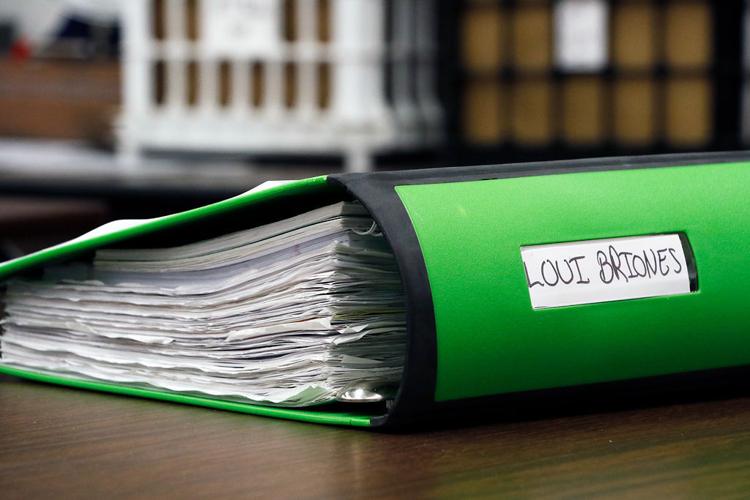 For Loui, one major benefit to working is being able to save up for college — Loui could be the first in his family to graduate from college, which will make his family proud, he says. His mother attended college but never graduated. "I feel pretty good about being the first one, but there's always that worry about, 'What will I do then?'" he says.
Of AVID's 42,418 nationwide seniors for the 2015-16 school year, 74 percent have parents who didn't graduate from college. At home, Loui's stepfather speaks Spanish, while his mother speaks English. Loui is bilingual but says he struggles when writing in English. His brother, on the other hand, refuses to speak Spanish. Loui moved around Columbia during his elementary school years and attended three different schools. His occasional self-perceived language barrier can get in the way of his attitude toward success. "Sometimes, I'm not really great at my English, so I just think, 'Ugh, I'm probably going to fail all my classes because I'm not good at learning stuff,'" he says. He is aware of his negative attitude toward academics and has been working to adjust his thinking with AVID's help.
On the days he doesn't work, Loui usually spends about 25 minutes completing his homework and then plays video games. He steps into a virtual world where he gets to be Batman fighting against villains such as Scarecrow and the Joker to save Gotham City. "(Batman) is awesome and is the best detective in the world," Loui says. The weekends are spent catching up on sleep, waiting for grades to update as they do every week and sometimes going out to Stephens Lake Park to walk around. "I think about nothing," he says. "I try not to think and just look at the nature."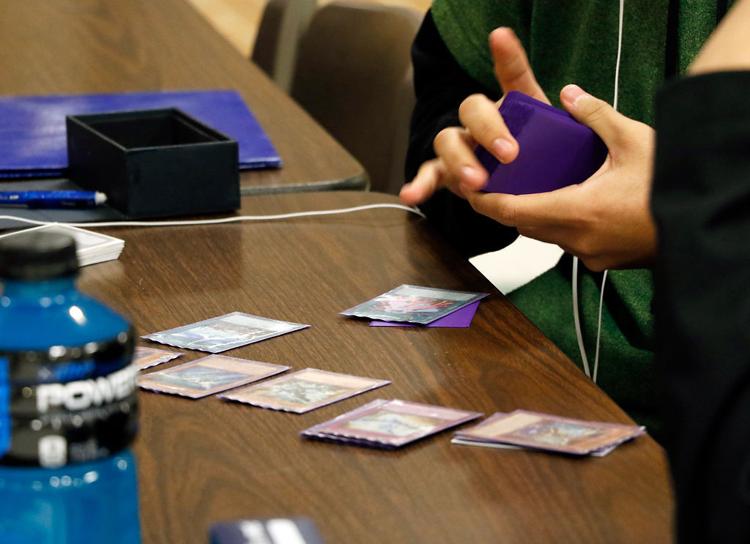 College prep
AVID provides opportunities for students to conduct research on colleges or universities they might be interested in attending. According to the AVID website, around 95 percent of 42,418 of AVID's 2015-16 seniors planned to attend a post-secondary institution, with 63 percent expecting to attend a four-year institution, 32 percent to attend a two-year institution and the remaining have other post-high school plans. Because the AVID classes include two grade levels, the juniors and seniors do separate activities on occasion. One Monday in September, the six seniors of the class went into one of the conference rooms in the media learning center to further their research on colleges while the juniors stayed in the classroom to talk about the college fair coming up later in the week.
At 9 a.m., the group of seniors, three boys and three girls, entered a conference room more energized than most students would be on a Monday morning. They had checked out laptops from the library and sat around the small rectangular table. Holt told them to visit cappex.com to look up information such as acceptance rates, locations and student populations. Each student had to search 10 colleges of their choice and write the information on a worksheet. For Tylee Schnake, this task was unnecessary. She has her eyes set on MU, but she continued doing research for her assignment anyway. All of the students searched school after school, stating some of the facts they found. "Mizzou has an 81 percent acceptance," Tylee says. "That has Tylee written all over it." They continued on, one by one joking about what their futures could hold, talking about what each school had to offer. Three of the students, including Tylee, expressed interest in Illinois State University. This discovery surprised the students, and they began to plan out an imaginary future where they live in the same dorm and take some of the same classes. "We would be a sitcom by then," Tylee says. "We would be like Friends but more ethnic."
The AVID program is designed to be demographically reflective of the school's population. Each year, Holt, along with the rest of the AVID staff, works to find students in the academic middle who fit the profile but also help the program achieve its demographical goal. As a whole, Holt says the program's ratios match the school's, but when it comes to each grade level, that's not the case. Nationally, last year's AVID seniors consisted of 59 percent Hispanic or Latino, 14 percent black, 14 percent white and 6 percent Asian students.
After about half the class period passed, the seniors went back to the classroom to listen to guidance counselor Reed give an overview of the college fair. She provided questions the students should ask of the admissions advisors as well as what they should be looking for in a college or university. Loui listened intently, taking notes and highlighting questions he felt were important.
On the college track
On Sept. 19, the day of the college fair, Loui walks into the Hearnes Center field house at MU with more than 90 possibilities at his fingertips and hundreds of other high school students swarming around him. While strolling up and down the five aisles filled with tables from different colleges and universities at the college fair MU hosts each year, Loui looks at the opportunities he could pursue; some would argue choosing a college will be one of the biggest decisions of his life. Loui can't picture what college might look like for him. But, he knows a little bit about the type of school he wants: small class sizes that allow more time with the professor, a school close to home so he can be with his family and programs with either criminal law, like in the TV show Law & Order, or 3D animation, which are the two fields he's considering as career paths.
He had already stopped at the tables of Missouri University of Science and Technology, Kettering University in Flint, Michigan, and State Technical College of Missouri. He continues down the aisle packed with other students, some from his school and others from different Columbia public high schools. Loui walks as a friend talks to him about what he's looking for in a college until he stops at the booth for Lindenwood University-Belleville, the last in the aisle. Looking down at the table, full of numerous brochures about the campus, courses offered, tuition costs, as well as other information and an iPad showing photos of students on campus, Loui turns his head to the school's representative. "Can I have one of these?" he says as he gestures toward a general brochure on the university.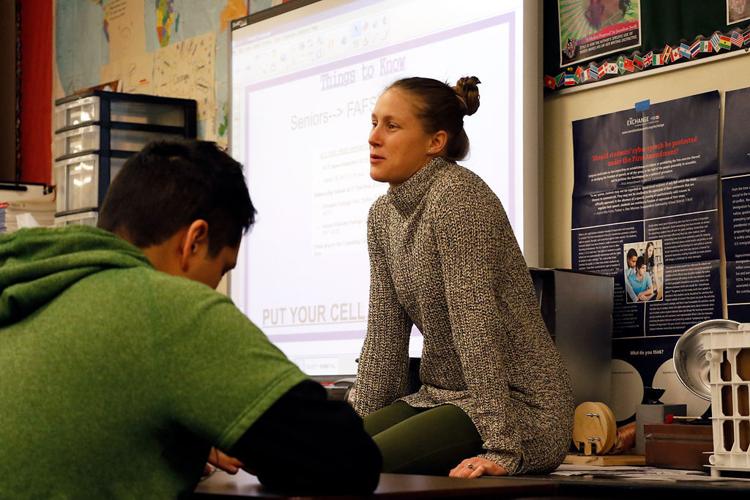 "Of course, you can have anything that's on this table," the representative says.
"Does that mean I can have this iPad?" Loui says, jokingly reaching toward the iPad. The representative laughs lightheartedly and says no. After a few moments of silence, Loui picks up one of the brochures. As he takes in the information, a few questions pop into his head. Would this college work for me? Would they accept me? With papers and brochures from other colleges and universities in hand, he nervously twirls a pencil and gathers up the courage to ask a few questions.
"What is your student to teacher ratio?"
"Our class size is 19-to-1."
"How are roommates chosen? Can I choose my own roommate?"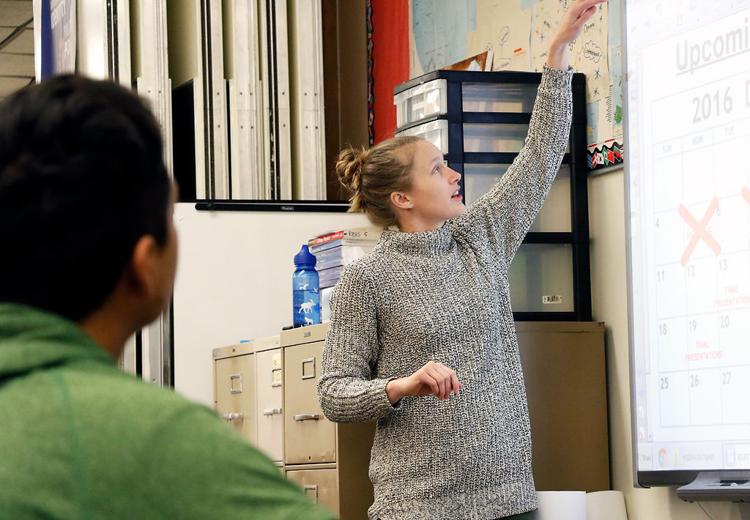 The representative begins to talk about Loui's housing options, highlighting the rooms for three people that were built in 2014 and how he can choose a person he knows as a roommate if they fill out forms together. These questions were some that Reed suggested the students ask the representatives at the college fair.
With graduation in a year and the choice of which school to choose on his mind, AVID will assist Loui every step of the way to senior year through ACT preparations, college visits, college essays, college applications and more. But for now, he's satisfied with the information the Lindenwood University representative provided. Loui thanks the representative and moves on to the next table, to the next opportunity, to the next possible road to college.
THE AVID INDEX
AVID works to close the achievement gap, which can be wider among Hispanic and Latino students. Nationally, 57 percent of AVID's 2014 graduates were Hispanic or Latino. 
 97 percent of all Rock Bridge High School students who graduated during the 2015-16 school year. 
90 percent of Hispanic or Latino Rock Bridge students who graduated during the 2015-16 school year. 
Average AVID student GPA: 3.3 
Hispanic and Latino students make up 6% of Battle High School's population and 12% of Battle's AVID program. 
Hispanic and Latino students make up 5% of Rock Bridge High School's population and 14% of Rock Bridge's AVID program. 
Hispanic and Latino students make up 5% of Hickman High School's population and 9% of Hickman's AVID program. 
 
74 percent of nationwide AVID students come from low-income households. 
74 percent of AVID seniors in 2015-16 had parents who did not graduate from a college or university.
95 percent of nationwide AVID students plan to attend a two- or four-year college.