"I call them my children," Eryca Neville says with pride as she mentions her students. "I take this (idea) very personally. They're my extended family."
For the past eight years, Neville has been like a mother for the students passing through the halls of Frederick Douglass High School, an alternative school located in the neighborhood of North Central Columbia. She wears her official title of principal like a badge of honor, but it hardly encompasses what she means to the school community or to her "children."
After graduating from MU with bachelor's degrees in economics and marketing, Neville worked as a special education classroom aide at Rock Bridge High School before pursuing her master's and doctoral degrees. Education was what she loved all along and what she originally planned to major in, but her father, who was in banking, pushed her toward business so she could follow in his footsteps, she says.
Coincidentally, it was one of her classes in economic development that ultimately brought her back to her first love. In the course, she realized something: Education is the driving force in breaking the cycle of economic inequality. It was after a stint at Fairview Elementary and five years of teaching education at MU that she saw the position for principal at Douglass High School was open. She went for it, and there, she's found her stride as an educator.
Neville leads Columbia's only alternative school, which aims to be a smaller, more focused version of a traditional school. It has become a home for the nearly 200 at-risk students who walk its halls. However, there are inherent roadblocks on the path to success. According to a study by Raj Chetty and Nathaniel Hendren, North Central has one of the lowest median incomes in the city and overall, Boone County is only better than 17.2 percent of U.S. counties in lifting poor children up the income ladder. The same study found that by the age of 26, Boone County children from low-income households will likely make 6 percent less than their peers in higher-income families.
The most rewarding part of Neville's job is getting to help those children and invest in their lives, she says. "Everybody's got a choice," Neville adds, enunciating each word. "We work with some of the most struggling kids in Columbia, and it is very challenging and very rewarding at the same time." She knows fantastic stories come out of struggle, but there are some who just can't escape from under the challenges. The education and income gaps might be holding them back, but Neville strives to set her students up for success. "They are smart, smart children," she says. "It's heartbreaking because 99 times out of 100, intellect is not (their) issue."
Kerry Hesse, Neville's assistant principal and "work husband," is quick to insist that Neville practices what she preaches about helping her students succeed. "We have developed a family atmosphere, and she is the matriarch of our family," he says. "A lot of our students don't have wonderful home situations, so she has stepped in and given guidance to the students that they're not getting outside of the school."
Each day is about working with the students and trying to find resources to support them both inside and outside the classroom. Neville is doing what she can to reinvent the education system, fill the inherent gaps in opportunities and support her students' experience.
Being a black female principal comes with its own set of challenges. "I have a caucasian male who is my assistant principal," she says. "We work really well together; however, it's interesting how people from outside come in assuming that he's the principal and I'm his assistant." She admits that sometimes it does more than just rub her the wrong way. "It catches me, and I kind of look at them cross-eyed," she says with a laugh.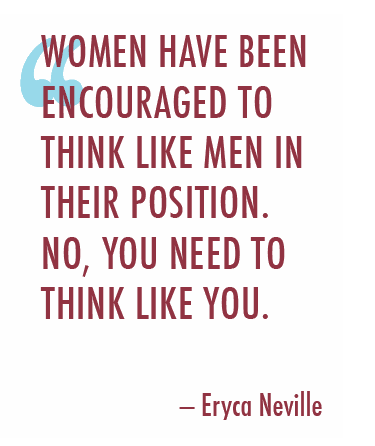 But these biased expectations of leadership have only driven Neville to use her position as a black female leader to push back harder. "It's timeout for following stereotypical paradigms of leadership," she says, her voice rising with spirit. "Women have been encouraged to think like men in their position. No, you need to think like you. Bring your best self, and don't be afraid to not only find your voice but use it."
Neville's unafraid to assert herself, a lesson she hopes to instill in her students. She knows they deserve the same opportunities and privileges given to other children, but that their access to those is often compromised by being "other" — in gender, race, class or ability. "My deal is to be at the table," Neville adds, "and to open as many doors on behalf of these wonderful children that I get to work with."