The bleachers on O'Fallon Township High School's football field might seat a total of 50 people on this April night. The sun sets behind the press box, and the temperature dips below 40 degrees, feeling closer to 20 in the shade and wind. From the school gym and down a grassy hill emerges junior lacrosse player Riley Maher. She's sporting a lime green T-shirt, knee-length American flag athletic shorts over black leggings and high-top blue-and-white Under Armour cleats. If this were four months earlier, Riley would have a beanie hiding her newly shaved head. Not tonight. She carries the blue-and-gold stocking cap in her hand as she skips out to the field alongside some of her teammates.
After stopping to greet a few onlookers at the base of the bleachers, Riley finds her spot on the front row to watch the junior varsity game. Over the next 10 minutes, Riley holds court from that exact spot, greeting people who walk by. When Collin Mayheu lumbers past wearing his mom's wedding dress, a smile creeps across Riley's face as she trades barbs with him about his choice of outfit for tonight's game. That same sly smile returns regularly, in particular when her twin sister, Adler, comes up the stairs wearing a fake mustache and a pair of rubber-ducky printed lacrosse shorts. Not far behind Adler, a group of boys swaggers up the stairs, the leader donning a pair of pink butterfly wings while the boy behind him has chosen a green leprechaun hat and fake green beard for tonight.
What looks like a Halloween costume contest gone wrong is tradition at the school's annual "Minus 36" lacrosse fundraiser game. But every single one of them — boys and girls alike — shares a similar characteristic tonight: green T-shirts. In years past, the girls would sport blue T-shirts while the boys wore pink — a purposeful contrast to typical choices. But this year, the theme is lymphoma awareness, and on this particular night, on this particular field, that word hits especially hard for those in the green T-shirts.
A little more than seven months earlier — Oct. 6, 2017, as Riley vividly remembers it — she woke up complaining of chest pain. "It's likely just heartburn or a pulled muscle," her parents told her. "A little bit of muscle pain for a 16-year-old lacrosse player isn't uncommon." She had just played in a lacrosse tournament the previous weekend with her high school team and had no problem playing midfield and running up and down the turf. It was a Friday, though, and Riley wanted to be at school with her friends.
"If it gets worse, let us know."
The next day, Riley's chest pain had worsened to the point that it was hard for her to breathe. She and her father, Jeff, got in the car and drove to the nearest emergency room. In Riley's subsequent chest X-ray, an opacity showed up in her anterior mediastinum, right above her heart. Doctors thought it best to give Riley a CAT scan to determine if it was something more serious. The results of the scan showed an 8-by-9 centimeter mass. Riley was immediately moved to St. Louis Children's Hospital and admitted to the oncology unit. Two days later, doctors needle biopsied her chest to extract tissue from the mass for further testing.
On Wednesday, two days after her biopsy and six days after she initially arrived to the emergency room, Jeff received a call from Dr. Julia Warren, Riley's pediatric oncologist at the hospital.
Jeff, an ophthalmologist in nearby Belleville, had been seeing patients for most of the day when the St. Louis area code popped up on his cell phone. A sinking feeling came over him.
We have the tissue diagnosis, and it's non-Hodgkin lymphoma, Warren told him. Every word after that was a blur. Jeff dropped to his knees, and tears streamed down his face.
How could this be, he thought. How could his second-born daughter, the one who would soon be inducted into the National Honor Society with a GPA above a 4.0, the one who has dreams of being an orthodontist, and the one who — at 10 years old — held her siblings together when Jeff and their mother, Kelly, split up, have cancer?
"I think there was some part of me that I think knew on some level that was probably going to be the news," Jeff says. "But you want to be in denial about it … maybe somehow it's a fluky thing; it's going to come back a benign mass."
Soon after hanging up, Jeff told a staff member at the clinic that he needed to leave. Another ophthalmologist was in the office that day, so Jeff asked if he could cover his appointments. He jumped in his car — the same one he had used to drive Riley to the emergency room a week earlier — and he headed for Riley's mom's house in nearby O'Fallon. On the way, he called Kelly, his ex-wife of six years.
"It's not good news," Jeff said. "Cancer."
Kelly hung up and looked at Riley. She relayed the news of the diagnosis, and Riley's tears started to fall.
"I can't do this," Riley said. "I just can't do this."
When Jeff arrived a few minutes later, Riley and Kelly were in the family room, crying and holding each other. The three quietly embraced, the only sounds coming from their collective crying. They didn't say much over the next few minutes, or maybe it was an hour. None of them can recount exactly how long they sat there, simply trying to comprehend what was happening.
The results of a PET scan revealed a growth in Riley's cancer mass — a relatively rare subtype called primary mediastinal B-cell non-Hodgkin lymphoma — and in the span of less than a week, it had begun pushing on her airway. The next day, Riley was readmitted to the hematology/oncology unit at Children's. During the next 10 hours, Riley underwent a spinal tap and bone marrow biopsy, and eventually a central venous catheter was placed into her chest. Later that night, once doctors determined her bone marrow and spinal fluid were clear of cancer cells — a crucial sign that her cancer hadn't spread beyond the mass — Riley's first round of chemotherapy began. Surrounded by Adler, her brother, Keller, her parents and her grandmother, Riley watched as the bag of chemo medicine was brought into the room and hung on the IV pole. The nurse gave her a handful of pills to take.
Because of the aggressive rate at which Riley's cancer was growing, that evening she began an intense 4 1/2-month treatment plan. It would be parsed out in six, 21-day cycles — five consecutive days receiving chemo with 16 days recovering for the next round. She asked everyone to exit the room except for her mom and dad. Tears welling in their eyes, Jeff and Kelly joined hands with an already distraught Riley. The three said a short prayer before Riley ingested the pills and wiped the tears from her eyes. After taking a moment to collect herself, Riley looked at each of them with a newfound sense of determination before she spoke.
"Let's go."
---
Cuonzo Martin was 26 and a father of just four months when he collapsed on the court in 1997 playing professional basketball in Italy. At the peak of his athletic career, Martin watched his body fall apart. Following his collapse, doctors sent him home to Indianapolis to be examined. A series of tests revealed a tumor in his chest the size of a baseball and a diagnosis of non-Hodgkin lymphoma.
Martin faced an enemy unlike anything he'd seen, even though he grew up in a housing project aptly named "The Hole" in crime-riddled East St. Louis. Although much of the trouble Martin saw his friends and neighbors get in had been a choice for them, cancer wasn't a choice. It was the epitome of an ultimatum: life or death.
Over the next four months of treatment, Martin lost his hair, his eyebrows, his signature goatee and 40 pounds. But on April 20, 1998, the cancer was deemed to be in remission. Just over 20 years have passed since, and the disease that stripped Martin of his playing career and left him at a crossroads has never returned.
Between then and now, he's served as a high school assistant coach for a year, an assistant under head coach Gene Keady at his alma mater, Purdue, for seven years, and a head coach at Missouri State, Tennessee and California since 2008. After tumultuous tenures at both Tennessee and California, in which his teams never lived up to the expectations heaped upon them, Martin opted to return to Missouri, a program he'd grown up watching in East St. Louis as a kid. He signed a seven-year, $21-million contract in March, becoming not only the highest-paid employee at the university, but also the highest-paid state employee in Missouri.
On Oct. 28, after reading a story in The Kansas City Star about Martin's bout with cancer, Jeff shared the story with Riley, who was in the midst of her second week at home between her first two chemo treatments. They spoke of Martin's athletic background, their similar diagnoses and his resilience in the face of this devastating disease. On a whim, Jeff, who graduated from Mizzou in 1998 and considers himself a die-hard Tigers fan, opened his computer and scoured the web for Martin's email address. He just wanted to let Martin know that his story had resonated with a dad and daughter fighting cancer. No luck.
Further searching turned up Missouri Athletic Director Jim Sterk's email address, so Jeff started writing. He introduced himself, shared Riley's story and closed the email by simply telling him that Martin's story and his example have reached people he might never expect. His only hope was that Sterk would pass it along and Martin would know his impact.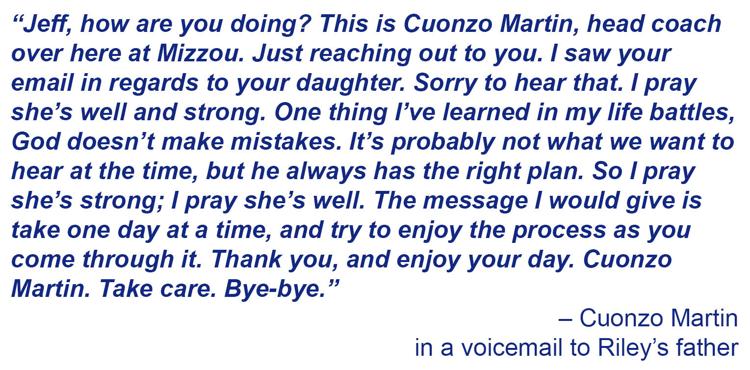 Four days later, while Jeff was seeing a patient, his phone rang. A Columbia, Missouri, area code popped onto the caller ID.
"Who would be calling me from Columbia?" Jeff thought.
No matter; he didn't have time to answer anyway. A few hours later, when he had finished his appointments for the day, Jeff opened his phone and saw the Columbia number had left him a voicemail.
"Jeff, how are you doing? This is Cuonzo Martin, head coach over here at Mizzou. Just reaching out to you. I saw your email in regards to your daughter. Sorry to hear that. I pray she's well and strong. One thing I've learned in my life battles, God doesn't make mistakes. It's probably not what we want to hear at the time, but he always has the right plan. So I pray she's strong; I pray she's well. The message I would give is take one day at a time, and try to enjoy the process as you come through it. Thank you, and enjoy your day. Cuonzo Martin. Take care. Bye-bye."
For a second, Jeff couldn't believe what he'd heard.
Over the next few weeks, Riley's story reached Mizzou Athletics. The school offered Riley and Jeff a pair of basketball tickets for the Tigers' Dec. 9 game against the University of Wisconsin-Green Bay. They watched from five rows behind Missouri's bench as the Tigers rolled to a 100-77 victory. After the game, Jeff and Riley were invited onto the court to meet Martin before he headed into the locker room.
"Stay positive, and look to your support," Riley recalls him saying. "You've got really good support behind you. Everything will be OK, and you just have to stay strong."
They were simple words; their meaning came more from who spoke them, Riley says. Seeing a fellow non-Hodgkin lymphoma patient, one who had faced a similar fight 20 years ago, gave her hope that there was a way through. The conversation, as brief as it was, also gave Riley a sense of community, something she lacked as a young cancer patient. Riley's mother, Kelly, is a breast cancer survivor of nearly seven years, but because of the surgical treatment plan she'd opted for, she couldn't fully prepare Riley for what she would face in the next five months of extensive chemotherapy. The hospital offered group therapy sessions for youth cancer patients, but Riley didn't like the idea of sharing some of her most intimate details with people she didn't know. That's where Martin and his firsthand knowledge of a fight like Riley's came in.
"He didn't have to ask me specifics," she says. "He already knew what to ask. 'How's your appetite? How's your activity? How are you feeling?' I didn't have to be too personal about it; that was just really refreshing to feel like someone already knows about you and can help you get through that."
---
As is the case for most young cancer patients, Warren says, the true moment of impact for Riley came when her hair started falling out. It had been the first question Riley had after the needle biopsy revealed cancer.
"Will it fall out?" she asked.
"Yes, unfortunately, we can't do anything to prevent that from happening," her doctor told her.
Riley was crushed. But even after the first grueling round of chemotherapy left her feeling weak and nauseated for periods of time, Riley's mind wouldn't let herself believe she had cancer.
For her, it started with a few strands of hair on her pillow. A couple more began showing up on her clothes. Soon enough — when Riley put her hair in a ponytail, as she had done for most of her life — her hair was coming out in small chunks and then eventually, bigger clumps. By her second week home after her initial round of chemo, all she had to do was tug on her hair, and it would come right out. That's when it hit her. No matter that she'd been undergoing treatment for two weeks. It never really felt like cancer until the moment she was crying in the mirror as her wavy brown hair fell to the ground.
"Before that, I could almost pretend that I didn't have cancer," she says.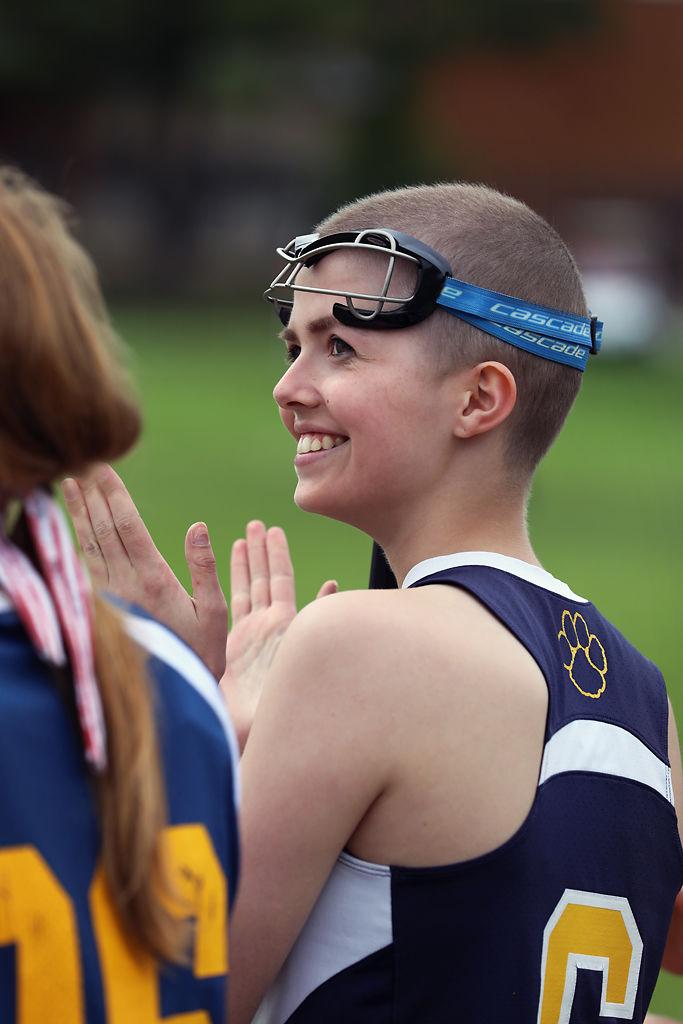 Kelly offered for both she and Riley to have their hair cut into bobs to make the loss less obvious. Her hair stylist stayed open late, giving them the shop all to themselves. Five inches were cut off of Riley's hair, but it made little difference. Watching her hair fall out had become agonizing. Sensing her daughter's pain, Kelly suggested just shaving it all off.
Two days later, on Oct. 31, when most 16-year-olds are debating whether they are too old to still be trick-or-treating, Riley, Kelly, Jeff and Adler went back to Kelly's hair stylist. Through tears of her own, the stylist shaved off the rest of Riley's hair as each of them wept at the sight of her brunette locks in a mound on the floor.
"I think for me, that was kind of when it hit me," Kelly says. "When people don't have their hair, it's because they're sick … Even as a tiny baby when she was first born, she had hair."
For Riley though, as difficult as that night was, it meant she was doing something on her terms, not her cancer's.
"It was pretty empowering to be able to choose that," she says. "I know it would've fallen out eventually, but the fact that I decided to shave it was really important for my self-esteem and confidence. Seeing it fall out made me really sad, so I just decided to shave it because I got to choose."
---
For Riley, there were three goals in mind when she was diagnosed: beat cancer, play on the varsity lacrosse team this spring and make it to her junior prom. None were guaranteed, but the former would enable the latter two. Between her second and third chemo treatments, Kelly took Riley prom dress shopping. The dance wasn't for another couple of months, but for Kelly, it seemed like something any normal mother and daughter would do, and that's all she wanted for Riley — to feel normal. It was cold that day, and even though she'd been attending school, Snapchatting friends and feeling somewhat like herself again, Riley was nervous to take off her hat in the store. She wanted to see how her dress would look without it, but she was anxious about the possible reactions from other shoppers. Forget the fact that the central IV line Riley was receiving for her chemo had been inserted into her bicep at the elbow, curved over her shoulder and across her heart.
"If people say anything, then shame on them," Kelly told her. "You take your hat off because this is your prom."
Riley pulled off her cap and tried on the first dress she liked in the store. When she stood on the nearby pedestal in front of all six mirrors to get a view of how it would look on her instead of the hanger, surrounding customers stopped and looked. "You look beautiful," one told her.
"That's my girl," Kelly says, a hint of pride beaming through her voice. "She's standing there fighting cancer, and there are other girls saying, 'I don't like this dress;it makes me look thin or whatever.' And I'm like, really? She's literally got a tube running out of her arm and no hair. And look at her."
Not long after, Riley, Adler and Kelly invited Brynn Laverdure, the Mahers' longtime next-door neighbor and Riley and Adler's quasi-older sister, and her mom to their house. The group started talking about prom, and Adler rushed up the stairs to grab her dress and show Brynn. Lying on the couch, exhausted between the chemo treatments, Riley jumped up and followed her sister. Once the group had finished ohhing and ahhing at Adler's sparkly blue gown, Riley made her way to the top of the stairs, holding her purchase. Running up the stairs had taken so much energy that she didn't have any left to try the dress on.
The lack of energy wasn't uncommon for Riley. Most of her time in the hospital while receiving chemo was spent in her bed watching Netflix or greeting visitors who came to see her. When Adler would visit after school to help catch up Riley on her schoolwork, the two would often lie in Riley's hospital bed to talk or watch TV or just spend time together as sisters again. In the meantime, Adler was helping Riley through the classwork she'd missed, collecting assignments and delivering them to and from her teachers. Maintaining her above 4.0 GPA was a point of pride for Riley, even if it meant sometimes pushing herself to exhaustion to finish her work. To get through those moments, Riley relied on the advice Martin had given her at that first basketball game.
"I think one of the most important things that I had was that I needed to take it one day at a time," she says. "If I was ever overwhelmed with schoolwork, or if I felt really ill at a certain point, I would just say, 'You know what, this is one day. I can get through this day and then there's a next day. And if I can get through that day, there's a next day.'"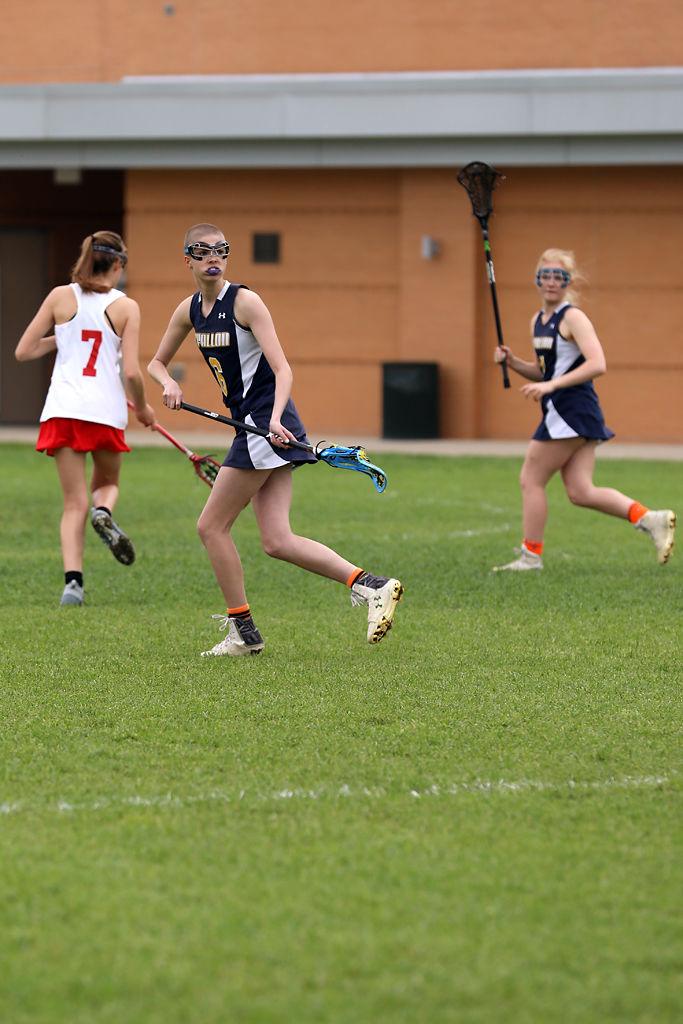 On Feb. 22, the night before she was to return to the hospital for her sixth and final round of chemo, she was inducted into the National Honor Society. Six days later, she was back home, this time with her eyes set on March 21 — the day of her next PET scan. The three weeks it took for her to find out if her scan was clear were as nerve-wracking as the days before her diagnosis, Riley says.
When Warren delivered the news that Riley's scan came back 99 percent clean, one of her first thoughts was how quickly she could get back on the practice field with her lacrosse team. O'Fallon already had its first two games rained out and was scheduled to play another the very next day, so Riley started at practice just passing the ball with her teammates. Soon enough, she was participating in a few drills and beginning to jog around. Concerned her headstrong daughter might be pushing herself too much too soon, Kelly enlisted Adler to keep an eye on her.
"Mom, I think she's doing more than she should," Adler said.
A few days later, ahead of the boys vs. girls game, Riley told Kelly she wanted to try playing. Kelly wasn't thrilled.
"She and I had some words about that," Kelly says. "I'm always worried she's going to get hurt. (But) her goal apparently was to be able to say, 'I went through chemo, but I stepped back out on the lacrosse field that season.' I kind of just had to be like, 'OK. If you feel ready, go for it.' There was really no stopping her."
If you talk to enough people who know Riley Maher, that phrase isn't uncommon.
---
Once the JV "Minus 36" game concludes, Riley and her teammates pose for team pictures in their warmups. The O'Fallon boys and girls teams gather at midfield for pregame introductions, with each player announced as a nickname they've chosen.
Most are silly — we're talking about high school students here. But somewhere between Emily "Frizzle" Fritz and Brooke "The Tank Engine" Thomas, "Riley 'I can beat you, too' Maher" is announced. A cheer erupts as Kelly begins to cry. At the 7:40 mark of the first half, Riley enters the game. She jogs a few steps slower than everyone else, simply trying to stay close to the pack. Soon enough, the ball comes to her at midfield. She turns to pass, but the ball drops from her stick and bounces three times on the turf before it's picked up by the other team. A minute later, Riley finds herself around the goal. She gets ahold of the ball and swings a shot toward the net but misses right by four inches. Another minute later, she subs out for the rest of the game. Three minutes and 50 seconds — that's all she got. Seven months ago, three minutes and 50 seconds on the lacrosse field was a blink in time. Tonight, it's an eternity.
Afterward, both teams and Riley's family gather at midfield for photos. The family presents a check to representatives from St. Louis Children's Hospital. In the previous seven years of the fundraiser, the lacrosse program raised a combined total of $10,000. But game admission, along with sales of #RileyStrong T-shirts, wristbands and donations from sponsors, put the number on the check this year at $6,000. Riley, who's become a bit of a small-town celebrity, allowed the community to put a face to the cause Laverdure undertook in 2011 when she started the "Minus 36" game after hearing 36 children were diagnosed with cancer every day.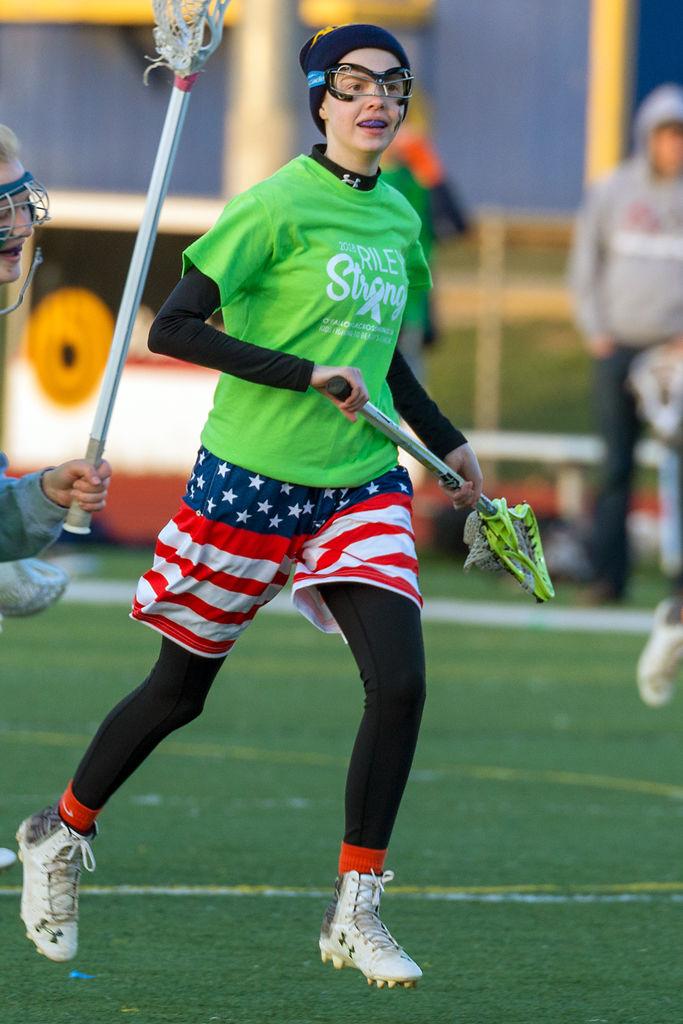 Riley's nurse, who arrived at Kelly's house at 6:45 a.m. twice per week during treatment to check on Riley before school, came from out of town to the charity game. A handful of Kelly's colleagues from Saint Louis University's development division even showed up, having never been to any of the previous games. The disease, and the amount of attention that has come with it, has broken Riley out of her shell, Kelly says. Like at the junior varsity game, people she's never met will stop Riley to talk about how she's feeling or just to let her know they're thinking of her.
"People know her," Kelly says. "If only it was for a different reason."
After a few more pictures, Riley rejoins her friends and heads for the parking lot. Jeff, trailing behind, pauses to take in the scene. Days earlier, he'd been reflecting on what the family had endured over the past seven months. Compared to the draining despair they'd faced when they were told of Riley's diagnosis, things like winning and losing high school lacrosse games now seemed trivial.
"Her team had a game last week, last Thursday," Jeff says. "Pouring rain. She probably would've been better off just bundled up and warm. But she's standing there in the rain, going through the warmups with the team, and just to see her with the team passing the ball around and feeling at least somewhat normal again, I was like, if that's all she's able to do, I'll gladly take it."
Five days after the "Minus 36" game, Riley played with the JV team against Marquette High School. At halftime of the varsity game, though, her coaches asked if she felt up to playing a few minutes. Sure, she said. Three weeks later, Riley accompanied her boyfriend of 2 ½ years and a group of friends to her school's prom, donning the purple gown she'd been so nervous to show her mom just a few months before.

That night, and each lacrosse game before it, has been special, she says. Moments that seemed like formalities are anything but since the diagnosis. But with each passing day, normalcy gets closer for the Maher family. Riley's back in the starting lineup for O'Fallon, playing primarily on defense. Her hair has started to regrow, currently resembling peach fuzz. And May 9, Riley underwent a PET scan to monitor her progress — something she'll do annually for the next several years after she's cancer-free. At her previous scan in March, Warren told her she was 99.9 percent in the clear and gave her the opportunity to ring the hospital's remission bell. Riley wanted to wait for this scan, the one that would leave no doubt she'd beat cancer, not even one-tenth of a percent.
"I don't think Riley wants to say she's a survivor just yet," Kelly says, "but she is."