Columbia Parks and Recreation has 48 trails listed in its directory. Missouri State Parks make up another 80 parks and historic sites. With such natural abundance, choosing a place for your next hiking excursion can be confusing and stressful. One trail might be great for a solo hike, but what if you plan to bring your dog or your children with you? Or add fishing, kayaking or bird-watching to the day's itinerary?
More adventures await in Missouri's great outdoors than we could possibly publish. We narrowed this list of trails to just six selections for hiking (and a bonus one for biking). Each fulfills a different goal, whether you're looking for views, history or simply a park with a lot of options. We selected local parks and ones as far-flung as the Lake of the Ozarks so you can decide just how far away from it all you'd like to be. So, lace up your boots and break out the bug spray: It's time to take a hike.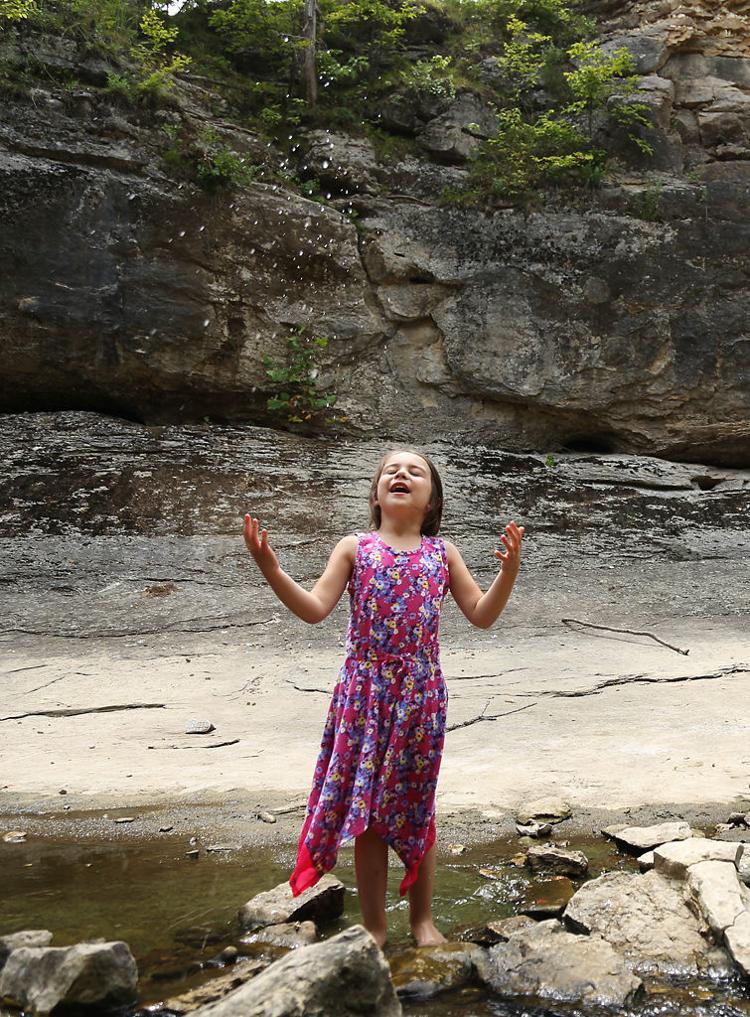 Pinnacles Youth Park
Look no further for jaw-dropping views | By Lucy Shanker
If you're afraid of heights, the Pinnacles is not for you. Don't be fooled by the moniker: This trail is no walk in the park. While the distance itself isn't wildly rigorous at about a mile long, it's still enough to get your heart rate up. Not to mention the climbable, 80-foot limestone formations at the end, which are over 300 million years old, according to a previous piece by the Missourian. Owned by the Boy Scouts of America, it is definitely one of the less intense hiking trails in Columbia in terms of length. Pile everybody into the van and enjoy the privately-owned but open-to-the-public park, but don't forget a leash for the dog — it's required. 
850 E. Pinnacles Road, Sturgeon; open 7 a.m. to 7 p.m.; 573-449-7946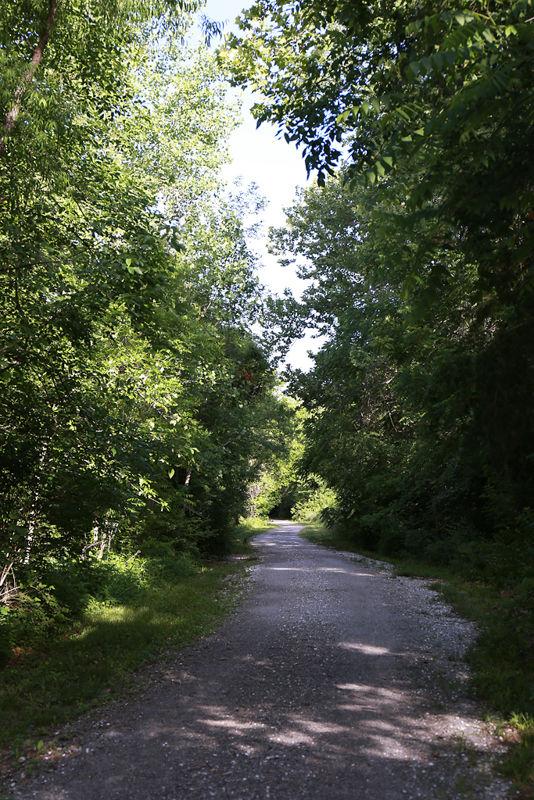 Bear Creek Trail
Walk your dog on a city trail | By Chloe Wilt
Take your four-legged friends on a walk or a run along Bear Creek Trail, and stop by the dog park in Garth Nature Area. The fenced-in dog park is about 3 acres. It has a pond the pups can splash in and a picnic table where you can have a rest. The trail in northern Columbia connects two popular parks: Cosmo Park on the west side of town and Albert-Oakland Park to the east. At 4.8 miles, this wide limestone trail follows the natural drainage system of Bear Creek. There is even a boardwalk at one section that crosses the water. The trail is one of the eight major trails in Columbia like the MKT and Hinkson Creek trails. It is tree-covered, making for a quiet and cool hike with plenty of opportunities for wildlife viewing.
Trail spans from Cosmo Park, 1615 Business Loop 70 W., to Albert-Oakland Park, 1900 Blue Ridge Road; open 6 a.m. to 11 p.m.; 573-874-7460
Eagle Bluffs Conservation Area
Best spot for wildlife | By Chloe Wilt
Along the banks of the Missouri River is the 4,431-acre Eagle Bluffs Conservation Area. The Missouri Department of Conservation bought the land as a way to protect Missouri's wetlands after nearly 90 percent of the state's wetlands had been lost. Located at the southwest edge of Columbia near McBaine, Eagle Bluffs is a prime spot for birdwatching and, as the name would suggest, bald eagle sightings. Hike along the expansive Missouri River on a 2.2-mile trail, or park your car near one of the 17 wetland pools that are home to resident and migrant birds. The park is a hunting and fishing spot, but check state regulations before gearing up and heading out. Eagle Bluffs is also a popular place to train hunting dogs. Just make sure to keep them on a leash when they aren't in training.
6700 W. Route K; open 4 a.m. to 10 p.m.; 573-445-3882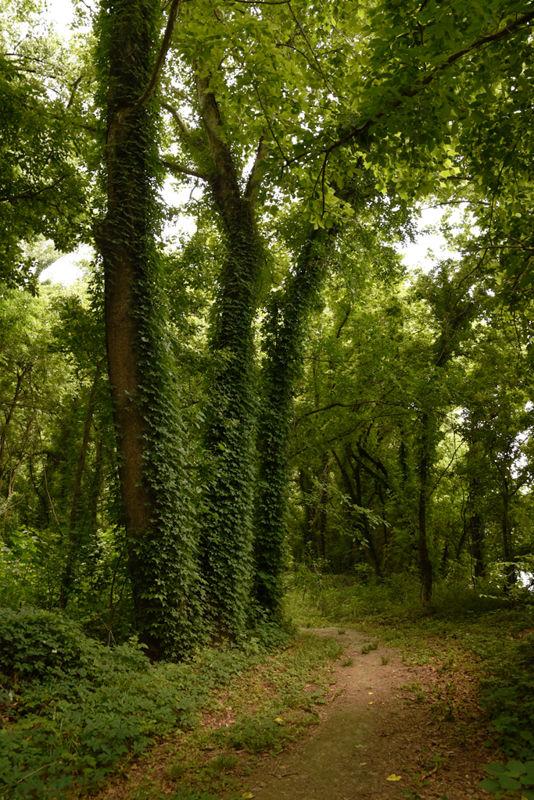 Rock Bridge
Memorial State Park
Trails for any hiker | By Cary Littlejohn
Rock Bridge is a park with numerous hiking options. About 15 minutes south of downtown, Rock Bridge was established in 1967. It has over 25 miles of hiking trails and numerous streams and caves. There are eight different trails, including the popular Devil's Icebox Trail, which is a short but rugged boardwalk path leading past the rock formation that gives the park its name. The majority of the trails are rated as moderate in difficulty and are 1 to 3 miles long, but many of them have connector routes that allow hikers to shorten their walks. For those seeking a longer hike, the nearby Gans Creek Wild Area Trail System provides over 8 miles of rugged trail. Visitors who want to test their outdoor skills should try the Orienteering Course, during which participants can use only a map and compass to navigate unmarked terrain to find 30 separate markers.
5901 South Highway 163; open sunrise to sunset every day; park office open 9 a.m. to noon and 1-4 p.m. Mon. to Fri.; 573-449-7402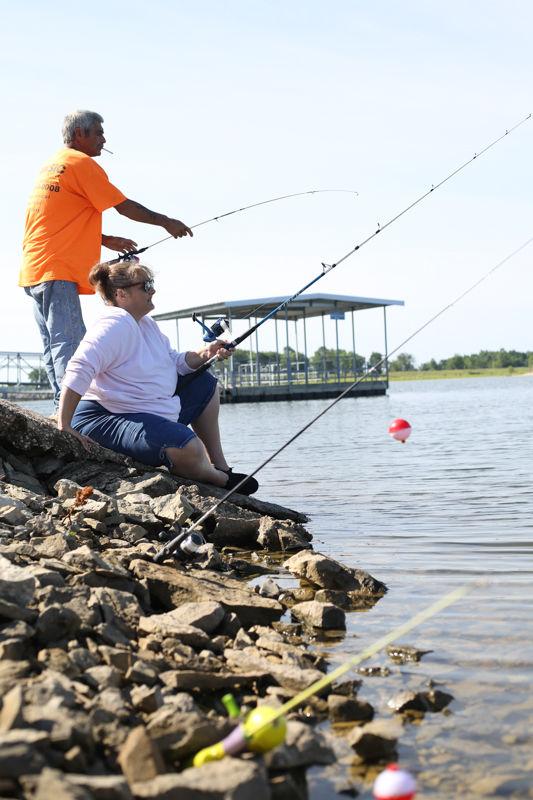 Long Branch State Park
Drive to where the water rules | By Cary Littlejohn
Long Branch is just over an hour's drive north of Columbia and has three different hiking trails. Lakeview Trail is the easiest in the park at .6 miles. It's open to bikes as well and as its name suggests, offers great views of Long Branch Lake. For a change of scenery, the 1.5-mile Little Chariton Prairie Trail has a moderate difficulty rating and gives hikers a glimpse of Missouri's natural prairie landscape. Serious hikers and backpackers should try the 7.5-mile Bee Trace Trail, which was named after the honeybees that were attracted to the hollow trees in the area. It is rated as the most difficult trail in the park.
For water activities, bring a boat and launch at one of the three paved boat ramps. If you don't have your own boat, rent a kayak from the Marina Store for a day on the lake. The beach is also open for swimming and fishing.
28615 Visitor Center Road, Macon; open sunrise to 10 p.m., park office open 7:30 a.m. to 4 p.m., Mon.-Fri.; (660) 773-5229
Finger Lakes State Park
All bikers welcome | By Cary Littlejohn
Finger Lakes sits on land once used by the Peabody Coal Company for a strip-mining operation and contains more than 70 miles of off-road vehicle trails. It's a mixed-bag for hikers: Its close proximity to Columbia is a huge plus, but there is only one hiking trail, Kelley Branch Mountain Bike Trail. As the name suggests, this trail is designed for mountain bikers. The narrow 2.75-mile trail is rarely out of sight of a road, and natural sounds are often drowned out by the din of ATVs in the distance. But at the midpoint of the trail, there is a waterfall with an overlook area. On the backside of the trail, you can find a beautiful stretch of pine forest.
The park offers several activities, namely the ATV trails. But water-related fun is also an attraction at Finger Lakes. Many of the lakes left behind by the mining company were joined together to form connected water paths, which can be navigated by canoes and kayaks. Finger Lakes State Park Water Trail consists of two sections, each a little more than two miles long with a connector that allows visitors to paddle the entire 4.5-mile water trail.
1505 Peabody Road; open 6 a.m. to 10 p.m., April to October, 6 a.m. to 9 p.m., November to March; 573-443-5315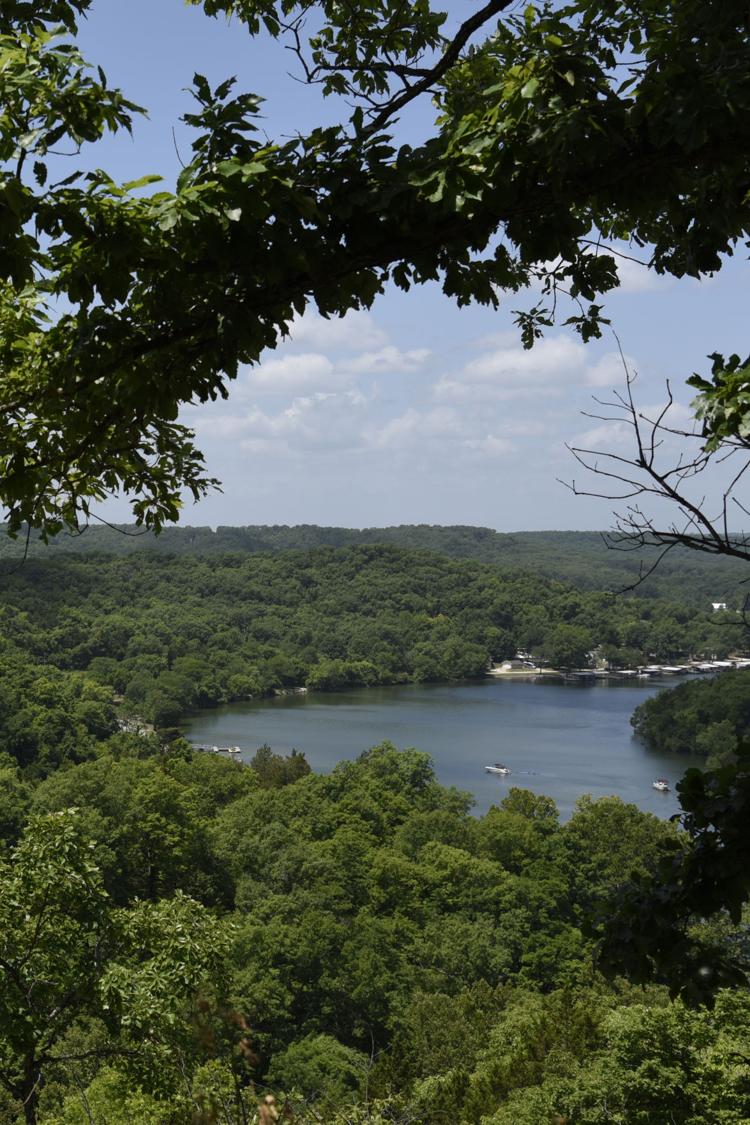 Ha Ha Tonka State Park
Hikes with a side of history | By Lucy Shanker
No, we're not talking about the Missouri band performing at Roots N Blues N BBQ this year. We're talking about the 3,700 rolling acres that inspired those guys to name their band after this state park. About an hour and a half drive from Columbia, Ha Ha Tonka State Park is a day trip kind of place. Not convinced yet? Well, Condé Nast Traveler named Ha Ha Tonka the most beautiful place in Missouri. With more than 15 miles of trails, exploring the park is accessible for people with a range of skill levels. It's also home to geological wonders: sinkholes, caves and sheer bluffs. But what you really won't want to miss are the ruins of a stone castle that overlook the park and Lake of the Ozarks. Take Castle Trail to see and bring your kids, too. This 0.4-mile path is one of the easier options. If you're looking for a bit more of a challenge, try the Turkey Pen Hollow Trail. You're sure to see most of the park on the 6.5-mile trail. Ha Ha Tonka is proof that you should never underestimate the beauty of mid-Missouri. 
1491 Missouri D, Camdenton; open 7 a.m. to sunset, April to October, 8 a.m. to sunset, November to March; park office open 10 a.m. to 5 p.m., April to October; 573-346-2986