You've taken them for granted your entire life: the hospital of your birth, the road of your childhood home, the high school of your formative years, even the buildings that make up your city. Most have names chosen for specific reasons, but you likely don't know what those reasons are. A team of Vox writers sought to demystify the history behind some of Columbia's most recognizable buildings, proving there is a lot in a name.
---
Nifong Boulevard | Ellis Fischel Cancer Center | Sappington Drive | Blind Boone Home | Mick Deaver Memorial Boulevard | Officer Molly Bowden Memorial Boulevard | Vandiver Drive | Mizzou Arena | E.W. Stephens Publishing Company | Mary Paxton Keeley Elementary | Muriel Williams Battle High School | Wright Brothers' Mule Barn | Tom Bass Road
---
Nifong Boulevard, Nifong Park
As a teen with a penchant for the arts, Chris Campbell was no stranger to Maplewood Barn Theatre. However, he didn't recognize the name that graced the boulevard's sign: Nifong.
"Little did I know that 45 years later, I would know all of this: exactly who Nifong is and was and that I would be the executive director of the historical society and museum that is headquartered right next to his house," Campbell says.
It wasn't medicine but the heir of a wealthy Columbia family who brought Dr. Frank G. Nifong to central Missouri from St. Louis. He married Lavinia Lenoir in 1900. Shortly after, Nifong began working as an MU clinical surgeon before starting a private practice.
In 1917, the Missouri General Assembly passed a law that allowed counties to fund the construction of health facilities through bonds. Construction for the Boone County hospital started in 1919 after support was gathered by Nifong and others posing petition signatures through newspaper ads by asking one question: "What is your life worth?" Campbell says Nifong pressed for a county hospital because people were dying of preventable ailments due to distance from the city and harsh road conditions.
When the hospital opened in 1921, Nifong became its chief of staff. In 1954, he donated $100,000 to help with improvements and the construction of a new wing.
Lenoir mourned her husband's death later that year; she died four years after him of breast cancer in the same hospital that her husband helped build. Both the hospital and Nifong were inducted into the Boone County Historical Society Hall of Fame in 2011.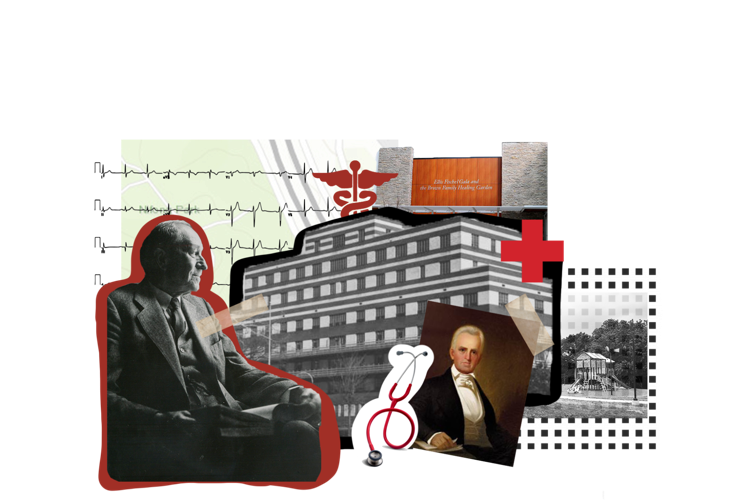 Ellis Fischel Cancer Center
"Many precious lives will be saved by the prompt treatment made possible by this law."
Those were the final 15 words in Missouri Gov. Lloyd C. Stark's telegram to Dr. Ellis Fischel in 1937. It was in reference to a bill that established the future Ellis Fischel Cancer Center on MU's campus.
Hailing from St. Louis, Fischel was a veteran physician and advocate for improving cancer care in rural Missouri. He was appointed chair of Missouri's Cancer Commission following the passage of the 1937 bill. The National Cancer Institute in Bethesda, Maryland, was the only place that focused on cancer treatment at the time, making Ellis Fischel Cancer Center the second facility in the nation.
Fischel pushed for Columbia as the location of the cancer center because of MU's role in cancer research. Unfortunately, Fischel died in a car accident one year later en route to Jefferson City for work related to the Cancer Commission. The hospital opened its doors in 1938 and was dedicated in Fischel's name on April 26, 1940.
---
Sappington Drive
Born in 1776, John Sappington was the third child of seven. The Sappingtons were Maryland residents before moving to Nashville, Tennessee, when he was nine years old. Sappington's father trained him and his brothers in medicine, which eventually led him to Franklin, Tennessee. It was here in 1804 that Sappington met his wife, Jane Breathitt. U.S. Senator Thomas Hart Benton from Missouri later persuaded him to move his family of 11 to Arrow Rock, Missouri.
Sappington provided medical help to the public while also giving loans and importing and exporting products such as cotton and medicine. His success and soaring sales can be largely credited to the work of his family's slaves.
Sappington is known for the invention of anti-fever pills in 1832. For people living along the Mississippi and Missouri rivers, exposure to malaria, influenza and the fevers (both scarlet and yellow) were commonplace.
Sappington experimented with quinine, derived from cinchona trees, years after he began importing them from South America. Against the advice of his family, he published the pill's formula in a medical treatise in 1844.
---
The Blind Boone Home
Among the ranks of Scott Joplin and James Scott, John William Boone was a world-renowned black ragtime pianist in the late 1800s. Despite the racial disparities and segregation laws in mid-Missouri at the time, Boone broke down barriers and brought black and white communities together.
Born in 1864 in Miami, Missouri, Boone was given the nickname "Blind" Boone because he lost his sight when he was 6 months old due to meningitis. As a child, Boone attended St. Louis School of the Blind where he learned to make brooms and read Braille. But he was not interested in either of those things; he was enchanted by the sounds of the piano that he heard down the hall in the advanced students' classrooms. People began to take notice of Boone's innate skill: He could play a tune after hearing it just once.
According to The State Historical Society of Missouri, Boone would spend up to six hours a day practicing new music because he believed the only way to achieve greatness was through study. And he didn't let his disability limit him. "He maintained his commitment to not see himself as a victim," says Clyde Ruffin, the president of the John William Boone Heritage Foundation. Boone's motto, "Merit, not sympathy, wins," was written on all of his old concert flyers and brochures.
Boone was known for simply enjoying the music. Selling records was never his main priority; he just wanted to play. The Boone Foundation Board describes him as a concert artist first: Only those who heard him perform live ever felt the full impact of his music.
Boone's performances were attended by large crowds of both black and white concert-goers. Although segregation laws kept the two groups physically seperated within the venues, Boone's song choices allowed each to hear music from the other's culture. Ruffin says Boone would start his concerts by playing Negro spirituals ahead of the classical music. He called this "putting the cookies on the lower shelf." Boone wanted to make all forms of music accessible to his audience diverse races.
Not only was he famous for his classical music, but he was also known for his philanthropic work in the Columbia community. Boone helped fund the construction of the chapel on the Christian College campus and contributed funds for the building Second Baptist Church.
The Blind Boone Home sits on a lot that overlooks Flat Branch Creek, which is commemorated in one of Boone's compositions entitled "Strains from the Flat Branch." On Sept. 4, 1980, the home was placed on the National Register of Historic Places. The grand opening and dedication of the house was held Sept. 18, 2016. Ruffin says the Boone home itself is important because it represents more than just Boone himself. "It's the one monument that we have for African-American achievement at the highest level."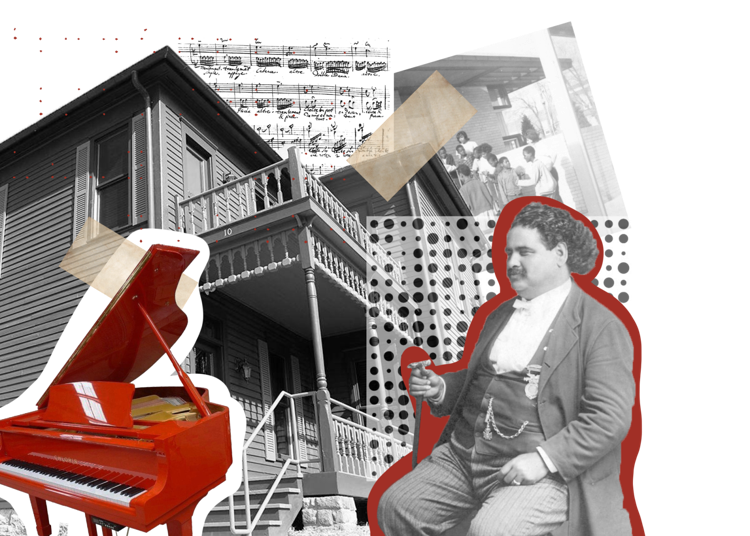 Mick Deaver Memorial Boulevard
From his FBI training to his sense of humor, Mick Deaver was a well-rounded MUPD associate director. Although he died in a car collision in February 1980, his legacy lives on — be it on the street of his namesake or a university staff award.
MU was in Mick Deaver's blood before he ever joined the force. After graduating from the university in 1966, he returned to his college stomping grounds as an MUPD officer in 1972. He continued learning and received training from the FBI and the Secret Service on protection of high-profile people. Retired MUPD Chief Jack Watring, who also completed the trainings, says he and Deaver covered President Jimmy Carter when he visited MU. "He wrote several articles on crowd control for both the FBI and a law enforcement organization for colleges and universities around the world."
Deaver's son, Shawn Deaver, remembers his father always cracking jokes and his unbelievable sense of humor. "He was very well-respected in not only the law enforcement community but also the university community," he says. And his student-selected title of Homecoming Grand Marshal in 1979 is a testament to that. "If you're going to have a beer with someone, Mick would've been a guy to have it with," says Randy Boehm, retired Columbia Police Department police chief.
Shawn Deaver says the MU Board of Curators appointed a special committee to name a street in his honor. Now, Mick Deaver Memorial Boulevard runs between the Hearnes Center and Memorial Stadium. "He was a big University of Missouri sports guy," Watring says. In addition to a fraternal order of police for MU officers in his namesake, in 1980 the Staff Advisory Council created the Mick Deaver Memorial Award for Student Relations Excellence, which is given annually.
---
Officer Molly Bowden Memorial Boulevard
They knew what they had to do, but they didn't want to. It was Christmastime, and officers Molly Bowden and Geoff Jones were investigating a case of stolen customer credit card information. After figuring out which K-Mart employee had stolen the customer's financial details, Bowden paid a visit to the woman's home only to find out the employee had used the stolen credit card to buy gifts for her two children. Bowden and Jones had to collect the gifts as evidence.
After returning the stolen items to the store, Jones says Bowden, a Hickman High School graduate who had served on the force for more than three years, had the idea to buy a majority of the gifts back and give them to the children. They hopped in line and did just that.
Her generous spirit embodies the kind of person Bowden was. She would later become the only Columbia police officer to be killed in the line of duty. On Jan. 10, 2005, Bowden was shot three times by 23-year-old Richard Evans during a routine traffic stop at the corner of Nifong and Forum boulevards. She died exactly one month after the shooting.
But her legacy and name are still a staple of the Columbia community. Since her death, a scholarship at her alma mater, Columbia College, and an annual blood drive have been established. A part of Nifong Boulevard was named Officer Molly Bowden Memorial Boulevard. In May 2016, the Molly Bowden Memorial Park was dedicated, and in April, the third annual Molly's Miles memorial run was held in this park.
Her thoughtful spirit will also live on at the Molly Bowden Neighborhood Policing Center, which is set to break ground this summer. "Molly is an embodiment of what it means to have relationships in the community," says Jones, who is currently serving as interim police chief.
Vandiver Drive
By Matt Noworul
A road on the north side of town shares its name with the Missouri politician who would eventually inspire the state's nickname. Willard Duncan Vandiver was born in Virginia in 1854. Three years later, his family relocated to a Boone County farm. Vandiver attended Central College in Fayette to study law and graduated in 1877.
He spent his early career as a professor of natural science at the Bellevue Institute in Caledonia before eventually becoming its president from 1880 to 1889. Four years later, Vandiver became the fifth president of Southeast Missouri State University. Just last year, a professor at the university started a petition to change the name of the school to honor Vandiver. However, Vandiver's biggest mark on Missouri didn't come until 1899.
From 1897 to 1903, Vandiver served as a U.S. representative. According to the the Missouri Secretary of State archives, during a speech at a Naval banquet in 1899, Vandiver said: "I come from a state that raises corn and cotton and cockleburs and Democrats, and frothy eloquence neither convinces me nor satisfies me. I am from Missouri. You have got to show me." "Show-me" eventually became Missouri's state nickname and unofficial motto.
The state has used this motto to create a brand for Missouri. Scott Kington, executive vice president of strategy at Woodruff Advertising says, "It connects on a very emotional level and many Missourians take great pride in their pragmatic, no-nonsense approach to life."
Vandiver settled on a farm in Columbia and focused on agricultural pursuits. He died in 1932 at age 78 and rests in the Columbia Cemetery, roughly two miles south of Vandiver drive that bears his name.
---
Mizzou Arena
By Meg Donohue
Before this year's college admissions scandal, there was another controversy involving the University of Southern California and a high-profile billionaire's daughter – this time in our own beloved college town.
On Nov. 19, 2004, ABC's "20/20" aired a segment that rocked Columbia. Just three weeks prior, MU had opened its $75 million Paige Sports Arena. A $25 million gift from Bill and Nancy Laurie, daughter of Wal-Mart co-founder Bud Walton, gave the couple naming rights. The proud parents chose to honor their daughter. Paige didn't attend MU, and the fact that the stadium was named after her angered alumni and Tiger fans.
The segment called "Big Cheats on Campus" revealed the Wal-Mart heiress, who had graduated the previous May, cheated her way through college. Elena Martinez, Paige's freshman year roommate, estimated Paige paid her $20,000 to do assignments for her during her career at USC.
If Tiger fans weren't upset with the name before, they definitely were now. Bill and Nancy surrendered naming rights. The straightforward "Mizzou Arena" was unanimously approved by MU's Board of Curators just days after the news broke.
Following months of investigation by USC, Paige surrendered her degree and is no longer considered a USC graduate. Elena went on to major in communications, telling the Chicago Tribune, "I liked the classes Paige took so much, I've decided to major in the same thing as she did."
---
E.W. Stephens Publishing Company
By Kate Robbins
On the corner of Hitt Street and Broadway stands a tall brick building looking out onto downtown. The building has seen a revolving door of businesses — from the Pasta Factory to its current resident, Seoul Taco. But before it became a home to Columbia's beloved eateries, it housed a lively publishing company.
In 1870, E.W. Stephens, son of the founder of Stephens College, began the E.W. Stephens Publishing Company. It was a prosperous press and a bustling newsroom that published the Columbia Missouri Herald, the local weekly. It also printed everything from novels to newspapers.
And then, on an autumn evening in 1892, a fire broke out.
It was a little past 6  p.m., and nearly everyone had already gone home for the day. The only employees left in the building were the janitor and the engineer, who had stayed late. Fumes from gasoline caused the eruption of fire, and the flare-up caused the gas can to ignite, triggering a second explosion. However, the source of the gasoline is still a mystery.
The fire burned so intensely that by 7  p.m., the E.W. Stephens Publishing Company had burned to the ground, and nothing except for a few articles could be saved.
But the loss of his original building didn't stop Stephens. He rebuilt his printing press at a new downtown location — this time with flame-resistant brick — which is the building we know today. By the next year, the publishing company was the second largest employer in Columbia until it closed in 1913.
Mary Paxton Keeley Elementary School
In 1908, the Missouri School of Journalism was just a handful of students, and class was held in the basement of Jesse Hall. Among them, Mary Paxton Keeley was the only woman.
Born in 1886, Keeley became known for her pioneering spirit in more than one arena. In the journalism school's inaugural class, she studied under the school's founder, Walter Williams, and she helped choose the graduates' tassel color when she became part of the school's first graduating class in 1910. According to the State Historical Society of Missouri, when Williams asked, Keeley suggested "any old color as long as it is red" — the same color worn by the school's graduates today.
Keeley's list of firsts didn't end when she graduated. Just days later, The Kansas City Post hired Keeley and made her the first female reporter in Kansas City. The newspaper was known for yellow journalism, sensational or exaggerated reporting, she said, but she didn't have much choice. "The Star wouldn't take a woman." At The Post, Keeley covered investigative and human interest stories, once researching alleged abuse at a girls' reform school in Chillicothe.
Despite her success, Keeley left the profession 15 months later when she developed a severe case of debilitating appendicitis. Still, it wasn't the end of her community involvement. Over the years, Keeley worked with 4-H groups across the U.S. and even traveled overseas to work with the YMCA in France during World War I. When she returned to Columbia in 1919, she taught creative writing and journalism at the school that is now Columbia College. She tried to develop a close relationship with all her students, asking them to call her Mary Pax instead of Mrs. or Professor.
It was Keeley's strength, dedication and adventurous spirit that inspired the naming committee for Columbia's newest elementary school in 2002, Mary Paxton Keeley Elementary. "She was very passionate and always followed her dreams and really stretched herself," says Elaine Hassemer, the school's first principal.
Keeley died Dec. 6, 1986, at 100 years old, but her legacy is preserved in the school's collection of written works, photos and memorabilia donated by members of the community. Most importantly, her memory is honored in the faculty's efforts to instill her spirit of independence into their students.
---
Muriel Williams Battle High School
Muriel Battle and her husband, Eliot, were both educators in Columbia for more than 30 years. Most notably, they helped integrate Columbia Public Schools during the late 1950s and 1960s. When the time came to name the new high school in 2013 in northeast Columbia, Battle was a front-runner from the get-go.
Irene Haskins, a Columbia Daily Tribune writer, once wrote that Muriel's surname, Battle, was fitting because of the couple's struggle against prejudice in spite of obstacles. In 2010, the Columbia School Board wouldn't name a building after a living person. Eliot Battle asked that his name be removed from consideration, so the school, now called Muriel Williams Battle High School, was named in memory of his wife.
Battle began her career in 1956 as a social studies teacher at Douglass High School after graduating from MU where she earned a master's degree in secondary administration in 1976, a specialist degree in 1980 and a doctorate in general administration in 1983. Battle was the first black principal in the city's integrated schools from 1979 to 1991, and before she retired, she served as the first female associate superintendent of Columbia Public Schools from 1992 until 1996.
Battle died at age 73 on March 2, 2003. The high school adopted her name in 2010 and opened in August 2013.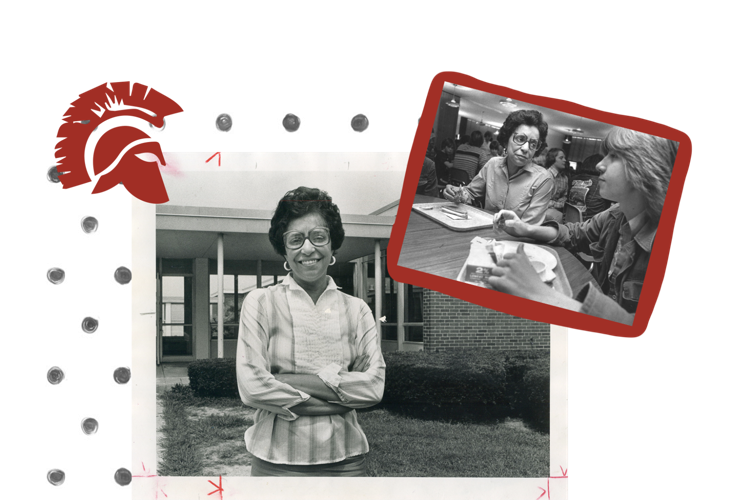 Wright Brothers Mule Barn
What do you know about mules? That they're hybrid animals, the offspring of a male donkey and a female horse? Did you know that in 1995, state law designated the mule the official animal of Missouri? Or that according to The Evening Missourian in 1920, Columbia was "a determined bidder for the capital of the greatest mule district in the Middle West"?
That claim was made possible by brothers Bill and B.C. Wright. In August 1920, they opened Wright Brothers' Mule Barn to much fanfare. The structure began construction in May 1919, was 150-by-150 feet and cost a reported $30,000 to construct. It was deemed "modern in every detail" with running water, electric lights and newfangled feeding troughs. Another writer marveled at its rows of windows on each side of the building, which changed "the inside appearance from that of an ordinary barn." It was spacious, with the ground floor divided into three sections. Each section contained a number of compartments, and each compartment held roughly 25 mules at a time. The paper jokingly mentioned "Each mule will have ample room to eat his dinner in courses and kick his neighbor at leisure."
The brothers were bullish on the future of those mules. In an interview before the mule barn opened, Bill said: "Tractors have filled an important place but not the place of the mule. Most small farmers cannot afford tractors. This much is certain. You can't make a corn crop, a cotton crop or have a war without mules."
Bill's rationale was sound, but his prediction was not. He and his brother were coming in on the tail end of the mule boom. By the conclusion of the decade, tractors were becoming more popular. The trend would continue, with modernization changing just about everything except the building itself.
That massive structure looks nearly the same as it was in 1920. It sits at 501 Fay Street, between the Wabash Railroad and Logboat Brewery. Today, it's on the National Register of Historic Places and home to various businesses, notably Woodruff, a marketing agency started by Terry Woodruff in 1992. "At the time of the purchase we were needing more space, and the uniqueness of the building was conducive for a creative agency," Woodruff writes in an email to Vox. The building epitomizes history. "The railroad spur in the back was used to ship mules all over the country so that aspect is a good reminder of the original purpose," Woodruff writes.
But a reminder is all that remains. Of its many clients, Woodruff proudly represents CLAAS and Kubota. Those companies make the modern incarnations of the tractors that Bill Wright regarded with such skepticism a century ago — the ones that put Bill out of business.
Is it poetic or ironic that a mule barn built on the assumption that the mule would remain essential to farmers one day became the home of a marketing agency helping companies sell more tractors? "I don't think anyone really thought that the mule would withstand the advancement of the tractor," Woodruff writes.
But that's not true, is it? Bill and B.C. Wright did. They made a big bet on the mule. About $30,000 worth.
Tom Bass Road
By Meg Donohue
John Anderson often impersonates his great-great-great-uncle. No, this isn't the kind of impersonation people do of their crazy aunt at holiday gatherings. Anderson performs in historical showcases as his ancestor — slave-turned-equestrian-extraordinaire, Tom Bass.
"I'm proud to be able to tell his story," Anderson says. Despite Bass' fame and the more than 3,000 awards he collected in his lifetime, Anderson says Bass was always a humble man. He was born in 1859 into slavery near Ashland, Missouri. After the Civil War, he moved to Mexico, Missouri, to work as a stable boy for famed horse buyer Joseph A. Potts. Under Potts' guidance, Bass became known for his ability to train horses and opened his own stable in 1883.
Word of Bass' training abilities spread quickly, and it wasn't long before his talents and showmanship garnered attention far beyond Missouri and the equestrian circuit. In 1885, he rode in President Grover Cleveland's first inaugural parade. He was later visited at his Mexico farm by presidents Theodore Roosevelt, William McKinley and William Howard Taft. When invited to ride in Queen Victoria's Diamond Jubilee in 1897, he declined due to a fear of traveling by sea.
In 1905, Bass was asked to go to Kansas City to help organize the first American Royal Horse Show. Today, the American Royal is recognized internationally, and the warm-up arena is named after Bass.
Bass was known for caring deeply about animals and for his humane training techniques. He invented the "Bass bit," a mechanism that is commonly used today to protect a horse's mouth from injury during training. Anderson says Bass never patented the bit, and therefore he never made a profit from it. "He considered animals to be the greatest stars," Anderson says. "He just tried to bring out the best in them."
Bass' legacy could be outlined by the remarkable things he did including representing Missouri in the World's Fair in Chicago in 1893 or for training horses for the Ringling Brothers Circus. But it isn't these accomplishments that he's remembered for. "It's about his values," Anderson says. It's about humility and working hard. That legacy will live on in Anderson's reenactments, on the quiet Tom Bass Road, off Old 63, near Bonne Femme Creek and in Mexico, Missouri, where Anderson says some community elders still remember Bass. Anderson's connection runs deeper. "I'm inspired by Tom every day."