Olivia Williams and Solace Palisano got engaged in early April and began planning their wedding for the fall. On Sept. 9, their already-delayed plans took a major detour. Solace and Olivia were both sent home from work because they showed symptoms of COVID-19. "We were 10 days away from our scheduled wedding," Solace says.
Then came a suggestion from a family member that was out of the ordinary but perhaps not for the times. Why not use Zoom, like Solace had used for classes at Missouri State University?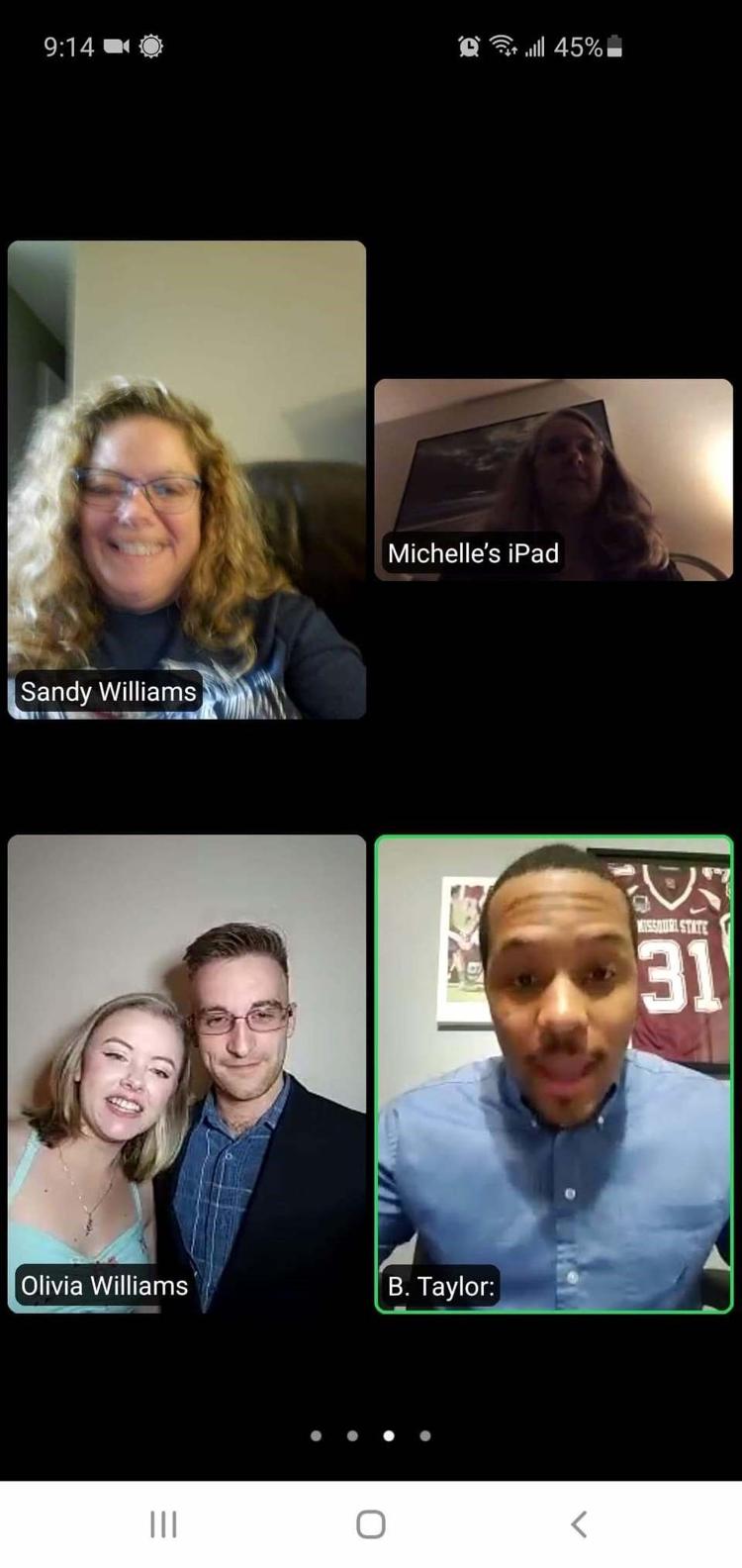 "I knew Zoom had a good reputation for good connections for groups," Solace says. He and Olivia decided to move up their wedding from Sept. 19 to Sept. 13, thinking if they were going to be quarantined together, they might as well be quarantined and married, "almost like a little honeymoon that we hadn't planned," Solace says.
Once the now-Palisanos decided on a Zoom ceremony, things moved quickly. The pastor was able to gather his materials, and the couple was joined online by both their parents and the pastor.
Not unlike a usual wedding, Solace's and Olivia's mothers cried during the ceremony. When it came time for the pastor to say "kiss the bride," the pastor's screen completely froze showing the huge grin on his face. Olivia's mom chimed in and said, "just kiss her," Solace recalls. "So we went ahead and kissed. And then immediately after we kissed, his feed came back in, and so we had a second kiss."
But, one thing was missing for Olivia: "not being able to hug my dad," she says. The couple plans to have an in-person ceremony in October, but in September, being able to get married was what mattered most. "It was all about the marriage and not about the wedding," Solace says. "And so that was why we decided to just go for it."

Zoom is perhaps the most well-known virtual meeting space in the era of COVID-19. The app — you'll know it on your tablet, phone, or laptop from its blue icon with the white video camera logo — was created in 2011, and it's one of the pandemic's success stories. The company, adding more users in the first two months of 2020 than in all of 2019, has boomed during the past seven months. While the app had 10 million accounts at the end of 2019, Zoom now has around 300 million daily meeting participants. One of its chief competitors, Microsoft Teams, averages 75 million daily active users.
Zoom is most known for its functionality for work meetings, for its interface that allows a user to view multiple meeting participants on the screen in small squares, Brady Bunch-style, for features such as muting and unmuting (and forgetting to mute or unmute) and for screen sharing. But the pandemic has shown us its uses extend beyond meeting with colleagues, students and even extended family or long lost friends; it encompasses everything from college parties to funerals to baby showers and, of course, weddings.
While Zoom is seeing new uses and dramatic growth, gaming outlets such as Twitch and Discord have grown as well. Each of them are reaching more of their target audiences and finding new ones.

Twitch, owned by Amazon, started as a platform for people to stream footage of their everyday lives. In a 2014 interview, Twitch founder Justin Kan explained he hatched the idea for an online streaming service that "livecasted" your life, according to a Business Insider article. This had the concept of a reality show. The site's initial name was justin.tv, and it launched in 2007. As video and audio recording became more accessible at home, the platform became more well-known for video game livestreaming.
Today, Twitch's most well-known user is 29-year old, Tyler Blevins, known by his stream name Ninja, a Fortnite player with over 15.6 million followers. In August 2019, Ninja left the company for Mixer, Microsoft's now defunct streaming service, but after nearly a year away, in a multiyear, multi-million dollar deal, he signed with Twitch again. His popularity makes Twitch money. Next in the line of Twitch stars is Turner "Tfue" Tenney, who livestreams his Fortnite gameplay to over 8.6 million followers. His net worth, taking into account Twitch subscribers and donors, YouTube revenue, sponsors and tournament revenue, is between $4 and $6 million, according to The Loadout website.
Twitch carved itself a niche in the gaming community because viewers can interact with and be entertained by the personalities behind the camera. Viewers communicate with the streamer through a chat system and even pay them via "bits," which they can convert to real money (Think of it as fan mail but with a monetary value behind it.). One "bit" is worth 1 cent. Streamers can enable text-to-speech messages on their donations, further encouraging streamer-viewer interactions. Streamers also receive a portion of their viewers' monthly subscription fees from Twitch.
In a 2019 study on Twitch streaming, Clemson University researcher Evan Lybrand says Twitch "streams often mimicked the style of saloons in which patrons would gather to talk amongst themselves while some form of entertainment occurred separately and simultaneously."
To describe what the platform looks like to those who aren't part of Twitch's 15 million daily active users: on screen is a livefeed of the streamer playing a game and providing commentary on what he or she is doing. This could be the gamer playing an online match of a multiplayer video game, for example. The chat updates in real time on the side of the screen for the streamer and all watching to communicate.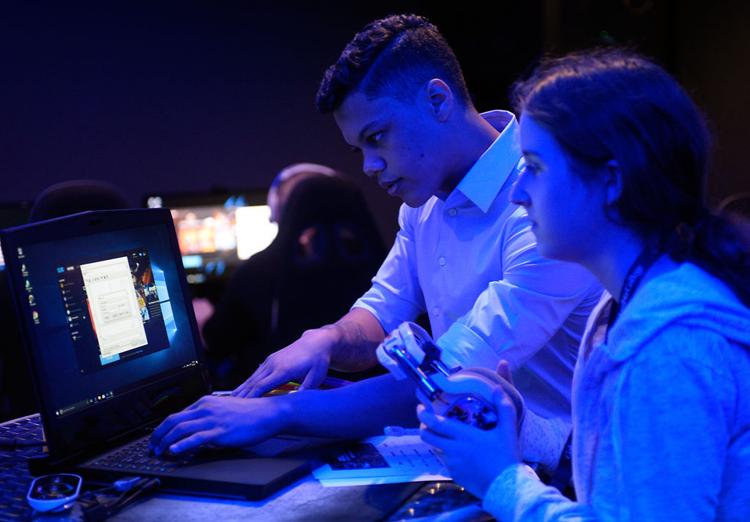 Arabella McEntire, who previously played on the varsity Mizzou Esports Overwatch team, says she picked up a lot of her gaming skills by watching others play on Twitch. "I started actually studying how to be better — as much as you can study a game — watching videos, watching Twitch streamers play the game that were really good." From there, she continued to improve her technical skills until she grabbed the attention of Esports General Manager Kevin Reape. She became the first signed member of the Mizzou Esports team in its inaugural year.
Esports is a multibillion-dollar industry. Newzoo, a company that provides game market insight and analytics to its customers, forecasts the global gamers' market will generate $159.3 billion in revenue in 2020. With more people staying home, interest in gaming has increased. More than 6 million streamers join Twitch each month. This year has given the platform a huge boost, with viewers consuming 11 billion hours of content, a 50% increase from 2019. On average, there are over 80,000 channels streaming at any given moment.
And the coverage has widened as well. Twitch creators have expanded from video game content to titles such as "Trying a Halo/Spotlight Eye Makeup Look!!" and "Twice Baked: Vegan Mozzarella Sticks" and sharing live streams of Black Lives Matter protests. (On the reverse side of this same coin, platforms such as Twitch and Discord have also hosted their fair share of hate speech comments and channels.) These streams of everyday life, known as "IRL" streams, have taken off as popular ways for streamers to interact with audiences. Streamers engage in "real talk" with their viewers, discussing subjects that arise in the chat.
Locally, the platform now features movie streaming and board game gatherings. Earlier this year, Ragtag Cinema turned to Twitch to connect with customers while its doors were closed. The movie house hosted two-screen virtual events, with a pre-show party hosted on the Twitch channel, RAGTAGfilm. Viewers would acquire the movie on their own through Netflix or elsewhere while having Twitch pulled up on a different device for a pre-show party. Ragtag then used a countdown, so all viewers pressed "play" at the same time.
The streaming service also enabled Ragtag to feature special guests, providing commentary for the film as everyone virtually joined in for a night at the movies. There was a live Q&A after the show.
Ragtag also hosted Twitch screenings for Nettle Pointe Soap Opera, which was written and produced in Columbia. Viewers could head to Twitch to watch the film and participate in a virtual Q&A with the filmmaker, Sasha Goodnow. While Ragtag has resumed limited in-person operations since early June, Twitch allowed Ragtag to host events for its customers. Grady Harrington, Ragtag's box office manager, says he doesn't know if Ragtag will continue to use Twitch. "I imagine it could be used for maybe virtual Q&As," he says.
Nat Graham, owner of local gaming store Magelings Games, turned to Twitch to connect with customers while socially distanced.
"It does help us move product. Our sales have been very hurt by the pandemic. But it also fosters community," Graham says. He hosts live unboxings of booster packs for the Magic the Gathering card game.
"The best part of it is the gathering," Graham says. He makes sure to leave time for casual conversation before and after the auction to let all the viewers connect with one another.
That same goal of connectivity led to Graham creating a Discord server in March.

Discord is a video and messaging app and website similar to an organized messaging system like Slack. It started in 2015 with its primary focus on gaming. It has expanded with a 2020 rebranding that it's "your place to talk," regardless of interest. Discord reports it has about 100 million active monthly users, comparable to Slack. What sets Discord apart is its ability to create custom "servers," available only to users with an invite link. Once users join a server, they can talk to others with messages or video chat. Discord has over 750 verified servers, the biggest being Fortnite with over 180,000 members.
Graham originally learned about Discord from his students at the Columbia Area Career Center and Hickman High School, where he teaches computer science. He used the messaging app during school closures, so his students could ask him questions after hours and also talk to one another. Now that school is back in session, it's still an option for his students. "The district views it as a game software," he says.
Graham says he thought if it worked for his students, then it could work for his Magelings customers too. Thus, the Magelings' Discord server was born. He says he likes that Discord allows the creation of several channels, which he made based on his customers' interests. "I created it with the intent of having this remote area for the different communities to go to and interact in a more centralized location," he says. There's a place for fans of Magic, as well as one for people who enjoy Dungeons and Dragons.
The video and mic features allow for distanced gaming, which has even enabled Magelings' local community to grow internationally. The gaming store has more than 165 members on its Discord server, including those in Columbia as well as Texas and even England. "I think we've reached more of our extended family this way," Graham says.
Because Columbia is a college town, a lot of his regulars have moved away over the years. Discord has helped him reconnect with some of them. One of Graham's regulars who moved to Texas recently participated in a six-week Magic tournament entirely online. "They wouldn't have been able to do that before," Graham says.
Even if you don't currently play any board games or card games and just have an interest, Graham says you're still welcome to join their Discord. "You can start building those relationships now for when you can get back together and play those games," he says.
Until then, "our doors are always open virtually," Graham says. "We're here for the community. That's really our big thing. If we can do that and keep the lights on, we're winning."
People often use the phrase social distancing, Graham says, but we should really be saying physical distancing. It's still important to connect with one another in any way, shape or form.
Services like Zoom, Twitch and Discord allow us to do just that. 
Related Stories