Miko Revereza saw them outside the Amtrak window. The border patrol agents were walking toward the train, and his DACA — Deferred Action for Childhood Arrivals — papers were expired. "Oh, shit," he thought. "This is real." He had been through an immigration checkpoint before, he says, but this was completely different, especially at a time when an increasing number of undocumented immigrants are being arrested in the United States. It's no wonder his mind went to one place as the agents boarded: "They're going to get me."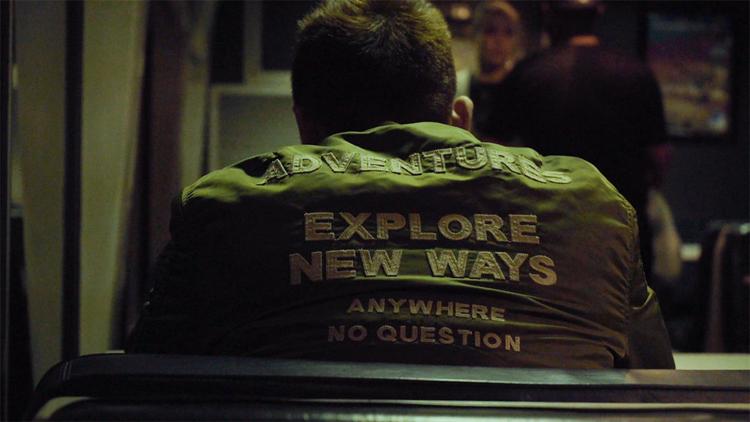 This moment of terror is the climax of Revereza's documentary No data plan, which is showing at True/False Film Fest. The feature-length documentary tracks his journey from home in Los Angeles to grad school at Bard College in New York. It is also the 30-year-old's second consecutive year screening a project at the festival; last year, he showcased his short film Disintegration 93-96, a reflective film essay on his background and his family's relocation from Manila to the U.S.
Early start
Revereza was born in the Philippines in 1988 but moved to California with his parents in 1993. Growing up, he wasn't acutely aware of his situation. He rarely heard his parents use the term "undocumented" and instead gathered clues from hearing about the family's lawyer and the word "visa."
His status became more apparent with time. "At certain points of coming of age as an adult in America, you kind of learn what your boundaries are," he says, noting difficulties with milestones such as attending a four-year college after high school, since undocumented immigrants are not eligible for federal loans. But he made do in his high school years when he dropped nearly all of his electives to focus primarily on photography classes and develop his artistic expression through experimentation. "Why not just create whatever I want?" he says.
The desire to create would lead him to skip school to go to the University of California, Berkeley Art Museum and Pacific Film Archive to see independent and experimental films. It was his entry point into developing his own film style, which is ever-changing. "It's always in process," he says, "and each film is a reaction to the last in a way that each film grows a bit further and challenges the last but also builds upon what was previously done."
Most of these films develop simply because Revereza always has his camera to document whatever he finds interesting. Eventually, he has enough footage to compile into a cohesive product. His films are like a personal diary, which is why he usually keeps it a solitary practice and wears most of the production hats himself.
Fast film
That self-contained method of production is what allowed him to shoot footage for No data plan in three days during his train trip across the country. The final film wasn't what he had in mind. In fact, there was no idea at all, really. "It's just the circumstances that were in front of me, and I had nothing better to do," he says. "I hope audiences can see ... that they can make films with very little means."
He filmed at a different focal length than his usual style while on the trip, zooming in tight to give the film a more claustrophobic feel as opposed to his typical wide view, which he says was fresh to him. At some point on the train, he says, he realized the moments he'd captured — punctuated by his run-in with border security in Buffalo, New York — could be their own film.
Presently, Revereza's DACA papers are active, but even still, he's been conditioned to fear the sight of white SUVs carrying border patrol agents because at any moment, his fears could come true.
Despite his background as an undocumented immigrant and that run-in with border patrol in the film, Revereza doesn't see this as a documentary about immigration. "I don't want it to be like, 'This is an undocumented filmmaker trying to make a political point about immigration.' This isn't an issue documentary," he says. "I want it to be seen not for its issues but for the mere existence of being on the train and observing the world and also the potential precarities of traveling across the geography of the United States."