While growing up in Los Angeles, the closest thing I knew to a river was approximately two blocks from my home. It was a shallow stream that ran through a deep concrete gorge, and it was generously named the Los Angeles River. I gasped when I saw the size of the Missouri River for the first time while driving over the bridge into Hermann. Pink sunset sky reflected off the metallic blue water; it was one of the most visceral experiences I'd had since moving to Missouri.
My friend told me about some of the river towns around Columbia and their so-called "river rats." My draw to the river's beauty guided me toward wanting to meet people who live by it, who base their livelihood around it and who, in some cases, have been there for generations. This project is an exploration of their way of life.
The culmination of images in this river life essay come from the banks of three Missouri rivers and emphasize how similar lifestyles crop up on different bodies of water. The selection and movement of the images has been crafted with the hope of inspiring feelings of motion and timelessness — feelings found while spending time along the rivers' edges.
---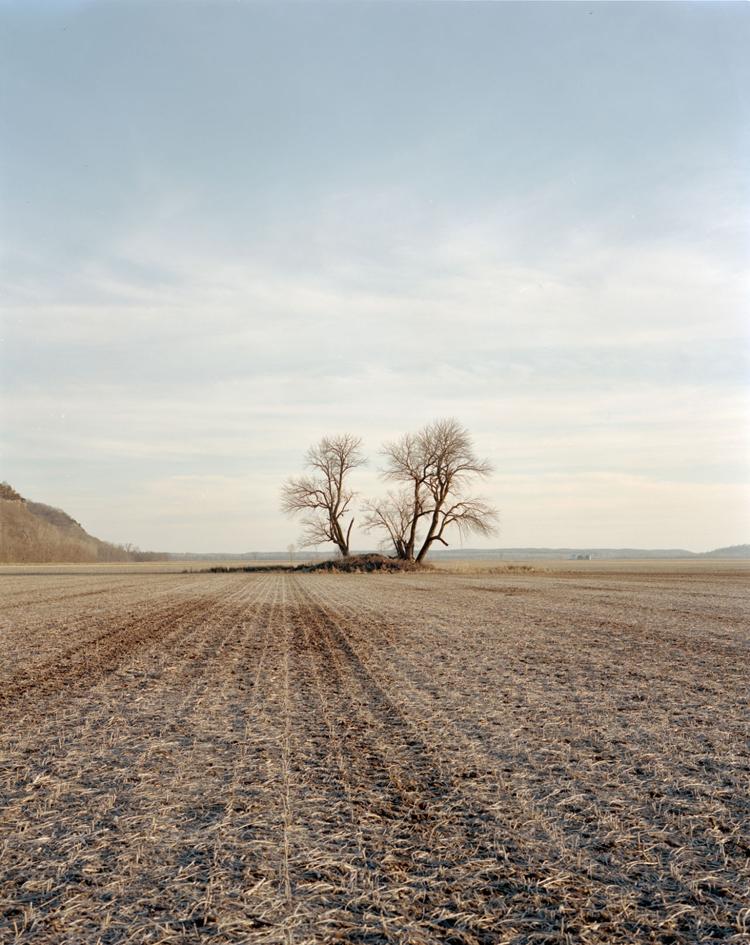 The Missouri River bottom, where a stand of trees grows in a field near Easley, is used to farm crops such as corn and soy beans.
---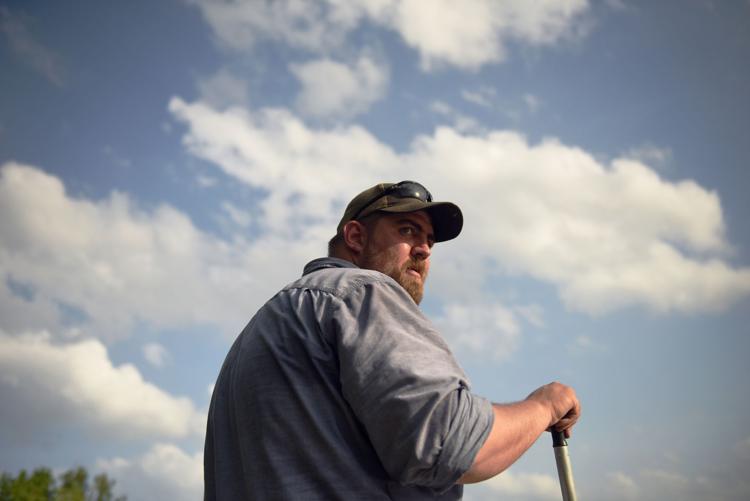 Justin Skouby stands watch for debris at the bow of a boat carrying more than 20 sandbags on May 22. The boat headed toward a levee in Wilton that needed refortification to prevent the Missouri River from flooding the residents' farmland.
---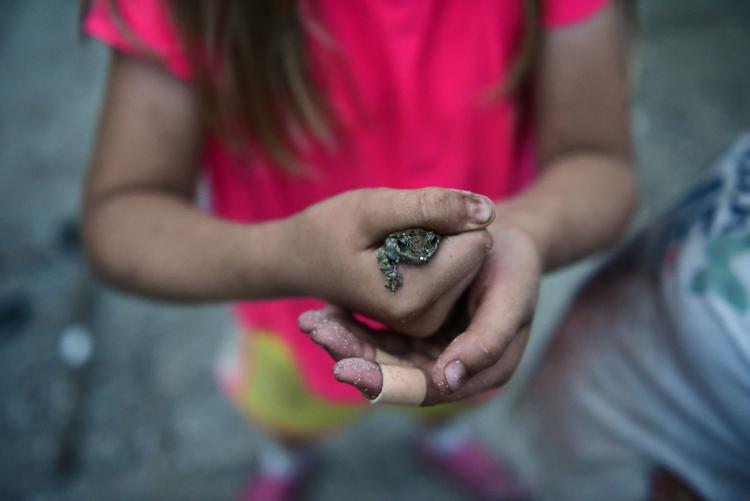 Mia Heyen, 8, holds a frog she caught in Wilton. On May 22, local children played in the dirt while some of their parents helped stack sandbags to prevent river water from flooding their town.
---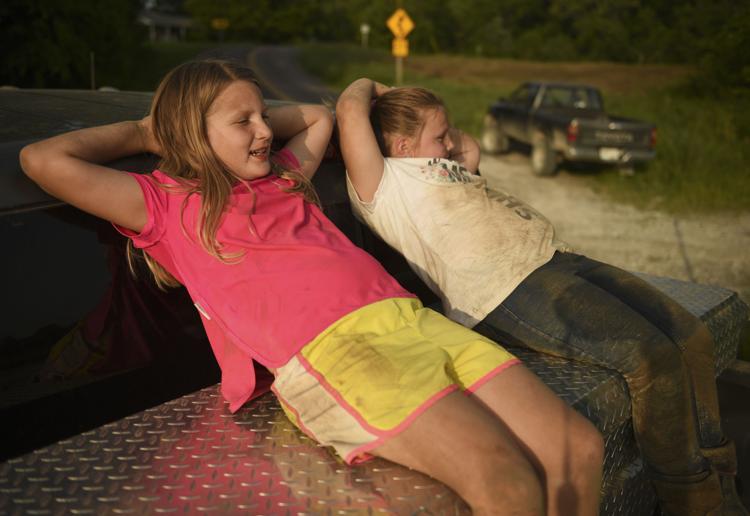 Mia Heyen and Rylie Skouby, 6, rest on top of a truck after playing in the dirt in Wilton. Locals and volunteers had been sandbagging all day while most of the children played together.
---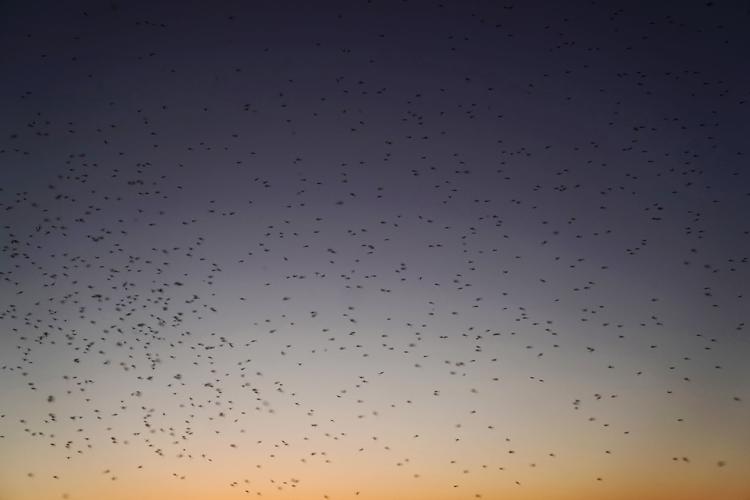 Bugs fly in swarms in the light of an April sunset above the Mississippi River on Highway 51 near Perryville.
---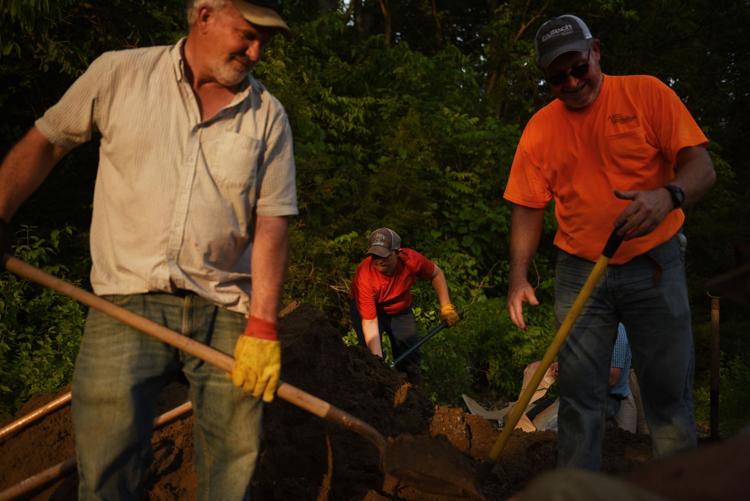 Anticipating a storm, 10-year-old Jackson Skouby, center, loads dirt into sandbags with family, friends and other volunteers in Wilton. "I could follow a creek back to my house," Jackson says. Without sandbag barriers, the water from the Missouri River could flood his home.
---
Miley West, 8, and Dusty West, 5, hold on to their mother, Shanna West, while they wait for ice cream on one of the first days that Van Buren's Jolly Cone Drive-In was open for the spring. Approximately 1,000 people live in the southeast Missouri town next to the Current River.
---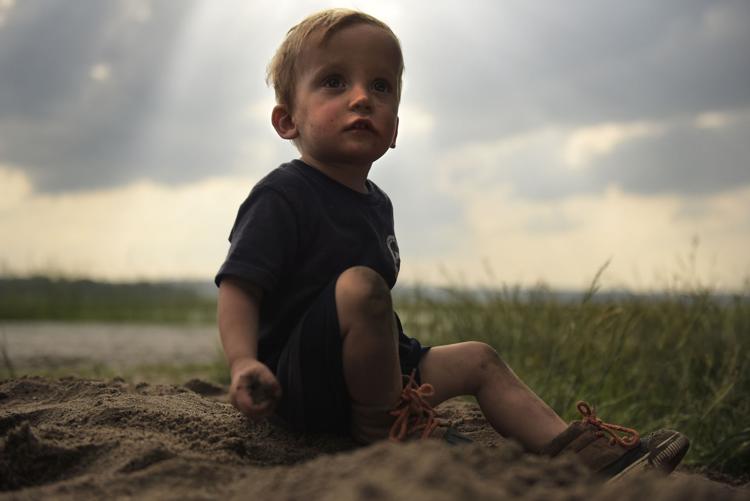 Opie Diederich, 2, plays in dirt used to fill sandbags in Wilton. Opie's grandfather and great uncle, Robert and Stephen Diederich, rebuilt the town's levee after the Missouri River flood of 1993 and created a levee association with farmers in the area. "Their whole livelihood is about keeping the water out of this bottom," Eric Gies, a neighbor of the Diederichs, says. Those same levees had to be refortified during this year's flooding.
---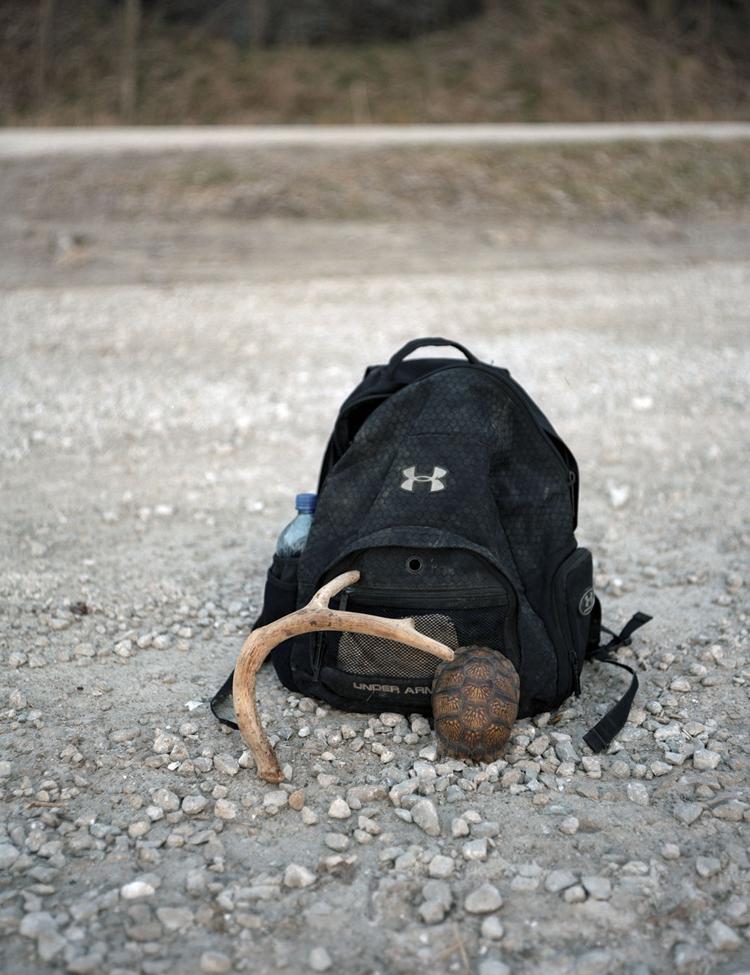 A turtle shell and a deer antler sit next to a backpack on the shore of the Missouri River. The backpack's owner, Ben, who declined to give his last name, had been looking for a turtle shell to give to his girlfriend whom he met online. He regularly comes down to a spot on the river to bow fish and noodle, a term for catching catfish with his bare hands.
---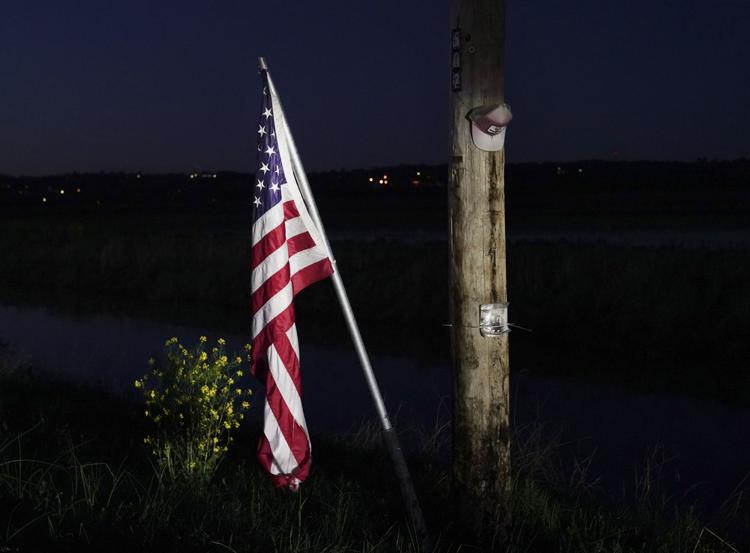 A memorial stands on the east side of Highway 51 near the Mississippi River outside of Perryville.
---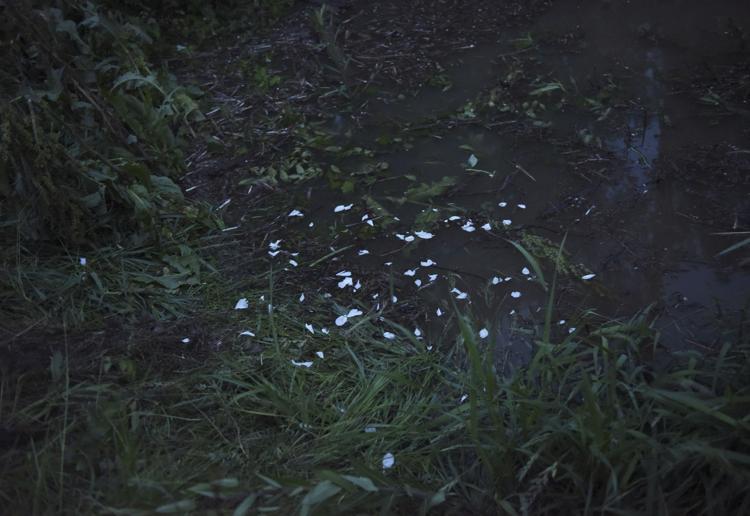 Peony petals float in a Wilton creek. Mia Heyen and Rylie Skouby had started throwing the petals into the water after giving one of the flowers to Rylie's mother, Danielle Skouby
---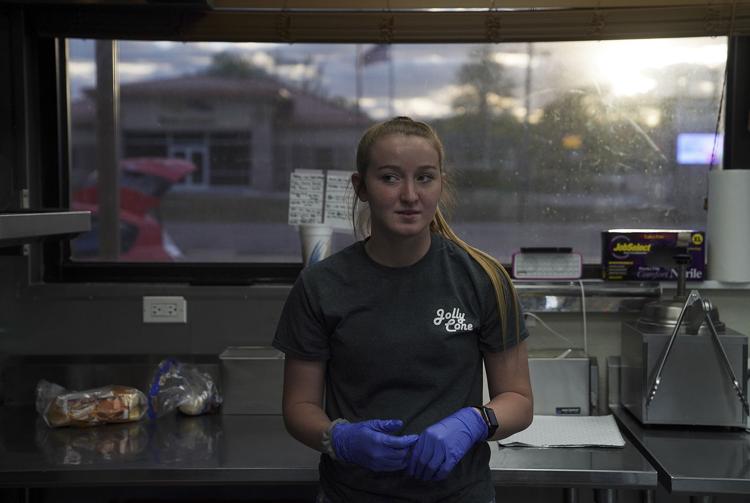 Cora Wiley, 17, started working at Jolly Cone Drive-In in Van Buren when she was 14. When the Current River flooded two years ago, this community gathering spot was flooded to the top of its windows.
---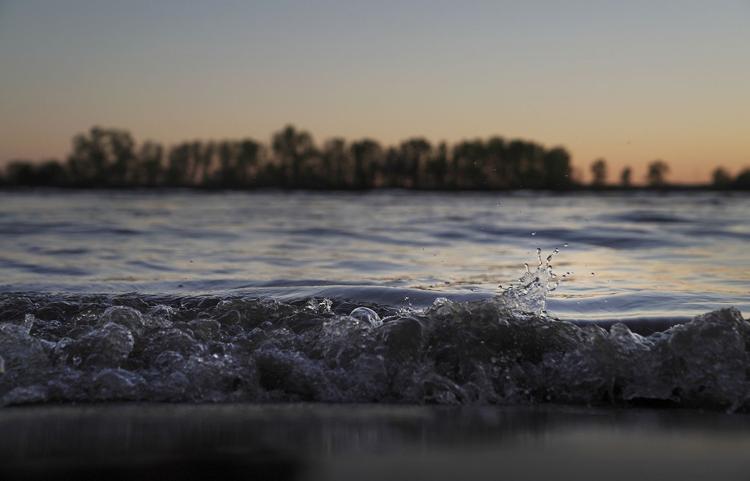 Waves from the Mississippi River crash against a riverside road near Perryville. The water level in this photo, taken on April 19, was recorded to be 35.60 feet. During the flood of 1993, the river crested at 49.74 feet, according to the National Weather Service. As of June 21, the river had risen to 41.40 feet, but National Weather Service predictions were showing a decline.
---
About this project
This river life photo essay was crafted over the course of several months. Photographer Antranik Tavitian explored and re-explored the meaning of the photographs in relation to his experiences near a river and the experiences of the people he featured, ultimately creating a visual representation of what it means to both live and, more simply, be along a river's banks.