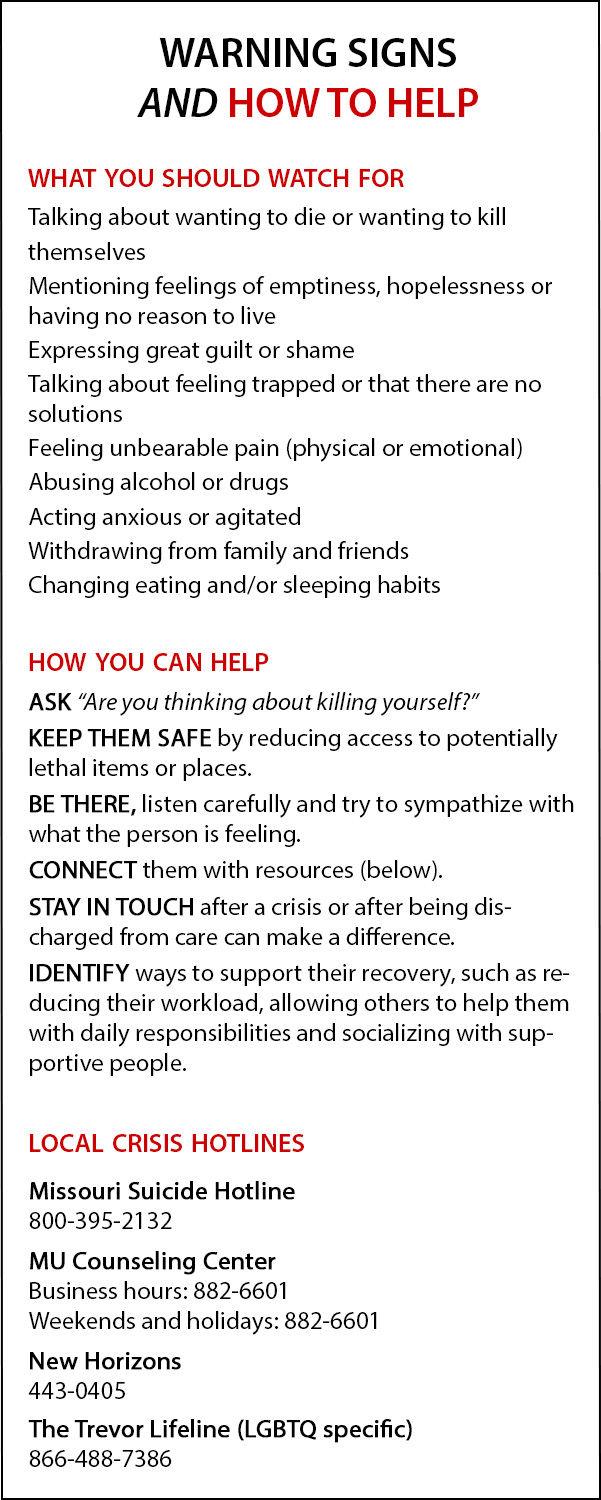 On roads marked with speed limits 50 mph or higher, half-inch strips of concrete rise up a foot away from carefully painted white lines. These notches, which first popped up in Missouri in 1991 and are commonly called rumble strips, shake sleepy drivers awake when they drift from the road to the shoulder. As states across the country began installing the strips throughout the '90s, the Federal Highway Administration reported that run-off-the-road crashes decreased by up to 88 percent.
"What a brilliant thing that was to prevent untold numbers of deaths," says Paul Thomlinson, vice president of research and quality assurance at Burrell Behavioral Health in Springfield and a psychologist of about 20 years. "What a brilliant and simple thing."
And that's not the only thing preventing drivers from untimely death. There are also airbags and seatbelts. There are giant flashing signs shouting warnings to put down the phone and bright orange barrels that can be spotted from a mile away.
In 2014, about 30,000 people died from motor vehicle accidents across the U.S., with 766 of those deaths occurring in Missouri. By comparison, about 42,000 Americans died by suicide that year, and 1,017 were from Missouri. The suicide rate in Missouri has been higher than the national rate for over a decade with about 16 suicide deaths per 100,000 people, according to the Missouri Institute of Mental Health.
But for those who are contemplating suicide, there are no flashing, blinking or illuminated signs telling them to slow down. "The point is, there's more suicide than all of those car accidents," Thomlinson says. "But where are all those analogous ways of preventing suicide? Where are the airbags and the rumble strips and the flashing signs?"
Suicide has continued to grow as a leading cause of death in the United States, especially in the past two decades. From 1999 to 2014, the suicide rate in the U.S. climbed 24 percent, according to the Centers for Disease Control and Prevention. The only group that didn't experience an uptick in suicide rate was the 75 plus group.
By contrast, teenagers experienced a much more drastic increase than the rest. For teen girls in particular, the number was nearly triple that of 1999. According to the CDC, suicide is the second leading cause of death for ages 10 to 24, a ranking trumped only by car accidents.
"Those are incredibly hard numbers to read," Thomlinson says. In 2014, 11.7 percent of Missouri high school students reported seriously considering suicide, with that number climbing to 15 percent among college students. According to the Missouri Assessment of College Health Behavior administered last spring (1,318 respondents at MU), 39 percent of students reported having thought about suicide at some time in their lives, 19 percent reported thinking about suicide in the past year, and two percent reported they had made a suicide attempt in the past year. For teens in Missouri, firearms were the means for about 50 percent of suicide deaths, with suffocation following closely after.
People often misperceive suicide as an act of impulse - that someone might suddenly get upset and kill themselves, especially teenagers managing frantic hormones and heavy social pressures. But Thomlinson says that's rarely the case. "It doesn't come out of the blue," he says. "They'd been thinking about it for a long time." In a 2001 study, researchers found that identifying depression is particularly difficult among teens who often confuse depression with other emotions because of biochemical, psychological and social processes they experience during adolescence.
That's the scary thing about suicide. It could happen to anyone, at any time, after months or years of contemplation without anyone ever noticing. It could even happen to the all-American, football-tossing kid next door.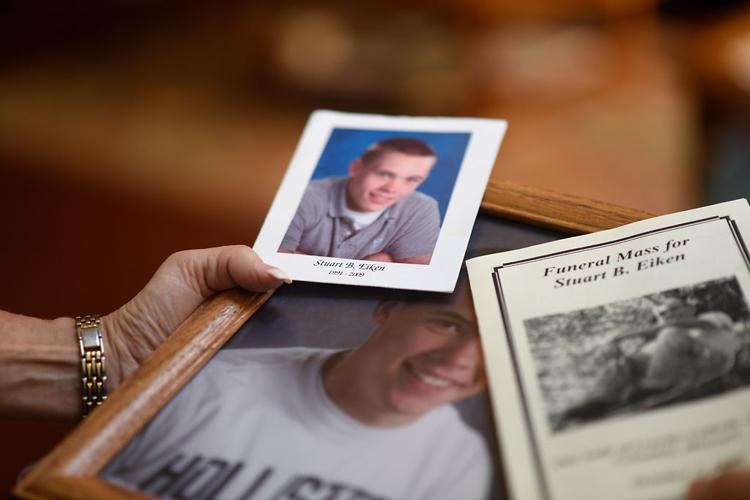 Stuart Eiken had what his mother, Beth Eiken, calls a 100-watt smile — and what his best friend, Kyle Willcoxon, calls the best laugh. He played football for Rock Bridge High School, had a lot of friends and loved to joke around. One night, when he and Willcoxon were in the Wendy's parking lot near the Columbia Mall, they started laughing hysterically. Stuart hit his head on the steering wheel, blasting the horn, which only made them laugh more.
"He was the kind of person who really enjoyed being around other people," Willcoxon says. "He was just a very loving, outgoing person." Stuart was, by any standard, a typical teenage boy.
But after completing middle school at Columbia Catholic School (now called Our Lady of Lourdes Interparish School) and moving on to Rock Bridge, Stuart started showing signs of depression. He became less interested in things he used to love, such as football. His mom noticed Stuart's attitude had changed, and she encouraged him to see a counselor, but he refused. "He was afraid that if someone in the community knew he had a problem, people would look at him differently," Eiken says.
Then the hammer hit. Eiken and her then-husband, Brad, announced they were getting a divorce. "After that, he did say, 'It's time to go to therapy,'" Eiken says. Stuart was prescribed antidepressants, which helped him until he eventually stopped taking the medication. He started doing drugs and drinking frequently, he was mean and agitated, he started to lose friends, and his girlfriend broke up with him.
On Oct. 3, 2009, Stuart Eiken, 17 years old and a senior in high school, hanged himself near a water treatment plant in McBaine.
"There was this very empty, kind of distraught feeling throughout the whole school for a while," says Willcoxon, who is now an MU student. "It was hard to joke as much. We lost one of the big jokesters."
Since 2008, the Columbia Public School District has lost five teens to suicide. In 2012, the district implemented a four-year program to educate its students on teen suicide. Students receive suicide prevention education in the sixth, seventh and eighth grades, and then they receive advisory education in the ninth grade. Students are taught about healthy relationships and healthy choices through a variety of lessons, though the program's main goal is to dispel the stigma that mental illness is not a treatable disease. "It helps kids understand that if you're depressed, you can be treated for that, just like you can be treated for a broken arm," says Betsy Jones, the district's coordinator for guidance and counseling and Rock Bridge's director of guidance.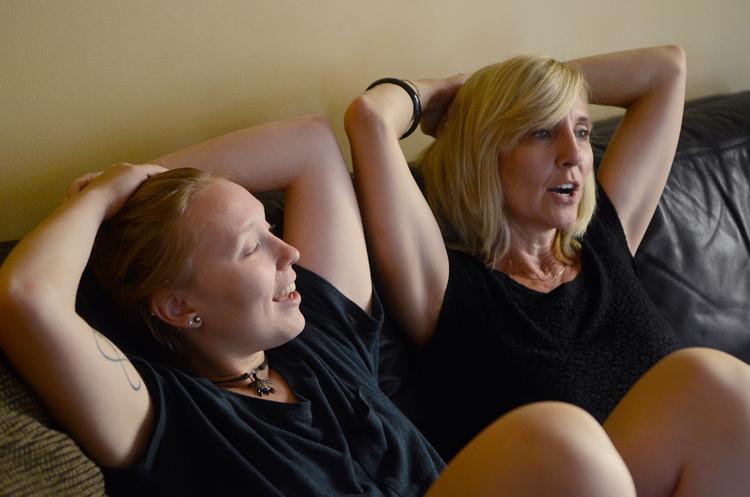 The program is modeled after a national organization called SOS Signs of Suicide High School Prevention Program, which was created by Screening for Mental Health, Inc. According to its website, the SOS program saw a 40 percent decrease in self-reported suicide attempts during a 2007 study.
Jones believes one driving factor of the increase in suicide rates over the past two decades is social media. "I'm over 50, so when kids were being bullied all those years ago, they could go home and they weren't continuing to be bullied," she says. "Now, because of social media, that never stops."
Thomlinson agrees that social media could be at the root of increased suicides, particularly for teens. Destiny Gleason, a Warrenton teen whose suicide story went viral in April of this year, is an example of this. Gleason, 14, killed herself amid constant bullying both at school and on social media.
"In some fashion, social media is the blessing and the curse," he says. There are now tweets, Facebook and Instagram posts meant to increase awareness of prevention techniques, he adds.
The downfall of social media, however, is that it plays into the basic elements of human nature. "Social psychology has taught us that dehumanization happens very quickly when one is separated physically," Thomlinson says. "People can be breathtakingly cruel and mean online and say things that they never in a million years would say to your face."

Although many argue social media plays a role in the uptick, the root cause of the problem consistently boils down to two things: belongingness and burdensomeness. Thomlinson says that if someone feels like they don't belong or are a burden to loved ones, they're more likely to have suicidal thoughts. "That's the desire part of it," he says. "There are a lot of people who feel that way, and they end up dying of old age not having killed themselves."
That's because killing oneself is against human nature, Thomlinson says. "We're biophilic," he says. "We're continually focusing on our own survival and love of life. That's a deeply ingrained thing in human beings." So how do people kill themselves if it's so unnatural? Thomlinson says people have to be frequently exposed to death, destruction, pain or suicidal behavior to obtain a fearlessness about death.
For teens, that fearlessness often comes in the form of self-inflicted injury, such as cutting. "Causing your own death is not something most people would be able to do," he says. "The barrier's too high. But (self-inflicted pain) can actually lower that threshold."
Missouri has been in the spotlight for its high suicide rate. It's now worth considering whether we're doing enough to stop it. The state has been a national leader in a program called Mental Health First Aid, which is geared toward teaching participants the protocol of dealing with people who might be at risk. Although the nearest program is in Jefferson City, 29,491 people have been trained in Missouri, with more than 660,000 people trained across the country. Michelle Obama is an avid supporter of the program, and in 2014, Congress funded an annual appropriation of $15 million for suicide prevention training, according to the National Council for Behavioral Health.
That appropriation is a start, but states such as Missouri are perpetually behind due to certificate of need laws. These laws force health care providers to get state approval for each care-related expenditure, meaning that providers who want to help are at the mercy of the state for funding. A 2016 St. Louis Post-Dispatch analysis showed that "of the 34 states with suicide rates higher than the national average, 24 have certificate of need laws."
Combining lifetime medical and work loss, each 2010 Missouri suicide death cost the state $1.8 million, according to the American Foundation for Suicide Prevention, totaling more than $1 billion in suicide-related lifetime expenses. Missouri has money in other budgets, though. The Missouri Department of Transportation 2016 budget request was $2.7 billion.
So does the federal government. The U.S. Department of Transportation's 2014 federal highway budget was $77 billion. By comparison, the National Institute of Mental Health showed that between 2008 and 2013, the federal government invested only $400 million into suicide research. Yet a 2008 study in the American Journal of Psychiatry noted that untreated mental illnesses cost the federal government $193 billion per year — nearly three times the annual highway budget.
Suicide costs the federal government and the Missouri state government a lot of money. One might assume that would be reason enough to reallocate some funds for preventative measures, like we do with our roadways. But then, our policy makers would first have to acknowledge that suicide is preventable.
September is National Suicide Awareness Month, and people across the country are pushing for education to identify those at risk and ultimately decrease suicides. The first step is noticing the signs.
Dr. Laine Young-Walker, division chief and training director of the Division of Child and Adolescent Psychiatry at the MU School of Medicine, says that among the top signs for suicidal teens are showing rage, sleeping too little or too much and talking about wanting to die or being a burden.
If someone close to you exhibits signs of suicidal behavior, stay with them until you can get help. "Listen without judging, and show you care," Young-Walker says.
Stuart Eiken's mom believes his feeling that he had no one to rely on played a significant role in his death. Eiken says when her son told her he wanted her to stay away, she now realizes that was a cry for help. "People take their lives because they're in so much pain that they don't know of any way out," she says. "If there's change happening, you can detect it. Keep asking the questions. Keep pushing the issue."
There might not be reflective white lines for those contemplating suicide. But the signs are still there, hidden beneath angry words and silent cries. These are the rumble strips — listen for them. You might save someone's life.