On an unseasonably warm and sunny November morning, friends and neighbors gather outside Bill Koch's farmhouse and listen to an auctioneer rattle off bids.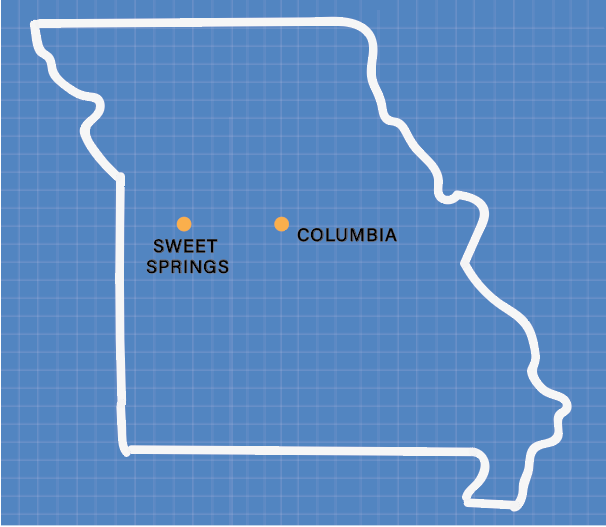 Koch and his wife, Phyllis, sold off the Chillicothe property they owned for 23 years in October in preparation for a move back to their hometown of Sweet Springs. The two organized the auction to expedite the process of shedding their extra clutter. "As much as we love Chillicothe," Koch says, "your heart kind of stays where your home is."
When Koch was growing up in the 1950s and 1960s, Sweet Springs was a bustling center of commerce fueled by a cluster of manufacturing plants in the region that were owned by International Shoe Company. But by the early 1980s, the company had shut down all its Missouri plants, including the one in Sweet Springs, which employed around 300 people.
Today, the historic stretch of Miller Street that housed the Sweet Springs plant sits mostly vacant with just a handful of locally owned businesses remaining — many of which hold truncated weekly hours. A bar, ominously called The Last Chance Saloon, attracts the most business on the block. There's usually a half-dozen trucks and the occasional motorcycle parked along the centuries-old brick road that leads out to a derelict grain mill.
The Kochs have hope and a plan, though, to revitalize their once-prosperous town. At the beginning of 2018, the couple bought one of three famous historic buildings in Sweet Springs that are all linked together by a colonnaded façade and referred to as "the colonnades" by locals. The couple then created a community nonprofit called the Sweet Springs Restoration Foundation, and by fall they managed to buy the other two buildings.
Originally built in the early 1900s, the colonnades stand two stories high and 200 feet long. Koch says they'll gut and fully rehab the buildings' deteriorating insides, which have rotted from decades of neglect, but the original brick exterior and foundation will remain. The renovation will cost approximately $950,000, which will be funded through grants, donations and the Kochs' personal finances.
The new buildings, Koch says, will house a walking track with gym equipment, a computer lab and retail spaces. And at the heart of his vision are two new community spaces: an art studio to teach weaving and crafts and a general community center to host events, such as school dances and banquets. "You have to think outside the box," Koch says. "I see it as an artist haven."
Related links