Lauren Reedy just failed a dive.
It's her second dive in the 3-meter final of the 2017 SEC Swimming and Diving Championships. As she does her lineup on the diving board, her knee buckles. She slips, and her head and back hit the diving board before she falls into the water. Reedy just earned zero points in her best event. She had told people she would become an SEC champion. Yet, with zero out of six points for her second dive, the May 2017 graduate knows her chances of winning this event are gone.
Her usual sense of courage and fearlessness is replaced by anxiousness. She has a strained quad from her fall. A nasty cut on her arm, which looks worse than it is, begins gushing blood 30 seconds later.
With four dives to go, Reedy turns to the source of her confidence: her faith. She goes to the shower to rinse off and recalibrate before her next dive. She visualizes in her mind what she wants her upcoming dive to look like. "God, I just want to do this dive I have next as if it was the only dive I was going to do to worship you," she prays silently. "I wouldn't do it scared; I would do it with courage." She begins singing a worship song quietly to herself.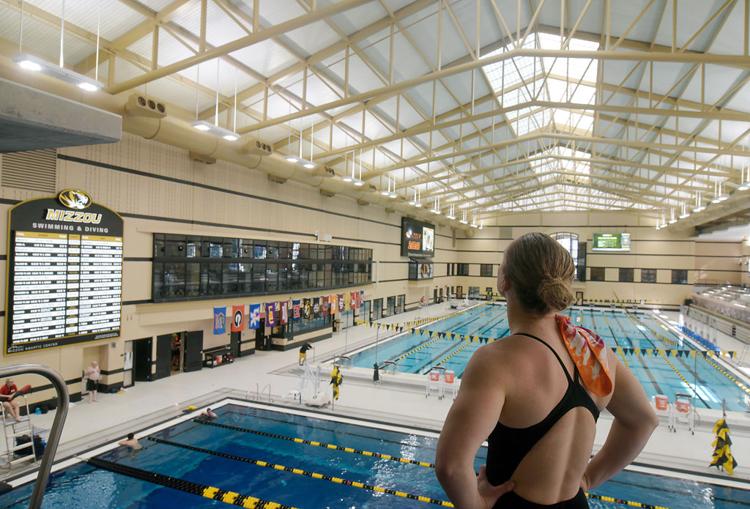 With newfound confidence, she refocuses and steps on the diving board. She sets the fulcrum — the wheel on the side of the diving board — and steadily walks to the end of the board. She turns around and puts her arms to the side. The gash on her left arm is visible to her competitors and the crowd in the stands. She takes a deep breath. "Lord, would you establish peace for my heart and send courage through my veins?" she prays.
One, two, three. She rocks the board and launches herself in the air, relying heavily on one leg. It's an inward two-and-a-half somersault pike. And it's good. Thank you, Jesus, she thinks as she's underwater.
Her game plan worked.
Reedy is far from alone in her faith. According to the Pew Research Center, 87 percent of adults in Missouri believe in God, and 56 percent say religion plays a very important role in their lives.
However, the religious landscape is shifting, especially among the younger generation. Although the generation gaps in religious affiliation have always been stark, the number of college-age students who are religious has been declining since the 1990s. According to a 2016 Public Religion Research Institute study, 39 percent of young adults in 2016 identified as religiously unaffiliated, which is nearly four times more than the 10 percent from 1986.

Nevertheless, there are still many students who place high importance on their religious identities. It is not uncommon for these students to play sports. For Reedy, like numerous athletes in the United States, religion plays a significant role in her personal life and also in her athletic pursuits. It's not unusual to see players making the Christian symbol of the cross over their chests or kneeling to pray before a competition starts. Why do they do that?
In the world of athletics, it isn't enough to be the fastest, strongest or most talented person; what is equally important to succeed is the right mindset. Mental strategy and preparedness can make the difference between winning and losing. Different athletes manifest that mindset — the motivation for practice, the confidence for competition — in different ways. For some MU student-athletes like Reedy, these goals are reached through faith. They turn to God for help in challenging times and give him the glory and honor of their achievements.
Joanna Foss, a mental performance coach in the MU Athletic Department, says sports are an expression of a person's identity. When someone is solidly religious, it can be powerful to incorporate belief and faith into his or her mental strategy. A connection with something outside of yourself can be comforting and eventually take the pressure of competition off the mind. She also says you don't have to be religious in order to be successful, but faith can be helpful and beneficial, especially in the face of negative setbacks and difficult situations.

Nick J. Watson and Daniel R. Czech write about the use of prayer in sport in Athletic Insight: The Online Journal of Sport Psychology. They state that prayer is an important source of strength and a means of coping with anxiety for Christian athletes. Watson and Czech found that athletes use religious prayer in sport for three main reasons: "coping with uncertainties and the concomitant anxiety, putting life and sport into perspective, and providing meaning to sports participation and competition." One way athletes can justify the self-focused and self-indulgent way of thinking that is so pervasive in competitive sports is to define sports participation as an act of worship, they write. To put it simply: God is the author and true beneficiary of personal praise.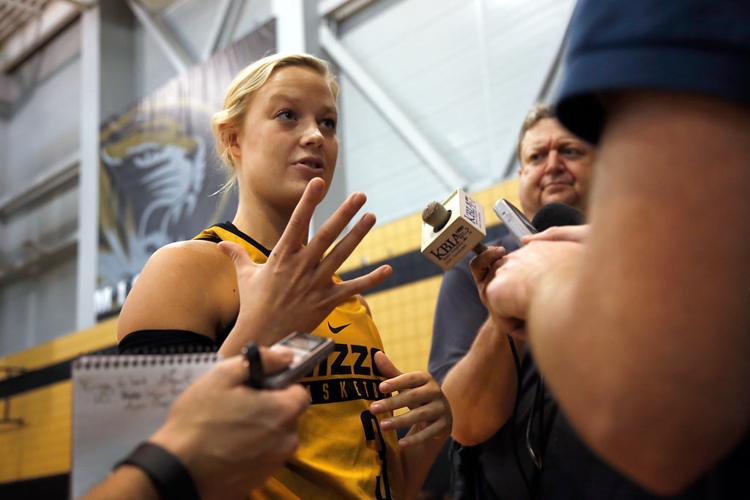 Sophie Cunningham, a Mizzou basketball player, adheres to this ethos. Every time the guard puts her shoes on, whether it's before a game or just a regular practice, she uses her fingers to draw the sign of the cross over them, then over her knees, her heart and her forehead. She draws it one more time over her heart when she walks up to the free-throw line. It's almost unnoticeable; she wants to keep such displays between her and her God. "I started doing that, and I would focus on why I play and why he gave me these talents," Cunningham says. "I threw this into my routine to put it in God's hands. It calmed my mind, made everything a lot slower and helped me focus more."
When Cunningham makes a shot or helps win a game, the subsequent accolades are not hers. She gives thanks to God and her Christian faith. "The majority of our team always gives credit to him," she says. "Not just big games but little games, too. And it really is glory to him because he has given us these talents, and we're just trying to give the best of our abilities to win but also to use these chances to give back to him."
Cunningham says the entire team shares her faith and has incorporated it into basketball. Before each game, there is an optional service for the whole team to attend. They eat and pray together, and a pastor reads and elaborates on a passage from the Bible. "(The service is) short, and it's simple, but I think it really does help to get your mind right and put yourself in perspective," she says. Cunningham says all her teammates and coaches sharing the same faith brings them closer together as a group.
Robin Pingeton, the Mizzou women's basketball head coach, has been vocal about her faith since beginning her tenure. At the start of her career in 2010, she said: "I am a Christian who happens to be a coach, and my values are very important to me. I think you've got to do things the right way and treat people the right way." Pingeton faced immediate public criticism for her comments, stemming from her forceful views on the importance of Christianity and family, perceived by some as an anti-gay stance. As the Columbia Daily Tribune reported at the time: "Helen Carroll, sports project director for the National Center for Lesbian Rights, told Inside Higher Ed that Pingeton's comments seemed to be 'subtly proving that everyone in their program was straight.'" Still, Cunningham appreciates Pingeton and the rest of the coaching staff for pushing her and her teammates in their faith and in everyday life.
Having players from only one religion is a unique situation and can have negative consequences. Nathan Buxman, MU campus director of the worldwide organization Athletes in Action, says it's possible to feel left out when you join a team with a specific belief system. However, he says the women's basketball team has created a culture with mantras: love unconditionally, serve intentionally, and live gratefully, which create a welcoming atmosphere people want to belong to. "So, I think it invites people in," Buxman says.
Regarding the individual athlete, Terry Shoemaker, a doctoral candidate who teaches an online class at Arizona State University called Religion and Sports, says religion can serve as "somewhat of a crutch," a mechanism meant to take stress away from athletes and to give them something safe to fall back on. Regardless, he says he doesn't think religion necessarily awards the faithful an advantage over non-religious athletes. "It gives athletes a different kind of motivation, whether that's an edge, whether that's some sort of extra benefit compared to non-religious athletes, I'm not sure," he says.
Religion can also be an expression of identity, and Foss, of the MU athletic department, says faith can help when someone is experiencing setbacks such as a career-ending injury. Whether it's voluntary or not, ending a high-level sports career is devastating. "It can be hard to find meaning and purpose," she says. "I think religion can be really helpful in connecting with something, giving a sense of purpose and ultimately figuring out what (to) do afterwards."

In contrast, attaining your goal, such as winning an Olympic gold medal, can also lead to an existential crisis. "Now what?" says Shoemaker, a doctoral candidate at ASU. "You set a goal, and your entire life has been to achieve this, and now you did it. Then, there's a gap that needs to be filled."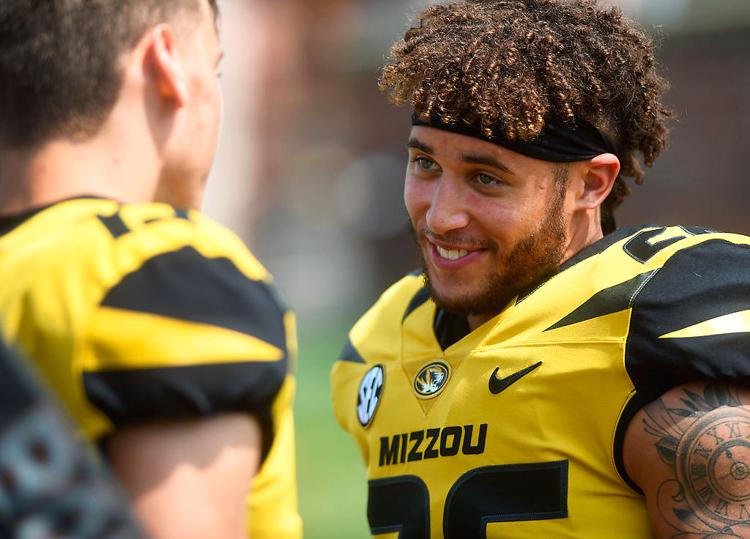 Corey Fatony, Mizzou's starting punter, agrees that faith doesn't give athletes the upper hand over non-religious performers. However, he says it can help with the highs and lows of competition and remove some of the strain many athletes feel. "When I mess up, or when I get things wrong, I know it's not about me," says the junior from Tennessee. Just like Reedy and Cunningham, Fatony also prays before every practice and game. Because football can be a dangerous sport, he often includes prayers about safety for his teammates and his opponents. "It's bigger than us," Fatony says. "When you really look at it, football is just a game, and it's just such a small part of life."
The players aren't the only ones in the stadium who turn to their faith and pray. According to the Public Religion Research Institute, half of sports fans believe a spiritual power has some impact in a game or competition. They pray to God to help their team, think their team was cursed at some point or believe God plays a role in determining the outcome of sporting events. Unlike these sports fans, Fatony doesn't pray for success. Instead, he prays for wisdom, knowledge, courage and strength.
He and a few of his teammates go to weekly meetings organized by Athletes in Action, which has a campus ministry at MU consisting of three staff members to help Christian athletes grow in their faith. Weekly meetings, small groups and other sport-specific events, such as chapel services before games, are designed to represent a spiritual resource for Olympic, professional and collegiate athletes. Buxman says sports are a common denominator, and athletes influence others by acting as role models. "As long as the world is looking up to those athletes, we want those athletes looking up to Christ," he says. "So that's kind of the essence of Athletes in Action."
Buxman, who has been at MU for five years, says about 120 student-athletes from official Mizzou sports teams come to the weekly meetings on Tuesday nights to talk about their relationships with God.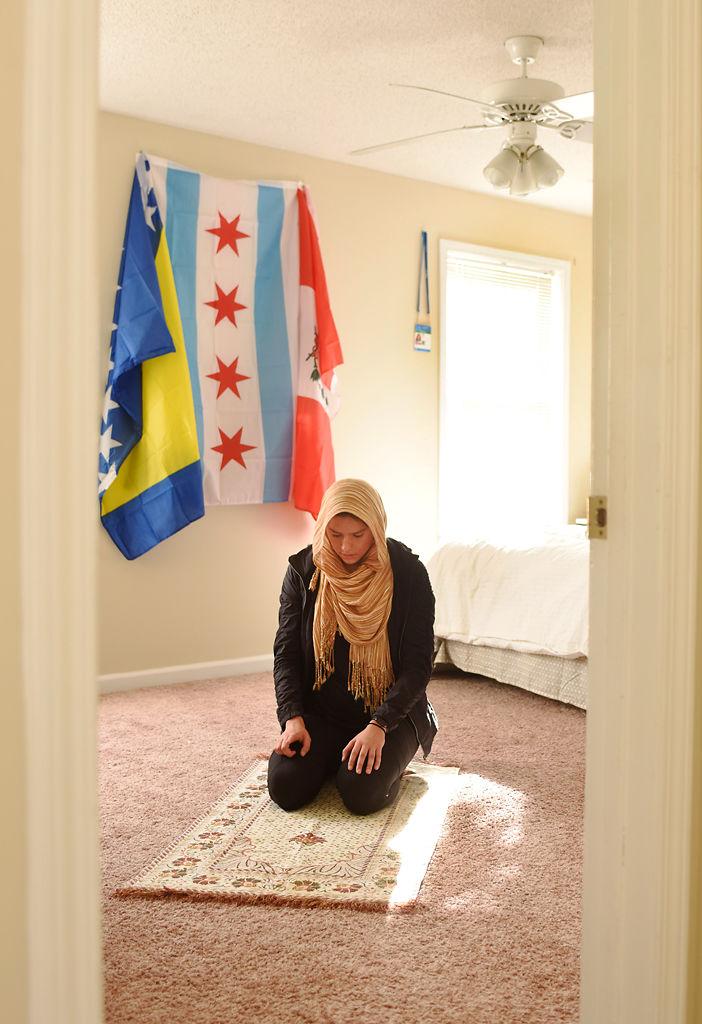 Azra Avdic, a sophomore on the MU Women's Swimming and Diving team, is Muslim, but she says there are similarities in between Christianity and Islam, such as the idea of the Trinity.
Their faiths are also not that different when it comes to the world of athletics. When she talked to one of her Christian teammates, she realized the religions have many aspects in common. "We both have the same idea that God's presence is still there and that he's helping," she says. "I feel like faith within sports is very tied together."
Avdic, who was born and raised in Chicago but has family in Bosnia, first felt the strength that faith could give her when she was 16. At the Speedo Sectional Meet in Minnesota, Avdic dropped three seconds in her preliminary swim and advanced to the A final, which was filled with older, more experienced and mostly college athletes. Avdic was intimidated and started doubting herself. She went into the ready room, where all the swimmers wait before the race, and sat down on one of the plastic chairs. She panicked. She started crying. Then, she put her head in her hands and prayed. The other girls looked at her, but Avdic was focused on herself. She prayed to God to give her strength. "I will give it my everything, but I just need your help to give me that extra push," she says. And it worked. Avdic dropped an additional 3 seconds from her time in the morning and placed third. She got out of the pool and started crying again — but this time out of joy. "And that's why I put so much time in my faith," she says.
Since then, Avdic has made it part of her routine to pray before every race. She knows it won't always lead to a best time because of other factors such as her health and physical state, but it helps her calm down and cope with her anxieties before a race.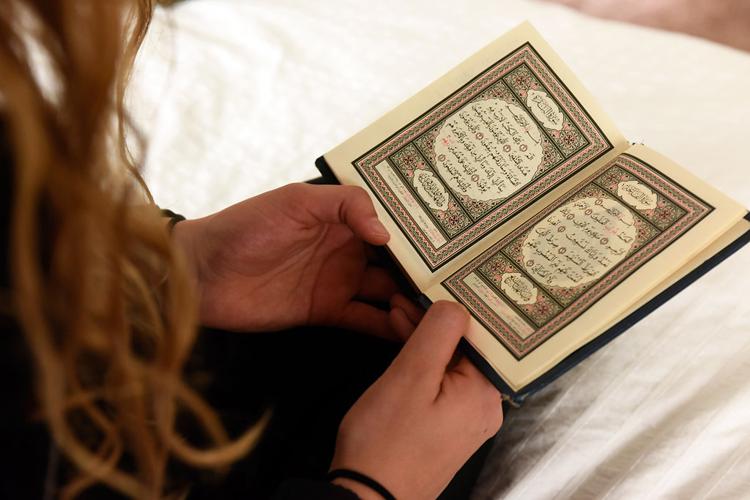 Reedy also depends on God in difficult times. With Christianity being the most practiced religion in Missouri, she has many resources on campus (more so than non-Christians), including Athletes in Action. Reedy started participating in the weekly meetings halfway through her freshman year after breaking both her ankles while tumbling in the gymnastics gym. Diving had been the one thing that made her who she was. She did everything in her life for diving. She went to class because otherwise she wouldn't have been eligible to dive. She ate because if she lost too much weight, she wouldn't be allowed to dive. Then, in just one moment, she was unable to practice her passion and struggled to find something else to identify with.
A few months later, she found a new identity and self-worth in faith after going to one of the weekly meetings. There, she got the idea to go to China. One of her friends asked her if she wanted to go there on a mission trip, and without a second thought, she agreed. She ultimately wasn't able to go on that trip due to her schedule, but she continued to look for an opportunity to visit the country. Her coach contacted a swim coach at Miami of Ohio who used to train at Ersha Sports Training Center in Guangzhou, China. Now, in exchange for teaching English two hours a week, Reedy lives and trains at the facility at no expense.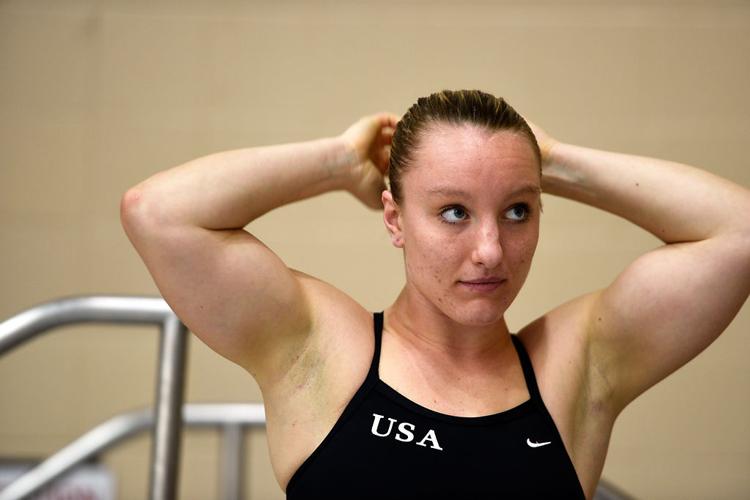 Through her entire journey, trusting in God's plan is what helped Reedy. At the 2017 SEC Championship, as much as she wanted to win, it was never about a medal for her. "If it's all about a prize, it is not worth my time," she says. "Knowing my worth and my identity is not in how well I finish or in how good I get at diving; that's really freeing." This mentality gave her the means to move on and come back stronger. She fulfilled her promise and won an SEC title in the 1-meter event the day after her failed dive. "My mindset when I compete isn't about winning or losing." Reedy says. "It's about 'Did I dive with courage, or did I dive with fear?' It solidified that it's not about the outcome to me. It's about experiencing God in my sport."