You can listen to Mimi Wright discuss more about the Nevels' story on KBIA's Missouri Health Talks. 
---
Adoption Day
At 8:45  a.m. on Oct. 29, 2018, Christy and Matthew Nevels walk into courtroom D10 of Boone County Courthouse responsible for the care of six children. At 8:57  a.m., they walk out responsible for 11.
In just 12 minutes, they become a family of 13.
Before entering the courtroom, Ben piggybacks on David, his soon-to-be-adopted older brother's back. Mollie holds the hand of Lillyana, her soon-to-be-adopted little sister, while she twirls in circles. Alex hops on Ben's back before Ben carries Sofia, his soon-to-be-adopted little sister, in his arms. He stoops down to wipe her face with her dress. Alex jumps on the multi-colored tiles while the family waits to enter the courtroom. The others entertain themselves before Christy, their mom, wrangles them in for a family photo.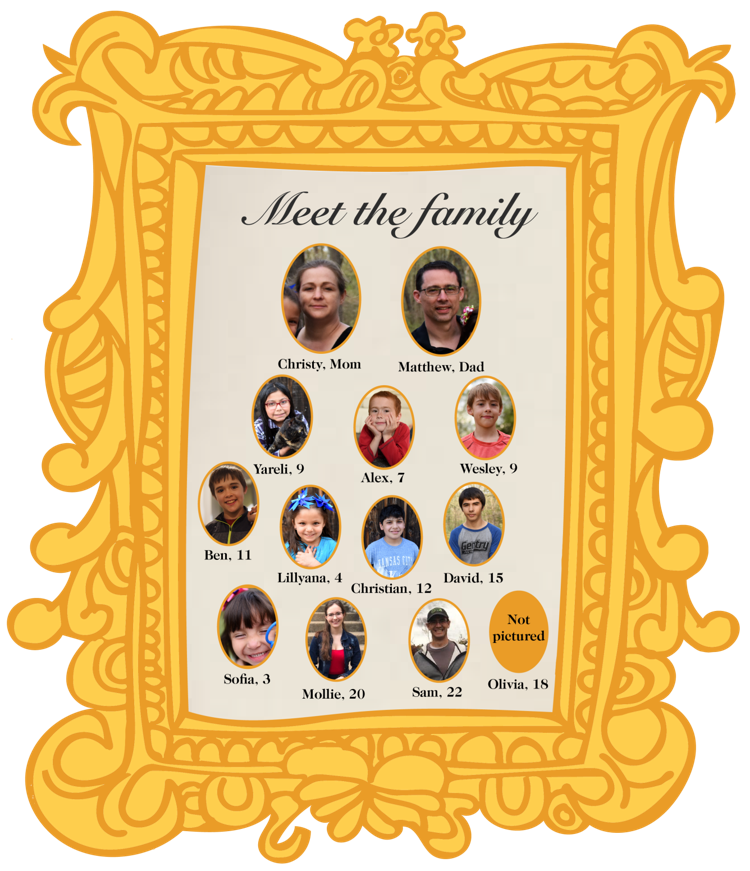 After they enter and take their seats in various spots around the courtroom, the adoption proceedings begin. As Judge Leslie Schneider reads off the legally changed names, smiles spread over the faces of  the oldest three — Yareli, Christian and David — and Judge Schneider declares it a record number of children she's seen adopted by one family. Ten of the 11 children are present in the courtroom. The only one absent is Samuel Gurnsey, Christy's oldest, who attends college in Rexburg, Idaho. Their guardian ad litem, Bill Ellis; their caseworker, Kirstin Cardwell; and the Nevelses' attorney are spread throughout the courtroom, as well as Matthew's father and stepmother. As soon as the adoption is finalized, newly adopted David takes a selfie with Judge Schneider.
Christy and Matthew adopted five siblings: David, 15; Christian, 12; Yareli, 9; Lillyana, 4; and Sofia, 3. All took the last name Nevels that day. The five adopted children joined the Nevels family's biological children. Christy has one child, Samuel, 22, from a former marriage. Matthew has two from a former marriage: Mollie, 20; and Olivia, 18. And together, Matthew and Christy have Benjamin, 11; Wesley, 9; and Alexander, 7.
Judge Schneider asks how many children are present. Mollie jokes, "Too many."
Fifteen Months earlier
So today is Wednesday, July 12, 2017 about 3 a.m. I have sleeping children. I have unresolved decisions and needs. I have a full heart. I have gratitude. I feel like my life is full and has complete purpose and meaning. I feel humbled and blessed. I feel overwhelmed. I wonder how this will unfold. How will this work out? How will it not? … I will need help. I will have to include the Lord in my life! I must become more like him, because I have more people to serve. I feel that I have put my boulders in my jar and can now fit the pebbles and sand around with much more satisfaction. I have a forced priority list. It will be wonderful. Wonderfully insane.
Christy Nevels journaled this the month she and her husband took in the five children. Before then, the five kids were in and out of foster care. The four youngest had been put in protective custody at the beginning of summer 2016 and were fostered by two families, including a couple Christy and Matthew know through church, Suzanne and Aaron Bonsall, who fostered the children in 2016 and 2017.
At the time his younger siblings were first taken into protective custody that summer, David, the oldest, was visiting his grandparents, so he was placed with a different family than his siblings upon his return to Columbia. 
In Missouri, once a report is made to the Child Abuse and Neglect Hotline, a worker from the children's division of Missouri government verifies the safety of the child and coordinates with local law enforcement when necessary. Under state law, only a juvenile court judge can make the final decision to remove a child from their parents' custody. According to the Missouri Department of Social Services, most children who are taken from their family home end up reunified with their parents, a parent, a grandparent or another relative.
For a brief period in fall 2016, the five children were reintroduced into their home with their mother and the father of the four youngest, David's stepfather. But that didn't last long. By September, their mother had served jail time and struggled with substance abuse. In November 2016, their father was arrested for being an undocumented immigrant. He had previously been arrested for domestic abuse; David reported the abuse to the police, and the children were again taken out of their home and placed in protective custody. Matthew Nevels says David in particular wasn't treated well at his original home.
For the Nevels family's adopted children, the primary reason they were taken from their home was neglect, both educational and medical. Matthew says they missed a lot of school, with absences totaling in the hundreds, and that numerous people reported their situation to child protective services. The neglect escalated to the point where teachers at Lillyana and Sofia's child care believed the children were staying at strangers' homes.
"We worked very hard to try to reunite the kids and their birth parents," says Bill Ellis, the children's guardian ad litem. "But it wasn't able to happen." When the state of Missouri removes children from their parents' homes, a guardian ad litem is assigned to the case. Ellis was first appointed when the children were taken into protective custody. He says his job is to be an independent advocate for the children. "I think it's in every child's best interest to have a healthy and happy and safe and stable home to live in permanently with parents who love them and with siblings that they love," he says. "Basically, the same family sort of dynamic that everyone would hope for, for themselves or their own children."
Their biological father was officially deported to Mexico in November 2017. After not following the reunification plan, the kids' biological mother, a U.S. citizen, willingly terminated her parental rights in August 2018. The children officially became orphans.
David joined his four siblings at the Bonsalls' at the end of the 2016-17 school year, but as summer 2017 rolled around, the Bonsalls planned to relocate with the children to Arizona for a new job. However, the court decided against those options. There was talk of the children going to a temporary children's home or to an aunt, but the caseworker determined the Nevels family was the best option.
"They're just very open," Cardwell says of the family. "They already have a large family of their own. … They're very loving and welcoming. I just felt that they really wanted these children."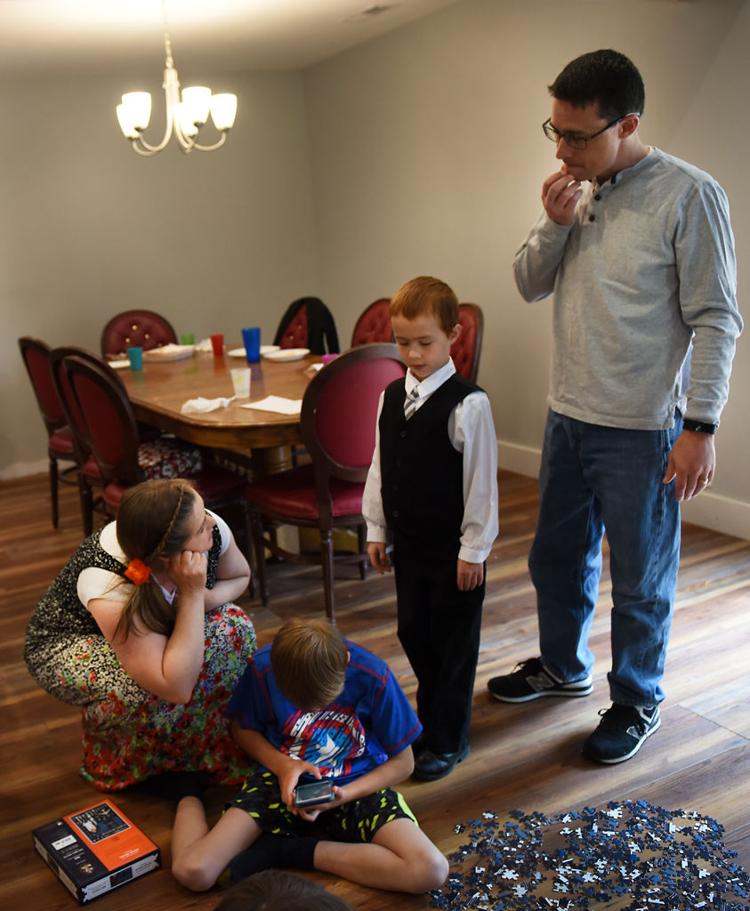 As the caseworker, Cardwell's job is to oversee the placement of children in foster care. Cardwell says this is the largest group of siblings she has ever been assigned. Because the Nevels family already merged children from previous marriages, Cardwell thought they would be prepared to take on more.
Christy met Christian while she was a Cub Scout leader and met Lillyana while she was a Sunday school teacher. She says both children were difficult and hyperactive, and she was looking forward to them leaving the state with the Bonsalls. Christian was especially oppositional, but despite this, she spent more time with the children around the time of the Bonsalls' move. Christy helped them by picking the five up from school and watching them at the Nevelses' home. The children, especially David and Christian, grew close to the family and asked Christy if they could stay there.
"I was like 'Yeah, no, that won't work,'" Christy says.
But she saw the need and didn't want the children to go to a temporary home. She offered to care for them until there was a permanent home, though she didn't tell Matthew. The situation soon became anything but temporary.
One week before Adoption Day 
Some of the children sit in the cramped kitchen of the Nevelses' old house at a folding table and a children-sized picnic table eating ramen noodles, apples and oranges for lunch. Christy and Matthew have temporary furniture set up while they move to a bigger home in Fulton.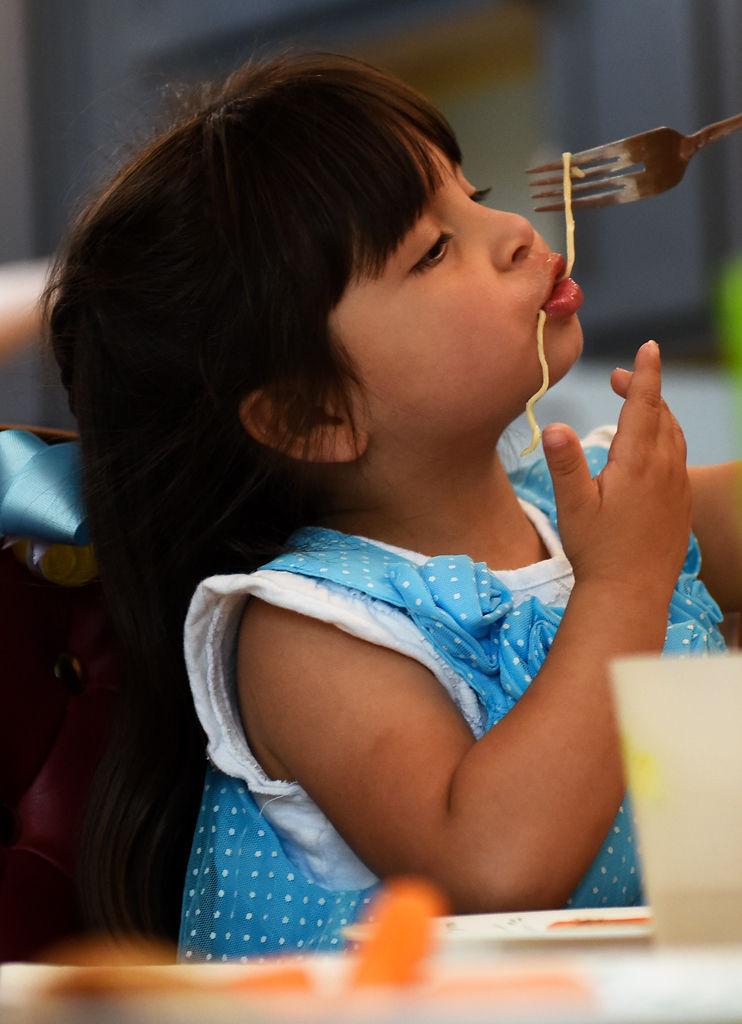 Cardwell talks about what sacrifices the Nevelses have made to accommodate the additional children in their lives; they've bought a 15-person Ford Transit van and renovated a larger home. "They've never given me concern to think that it was too much or something that they couldn't handle," Cardwell says. "I think it helps that they were already a blended family, and now we're blending it some more."
David practices writing his full name and new initials on the whiteboard in the kitchen of their old ranch home. Because David is 14, he must consent to his name change and adoption. He writes out his current name, David Antonio Baires, then writes what his future name would be with the name change: David Baires Nevels. Christy says they thought it would be a good idea to keep their birth surname as their middle name to retain some of their history.
Later that day, eight of the 11 children climb into the van. Classical music plays while Matthew drives the family to the Grasslands Trail south of Columbia. They hop out one by one, zooming in all different directions. Christy occasionally scoops up Sofia into her arms when she gets tired of keeping up. The children crunch along the fall leaves and soon come upon an old, fallen tree, which they all climb, including 2-year-old Sofia. Christy says they want the children to test their own skill, so they can learn their limits. 
One week after Adoption Day 
On a cold November school night, the first snow of the season falls as five of the 11 children read before bedtime. A harsh white ambiance is emitted by a long, skinny rectangular light resting on a tall moving box full of clothes. The coming winter season has made the surrounding area almost pitch black a little bit past 8 p.m. Deer can be seen in their front yard only by the headlights of a car. The children are entranced by the snow but are told to finish their reading. They read a variety of children's books while sitting on the floor, a tall bar stool and the sofa.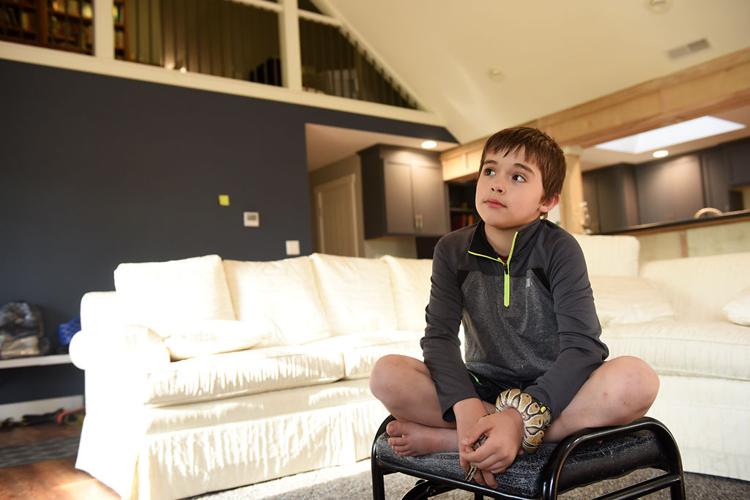 Yareli reads The Adventures of Pinocchio out loud as Christy listens. She gets stuck on Jiminy Cricket's name until Matthew steps in to help her sound it out. Christian quietly reads about a yellow python in Verdi. Reading skills are a primary focus of Christy and Matthew's; the adopted children were behind in school.
The biological mother of the five can speak Spanish and English, though the children never fully grasped Spanish, so there was a communication barrier with their biological father, who spoke only Spanish. David told Matthew that he knew Spanish before kindergarten, but Matthew says David's grasp of Spanish is minimal. Matthew finds it interesting that the four younger children know so little about their Mexican heritage. "The kids say that the TV was always on in Spanish, that their parents always spoke in Spanish," he says. "But these kids know so little Spanish that I have a difficult time understanding what kind of actual relationship they could have had with him."
Matthew once asked Yareli if she ever had a conversation with her father, and Yareli said yes. But Matthew says he thinks the children don't understand the depth of a real conversation. "They never learned what a relationship is," Matthew says. "They don't understand the difference between a conversation and speaking."
Christian and Yareli were placed in English Language Learning courses at Columbia schools, and they continued with this program when the Nevels family transferred to North Callaway School District in the move.
The lights aren't on overhead as some of the electrical work is still being done in their newly renovated home in Fulton. The house, which they moved into in early November, is Matthew's childhood home, where he grew up the third of eight children.
Matthew remembers spending a lot of time playing outside while growing up in Fulton. "I was on the older side of all the kids, and so I always had younger siblings that we were taking care of," Matthew says. "There were babies around for quite a bit of time, so I learned how to work with young kids very well. And still that's one of my favorite things to do, is to work with little kids."
The five children sit quietly while Matthew reads. Alex lounges on his right, Wesley reclines on his left, Christian and Yareli sit on the floor, and Ben rests on a bar stool listening. Sofia and Lily have already gone to bed. David is at the year-end banquet for his cross country team.
Copies of the Book of Mormon are stacked on top of the piano and then are dispersed among the children, their names written on the bottom in black ink. Matthew begins reading with Jacob 4:1.
Matthew and Christy are members of The Church of Jesus Christ of Latter-day Saints. They hold religion closely in their lives and have introduced it to their adopted children as well.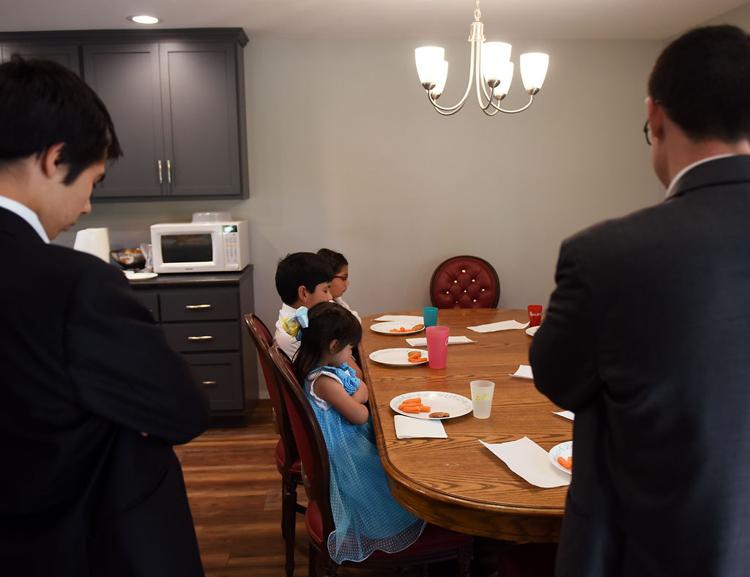 David, Christian and Yareli have all expressed interest in getting baptized. Because the three are converts to the LDS church, they must be taught by missionaries about the religion; they started lessons in late November and chose the last Saturday in December to get baptized.
Although Christy and Matthew are active in their faith, they didn't want to force their children to join the church. Christy says the older three adopted children were begging to be baptized, but she wanted them to be educated and learn about the faith first. David, Christian and Yareli were baptized Dec. 30 and continue to be active in their faith.
Additionally, members of the LDS church believe marriage and family lasts for eternity. This means that commitment is highly revered in the faith, as is motherhood and familial relationships. Christy says it is more common in the faith for women to be stay-at-home mothers. Being committed in a relationship is also something that Matthew and Christy wanted to uphold for the adopted children because they had both been through a divorce. Matthew says that as divorced parents, he and Christy have a stronger desire to see problems through and not quit.
"Taking in somebody else's child as your own is a difficult thing," Matthew says. "I think us both having taken in our spouse's child as our own has prepared us in many ways for taking these other children in. I'm not sure that I would have had what it takes to do this if I hadn't done that already."
Christy says it was difficult at first because she was in a much later stage of motherhood with their older children. But she realized the foster children needed love and a family.
Matthew and Christy had never fostered children before. They had discussions about being foster parents but weren't planning to until their children were fully grown. Despite this, Matthew believes that they were able to offer a better home than what the five were being offered elsewhere.
"Really, our greatest purpose on Earth is to provide and love our families and teach them more about how to become the best they can," Christy says.
Matthew also decided that if they could take care of the children for a short period of time, adoption was possible. "If I could help them for a week, why can't I help them for a month?" Matthew says. "If I could be committed to them for a month, why can't I be committed for a year? I mean, why not? If I can help them, then I should be able to commit to helping them."
After the children go to bed, Christy heads into the kitchen and undoes her braids. She sits at one of two kitchen tables and combs through her hair. Lice have worked their way into their household from Sofia's daycare. Earlier in the night, she patiently combed through several of the children's hair, rinsing out the comb here and there.
Finally, David returns home from his banquet, proudly showing his certificate and letters to his mom and dad. He displays his letters on the piano, and he reads his certificate aloud: "This certifies that David Nevels has been awarded this certificate for participation in cross country during the school year 2018."
Christy pipes up when she hears his name. "That's your first official David Nevels thing, isn't it?"
David confirms that it is. It took 10 days after his adoption to see it in writing, but on that crumpled piece of paper, his name and his identity were validated.