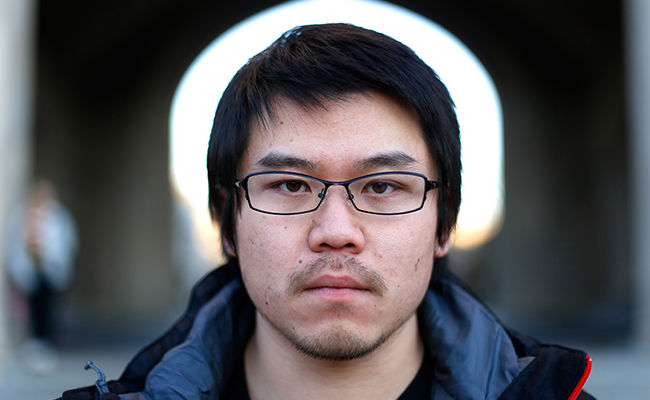 Rui Zhang was born and raised in Wuhan, China, the capital of the Hubei Province. The city has jurisdiction over 13 districts and, as of a 2013 census, is home to more than 10 million people. By comparison, the city of Chicago has a population of less than 3 million. Zhang says he considers Wuhan to be a small city. The largest city in China is Shanghai with a staggering population of more than 22 million.
Zhang spoke little English when he arrived in Chicago in the fall of 2014. Even while trying to find a taxi at the airport, he knew what he wanted to say but lacked the ability to communicate it properly.
"When I first arrived at Chicago O'Hare Airport, there were four of us, so we have like eight luggages total," he says. "We asked a lady where to get a taxi, and she said we need a van. I didn't know what van is, so it was embarrassing."
For the first several months, understanding English was difficult for Zhang. He had trouble connecting with people because of language barriers.
"Having a good conversation is really important, and that requires you know lots of things about culture," Zhang says.
"Having a good conversation is really important, and that requires you know lots of things about culture."

—Rui Zhang
MU partners with Wuhan Institute of Technology, so Zhang used the opportunity to come to Columbia and get a degree in chemical engineering. This degree plan consists of classes such as Biomass Refinery Operation. He had to quickly learn difficult vocabulary just to understand his assignments, but when Zhang first arrived, he was still trying to understand American sitcoms.
Now, Zhang has made friends who celebrated his Sept. 10 birthday this year. At a Thursday night meeting with his community group from The Rock Campus Church, they burst into an off-pitch rendition of "Happy Birthday" while a student leader brought out a homemade cake.
Watching this scene, you wouldn't guess that Zhang's first seven months at MU involved little interaction. His routine was to wake up early, work out at the MizzouRec, go to class, study, eat, watch movies at home and repeat. He didn't reach out at first because he needed twice as much time as native English speakers to complete complex homework assignments.
"American students are really collective. It was hard for me to find where I belong. Americans already have a cultural identity."

—Jia Lim
"In class, half of the words are what we have never learned about," he says. "We have to learn the vocabulary first and then understand what (the professor) is talking about."
Another international student, Jia Lim, is originally from Malaysia and graduated from MU with a degree in magazine writing this summer. She recalls being aware that resources existed to connect her to other exchange students, but she found it difficult to become friends with native students.
"American students are really collective," she says. "It was hard for me to find where I belong. Americans already have a cultural identity."
Even her first American roommates weren't a welcoming introduction into the culture. She and another woman from Malaysia subleased their rooms without knowing why they were available. They soon learned the two remaining roommates were "trouble-makers" who created an uncomfortable living environment, Lim says.
"They would bring drunk people home at 4 a.m. and be laughing and cursing," she says. "They wouldn't do any chores."
Like Zhang, Lim had traveled far from her country only to find adjusting to this new home difficult.
"It's necessary for everybody to be courageous enough to keep everybody in check."
—Young Kwon
The creative director of the Multicultural Center, Young Kwon, is an Asian-American student. She coined the phrase "racially catcalled" to describe her experiences with racism in Columbia.
"When I was walking down the street, random people like racially slur me, like 'Oh hey, get me some wonton soup,'" she says. She has no words for how these instances make her feel.
Kwon believes all students, regardless of background, have a responsibility to take interest in and educate themselves about other cultures. Racist remarks stem from an ignorance that might not exist if people took the time to create relationships with and learn about people different from them.
"I think it's important to keep each other accountable," Kwon says. "I know I'm still learning that; I'm a shyer person. The conversation can definitely be uncomfortable, but I have to explain why it's not okay to do certain things."
MU fosters and supports many official organizations which exist to connect diverse students, such as the International Center, the Multicultural Center and Mizzou's Asian American Association. But these groups, with all the good they do, cannot combat ignorance on their own.
"It's necessary for everybody to be courageous enough to keep everybody in check," Kwon says. "I think individuals should seek education themselves and try to reach out. If they have questions, they can certainly ask, but it's not my duty to educate everybody on this campus."