She walked down the narrow hallway with short and confident steps. Her skin was perfectly contoured, gold highlight shimmering on her cheekbones as she stood under the light. Her straight black hair was tucked behind her ears to showcase the business: her face.
She simplified the rest of her look to ensure all eight people sitting at the table focused on two things: her talent and her pitch. Teanna Bass was one of four students presenting in front of the Missouri Student Unions Board as a part of its annual entrepreneurship competition.
One of the program's directors flipped the switch above her head to dim the room, and when Teanna opened her first slide, the blush-pink Sweet Tea Cosmetics logo brightened the space. In this moment, she hoped to convince them to provide her a storefront to sell her makeup line.
Teanna argued that MU's Student Center needed more inclusivity, and Sweet Tea Cosmetics was the company to offer it. Even though she pitched her makeup line as "a black-owned business made with Black Girl Magic," she emphasized her target audience as "cis, trans, black, Latina and Asian women." In other words, her makeup is for everyone.
For Teanna, being one of a handful of women in the competition was hard, but being the only black woman was overwhelming. A recurring thought sat in the back of her mind: "Are these people even listening to me?"
"Almost always, I am the only black girl," she says. "In these competitions, I'm always outnumbered by white people in general. I realized that I already stand out. Let me give them a good reason I stand out outside of how I look."
Four weeks after her presentation, Teanna received an email stating that she'd won — she was the business owner selected to move her company into the student center. In September 2018, the Sweet Tea store opened to the public.
While Sweet Tea Cosmetics is a makeup line — lip gloss, eye shadow, foundation, etc. — Teanna also has a makeup artist business, Beat by Tea, where she gets to use her products on customers. This is where her talents as a makeup artist shine. She says Beat by Tea is an affordable way for people to get their makeup done professionally by her.
For the past two years, Teanna has worked with people of different races and a variety of makeup brands. She takes note of how a product's formula or color might look depending on a person's skin color or type. Teanna created Sweet Tea's product plan with all types of skin tones in mind, and she wants people, no matter where they come from, to find her product inclusive. Think Fenty Beauty's 40-shade foundation by Rihanna. "Rihanna branded herself across so many things, and she's really just a boss person," Teanna says. "Having that much drive, and that much force, and that much power to go about the things you really believe in is something I just want to take with me wherever I go. If she can do it, it's possible."

Teanna attributes her quick, but steady makeup skills to beauty gurus on YouTube.
After watching these tutorials, she would practice on herself until she developed her own personal technique. Her favorite YouTubers come across as transparent, relatable and skilled — the kind of qualities she upholds while running Sweet Tea and Beat by Tea.
"As a business owner, I don't come off as a business owner," she says. "I don't look like a business owner. Typically, when someone thinks of a business owner, they think of someone in a suit and tie or someone who's well-polished. I'm none of that. I never have it together. People appreciate that I'm transparent and honest about my journey to success."
When she first started out as a makeup artist, she says she still had a lot to learn. Looking at a photo of her first client, she points out the uneven foundation application, the asymmetrical eyebrows and the heavy eyeliner.
"I charged her $20, and that work looks like it's worth $20," she says. She compares it to a photo of her client's makeup from the end of 2017. She notices how much her skills have developed. "Both looks weren't bad, but you can definitely see the growth," she says. "It's all about growth." As her skills progressed, she has attracted more clients over time.
While doing a woman's makeup for her 21st birthday party, Teanna's confidence was apparent. As Teanna started, the woman pulled out foundation she brought from home. Teanna looked at the see-through bottle, and she explained the importance of staying within a shade range and also paying attention to the foundation's undertones. She said the liquid was too orange and put it back.
Teanna rifled through her three-tier makeup container to find a bottle of a similar hue but deeper shade. Even though the woman's skin was a lighter tone, her undertones were red, and she suggested another shade instead.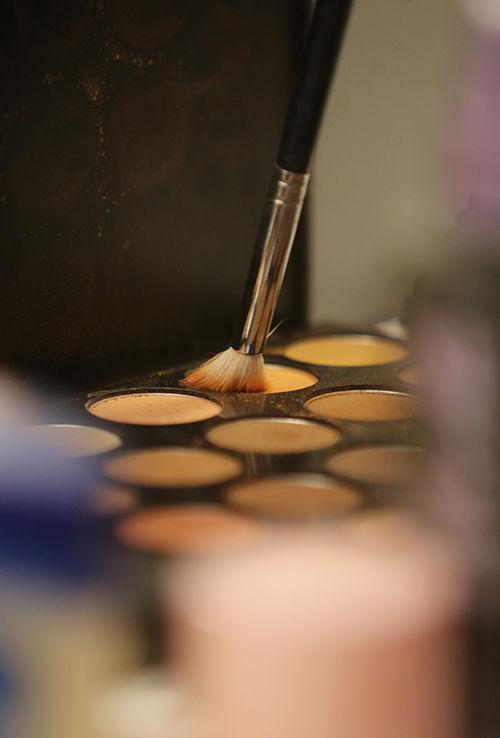 The woman showed Teanna a video to give an idea of the kind of eye shadow she wanted. The look showcased blue glitter eye shadow with high-winged eyeliner and a gold outline under her brows. Teanna confidently agreed that she could give her that look and started grabbing different eye shadow palettes from her makeup box. She finished putting on the woman's foundation, eye shadow, eyebrows and lipstick in under an hour.
Teanna wields the tools of the trade with ease. She pointed to the belt on her waist that resembled a carpenter's tool belt — except it was filled with 47 makeup brushes.
Without looking, she pulled out a brush that she calls "the fan" and ran it back and forth on her hand. "I use this to put on highlighter because you want just a little," she says. "And since the brush looks like a fan, it's easy to just swipe the highlighter on versus putting in a lot of effort."
She continued pulling out brush after brush, explaining their textures and how they make it easier for her to do makeup. In eight minutes, she explained all 47 of them.

On the day of her presentation, the board members asked Teanna about the ways she'll bring in profit. She proposed makeup parties, product launch premieres and classes for customers to learn how to use the products they buy. Ultimately, she just wants to help them.
Up to that point, the room's mood was light. People laughed at Teanna's quick wit, smile and the funky bright colors in her presentation. But the relaxed atmosphere changed when Amanda Purchase Roberts, the senior coordinator for student services, asked the question: "What does success mean to you?"
Teanna says she'd planned to give a general definition of success, but she stopped herself, and thought about what the word meant to her. "To me, success looks like when you overcome..." The room was quiet while waiting for her to gather her thoughts, but she was no longer thinking about how to word a perfect answer. Her voice shook, and she started stumbling over her words. She sighed deeply and turned her face toward the back wall.
"I'm so sorry," she said as she fanned her eyes with her hands. "I don't mean to cry." She took another deep breath and talked about her high school experience working at Wendy's back in her hometown of St. Louis. She eventually moved on to college and put her passion for makeup at the forefront of her motivation.
"My mom was a single mother who worked a lot," Teanna said later in the presentation. "Sometimes you miss out on Christmases as a kid because mom has to work and pay bills and make sure priorities are in order ... So, it was like, 'All right, you're 16. You need a job.'" The room stayed silent while Teanna regrouped, wiping away tears with a tissue. She apologized once more while board members assured her there was no need to do so. "This is so extra," Teanna said. "I think I'll need a waterproof liner, too."
She was quick to crack jokes to combat any uncomfortable feelings, and laughter erupted often during her presentation. Although her quips brought smiles, Teanna made sure she got the points she wanted to make across. "Just being in front of you all, whether I get this opportunity or not, is success in itself," Teanna said. "This is bigger than me. This isn't just about me. It's about representation."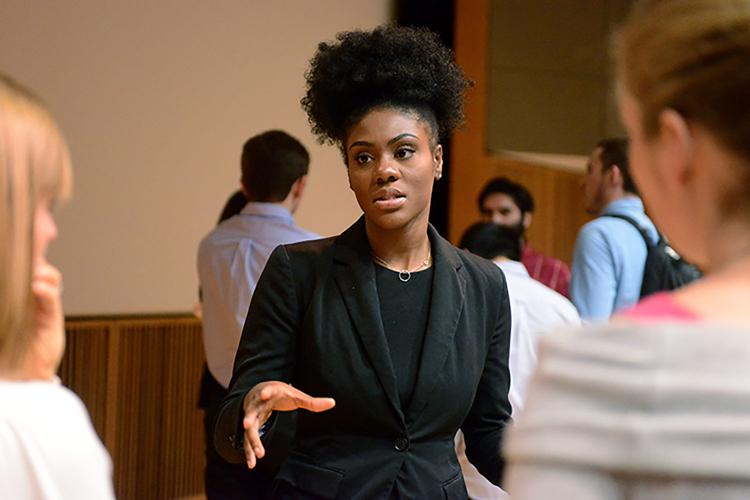 The members thanked her for her time, and she thanked them for the opportunity. She walked out into the lounge, sat down with two of her friends, and peeled off her false lashes.
Teanna's business might help bring in some extra money, but the true factor of her determination comes from seeing how proud her family is. This, for her, is a win-win.
Her grandmother, mother, father and twin sister celebrated Teanna's success at the grand opening of Sweet Tea.
"My grandma cried," she recalls. "It's good for them to see me doing something like this because, knowing my family history, I don't come from a wealthy family at all. I don't come from a family with a lot of degrees. I come from a family that showed love and support, no matter what it was. I used that to generate my ideas, and this is what came out of it."
There's a nod to this support in her makeup line. The three pairs of false strip lashes are named after herself, her mom Tiffany and her fraternal twin sister, Teaira.

It was when Teanna was invited to speak at the Women's Leadership Conference at the Tiger Hotel in March 2018 that she knew she had the ability to empower woman to embrace their flaws.
"Y'all see these stretch marks," she asked as she pointed to her shoulders that were exposed by her strapless navy blue dress. "These are here because I lost weight, but I don't care that people can see them because it's a reminder of where I've come from."
For Teanna, makeup isn't a way to mask anything. It's quite the contrary.
Teanna defines beauty on her own terms. Once she learned that it didn't matter what others thought, she became better at applying makeup. Once she felt free from others' judgment, she started to practice more. Her growth as an artist is for herself.
"Now, I use makeup because it's fun; it's art," she says. "At first, I was using it to hide my flaws instead of embracing them." She keeps this idea as a part of her customer service. "People come into my store and point out what they think is wrong with them, and I tell them 'I'm not here to hide anything. I'm not here to mask anything.' I don't tell them that to make a quick buck. I say it because I actually care about these people."
"BeYOUtiful," is part of her slogan. While standing in the front of the leadership conference at the Tiger Hotel, she explained the difference between masking and enhancing features using makeup. She showed pictures of herself from elementary school, high school and her first two years at MU.
In all the pictures, her smile was bright. The audience watched as the slide flashed to a photo of Teanna from eighth grade. She pointed out how even though she was smiling, she wasn't truly happy. Although she was young, she struggled with feeling overweight.
She showed another picture from her junior year of high school. She had makeup on and long hair extensions. She recalled stories of being teased by other high school students because of her thick eyebrows, which is when she started shaping them, and eventually, she got good at it. She started coming to school with a complete face of makeup.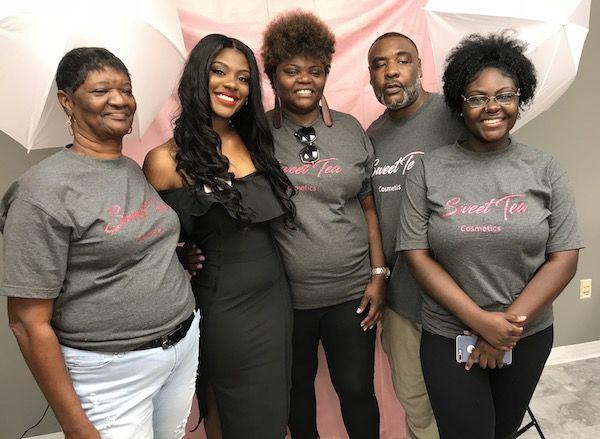 It's rare to see Teanna's bare face when she's near MU's campus because she's always promoting her products. She wears just enough makeup that people notice she's good but not too much that she isn't easily recognized. By wearing her products whenever she leaves the house, she is sure to start a conversation about her makeup line.
Teanna constantly uses her free time to push the "BeYOUtiful" message. She also works with other business owners in the city to promote a stronger and more loving Columbia community.
One of those businesses was Best Foot Forward, a nonprofit organization that was started by then MU senior Camryn Wheeler. Wheeler asked other makeup artists, clothing designers and nail technicians to make visits to True North, a domestic violence shelter in Columbia.
When the business owners went to the shelter, they hosted parties where the women got their makeup, hair and nails done. They showed off their final looks by putting on mini fashion shows.

The city has a checkered past with black-owned businesses. In the 1950s, 61 such businesses occupied areas of the city such as Cemetery Hill, Railroad Row, West End and the Sharp End District.
About six years later, nearly all black-owned businesses were removed from these areas in part due to President Harry S. Truman's Fair Deal Program, which planned to redevelop blighted areas. Some businesses closed due to the deconstruction, while others were forced to relocate. Instead of building that economy back up, growth was nonexistent. Black people "were stuck," says Tyree Byndom, a long-time, former Columbia resident and community activist. "They had dealt with structural and institutional racism and discrimination for so long; they could only talk about what was lost."
In Columbia, only 4 percent of businesses are black-owned, according to the 2012 Survey of Business Owners. Now that Sweet Tea is up and running, it's part of that 4 percent.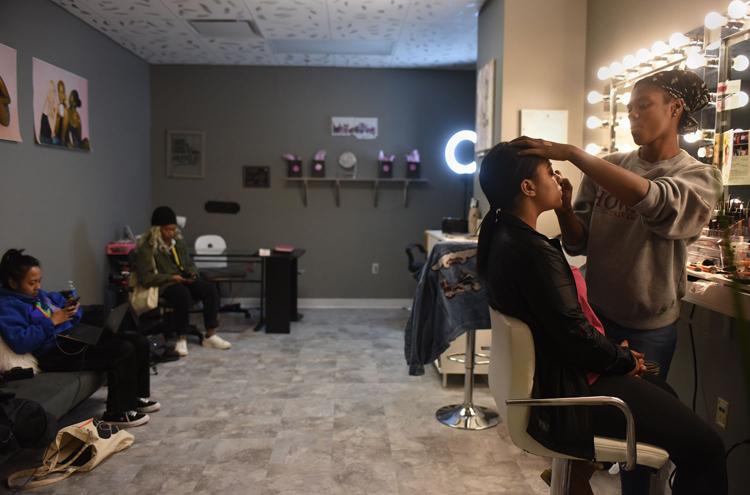 With a lack of black-owned businesses in Columbia, Teanna proudly shares the limelight with other makeup artists, especially those of color. Not only does she praise their work, she also refers potential clients to other makeup artists such as MU student Jasmine Birt.
A woman who wanted to start a hair extension line asked Teanna how she prospers in a city that has so few black-owned businesses and a lot of competition in the beauty industry. "It's enough room for us to all succeed," she responds. "For example, if I have scheduling conflicts and can't accept an appointment from someone, I'll reach out to Jas and ask if she can take them." Teanna says she works with other business owners who are as happy to support her as she is to support them.
Companies such as Blake the Barber, a haircut servicing company by senior Blake Mosby, Styles by Darica Joyce, a hairstyling company by senior Darica Joyce, and Kreations by Kristal, a nail design service by senior Kristal Whitaker are all student-run businesses on campus. Teanna has offered space in Sweet Tea Cosmetics to each of these businesses, which gives them a platform to promote their companies.
"She really wants to bring a very welcoming place for many marginalized communities," says Drew Rogers, CEO of Relevant Youth and two-time winner of the same entrepreneurship competition. "If she can connect those marginalized groups with other groups where cross-racial communities can happen organically, that would be so cool."
Drew, like other business owners, says he is excited to see Sweet Tea maintain a presence that is open to everyone.
Sweet Tea's store manager, Michiru Carroll, concurs. She joined the Sweet Tea team because she supports the footprint Teanna is making in the Columbia community. "She wants it to be an inclusive brand," Michiru says. "Her message is: It doesn't matter who you are or what you look like; beauty should include everybody."

Sweet Tea's student center location opened Sept. 12. It'll remain there until May 2019, though Teanna is working to extend its presence at MU.
"The store is set up like a salon but more modern and relaxed," she says. "Instead of having the upscale stuff that you know you can't touch unless somebody guides you there, there's a futon and a reception desk with paintings on the wall by MU student Kyla Garret because she's hoping they'll be sold."
She says she feels that the physical existence of her business has increased her professionalism and urged her to be more outgoing so she can expand the company's outreach.
"In its purpose, Sweet Tea has become a lot bigger than what I expected it to be," she says. "I honestly hope it stays around at Mizzou. I'll have people walk past and say that they hope the store is still there when they attend next year, and they can't wait to experience it."
Teanna is currently participating in the Entrepreneur Quest Student Accelerator competition run by the UM System. If Teanna wins, she could receive up to $30,000 that will help fund Sweet Tea Cosmetics.
She is excited but nervous about her future. "It's the fear of the unknown," Teanna says.
Her makeup brand is only a portion of what she wants her legacy to be. "I just want to be known as somebody that cared." 
RELATED