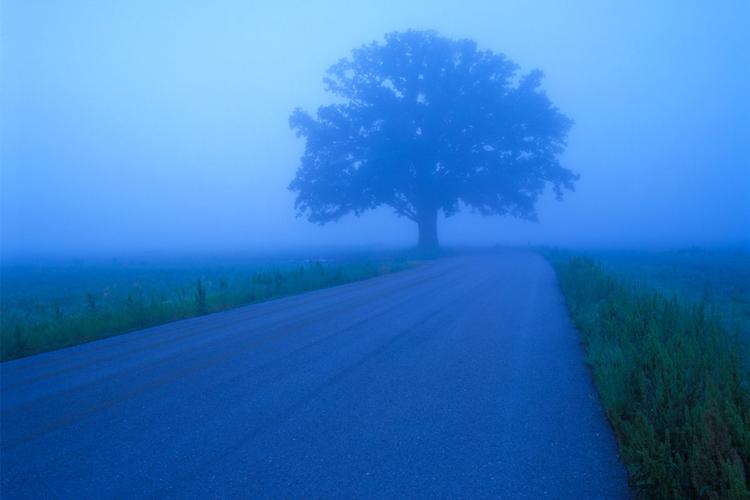 William Least Heat-Moon's advice for young writers
The best-selling author speaks to Vox reporters
 By Jenna Fear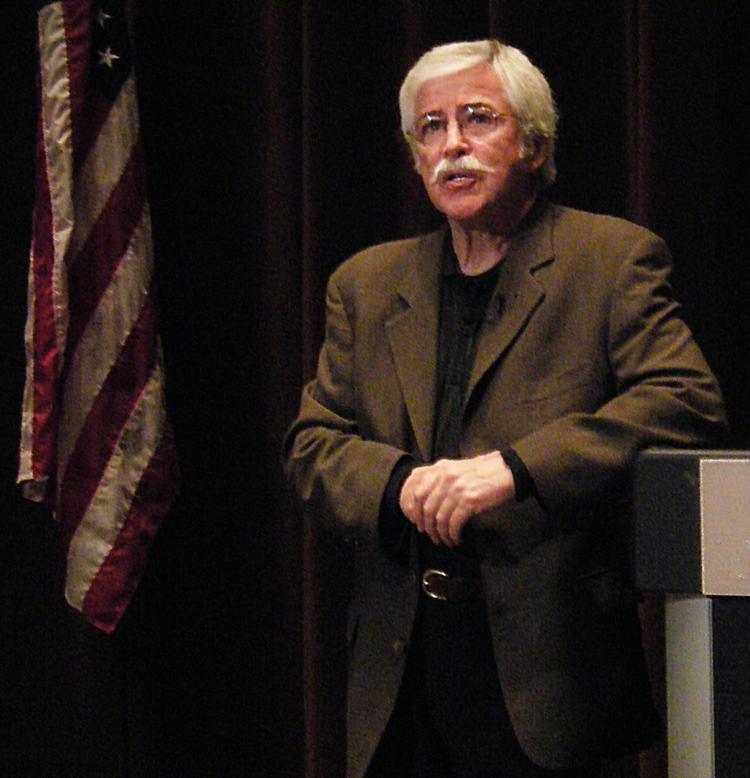 "Talent isn't the main requisite for capable writing – discipline is. And a little good luck."
So says William Least Heat-Moon, the best-selling author who has released eight books, including the 1983 classic Blue Highways. He lives near Columbia, where he has just finished a new novel.
His most recent book, Writing Blue Highways: The Story of How a Book Happened, is a personal account of the four years of perseverance and persistence that it took to get Blue Highways published. It is neither a writer's manual nor an autobiography. It is a guide to creating something that has never existed before, and a story of overcoming the struggles along the way.
William Least Heat-Moon
University of Missouri Press, 2014
The Mizzou alumnus talked to 12 students in the Vox reporting class as they worked on their own project inspired by Blue Highways. (See their project here.) He spoke about what it takes to be a writer, and how to be a great one. Here's what we learned from one of the most acclaimed travel writers of our time:
1. Be a bulldog.
"What the hell: Everybody's a writer the first day," Least Heat-Moon says in Writing Blue Highways. But it's what comes in the following days, months and years that makes the difference.
Of writers who want to get published and fail, Least Heat-Moon told the class: "What I see in all of them is they simply lacked dedication. They wouldn't stay with it. They weren't bulldogs."
To make ends meet while writing Blue Highways, Least Heat-Moon did a stint as a clerk at the Boone County Courthouse, then worked at a loading dock. "For four years, I was feeding off of this dream of trying to turn a story into a book, and I really did not know what I was doing," he said. "I mean, I knew how to write sentences and that sort of thing, but to make a book that someone would want to read – that's another topic entirely."
He told the students, "There are going to be times when you start doing projects on your own, in which it looks like this is not going to work, it's not going to go on. That's when you find out whether you're going to be a writer or not."
2. Find people who make your work better.
"There are two kinds of editors," Least Heat-Moon said. "Those who are good with a blue pencil and those who go beyond that" to open up new ideas and possibilities.
The latter kind for Least Heat-Moon was his dear friend and editor Jack LaZebnik, the late English professor at Stephens College. He was the first to read and critique early drafts of Blue Highways. Least Heat-Moon describes him as the most respected and influential man in his life, aside from his father.
Least Heat-Moon encouraged the students to find that kind of mentor. "If you ever find those, stay on good terms, because you may need somebody to help you," he said.
3. Sharpen your  pencil.
Least Heat-Moon insists on writing his first drafts with a No. 2 Blackfeet Indian pencil. The cedar pencil depicts a warrior on horseback, facing the graphite tip. He imagines the warrior charging at the wordless page, a force to put something to nothing.
He believes the physical action of writing words on paper, with the movement of the wrist and shoulder, stimulates the brain more than the action of typing. This was a new idea for students usually found with fingers glued to keyboards.
"It reaches another part of your brain. You will have a different story if you try it that way," he said.
Don't throw out your computers. Least Heat-Moon uses a laptop for later drafts. But as he describes in Writing Blue Highways, in the initial stage of getting the words out, the sound of graphite against paper gives voice to the words coming forth.
4. Take good notes.
"Good writing begins with reporting," Least Heat-Moon says in Writing Blue Highways. "With the transporting of a story from its source – whether actual or imagined – to a listener, a reader: report, 'to carry back.'"
The vehicles he uses to carry those stories back are pocket-sized, dog-eared notebooks and  large ledger books. He brought the journals to show the Vox reporting class.
He opened the travel journal to reveal scrawled words, maps, photographs and sketches. He explained that he takes notes on the front pages of the journal, leaving the back sides open for later additions and reflections.
He developed the habit of carrying pocket notebooks while working on Blue Highways. He keeps them handy to jot down telling details and colorful phrases. "Three or four words well-delivered will create the face or the character of a person for a reader," he said. 
5. Be here now.
"You are writers," Least Heat-Moon told the class. "The most important thing for a writer to begin with is the old phrase that became so popular in the so-called '60s... 'Be here now.'"
So get your face out of your phone and pay attention to the world around you. If you don't look up every once in a while, you're going to miss everything you need to be a good writer.
"You can't write if all you're going to write from is what is in your head when you're 20 years old," he said. "There's not enough there yet. There's so much learning that's going to have to go on."
6. Revise, revise, revise.
Getting the story down is only the first step. Then comes the painstaking process of revisions, for which Least Heat-Moon is known. Blue Highways went through 12 drafts in four years. The opening paragraph alone was rewritten two dozen times.
Least Heat-Moon told the Vox reporting class the secret of good writing. "I'm gonna give it to you in three words... Revise, revise revise," he said. "Now we're back to that word that I began with – dedication."
A book for the ages
Blue Highways continues to inspire generations of readers, writers and travelers
By Niki Kottmann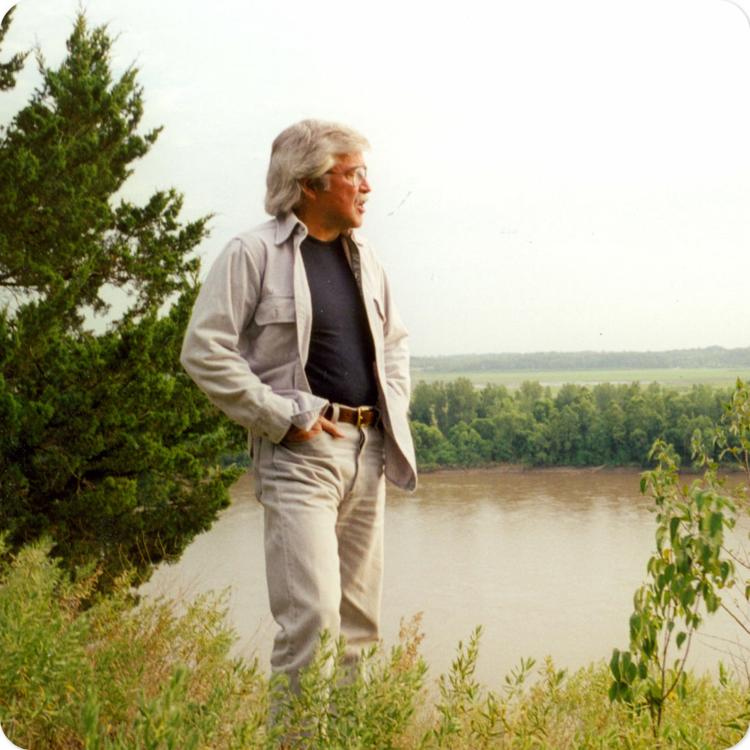 The epic journey that begat a bestselling book began right here in Columbia. William Least Heat-Moon famously lost his wife and his job teaching at Stephens College on the same day. He later wrote, "A man who couldn't make things go right could at least go."  Least Heat-Moon embarked on an 82-day, nearly 14,000-mile trip on the back roads of the United States.
The resulting book, Blue Highways, became a classic of American travel writing, its author often compared to Steinbeck and Kerouac. Published in 1983, the book spent 42 weeks on The New York Times bestseller list, landed on the reading lists of countless literature classes, and inspired a
generation of travelers and readers.
William Least Heat-Moon
Little, Brown 1983
Among them was a young Cliff Froehlich, who later became Arts and Entertainment Editor at the St. Louis Post-Dispatch. An aspiring writer at the time, Froehlich greatly admired Least Heat-Moon's "gorgeous prose style." But more importantly, he says, the book showed him what can be accomplished through nonfiction.
Froehlich says that growing up in St. Louis, he didn't give much thought to people living in small towns. He says the book forced him to change that.
"It opened up a world to me," says Froehlich, now executive director at Cinema St. Louis.
For Terry Simmons of Columbia, Blue Highways became a family motto. He had his three children read the book and write a report on it as soon as they were old enough. For each annual family vacation, Simmons and his wife packed the kids into their Ford Taurus station wagon with a mission to experience as much of the route less traveled as possible.
"Brought to a decision point on a journey where Marilyn and I would look at each other and decide whether to risk an adventure or look for a motel with a pool, we would think about the choice, smile, and say, "Blue Highways!" and off we'd go," Simmons says.
Blue Highways also changed the course of literature, according to Dinty W. Moore, director of the creative writing program at Ohio University.
"Blue Highways helped give rise to travel narratives that were as much spiritual journeys as they were searches for great food or exotic destinations," Moore, who calls Least Heat-Moon a "key innovator" in the creative nonfiction genre, said in an email. "Heat-Moon's book was quirky and unexpected when first released, the sort of first-person account that made other writers, and young want-to-be writers like myself, sit up and think, 'Oh, I didn't know you could do that.'"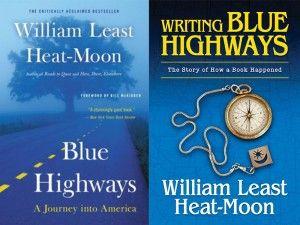 Least Heat-Moon's painstaking revision process, documented in his latest book, Writing Blue Highways: The Story of How a Book Happened, inspires Danita Allen Wood, editor-in-chief of Missouri Life Magazine. "What a shining example of how we can all be more careful with our words. I aspire to be as good of an editor as he is," Wood says. 
The stories of small-town America and its sometimes odd, often endearing inhabitants are still appealing more than 30 years later. Least Heat-Moon visited places such as Remote, Oregon, and Whynot, Mississippi. He talked to Patrick Duffy, a monk at the Monastery of the Holy Spirit in Conyers, Georgia, and Kendrick Fritz, a Hopi medical student at Southern Utah State College.
"William Least Heat-Moon's joy in everyday people and his love of the landscapes that he travels through really comes across," says Stephanie Williams, marketing manager at the University of Missouri Press, who often gives Blue Highways as a graduation gift.
"There's something about it that I find freeing," Williams says. "It's the great American journey."
Blue Highways fans might also like these Road-trip reads
For Ed Ailor, a dream deferred is a dream realized
By Heather Finn
[gallery type="slideshow" ids="68038,68020,68021,68022,68023,68024,68025,68026,68027,68028,68029,68030,68031,68032,68033,68034,68035,68036"]
All slideshow photos courtesy of Edgar Ailor III
Edgar Ailor III; Photos by Edgar Ailor III and Edgar Ailor IV
University of Missouri Press, 2012
It was a cold winter's night in January 1983 when Ed Ailor III first read Blue Highways. As he turned the pages of the book, a Christmas present from his wife Susie, he knew: Someday, he would make the same trip.
Fast-forward more than three decades, and Ed and his son Edgar Ailor IV (affectionately known as Gar) have indeed retraced William Least Heat-Moon's "Blue Highways" route. The two photographers hit the road shortly after Ed met with Heat-Moon in 2007. Work schedules and other restrictions forced the father-son duo to travel separately and split the route into 13 individual trips. Still, the Ailors successfully documented all 13,889 of Least-Heat Moon's miles and then some, capturing photos of all of the scenes and 11 of the characters that appeared in Blue Highways.
In May 2012, their book Blue Highways Revisited was published by the University of Missouri Press. Heat-Moon helped to edit the text.
"When the final version came out, the three of us actually were together in one room," Gar says. "To see it published, and to have my dad and Least Heat-Moon there, just the three of us — it was amazing."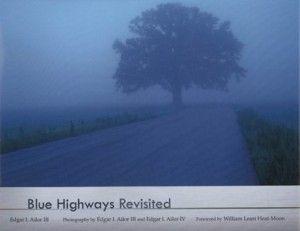 In route to nowhere, John Robinson goes everywhere
By Alexa Ahern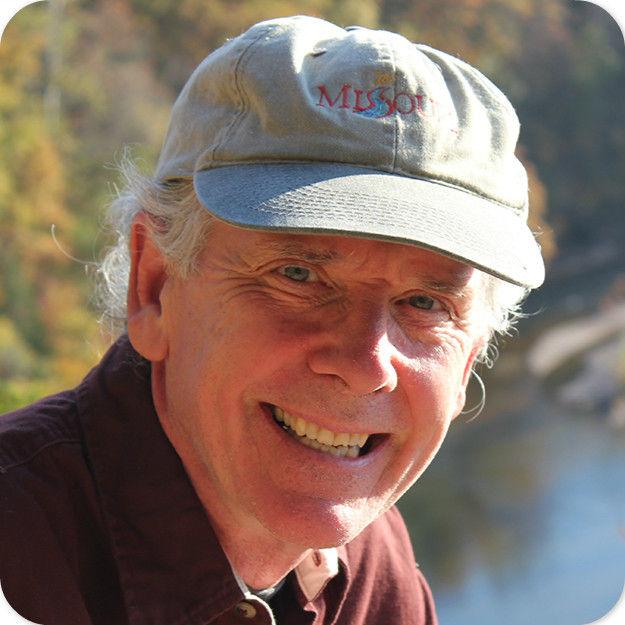 John Robinson is a man in search of stories. After working as the director of tourism for Missouri, Robinson realized that he hadn't visited most of the places on his state highway map. He set out on a journey to drive every mile of every highway in Missouri. In his own words, that was like mowing a 68,000-square-mile lawn.
His project, which lasted more than a decade, led to two books, A Road Trip into America's Heart and Coastal Missouri. Robinson says his books are not tour guides; they are maps of the people and places he found on his trips.
John Robinson
Compass Flower Press, 2013
Like William Least Heat-Moon, Robinson sought to discover the treasures hidden off the backroads.
The books are laced with history, heartfelt stories, and humor inspired by Missouri native Mark Twain. He writes of kayaking at the confluence of the Missouri and the Mississippi, encounters with colorful people in dark bars in the Ozarks, and tales of historical figures that left their mark on Missouri. Robinson ventures down Hwy. 36, "The Avenue of Greats," along which famous intellectuals such as Mark Twain, Walt Disney and J.C. Penney grew up. But of all the roads he has traveled, Robinson says that he prefers the winding Ozark road of Hwy. 17 – it literally leads to Success, Mo.