About half an hour from Columbia, in Fayette, a red brick house gained attention this summer from outlets such as TMZ and USA Today. The two-bedroom, 1.5-bath Airbnb went viral in August for its special feature: a jail attached to the kitchen.
In 1894, then-sheriff George C. Crigler was the first to move into the house. The county jail at the time, which had nine cells and a 15-person occupancy, was built connected to the sheriff's residence. A new county jail was opened in 2004, but the old building remains.
For several years, the jail house was available to rent for $115 per night through Airbnb, but the odd listing was recently sold and taken off the online hospitality marketplace. Still, the obscure rental opportunity got us thinking: what other out-of-the-box lodgings does mid-Missouri have to offer?
If you've got cabin fever and are looking for an in-state getaway, we've got three unusual abodes for you. An added bonus? Airbnbs, because of their privacy and level of cleaning, are often safer than hotels during the pandemic.

School House Bed and Breakfast
Where: Rocheport
Price: Rates vary by room from $199/night to $259/night
Why stay: Complimentary breakfast, patio, gazebo, close to the Katy Trail and Les Bourgeois Winery
Website: schoolhousebb.com
Located just half an hour from downtown Columbia, this school-turned-lodge offers a quaint getaway to the Missouri River city of Rocheport. There are 11 rooms available for booking, each one with a school-themed name.
The schoolhouse, which opened circa 1914, is now listed on the National Register of Historic Places and was once a four-room school for first through 12th grades. The building was used as an elementary school until 1972, when the Rocheport school district merged with the New Franklin school district. After 15 months of renovation, the School House Bed & Breakfast first opened in April 1988.
One available room in the B&B, the Schoolmaster room, includes one of the original school chalkboards. Other rooms feature skylights, gabled ceilings and dormers, according to the B&B's website.
Co-owner Andy Hickman says Rocheport is special. With its location just two blocks from the Katy Trail and a little over a mile from Les Bourgeois Vineyards, Hickman says School House B&B is perfect for a fall retreat or a just a pit stop along the trail. Hickman also mentions the shops, restaurants and architecture as reasons to visit the town.
Rocheport was settled in the 1820s and reached its peak population in 1876. The Rocheport Historic District, approximately 177 acres, was listed in the National Register of Historic Places in 1976. On the original nomination map, 91 historic resources were identified, including the schoolhouse.
"The whole downtown area is on the National Historic Register," Hickman says. "The entire downtown and architecture that's here, a lot of it is pre-Civil War. Rocheport is kind of a magical place."
Where Pigs Fly Farm
Let your staycation take flight at Where Pigs Fly Farm
Where: Linn
Price: Stay in one of four rooms starting at $40/night or $150/week. Or, visit the pig museum for the day for $5 for adults or $3 for children under 12.
Why stay: Frolic with free-range animals, see 43,000 items of pig memorabilia
Website: wherepigsflyfarm.com
Nobody knows when pigs might fly, but we do know where. Linn, Missouri, is home to the only pig memorabilia museum in America and the second-largest one in the world.
Where Pigs Fly Farm is a historic attraction that is now home to hundreds of rescued animals. Sheep, goats, pigs, cattle, alpacas, horses, mules, donkeys, chickens, dogs and turkeys all live on the farm. Don't go if you're unwilling to explore or get a little dirty because most spaces, including barns and sheds, are open to the public. Owner Cindy Brenneke says hanging out with the animals, especially in the mornings and evenings, is the best part of life on the farm.
The limestone house, which was built in the late 1800s, has four rooms available for overnight stays and is perfect for families or couples, so long as you like animals. Playing with the animals is encouraged and, if you ask, you may be able to feed them as well.
But beware: Rumor has it the spirits of the Iven family, the original owners of the house, still dwell at the farm. On Oct. 17, St. Louis company Monster Paranormal will host "spirit box sessions" and "investigations" of the property, where guests can get the full spooky experience.
The 62.7-acre farm is fully operational with a milk barn and livestock barn. Brenneke says farming is the primary function of Where Pigs Fly, and the revenue brought in by the B&B helps alleviate the costs of rescuing animals. 
The Silos at Prairie Vale
Where: Green Ridge
Price: Li'l Silo on the Prairie – $106/night; Farm Punk Silo – $110/night
Why stay: Fishing equipment available, bikes for rent, sleep in a silo
Website: thesilosatprairievale.com
Silos usually house grain for feeding livestock, but for a night or two, the Silos at Prairie Vale can house you and your travel companions.
Located on a former dairy and grain farm 12 miles outside of Sedalia, the silos offer a picturesque view of the plains and farms of west-central Missouri.
One silo-turned-apartment was originally built as extra living space for one of owner Wendy Needy's daughters. Now, two silos are open to show travelers a slow day on the farm.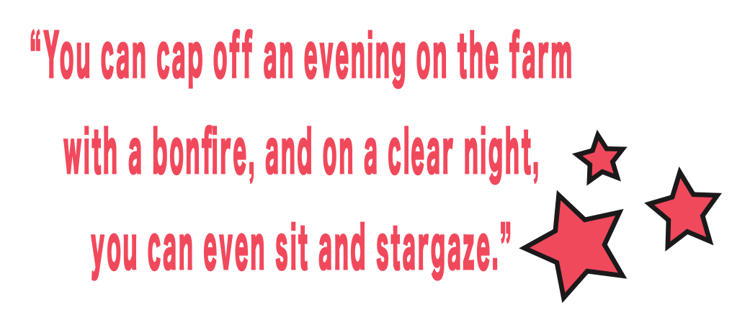 When Needy acquired the farm, it had been downsized to 14 acres. Despite the reduction, the farm is far from a shadow of its former self. The original dairy barn remains, and chickens, goats, miniature donkeys, cows, friendly barn cats and an ornery sheep still roam the property. A fully stocked fishing pond is located just outside the silo, and fishing rods are available upon request. Bicycles are also available for rent if you want to cruise the nearby Katy Trail. Needy says she keeps a guidebook handy and is ready to help find a local activity for any type of traveler.
You can cap off an evening on the farm with a bonfire, and on a clear night, you can even sit and stargaze.
*This story has been updated to clarify that the farm had already downsized when Needy bought it.
Related Articles