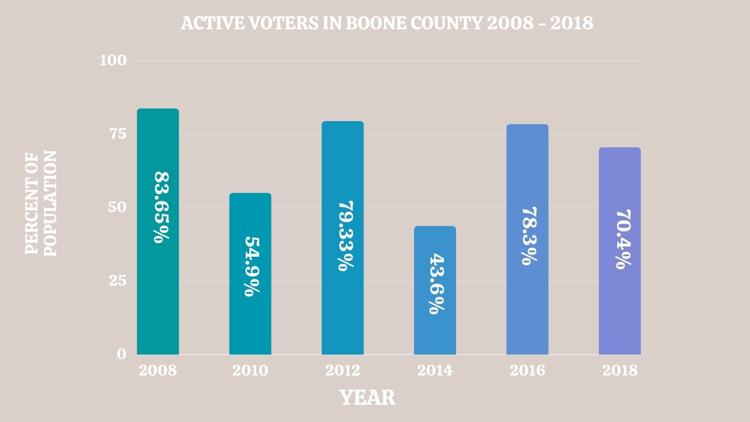 When so much news and information revolves around politics and the election season, it's easy for voters to get burned out before the election even arrives. But this year, turnout rates might be greater than in 2016. According to the Pew Research Center, 83% of registered voters said it really matters who wins the 2020 election. That's up 9% from a 2016 poll, and it could mean more people voting than in 2016, when about 60% eligible of voters cast a ballot. But what about the 40% or so who didn't vote? There are a few common reasons they don't turn out.
Down for the count
In the 2016 presidential election, 2.8 million Missourians cast ballots out of the state's over 6 million residents. Typical margins of victory in statewide elections exceed 100,000 votes. These numbers lend support to the idea that every vote might not matter. Voting on the thought that "my vote cast will be the deciding factor in the election" never happens, says James Endersby, an MU political science professor who researches political behavior.
Where each individual vote does have the most impact is in local elections, Endersby says, yet turnout rates for municipal contests are usually lower than those of general elections. He says municipal elections often have a more direct effect on voters than general elections because they affect everyday factors such as road conditions and trash services. But voters' expectations tend to be lower because of a lack of information about their local governments or candidates.
Endersby says he expects higher voter turnout in this year's general election because of heightened voter attention drawn by the presidency and campaigns.
The fatigue factor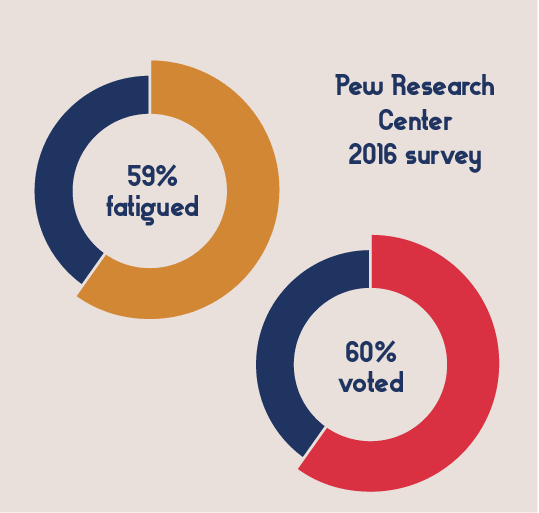 The launch of CNN in 1980 is often cited as the beginning of the 24-hour news cycle. In the 40 years since, the rise of social media has brought news to readers as it happens. Considering non-stop coverage of American politics, the prevalence of social media can overwhelm viewers and influence voter turnout.
A Pew survey conducted in 2016 found that about 59% of Americans surveyed felt fatigued by coverage of the 2016 presidential election. Respondents most often named candidates' stances on issues as an underreported topic, which suggests voters might prefer more focused political coverage. A separate Pew survey from fall 2019 found about 66% of respondents felt exhausted by news in general.
Finding truth
In an era of unlimited information, it can be difficult to determine what information is valid. Julie Smith, a media literacy instructor at Webster University, works to help people better understand media validity. Smith says there are questions readers should ask of their news. "Who's the sender of the message? What's their motive or intent? What tricks are they using to get me to pay attention to their message? What information is left out? Who makes money from this message?" Smith says. "We need to be asking those questions about everything, not just Aunt Carol's Facebook post."
Throughout this year, Boone County Clerk Brianna Lennon has used social media to increase voter education and engagement with local government. Lennon says bringing the county clerk's office into the online conversation helps prevent the spread of misinformation. "Instead of going on Facebook and asking their friends a question, and then somebody just kind of filling in the answer to the best of their knowledge, people could share the post," she says. Her Facebook and Twitter accounts and those of the Boone County Clerk's Office often get tagged with questions.
An election calendar, polling info and what to expect on the ballot are available on the Boone County Clerk's Office website at showmeboone.com/clerk/.
Related Stories