Election Day is coming up, and this year voting experts anticipate unprecedented voter turnout, particularly by mail-in and absentee voting. Whether you're a first-time voter or a seasoned pro, you'll want to be prepared. First things first: make a plan.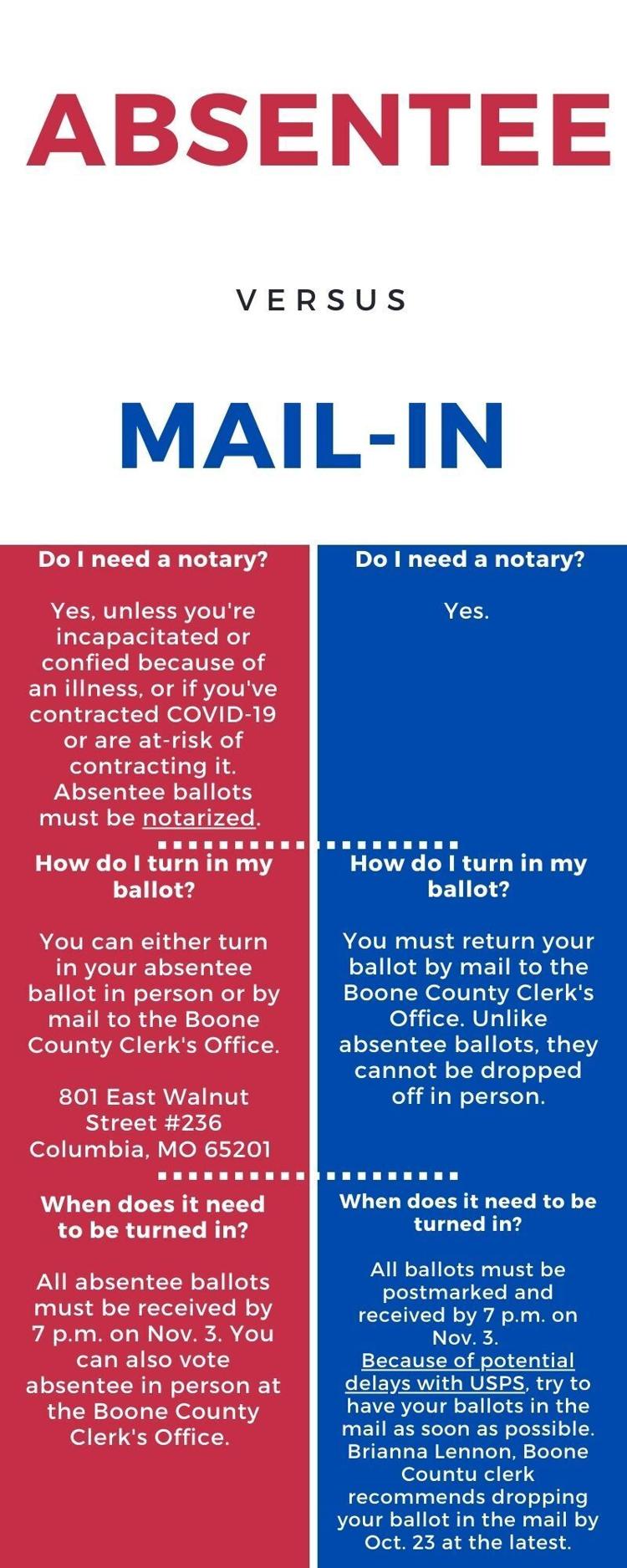 Before Election Day...
Missourians have three options for voting: absentee, mail-in and in-person.
This year, many people are skeptical about the security of voting by mail. According to an NPR report, mail-in voter fraud occurs so infrequently that "it's not statistically meaningful." In the past 20 years, only 143 cases of the total 250 million votes cast were fraudulent. 
Plan for time off: If you're voting in person, you can ask before Nov. 3 to have time off work. Employees have the right to up to three hours to vote on Election Day, but employers get to choose which hours they may vote. Employers don't have to allow time for employees to vote if a shift begins three hours after the polls open or ends three hours before they close.
Check your mail: David Mallory has been a Boone County poll worker since 2004, and his best advice for new voters is to pay attention to mail from the County Clerk's office, which will tell you where you need to go to vote. 
Research what's on the ballot: Not only will there be presidential candidates, but there will also be candidates for local and state government. If you lost your physical sample ballot or would like an electronic version, you can request one via email from the Boone County Clerk's office. Also, look for the Columbia Missourian's Voter Guide and keep up with the Missourian's election page for specific ballot information.
Make sure you have the following before leaving your house:
What to expect at the polls...
Check-in: You'll need to sign the voter registration book electronically via iPad. If you'd like, have hand sanitizer, wipes or gloves at the ready, because you'll need to touch items others have used. 
Paper vs. machine: All votes will be on paper ballots fed into a counting machine, Lennon says, but there are two ways to fill in the ballots. You can either fill it out on paper or vote on a screen and then print out your ballot. 
Campaigning: People will campaign outside of polling stations. In Missouri, they cannot be within 25 feet of the doors. If someone violates this, let your local election judge know. Lennon says there are typically signs and cones marking the 25-foot distance, so she doesn't anticipate it being a problem.
Voter intimidation: Lennon says Boone County has strict rules that poll watchers and poll challengers must follow. "In no way can they interrupt the process of voting," she says.
Expect a lot of people: In the 2016 election, 78.3% of voters registered in Boone County turned out to vote, so expect to see plenty of in-person voters in November. The Pew Research Center predicts a record national voting turnout, perhaps the highest turnout since the 1908 presidential election. Michael McDonald, director of the U.S. Elections Project, referred to this election as "the storm of the century." 
With proper social distancing, the lines will probably be long. To ensure filling out your ballot takes as little time as possible, Lennon recommends coming prepared with your choices in mind.
Get your "I voted" sticker: This year's stickers were designed by Audrey Cornell of Battle High School. As you leave your polling station, don't forget to get your sticker — and wear it with pride. "I voted" stickers also serve as a reminder to those who might've forgotten it's Election Day.
Psst...
Students, don't forget you can vote, too.
"We have to make sure we remove all barriers to access, so that it's as easy as possible, so students can [vote] without any barriers in their way or challenges they have to jump over," says Claire Shipp, executive director of the Associated Students of the University of Missouri.
ASUM is a nonpartisan UM System-wide student organization that aims to connect students with their government. This year, its priority was getting students to register to vote. 
"I'm happy for anyone when they find their political identity no matter what that is," Shipp says. "I think that's so important and so empowering, and I think students have the ability to change so many things. Even though it sounds cheesy, little wins are important. And I think little wins individually add up to big wins for students."
Related Articles