Editor's note: This story was co-written by Connor Lagore and Brooke Johnson. Their sections are separated by color: Connor's time at #1531 in

yellow

, and Brooke's time at #1791 in

red

.
---
If I could have done one thing differently, I'd have brought a sweatshirt. For a majority of the 13 hours I spent in the Waffle House on Vandiver Drive on Oct. 12, 2018, I sat directly under an air vent. Shivering.
There's something fantastical about those windowed walls — a limitless feeling. My friend and fellow writer Brooke Johnson and I decided to spend an overnight at two different Columbia Waffle Houses to witness the dark hours of the third shift.

Since its founding in 1955 by neighbors Joe Rogers Sr. and Tom Forkner, the 24-hour diner has amassed more than 2,100 locations, mostly throughout the South, and the lore to go along with them. There's a Waffle House record label; FEMA uses a Waffle House Index of closings as an informal determination of the severity of hurricane damage; customers know without consulting a menu how to order their hashbrowns smothered, chunked or covered.
As food adventurer and chef Anthony Bourdain put it, the franchise is "an irony-free zone where everything is beautiful and nothing hurts; where everybody regardless of race, creed, color or degree of inebriation, is welcomed."
As I sat down at restaurant #1531 on Vandiver Drive, Brooke took a seat at #1791 on South Providence Road. We'd made a pact to stay in our respective locations from sundown to sunrise, about 6:30 p.m. to 7:15 a.m. And we found that Bourdain was right. While every Waffle House is distinctive in its own right, they are bound by the same inherent ideals: community and waffles. –C.L.

Her name is Chris Michael, but her name tag says Cinnamon. "It's my Native American name," she says. She's short and slim, and she looks wise beyond her 49 years.
She zooms around the restaurant, taking orders and jawing with patrons. To her, they're all "sweetheart" or "honey." Once I explain I'm here to write a story, she gives me a quizzical look but nonetheless directs me toward a small table, her bony arm poking out from a blue Waffle House oxford. The booth sits in the north corner of the store, barely big enough for two. She says that's where I'll have the best view for the evening.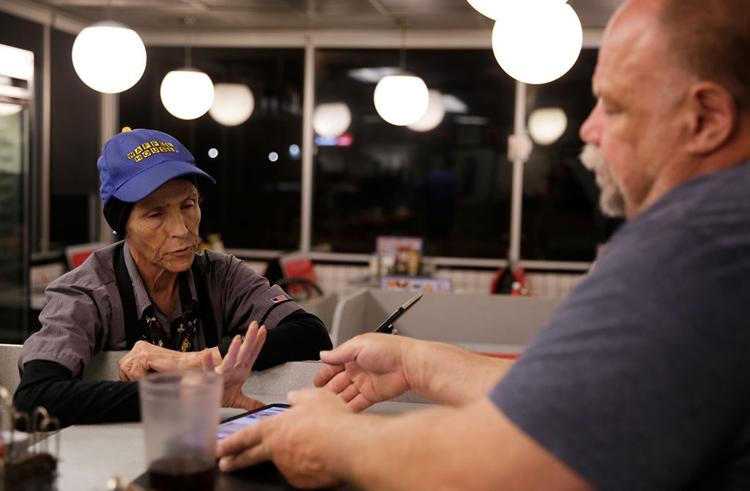 The Waffle House on Providence is nearly empty when I arrive, but I introduce myself to the few employees there: Miranda Wilson, Judy Saffell and Josh Ware, who no longer works there. The three share that particular bond of people working together in the service industry, the one earned through batter, stress and tips.
The shenanigans begin as Judy tells me of her recent move here from California. Josh and Miranda mill about, quiet but for the two words they alternate uttering: "Marco" and "Polo."
Judy and her husband moved here in July. Marco.
Judy is retired but hates sitting around, so she got this job for something to do. Polo.
Judy says, "The kids here are real easy to get along with." Marco.
The game continues, and I watch as pickle slices pile up on Judy's shoulders. Each recital of the explorer's name is accompanied by another duo of dill pickle slices placed there by Miranda and Josh. Josh says "Marco," signaling that it's Miranda's turn to anoint the unaware Judy with a slice. Miranda says "Polo," and it's back to Josh. They're up to five slices — three on Judy's right shoulder, two on her left. The pickles stay in place surprisingly well.
While talking with Judy, I accidentally drop my notebook. I bend to pick it up, and something wet falls from my body and slaps on the ground. A pickle.
Wow, I think. I am welcome here.
8:15 p.m.
Josh wants to play me a song from Waffle House's signature label. "It's (one of) the only restaurant that makes its own music," he boasts. He feeds a dollar to the machine, and a slow, plucky melody drifts through the air.
"With coffee that's fresh like the morning, she'll smile when I walk through the door ... Special lady waiting for me at the Waffle House ..."
8:45 p.m.
A man who looks like an old-timey bandit enters: He's wearing all black and sporting a thin mustache. He walks behind the counter. It's Karl Lueck, the manager.
He eyes the empty counter space in front of me. I've been here more than an hour and haven't ordered a thing. I bet Karl thinks I'm a scoundrel.
After a while, he asks, "Got any friends?"
Ah, he doesn't think I'm a scoundrel — just a loser.
"I do. Why?" I answer.
"They need jobs?"
One of Karl's 9 o'clock servers is a no-show; the other called in to say he won't make it until midnight.
Luckily, the cook tonight, Ben Chamberlain, shows up right at 9 p.m. It's just Karl, Ben and I now.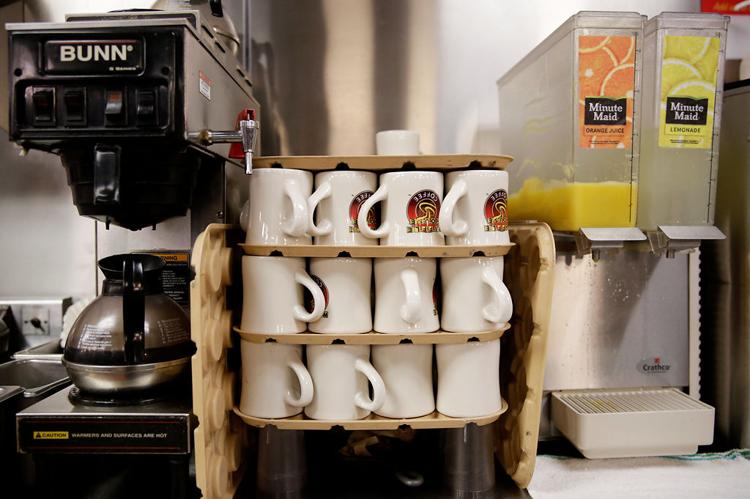 A quartet of teenagers strolls in and sits at the high bar in the middle of the restaurant. After ordering, two of them walk over to the jukebox. I look away, but when the first couple notes of Elvis' 1957 "Jailhouse Rock" fill the mostly empty restaurant, my head snaps back up to see the two dancing in the middle of the dining area. They are unbelievably in sync. An amused Cinnamon laughs from behind the counter. "Oh, look at you two!" she says. The other two kids observe with slight amusement, but they're not as captivated as Cinnamon or me. It seems they've seen this before.
Eventually, their food is ready, and they sit down to eat like nothing had happened. Cinnamon and I marvel at their bravery, and I ask her if she's ever witnessed anything like that. "You never know," she says.

A group of boys sporting varying combinations of athletic shorts, sweatpants and purple Tolton Catholic High School T-shirts and hoodies walks in. They cram themselves into two booths. When two more boys enter, there's only one seat open with their friends.
"There isn't room in this Waffle House for both of us," jokes Luke Guinn, one of the newcomers. Luke and his compatriot Joe Jenner depart to claim a booth of their own.
They tell me about the football game they just won against Warsaw High School and how they come to Waffle House after every game, win or lose. Two of their close friends established the practice a few years ago. Luke and Joe began accompanying them shortly after.
"It's probably the highlight of my week to be honest," Luke says. His love for this tradition rings through every word, especially as he tells me he hopes to keep it alive even after he and his friends graduate and move away to different colleges. It's sweet and idealistic and, I think sadly, unlikely.

A regular named Nick sits down and orders before heading to the jukebox and putting in some money — a lot of money. Cinnamon will later estimate he paid $20, which buys hours of music. Songs from Prince and The Beach Boys drift out of the sound system, but there aren't enough songs queued up to fill out his credit. He invites Cinnamon to choose one. I don't have any expectations as to what she might play, but Metallica's "Master of Puppets" was certainly not high on my list of guesses.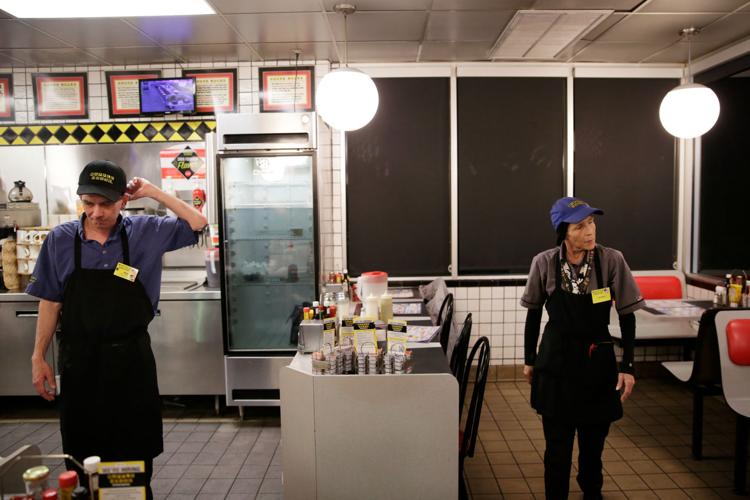 As Nick's queued songs begin to run out, Cinnamon calls me over and points me toward the Waffle Records archives. I scroll past aptly titled ditties about Waffle House steaks ("Waffle House Steaks") and the number of ways to eat a hamburger ("844,739 Ways to Eat a Hamburger"), and I find a couple songs I'd like to hear.
I go back and sit in my small booth. Soon enough, the sounds of "Why Would You Eat Your Grits Anyplace Else?" waft through the speakers.

"Rockstar Grill Operator" is embroidered on the back of Ben's blue cap, and rightfully so; Ben is Karl's best employee. Karl says that if he could, he'd saturate his staff with Bens.
Even when the restaurant is empty or I'm peppering him with questions, Ben moves about with tunnel vision on his tasks. He says it's like driving on the highway: "Maintain your lane. Maintain your speed. Maintain your cool."
It's not just that Ben is a good worker. Ben actually cares about the work he's doing. At one point, I watch him ladle pale, runny batter into two of the waffle irons, set the timer for three minutes and turn around to ring up a customer.
The timer goes off. "Bottom ones, Karl," Ben calls behind him.
Then, to the customer, "Thank you for your generosity; we'll see you next time." His manner is far more formal than one might expect, but it suits him.
A few minutes pass. In a restaurant-full-of-customers time, that's ages. Karl might as well have delivered those steaming waffles to their recipients in the Stone Age.

But Ben never forgets.
"That work out OK, those two waffles?" he asks Karl.
1 a.m.
I squat next to DJ Stegman. He has pulled up a chair to a booth crammed with his four friends, Jon Anderson, Logan Richardson, Ethan Lesko and Tyler Hoerschgen. They're all from Jefferson City, where they used to work together at the GQT Capital 8 movie theater. Their shifts often ended late at night, when there was a paucity of options for post-work grub. There's a 24-hour Steak 'n Shake there, but they preferred making the drive to the nearest Waffle House, which was this one in Columbia, about a half hour away.
Those days have ended, and the group has moved on. Tonight is a special occasion, though, a celebration of their weekend reunion. Their conversation is lively despite being continually derailed by their, to be frank, constant bullshitting.
At one point, Jon offhandedly refers to what they're doing as "Waffle Bois."
"Wait, so is this," Tyler gestures vaguely around the restaurant, "'Waffle Bois?' Or are we," he gestures around the table, 'the Waffle Bois?'"
"The experience is 'Waffle Bois,'" Jon says.

For most of the evening, 52-year-old Rodney Coe speaks only occasionally — once to let me know that he's worked at the store since 2014, and another time to let me know that every other cook puts cold chocolate chips on the waffles. "I don't," he says. "I put 'em on warm." That's all I get until around 3 a.m. as he's waltzing around the kitchen, cleaning up grease, drops of waffle batter and crumbs of toast. He talks to no one in particular, or so it seemed. "Motherfuckers bring their problems into Waffle House." Eventually, I realize he's talking to me.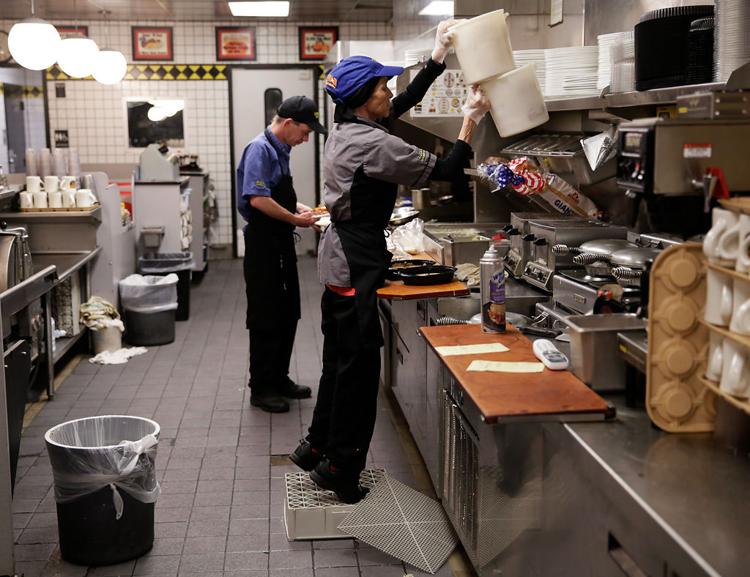 Most of his remarks circle back to the restaurant. "I'm workin' for my kids," he says, whom he's tried to raise with respect and manners. He tells them, "I'm not gonna be around forever, so I have to teach you now, so you can do good in society." He's filled with metaphors that offer more than I expect to learn at 3 a.m. "If you're in the fast lane going slow," he says, "that's disrespectful."
Eventually, the early morning regulars start to drop in. One asks Rodney how he's doing. "My back hurts like hell, and I'm tired," he responds honestly. But no matter; he keeps on cleaning and humming.

Karl swaps his Waffle House baseball cap for his beanie and puts on a jacket. He's been awake for 22.5 hours, almost all of which he's spent at this diner, and finally, he's going home.
He hands me a bill for the biscuits and gravy I recently demolished. Missing from the slip of paper is my waffle from earlier and the abundance of coffee I drank.
"Karl, did you want to charge me for the waffle and coffee?" I ask.
"Don't worry about it," he responds.
I really do feel like a special lady at Waffle House.

Cinnamon never seems to slow down during her 17-hour shift. Whenever I'd ask how she was doing, all I'd get in reply was a chipper, "I'm all right."
Waffle House #1531 runs on Cinnamon. She bridges the gap between the kitchen and dining area, warmly shouting to customers from the waffle irons or teasing Rodney while clearing a table.

Once she greets you, she'll take your order, bring your food and say goodbye, but not before busting your chops a bit. "Can I have some gravy?" a customer asks. "No, I can't give it to you," she says devilishly. The sarcasm goes right over the customer's head, but it does nothing to discourage her from cracking wise. One of her favorites is when she brings the check. "OK, it'll be 915 pennies!"
She's intertwined with the restaurant, or at least with my time there. Which is why when her shift is over, it feels like mine is, too. The sun comes up, and Cinnamon goes home.
Before I leave, she says goodbye. I enjoyed my 13 hours with her. I'd like to think the feeling is mutual. She makes me and Brooke, who's joined me for the last half hour and one final waffle, each put on a paper Waffle House hat usually given to children. She writes "13 hours" on the brim. Before heading out the door, I ask her how much I owe her. "A zillion dollars." 
Related