A handful of green shamrock cutouts was stuck to an interior window. A nearby wall was filled with dance attire including a rack of bright pink, white and black Irish dance costumes.
On the other side of the small storefront, there was an open door to the studio for the Clark Academy of Irish Dance. Lovely Irish dance music played around the corner. Then the music stopped, and Victoria Hamlin came around the corner to help me find the right pair of Irish dance shoes.
Learning and teaching Irish dance
Hamlin, the teacher of the dance class I attended, is preparing for her TCRG exam that will certify her according to international Irish dance standards. TCRG stands for "Teagascóir Coimisiún le Rincí Gaelacha," which translates to "certified Irish dance teacher." The standards were established in 1927 by An Coimisiún le Rincí Gaelacha, the international Irish dance commission that most of the world's Irish dance schools are affiliated with.
The commission's handbook includes sets of dances such as the Céilí. Hamlin will have to memorize 30 variations of this dance for the exam and complete a written portion and sections on performance and teaching style. Before the pandemic, she planned to take the TCRG exam in Dublin. But now, the six-hour plus exam awaits her in South Carolina from March 24 to 26. Lack of certification notwithstanding, me and four other women were eager to take Hamlin's hour-long evening adult class at the Clark Academy on Bernadette Drive.
Tight shoes and difficult movement
The other dancers filed in with their own shoes in hand and started getting ready for the class. The biggest shoe size Hamlin could find me was too snug, so I opted for my blue running shoes. I might be an amateur, but I felt immediately welcomed by my classmates.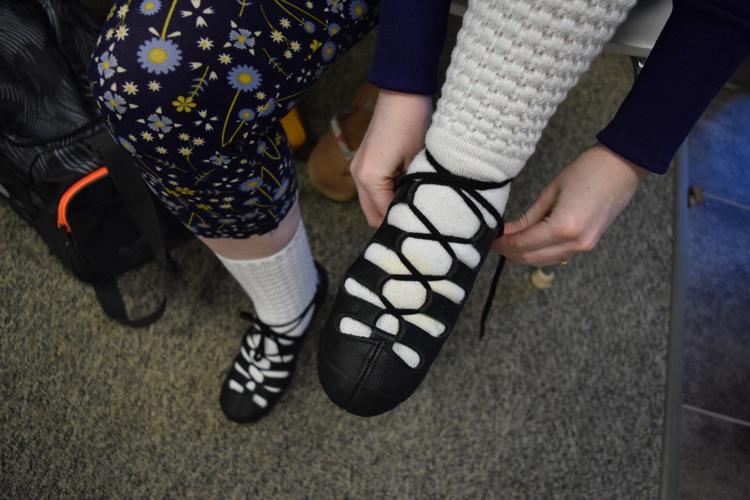 The more experienced dancers started class wearing soft dancing shoes that were pulled tight around their heels. About three to four sizes smaller than a U.S. sneaker, the fitted nature of these shoes accentuates foot arches and pointes to make the dance appear crisper, Hamlin explains. The shoes take the form of a dancer's foot after they're broken in. Hamlin says it takes some uncomfortable work to get there because the foot is constricted until the shoe is molded.
We began the class with a warmup that focused on cardio and legs and included heel raises, skip two-threes, back two-threes, switch jumps and cuts. I was feeling good about the pace, but then came the first step in the reel. The reel is the traditional type of music that the choreography is performed to. Hamlin partnered up the four veteran dancers, and they moved across the hard floor. I stood to the side for personal coaching. I mostly just tried to focus on dancer Tricia MacNeil.
The path to Irish dancing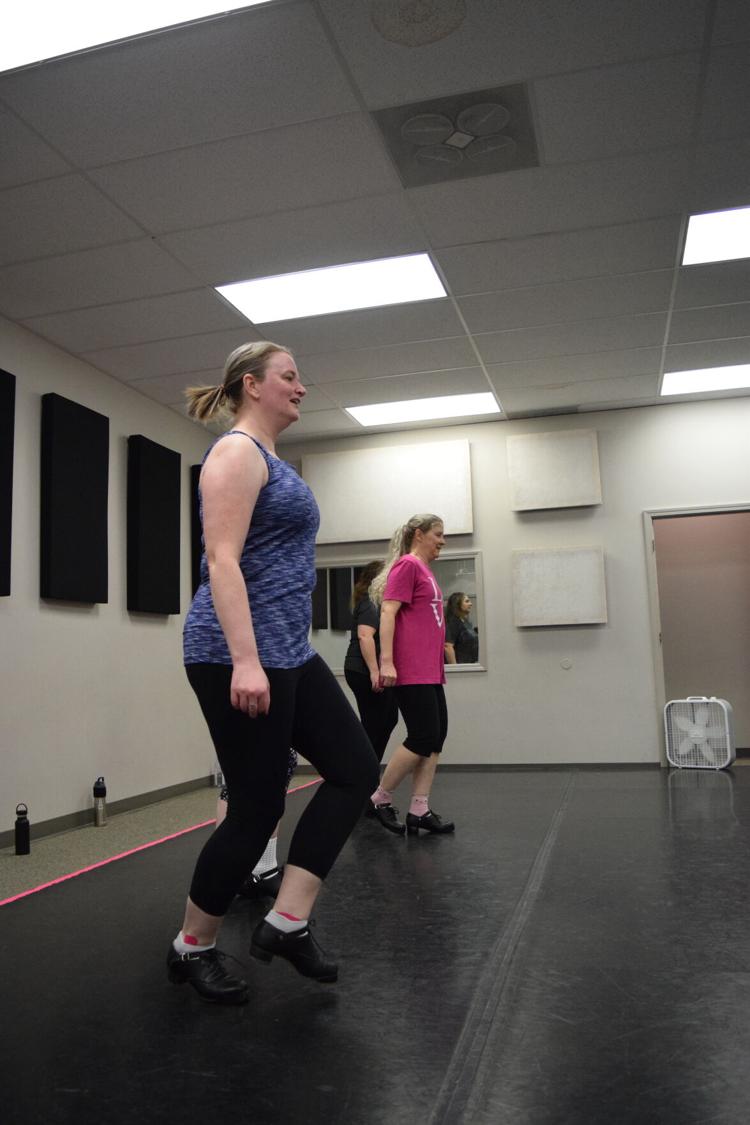 MacNeil began Irish dancing about 25 years ago when Riverdance became popular. Riverdance is an Irish dance production that was first performed at the Eurovision Song Contest in 1994. "I liked tap, but I wanted to do something different, so Irish (dance) kind of filled that," MacNeil says.
The commission credits Riverdance and the World Irish Dancing Championship with the spread of Irish dance to "people with little or no connection with Ireland."
Sabrina Wichhart, Clark Academy's director, began Irish dancing in her hometown of Las Vegas. She also found her Irish dance interest in the popularity of Riverdance. Wichhart and her sister danced in front of the TV as little kids to the Riverdance soundtrack. At the age of 17, Wichhart moved to Arkansas and competed there for about three years.
She then moved to Missouri and began teaching with Annie Eisenbeis at Clark Academy's Columbia location that opened in 2018. Eisenbeis, who worked at the academy's original location in St. Louis, handed off the Columbia location to Wichhart about a year ago.
'A gem of community'
Irish dance competitions happen all over the country every weekend. "It's like a whole hidden community — like a gem of community you don't know anything about, (and) you don't know exists until you're a part of it," Wichhart says.
Wichhart says Irish dancing is made up of three things: tons of glitter, brightly colored costumes and many people from different places. She became good friends with a dancer from Canada when they met at competitions in California.
Hamlin also keeps in touch with many of the people she met during her career. She taught in Japan, and her students have competed in China, Japan, New Zealand and Australia. Hamlin says Irish dance competitions provide common ground for connections and conversations across cultures.
Competitions vary in size, but the only dance performed in a group setting is the Céilí, which I learned during Hamlin's class. Other dances are performed individually. We also worked on the Fairy Reel, a progressive Céilí dance that is commonly performed at parties until the musicians decide to stop the corresponding music. It's meant for fun rather than technique, and the steps warrant participation from all ages.
Dancers and teachers at Clark Academy attribute tradition, accessibility, modesty and community to what makes Irish dancing one-of-a-kind. My classmates were encouraged by the fact that I didn't fall, and my instructor told me my timing was good. I think I got lucky, but I'll take it.
Related stories