To some, launching a business in 54 hours might sound like a daunting feat. This weekend, 10 teams competed in Columbia Startup Weekend to make that feat a reality.
Coffee and ideas were flowing aplenty at the Veterans United building all weekend long at the eighth annual creative marathon organized by local community members who come together on behalf of Techstars. Participants had the opportunity to pitch business ideas, join teams and receive feedback from a slew of local business mentors. The prize? Connections to investors and mentors to fully launch your business dream. 
PREPARING TO LAUNCH
Friday night, roughly 100 eager entrepreneurs and spectators gathered for the all-important kickstart to startup weekend: pitch night. Anyone with an proposal had 60 seconds to sell a promising business endeavor to the crowd.
"A lot of businesses that have come out of this weekend are still up and running,"  says Diamond Scott, the startup weekend media director. "So it really is to just bring to life that idea that someone's maybe been brewing on for a while and just needs the resources and connections to get it off the ground."
After all pitches, participants voted which ideas they were most interested in pursuing. From there, the top 10 ideas were kept, and teams were formed. The sun was setting, but the work had only just begun. 
GETTING THE BALL ROLLING
Saturday was a day of grunt work. Each group was challenged to go out and perform market research and begin forming a minimum viable product. Teams also had one-on-one consultations with mentors for advice on customer research, business models and market strategy.
"At the beginning, you have way more questions than you have answers, but you have to get moving," says David Brahm, Missouri Innovation Center mentor and mentor for startup weekend. "Even when you have the simplest idea, when you really start to execute it, everything starts to get complicated really quick."
This mentorship was handy for the underdog StudyMe team, a three-member group working to create a matching service for scientific researchers and volunteer subjects. "We don't have our business model or market all figured out yet," says Duong Pham, one of the team members, as the Saturday work begins. "There's a few flaws in there that we want to have addressed by somebody more experienced."
Not all business proposals stuck to science or tech fields, either. Members of the Ex Box team decided to create a customizable care package that can be sent to friends or family members going through breakups. Hannah Bryner pitched the idea after reflecting on a bad breakup she endured while she was home away from her friends. She has vivid memories of breaking down to a coworker while at work one night when she didn't have her support system with her: "I remember walking up to the bartender, Michelle, and saying, 'Michelle, there needs to be a care package that one of my friends can send me right now because I am so upset,'" Bryner says. "Cue our solution: the Ex Box."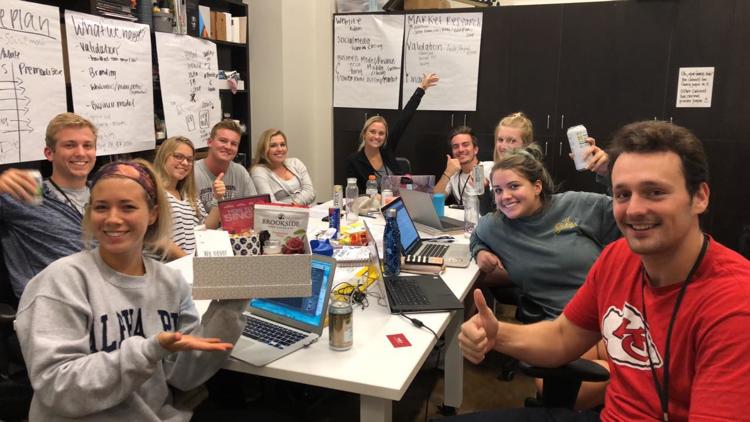 Other groups had gotten a jump start before the advising even began, like Brandon Banks' team, ReferMe — an app that would incentivize referral marketing for small businesses. Members of Banks' team stayed up until 3 a.m. the previous night to hash out a logo design and website. "It's like a class reunion for entrepreneurs," he says, reflecting on the connections he's made coming into his fifth year at the startup weekend. But Banks is in it to win this year. "This is the first time that I think we've got a simple product that solves a big problem for small businesses, and it's going to be easy to take to market and easy to scale. So I think that it has all the makings of the ultimate idea, and I'd like for somebody to prove me wrong."
FINAL STRETCH
As the jam-packed 54 hours came to a close on Sunday evening, all 10 groups prepared a final presentation for the judges and spectators. Competitors were given five minutes to present and three minutes to take questions from judges — and crush any last doubts.
"There's usually one (idea), at least, that's like the craziest idea, but yet by the end of it, you're like, 'Hmmm,' Brahm says. "So it goes from 'What the heck are they thinking?' to 'I wish I'd have thought of that.'"
The creative ideas didn't disappoint. Each group stepped up to the plate with fleshed-out market research and fledgling products already set for use — including a for-sale-by-owner real estate app, an emergency training service and even a Bird-inspired communal umbrella program. Several groups came with proof of sales of their newly launched products, including the Ex Box team, who was awarded with the superlative of best business plan by the judges. 
Only one could be crowned the champion of the weekend, however, and taking the cake was SL.APP — a subleasing app designed to help lessors find lessees and vice versa. The competition was stiff, but the collective emotion in the room was pride as most groups walked out with the foundation and hopes to continue their ventures.
"I just love the energy that our community brings to this," Scott says. "It's just cool to be in a room like this, and it's cool to see people's ideas churning and people coming together."