It is a cool, overcast morning at Rock Bridge Memorial State Park. The plants, glistening with dew, will soon be in full bloom. One stands out — an unassuming little plant with tan bark, scraggly stems and small green buds. It's bush honeysuckle, an invasive plant, which is any aggressive, non-native species whose introduction is likely to cause economic or environmental harm.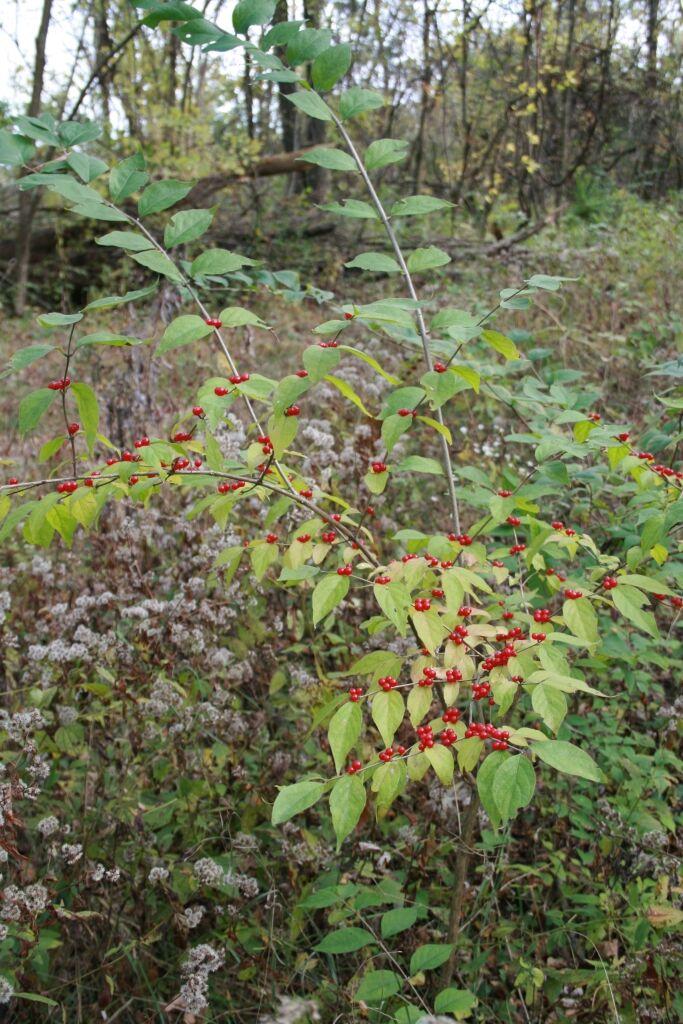 The Missouri Invasive Plant Task Force has identified 142 invasive plant species including garlic mustard, burning bush, autumn olive and callery pear. These plants threaten the state's native biodiversity, outdoor recreation and some economic sectors, says task force chair Carol Davit.
Invasives wreak havoc by blocking native plants' access to sunlight, soil and moisture. These species grow and reproduce rapidly. The result is a severe disruption to Missouri's natural ecosystem.
Unfortunately, these plants can rarely be fully eradicated. Instead, they require time, attention and persistence to ensure they are not permanently destroying native Missouri biodiversity.
It takes a village, but it also takes strong leadership to fight invasive plant spread. Vox spoke to locals combating these pesky plants.
Roxie Campbell, naturalist at Rock Bridge Memorial State Park
Campbell's trained eye can spot a new bush honeysuckle or autumn olive growth at lightning speed. She has spent over 26 years overseeing invasive plant removal efforts, monitoring the 2,273-acre park for new invasive species and maintaining the health of native plants on park property.
As park naturalist, Campbell connects nature and people. She educates visitors about proper identification, removal methods and herbicide safety. The more people Campbell can reach, the more progress the park can make in eliminating invasives at the park and elsewhere, she says. It is one of the only ways to ensure Missouri's natural resources are protected for years to come.
"I consider invasive plants just as much of a problem as climate change and one that we can do more about," Campbell says.
Mike Szydlowski, Columbia Public Schools K-12 science coordinator
There are few tangible examples of food webs like the ones many have studied in school, Szydlowski says, but the invasive bush honeysuckle illustrates how introduction to an ecosystem can completely devastate it.
When he added invasive plant removal to the CPS science curriculum, he knew that giving students the ability to work against this ecological threat would make a difference. And it has.
Roughly 2,700 students have been involved with Columbia bush honeysuckle pulls over the past eight years. When the district stopped keeping track of progress about three years ago, 2 million plants had been removed.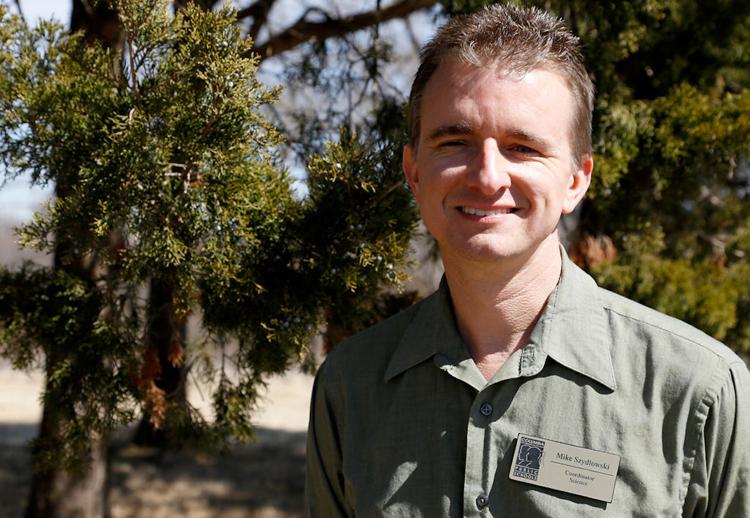 "Kids love to do community service when they can tell a difference right away," Szydlowski says. "They go out there and see at the end of just 30 minutes that their class completely changed the look of a park to where people can enjoy it again. It allows them to be destructive in a wonderful way."
Lelande Rehard and Nate Smith, president and vice president of COMO Trail Association
Hikers know the importance of well-kept trails. Invasives are a direct threat to the native plant diversity of trails and can make natural areas particularly difficult to navigate. That's where COMO Trail Association comes in.
"A lot of our folks in this group just love the outdoors," Rehard says. "They want to do what it takes to be a good steward of it. If invasive plant removal is [what it takes], then that's what they'll do."
Invasive plant work spans much of COMOTA's volunteer efforts. The focus on bettering trails across the city creates connection and accountability.
"When you see a place that's actually gotten under control and you see native stuff pop up, it's really pretty," Smith says. "To actually have some diversity in the forest, it's really cool." 
Related Stories