They're loud, over-the-top and until this season, they claimed to be MU's only basketball fans. They are The Antlers.
The group is notorious for their methods of rooting for the MU basketball team. The Antlers have been around for 41 years and have garnered national attention via ESPN's "Outside the Lines" show in 2013 when they were ejected from a game for chanting, "Scum, scum, scum. Go back to where you're from. ... and die!"
Although The Antlers are not MU-affiliated, that doesn't stop them from smothering MU basketball with their love. Vox sat down with three Antlers, seniors Eduardo Sobrino and PJ Morin and junior Dan Blanchard, who is the group's president, to get their opinions on the new fans MU basketball has attracted. The team's fanbase has seemed to grow this season due to the signing of five-star recruit Michael Porter Jr., the hiring of new head coach Cuonzo Martin and the acquiring of other top basketball talent.
According to the Columbia Missourian, average attendance at MU men's basketball games was only 5,842 in 2016 — Mizzou Arena holds more than 15,000 seats. However, this year's home opener, scheduled for Nov. 10, has already sold out.
What would you say to fans who haven't been to a basketball game and seen The Antlers in action?
Blanchard: To the bandwagon fans, we have been there longer than ZouCrew (MU's official student cheering section), longer than any of you. Whether they like it or not, this is a tradition at Mizzou. We have chants that go back to our very first game in 1976. We pride ourselves on being loud and being over-the-top.
Morin: We started before "PC culture" became a thing. If you look at our Twitter mentions, it's all alumni, and they all love us. The people who get upset at us and come to a game for the first time and don't understand — they need to understand that this isn't a group of 30 kids who got together yesterday and decided to go to the basketball games and be weird. No, this is tradition.
Sobrino: But the thing is, a lot of kids didn't grow up watching MU basketball or coming to games, so they have no idea who we are. Today it's like, "The Antlers? Who?"
What is your critique of MU basketball fans?
M: I don't blame fans for not going to games. I get it. To new fans, it's different than football games; there is action all of the time. We don't sit, we don't stop. Last year I saw a kid read a book at a basketball game. You shouldn't be able to do that.
B: Student sections are way more important for basketball than football. Be active. There should be a lot of chanting.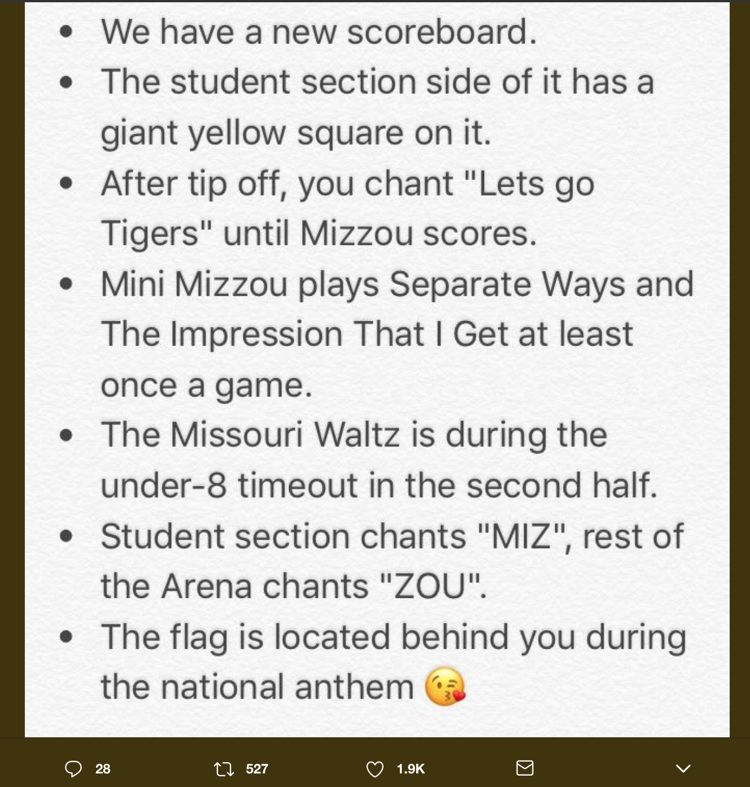 What are some tips you have for new MU fans?
M: Don't bring a book.
B: Get there early. Make noise — that's all we ask. You aren't in high school anymore. You should be chanting things that players aren't going to hear at every game. Be different.
S: We feed off noise. Also, stop the "Bullshit" chant. God, it's terrible. That chant should not be done outside of high school.
Do you think tickets are going to be overpriced?
M: It'll be reasonable. I had a friend tell me the other day he found two tickets for $150.
B: If you want any idea of how different that is from last year, you could buy five tickets that included five sodas and five popcorns for $20. 
How do you think MU is going to do?
B: This is the most talented Mizzou basketball team we have ever had. We have the highest-rated team in our history. That being said, we will win 30 games, and we will go to the Final Four.
M: Sweet Sixteen. It's just so nice to have hope.
S: Same. We will win more games than the last two years combined. Easy.