After a long winter combating piles of snow and frigid temperatures, spend some time outside testing your green thumb with these Missouri native plants that will attract our state's pollinators.
Bees, butterflies and hummingbirds are among the winged guests that add life to your garden and move pollen from flower to flower — a key to plant production.
They are a vital part of any living ecosystem. More than 150 food crops in the U.S. alone are dependent on pollinators' efforts, including nearly all fruit and grain crops, according to the U.S. Forest Service.
Spring means the beginning of planting season, which can be overwhelming to gardeners. One easy solution is native flowers. Not only are these plants beautiful, but pollinators love them.
Jennifer Schutter, a field specialist in horticulture for MU Extension in Adair County, says people should do research before starting their gardens. With over 20 years of horticulture experience under her belt, Schutter recommends people try to keep their gardens blooming from spring to fall. "You can start small, with maybe one or two spring plants, a few summer bloomers — the summer ones are always easier," she says. "And then incorporate some for fall."
She also recommends having a water feature somewhere in your garden, even if it's as simple as a saucer filled with water. Both birds and insects need water, but bees are in special need of it. "Bees have to have water to make honey," she says. "If they don't have water, they can't make honey efficiently."
Thinking about planting native pollinators? Make your garden hum to life with these three plants.
Bee balm (Monarda fistulosa)
This mid-summer bloomer, also known as wild bergamot, will attract all sorts of pollinators with its sweet scent.
Care: These flowers prefer soil that is dry to medium-wet, and, like most other natives, grow in full sun (about six hours of light per day) to partial shade (at least three hours of light).
What they'll look like: Bee balm grows about 2 to 4 feet tall and spreads 2 to 3 feet. The blooms are a pink-lavender color with little tubes where pollinators can get to the nectar.
Who they'll attract: Ruby-throated hummingbirds and bees.
Why you should plant them: Beautiful blooms won't be the only thing you'll enjoy with this plant; the long, aromatic leaves can be used to brew tea.
Purple coneflower (Echinacea purpurea) This tall, showy flower is recognizable by its spiky cone center and bright petals.
Care: These low-maintenance perennials will give some desired height to your garden. They thrive in well-draining and dry to medium-wet soil. Coneflowers do best in full sun but can stand partial shade.
What they'll look like: Coneflowers have an orange-red cone in the middle with pale purple petals. They can grow between 2 and 5 feet tall and spread up to 2 feet wide.
Who they'll attract: Bees, butterflies and beetles.
Why you should plant them: After the flowers are finished blooming, the seeds in the center cone become a tasty meal for birds, especially American goldfinches.
Joe Pye weed (Eutrochium purpureum)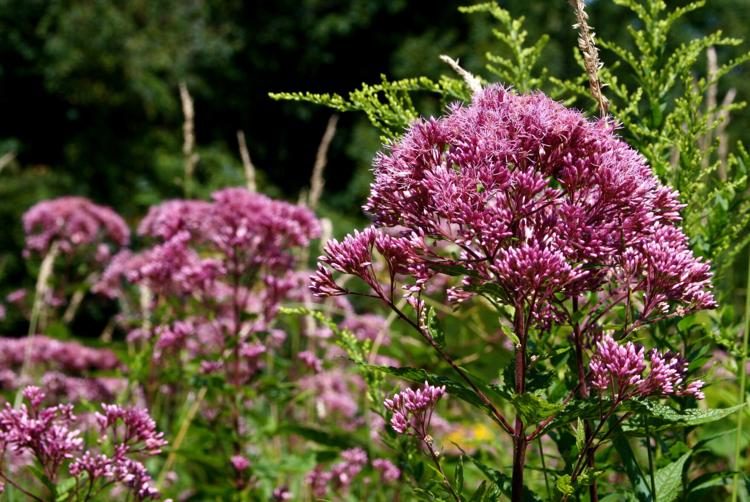 Another tall plant, Joe Pye weed is best if you're looking for some serious height in your garden.
Care: These low-maintenance flowers prefer moist soil that doesn't dry out. Like coneflowers, they thrive in full sun to partial shade.
What they'll look like: Joe Pye weed is marked by long stems with clusters of five to seven flowers on the end, which are a pretty shade of mauve. They'll grow between 5 and 7 feet tall and need 2 to 4 feet of space to spread.
Who they'll attract: Butterflies.
Why you should plant them: In the winter, the flowers dry out and give way to seed heads, which can be used for indoor flower arrangements.