A man walks up to Ophelia's Plant Truck, taking in the vibrant greenery ornamenting its surfaces.
"What are some plants that my wife and I can't kill?" he asks.
Jeni Mae McKenzie, the owner of the truck, has heard this question before.
"Are you neglectful, or do you feel like you're more of an over-waterer?" she asks.
"Both," he says.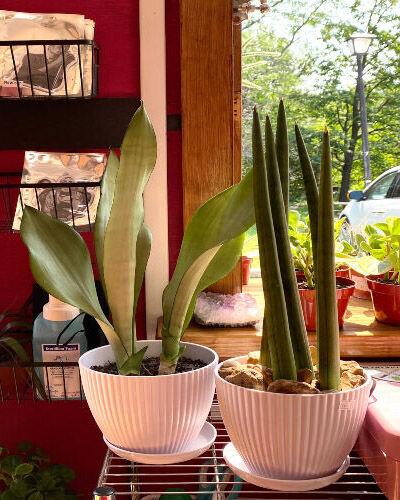 On this sunny Friday afternoon, McKenzie has parked her now mobile business in the Veterans United lot on Green Meadows Road. The truck is a modest trailer—shady, cool and softly playing Fleetwood Mac for its botanical inhabitants. McKenzie and her son Asher have been here since 11 a.m. selling to office-goers during their lunch breaks.
By 1 p.m., the number of visitors has dwindled, but the few who trickle in are eager to learn about which flora will best suit their lifestyles and care habits. For many, McKenzie recommends sansevieria because it's low maintenance and makes a good desk plant.
On the Road
McKenzie has been hosting similar pop-up events in and out of town since April. In 2018, she opened a brick-and-mortar store in Columbia's North Village Arts District. It remained open until 2020, ultimately closing because of high rent prices.
"I was basically paying high foot traffic prices for a very low foot traffic area," McKenzie says. "I spent two years just killing myself to make people even aware."
After the store closed, McKenzie delivered plants out of her house for about six months. The truck was scheduled to open for business in April 2020, but the pandemic pushed that plan back a year.
Since beginning operations, the goal for Ophelia's Plant Truck has always been to expand beyond Columbia. That's easy for McKenzie, who has friends-turned-customers in places like St. Louis, Kansas City and the Ozarks, as well as out-of-state cities like Austin, Texas, and Portland, Oregon, where she lived for 20 years. She enjoys the mobile lifestyle; setting up for a pop-up typically entails just 30 minutes of unboxing and inspecting each leafy friend.
In the meantime, the plants dwell in their nursery (McKenzie's living room). Ideally, she sells enough not to have to store and maintain them, but a new abode is in the works.
"It became pretty obvious pretty quick that I absolutely had to have a greenhouse," she says. "Just because, I mean, my house is outrageous. And my porch, and my brother's porch."
Teachable Moments
In town, scheduling a pop-up usually consists of McKenzie reaching out to a business on social media or vice versa. Because she grew up in Columbia, many of her friends now own restaurants and bars, lending opportune spots for one-day events. When she opened her store, McKenzie met Anna Meyer, owner of Range Free Bakery and Café, also located in the North Village Arts District.
"Jeni came into Range Free probably just to grab some food," Meyer says. "But she also brought me a plant as a, 'Hey, we're opening up across the street, here's a welcome present,' kind of thing."
After that, Meyer occasionally used flowers from Ophelia's to decorate her confections, including a 1-year birthday cake for the plant store. Meyer would send her customers over and stop by, herself, to feed her own plant addiction. The two stayed in touch through the business's transition, and Meyer now looks forward to one day hosting an Ophelia's pop-up at Range Free.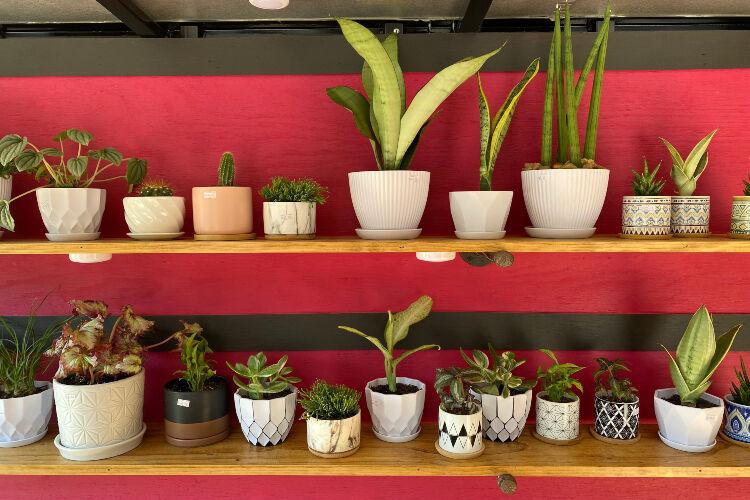 "That is something I'm interested in probably closer to holiday season, when we really start picking up," Meyer says. "I'd like to continue to support Jeni in any way that I can."
McKenzie still does house calls, too, pulling up to driveways, repotting people's plants and instructing how to look after them. Even her Instagram DMs are brimming with photos of sad-looking saplings, their owners wondering where they went wrong. McKenzie is happy to help, especially after having worked for stores whose business models relied on customers killing their purchases in order to sell more inventory.
"I don't like it when plants die," she says. "Even when I was in the [brick-and-mortar] shop, I was focused on helping people keep them alive."
Despite its closure, McKenzie's physical store created significant name recognition around the community. She likes seeing people's faces light up when they spot her truck in their workplace parking lot or outside their favorite brunch spot.
Like a fragile seedling itself, the business has survived some harsh living conditions, only to return in full bloom. Most of all, its revamped model is fulfilling to the woman behind the window counter.
"I spend a lot of time talking with people — that's why I love this," McKenzie says. "I go to the people and make it as easy for them as I possibly can."
Related Stories