Christmas carols aside, the other thing that pops up just right about after Thanksgiving is the warm glow of lights lining the edges of houses around neighborhoods here in Columbia and all over the country. Even before the first snow falls, it's hard to miss the lawns already adorned with blow-up snowmen and Santas.
The ritual of hanging string after string of colored lights right after Thanksgiving (and often not taking them down until well after Christmas) has relatively deep roots, dating back to the early 1800s, when candles were first used to light Christmas trees as a symbol of hope. But the modern ritual as we know it today is relatively young and began only after after World War II.
"Drawing on ancient Pagan and Christian traditions far removed from our extravagance and coupled with an increasingly urbanized population, American Christmas lights displays represent a contrast between modernity and antiquity," according to an article, Christmas Lights and Community Building in America.
Although some people do utilize lighting for religious exaltation — think illuminated outdoor nativity scenes; light was also often a symbol of Jesus — the vast majority do not directly associate light displays with religion. "In rural America, Christmas lights hark back to yuletide tradition, conveying a sense of hope in a vast darkness. Suburbanites place lights on their houses, participating in a shared ritual from which they too gain a sense of common identity," according to the article.
Here's a quick run down of how holiday house decorations came around:
12th century - The use of Christmas lighting is believed to be rooted in "Yule" (meaning "wheel") — the medieval pagan celebration of the winter solstice, which centered on the ceremonial burning of the "Yule Log." Because Northern Europeans only experienced about six hours of daylight on the shortest days of winter, they saw the Yule log as a light in the darkness, promising the sun's return. It was also believed to ward off evil spirits associated with the dark. Christians also practiced light-based traditions at Christmas time.
16-19th century - It's hard to talk about Christmas lights and decorations without tracing the roots of the Christmas tree. Legend has it that Martin Luther first placed candles upon a tree in the sixteenth century, inspired by a starry Christmas Eve sky.  In 1747, the Pennsylvania Dutch introduced the "lichstock" ("light stick"), a candle-lit advent pyramid constructed of wood that is believed to be the predecessor to the modern Christmas tree. In 1832, drawing upon the German traditions of nearby Pennsylvania, Harvard Professor Charles Follen decorated an evergreen with candles in what is believed to be the first tree decorated in such a fashion in the United States, according to The Christmas Encyclopedia by William D. Crump.
1880s -  In 1882, Thomas Edison displayed the first electrically-lit Christmas tree at the New York City home of his friend and Vice President of the Edison Electric Company, Edward Johnson.The tree sat atop a motorized box that spun it around as 80 red, white and blue lights blinked on and off, to the delight of Johnson's guests.
1930s - Christmas light bulbs got pretty wacky between 1915-1920. People made lamps that looked like birds, policemen, pumpkins, and even priests. As the Great Depression cast a shadow over the nation's morale throughout the 1930s, Christmas lights provided a form of comfort to people as the desperate conditions continued. It was during this period that all-blue light displays became popular and reflected the somber mood of a nation in trouble. However, since only 10 percent of rural Americans had electricity in their homes at that time, any such light displays were few and far between.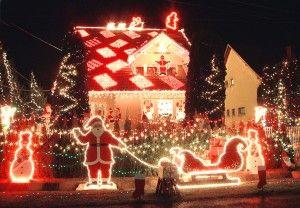 1950s - Outdoor lighting became a popular phenomenon during the 1950s. In December of 1950, Joseph H. Ward, executive vice-president of the Noma Electric Company, predicted that the booming economy would lead to an increase in Christmas lighting: "This is the first year since the war that there is enough electrical power and merchandise to really go all out ... I think we'll have brilliantly decorated towns for at least several Christmases to come in contrast to the blackout of Christmas lights during World War II."
The popularization of Christmas lights during the 1950s was the advent of community-sponsored Christmas decoration competitions. General Electric was a major sponsor of such competitions in the late 1920s, but they weren't as huge or popular as those of the post-war years. Competitions were often sponsored by a city's chamber of commerce and judged by city dignitaries. They encouraged citywide participation, not only by homeowners, but by "churches, shops and factory plants" as well. As a result, Christmas lights illuminated residential, commercial and industrial landscapes. Christmas light competitions provided people with a unique opportunity to gain a sense of participation within their large, impersonal communities.
1990s-2000 - The patriotic post- 9/11 light displays of Christmas 2001 conjure memories of similar patriotic displays on the home front during WWII, representing the will of the average American to maintain an "American way of life" during troubled times. Perhaps the most uniquely American aspect of Christmas lights, though, is that they represent a desire to blur the line between fantasy and reality.
Sources:
Christmas Lights and Community Building in AmericaChristmas Light History

Christmas Lights, The Brief and Strangely Interesting History Of
Which neighborhoods have some of the fanciest Christmas light displays here in Columbia?