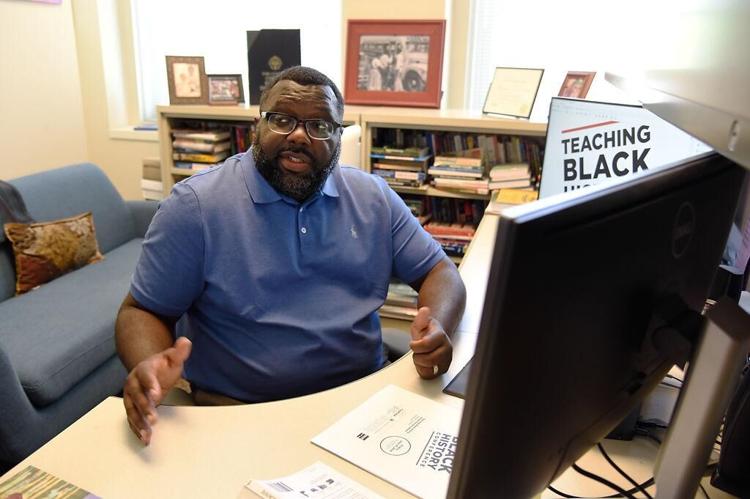 On the surface, MU education professor LaGarrett King is calm and collected. However, he is busily preparing for the fourth annual Teaching Black History Conference, attended last year by 1,000 educators.
King, originally from Baker, Louisiana, has dedicated his career to researching how Black history is taught and reforming instructional approaches. He's become a national leader and has been quoted in outlets such as The Wall Street Journal and USA Today.
"LaGarrett is really leading the charge on how we think and teach Black history and what that looks like," says Greg Simmons, a Battle High School teacher who works closely with King.
The theme of this year's conference, "Teaching Tulsa's Black Wall Street and the History of Race Massacres," reflects an approach to understanding history from Black perspectives. The 1921 Tulsa massacre destroyed the thriving Black business district, and historians disagree if the death toll was 36 or more than 300.
The conference is part of MU's Carter Center for K-12 Black History Education, which King founded. King says people are hungry for the knowledge the Carter Center provides. The conference is especially relevant as the U.S. debates teaching critical race theory and the systemic roots of racism. Vox spoke with King about this year's conference and the education system.
What is lacking in Black history education within the K-12 system?
The Black history we teach is not necessarily history that's taught through Black perspectives or voices. It's more of a sanitized, white version of what they think Black history is and who they think Black people are, so it's this imagined aspect of what Black history is or what they want Black history to be.
What does teaching Black history differently look like?
When you teach through Black people and through Black history, you see a history that's totally different. There's this ideological shift that needs to be made within history education for Black folk in terms of this notion of Black history. Typical renditions of Black history education would be Black history began with European contact and colonization. That makes it seem like Black people didn't have a history before white people found them.
Why is this conference important?
It is a beautiful conference where you get to listen to, engage with and work alongside those who have the same beliefs you do, and that's very powerful. A lot of the teachers are some of the only ones pushing the humanity of Black people, and when they're in this space, they come alive. History teaches us that white people are the center of the historical narrative, and at the conference they're not. Black people are. Black history is.
Why select the Tulsa race massacre as this year's theme?
Oklahoma had tons of independent Black towns right after the turn of the century that were booming economically. So to really humanize these particular people and understand the economic trajectory of these people soon after enslavement, I think is something that is a beautiful history that we need to understand and explore. Also, we need to understand that white folk be mad. There's all these teachings that society attempts for us to do: Pull yourself up by the bootstraps, do this, do that, and you will always be respected. I think historical events like Black Wall Street and what happened to it elicits this notion of all that is BS.
What silver linings have you found during the past year?
The pandemic allowed us to slow down and think about society. We learn history, and we can kind of predict the future. That new Negro vibe coming in the 2020s, it mirrors the 1917, '18, '19, booming '20s aspects because the same things are happening. A new Negro creative class will come out of this because it forced us to sit back, relax and strategize. My biggest thing for young people has always been not necessarily what do you want to be, but how can you help society?
Related stories