It's been one whole year of masks and hand sanitizer. We watched dramatic history unfold on TikTok, witnessed stores wiped clean of toilet paper, shamelessly let the Amazon driver think "This house, again?" and half of us probably don't remember how to hold a face-to-face conversation anymore.
The world has struggled in every sense of the word. We've isolated ourselves from our loved ones in order to protect them. Some of us have had loved ones taken from us and missed the chance to say goodbye. 
Yet, we persevere.
We've all woken up and relived the same day since March 2020, but it's arguably made us better, faster, stronger. Just ask Kanye. Regardless, this past year is worth documenting every moment of — every laugh, every tear, every time something made you hopeful or feel warm inside. We distanced; we separated; but we remain together.
As we approached the one-year anniversary of the pandemic, we asked our community to reflect on this bizarre past year. Vox writers reached out to many of the people around us and asked them to share their thoughts. Here's what they had to say.
What was the last big thing you remember doing before the shutdown last year? 
The city of Columbia released its first Stay at Home Order on March 24, 2020. 
"Right before the pandemic started, True/False was going on here, and I had volunteered to help my friend do a really big art installation in Jesse Hall. So, I had a free pass for True/False, so I was hanging out and partying, which was great." - Cynthia Evans
"Spring break with my high school friends in Florida was the last big thing I did, literally a week before shut down, then the beaches closed right as we left." - Angie Mulita
"I remember that I was going to start the soccer season, but that was postponed. Then I was also supposed to start working at the Blue Note at the Jason Aldean show, but that was, you know, put off as well." - Martin Morard
"I was in a production of Bonnie and Clyde at Capital City Players in Jefferson City, and I remember one day being at rehearsal and the next day feeling completely in the dark as to if the production would even happen. It was heartbreaking as we had put in so much work into the show, but, ultimately, we ended up delaying the production, which was the best call that could have been made." - Erin Hanson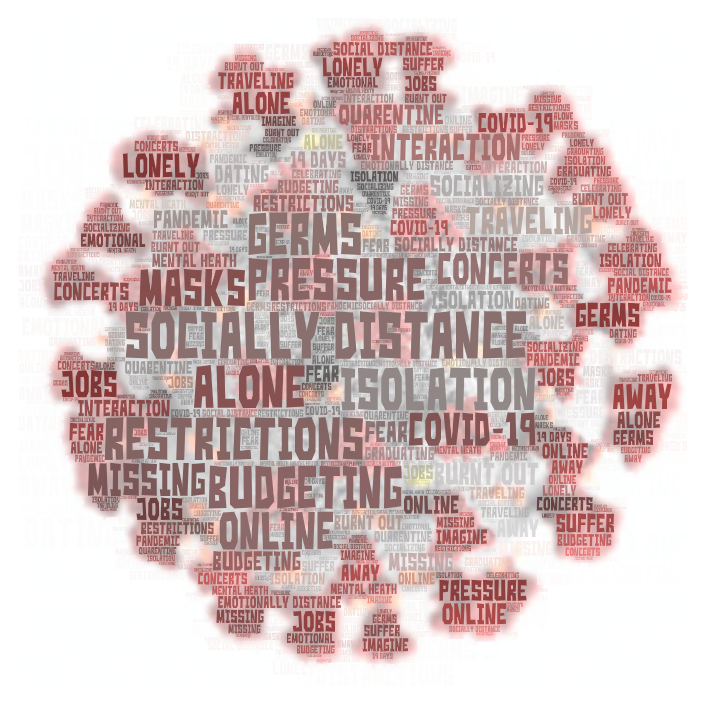 "I was actually abroad in Barcelona, and so I remember we were in class and a guy called us and was like, 'You guys need to book your flights home for this weekend.' It was a Wednesday and then we just flew home. It was weird because it was like we all had trips planned for that weekend and then it was like, 'Alright, now you're going back to America.'" - Grace Valadka
What's been the hardest aspect of the pandemic?
"Definitely the isolation. Just not having the choice or the ability to have normal aspects (of life) like going to school normally. Those things I had taken for granted. You realize that it's all been taken away and that's maybe the hardest part." - Piper Stow
"The anxiety it has caused out of the fear of the unknown." - Mason Fridikin
"Losing studio space. Not only did I not have access to the woodshop or the fibers studio, but my own personal workshop also was just not applicable anymore. I ended up redoing my entire apartment and turned my bedroom into a studio, and my living room is my bedroom." - Cynthia Evans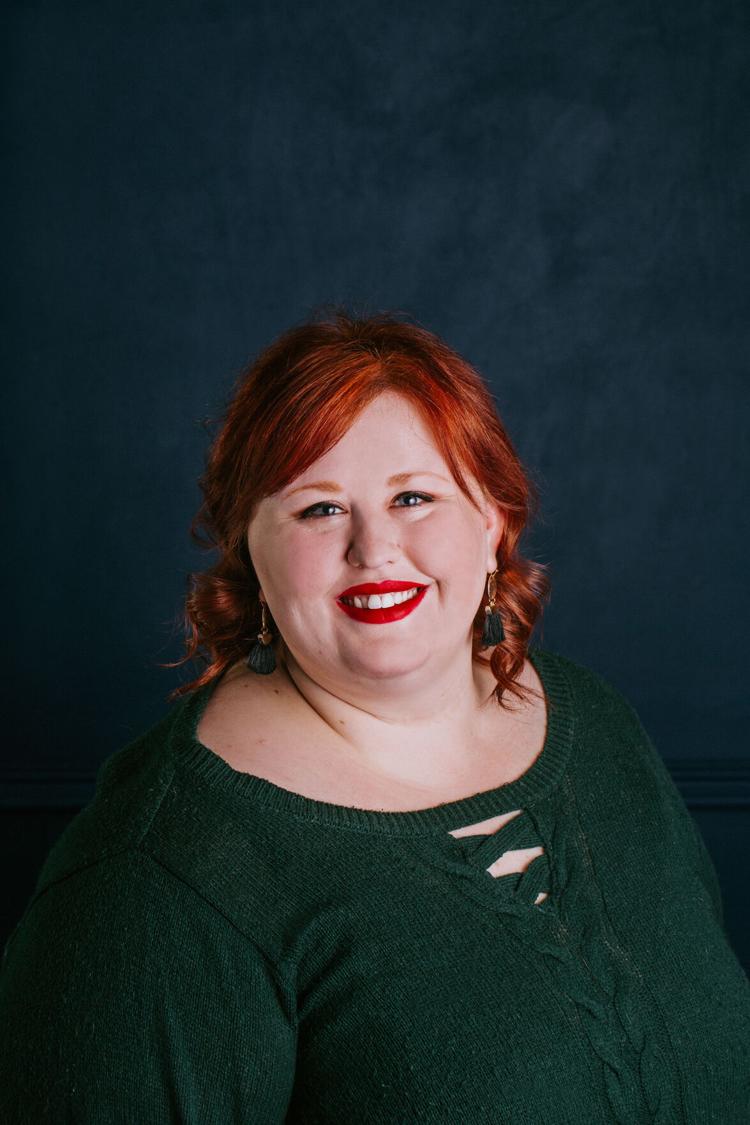 "Limited money. Maybe we're limited to social interaction because being trapped at home is lame. You can't get any work headspace, pretty much it's just like getting up, walking six feet, going to the computer where I also mess around and game. Instead of going to campus and getting into the work mode and actually going to class and getting in that zone." - Martin Morard
"The hardest part of the pandemic for me has been (being) away from my family. I moved back to Columbia from Seattle in October of 2019 because I wanted to spend more time with them. And to have that be almost ripped away after only a few months has been incredibly difficult." - Erin Hanson
"It's been most difficult not shopping at grocery stores, Michaels, fabric stores, etc., missing museum visits, not doing volunteer work." - Patti Doyle
What's one good thing that came out of the pandemic for you?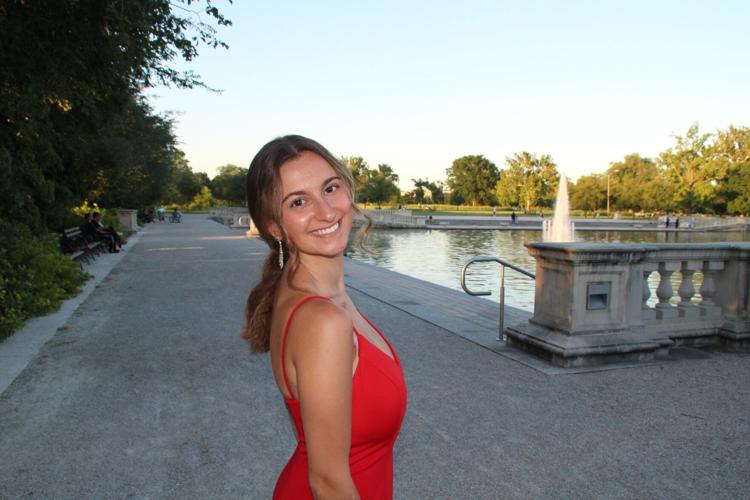 "Probably the self-reflection, as corny as that sounds. You had to face a lot of things that you didn't really have a choice but to deal with that I wouldn't had there not been this global pandemic to kind of force me to face those things. So internally, a lot of growth in that." - Piper Stow 
"One good thing is that I became more outdoorsy and went on more walks towards the beginning of the pandemic." - Angie Mulita
"I reconnected with some of my old college friends! We had fallen out of touch, and for a few months in the middle of the pandemic, we made it a point to connect weekly. We would play games over zoom, give each other advice, and just laugh. We even started a movie club where we would all pick a movie to watch, and then we'd come together to talk about it the next week. It was nice to reconnect with them and enjoy that time together." - Erin Hanson
"I have been so blessed to come back home to Columbia and be near family and friends again. I was offered an amazing job teaching in Columbia at a great school. I have met amazing people this year that I would not have met pre-COVID. It's been a whirlwind year." - Kristin Bailey
"Friends who stepped up to help, to phone, to Zoom, etc. AND What a good thing ZOOM is!" - Patti Doyle
What's one thing you're excited to do when the pandemic is over?
"I'm excited to be able to see my grandparents and see extended family for the holidays!" - Mason Fridikin
"Concerts. I miss live music so much. I want to go dancing, and I want to go do things. But yeah, concerts are the big one." - Cynthia Evans
"Live theater, for sure. Outside of moving back to Columbia for my family, I moved back because I missed doing theatre. I can't wait to see production and hopefully be in a few myself. It'll be nice to see my friends doing what they love and be able to celebrate with them in person." - Erin Hanson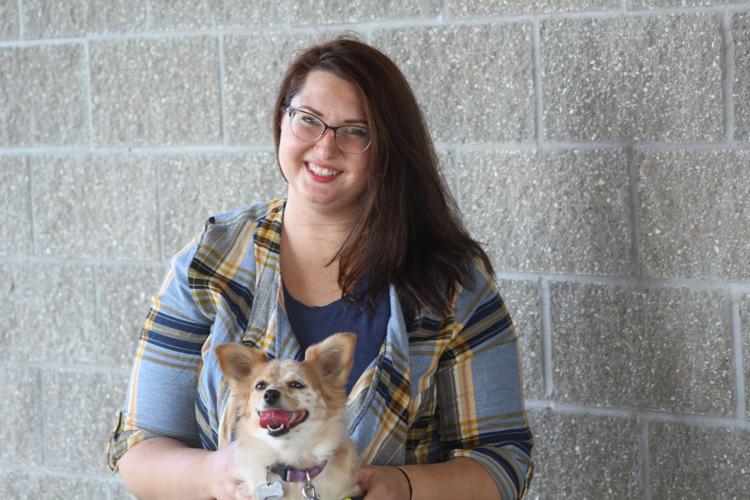 "I am really excited to be able to visit with people again and not be worried about potentially getting someone sick. I have several friends I need to catch up with when it's safe to travel and visit again. Zoom game night is really fun, but it's just not the same as being together with your buddies." - Kristin Bailey
"I'm honestly excited to travel, which obviously I've always loved to travel. But even now, I just feel a little bit stir crazy. Even in my apartment like, 'I'll just go, I'm just going to drive, just see a new environment.' And so yeah, definitely traveling a lot once we're allowed to." - Grace Valadka

We've taken the time to reflect — and there's been more than enough. Along with a new generation of germaphobes comes a new norm, and we have adapted. A year of daily searches for little wins, learning to never take our health for granted and recognizing that being able to safely surround ourselves with the special people in our lives is a privilege.
Related Stories