Gwen Benjamin, a dancer trained in ballet, jazz, hip-hop, modern and contemporary, is showing New York just how far a Columbia-raised performer can go.
Benjamin began dancing at age 9 on the competition team at Columbia Performing Arts Centre and says dance was a creative outlet for emotion and energy. She worked with Jen Lee, a dance instructor and competition director at CPAC, for nine years.
"She loves what she does," Lee says. "She doesn't just work to perfect the moves, she transforms into them. She was born to dance."
After graduating from Rock Bridge High School in 2011, she moved to New York to train with Cedar Lake Contemporary Ballet. She was then chosen from a group of hundreds of women to sign with Clear Talent Group Agency.
Her notable accomplishments include performing with Beyoncé at the 2016 VMAs, starring in A Great Big World's "Oasis" music video and modeling in a Men's Journal magazine spread with New York Mets pitcher Matt Harvey.
Vox interviewed Benjamin about her evolving journey as a dancer.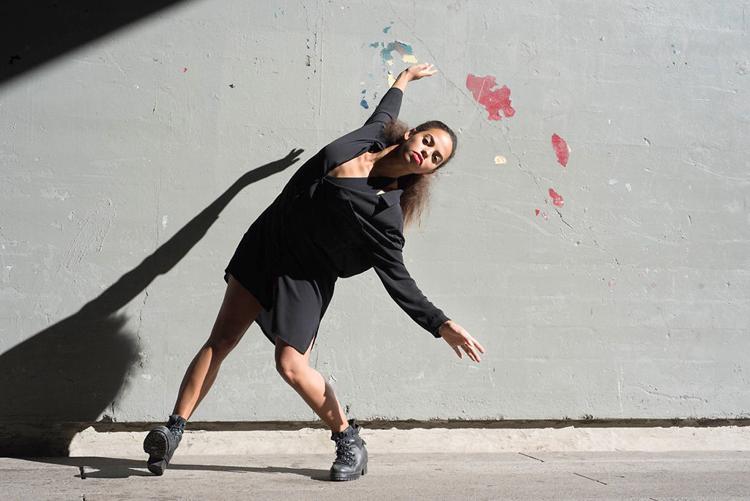 What was it like moving to New York by yourself to train instead of attending college?
I think I had just turned 18 the week before and didn't know a soul in New York. You have to put yourself in situations that aren't set up perfectly. You're not going to have a nice apartment right away. Once you get your foot in, those things come. This is my fifth year here, and I just got an air conditioner one month ago. That's something to celebrate in New York.
What goes through your mind when you're dancing?
When I'm really in my zone, it's an explosion of emotion. You go into a different place. You're speaking, but the language comes from something inside of you or — I don't know. What's that quote? It's like, "If I could tell you in words why I dance, I wouldn't have to dance in the first place." It's its own language.
What was it like dancing with Beyoncé at the VMAs this year?
It was so surreal. The first time I saw her, I was sitting there with the biggest grin. I couldn't believe it. Our call time was between 9 a.m. and 11 a.m. every day, and I would be out of there by 1 a.m. So, long days learning choreography. Beyoncé was working with the lighting and sound guys and making sure the cameras were at the right angle. You have to know your stuff so that when she's ready to go, you're perfect.
How was filming with A Great Big World for the "Oasis" music video?
Incredible. I don't know what I was going through that week, but I needed to let out some steam. After I was done dancing, we were all in tears. It was the craziest thing. It was such an explosive shoot. That was one of my favorite jobs. I mean, Beyoncé you can't compete with, but it's a close second.
What's the most challenging thing about dancing?
Wanting to get a job so badly, or feeling passionate about something and being told you're not right for the part. But it's not you that's not booking the jobs. It's just something specific they need.
What are some of your current and future plans?
I've done two photo shoots this week, so I'm getting updated shots of myself and keeping my resume updated. It's audition season for the holidays, so I've gone to a few acting auditions. I don't know how much longevity this career has, but I'd like to go on tour before I'm done. I'd like to maybe try choreographing and teaching. I'm also an artist, so maybe painting or a different realm of art. I tend to surprise myself. I might change everything and decide that I want to be a landscaper.
What advice would you give to someone aspiring to dance professionally?
Take a lot of classes, get your foundation right, and question everything you've been taught. Make decisions for yourself and keep yourself outside of your comfort zone. Always have dreams and know that your situation can change with the blink of an eye. All you have to do is pack your bags and go.