For over two decades, Randy Fletcher, otherwise known as Will Treelighter, has been lighting what is known locally as the Magic Tree on Cherry Hill. Fletcher, owner of Brighter Days! Corp. in Columbia, says he believes the money and extra work are worth it to showcase the beauty of the natural world. "The nice thing about beauty is that you can see it anywhere that you decide to look forward," he says. "If you look hard enough, I believe it is absolutely everywhere."
A seed is planted
Fletcher, born in Boston, grew up in different parts of Massachusetts, Vermont, New Jersey and Pennsylvania. His family eventually moved to Lawrence, Kansas, where he worked and attended the University of Kansas to study philosophy and religion. His father was a preacher, so his family was very involved with the church; he met his wife Bette there.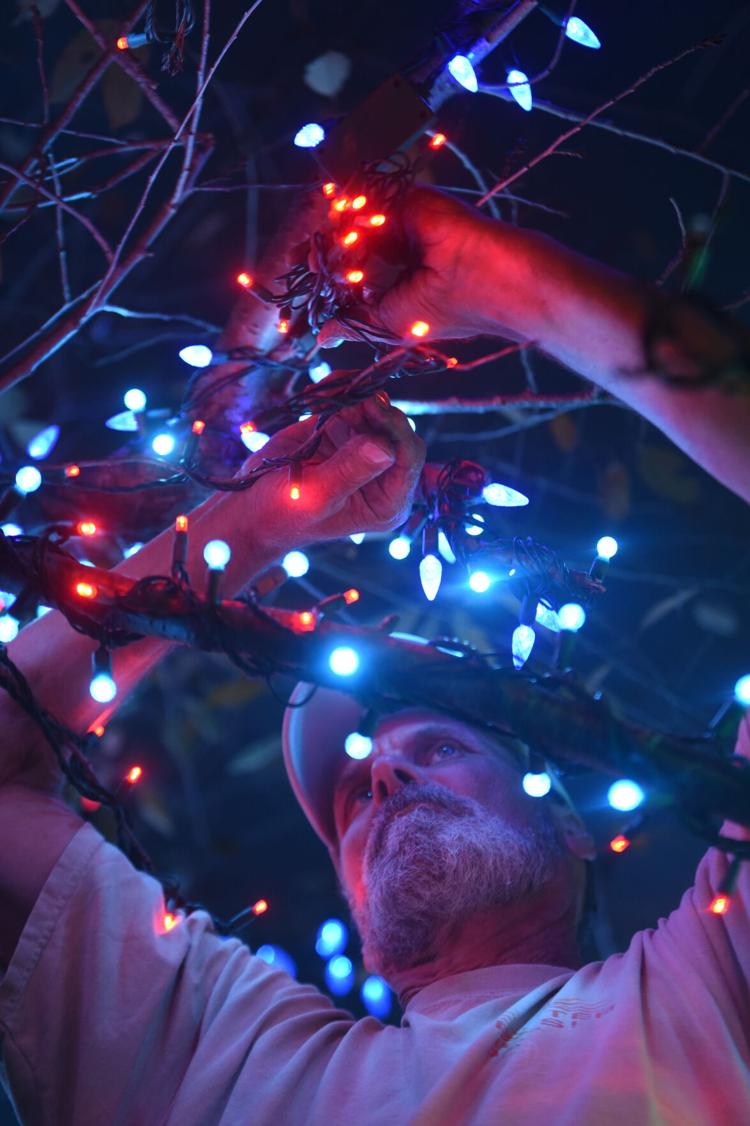 Through his adolescence and college years, Fletcher struggled to find his place in the world and suffered from crippling anxiety. One wintry February morning, a jaded Fletcher stopped next to KU's school of journalism for a smoke break before his next class. As he looked around, he noticed a pine tree through the fog; the mist billowed through the tree in such an enchanting manner that the sight completely captivated Fletcher. He says he then heard a voice next to him say: "There's nothing you need to do. Everything is fine the way it is." Fletcher was overcome with what he describes as a healing sense of peace. It was a profound experience for him, and this tree's magnificence and that strange, calming voice are partly the inspiration for the Magic Tree.
"It was really an extraordinary experience because you don't hear voices without somebody being there; I think it was probably a representative of God," Fletcher says. "My hope in doing the Magic Tree is that maybe for some people, they might have a similar experience — people who are in pain or hurting — and see the beauty in a surprising sort of way."
Will Treelighter is born
The tree-lighting took root in Fletcher's mind when he first lit a crab apple tree in his front yard for Christmas in 1995. He'd spent three to four years collecting enough lights to fully decorate the tree, and people started to drive by his home to look at it.
Because William is his middle name, Fletcher began using the alias Will Treelighter to separate his business and personal life. He originally chose to be anonymous because he didn't care about getting attention; he was doing it out of fun.
"It really didn't become known as the Magic Tree officially until 2004 when I put out a flyer for the first time, and that's when I started calling myself Will Treelighter as well," Fletcher says.
In 2010, Fletcher moved the Magic Tree operation from his yard to the Village of Cherry Hill. Steve Calis, a Cherry Hill resident of eight or nine years who befriended Fletcher through the Magic Tree, says the tree-lighting was relocated after police cited the traffic congestion it caused in Fletcher's neighborhood.
Lighting faces and trees
Although it takes him an enormous amount of money and effort to light the tree, Fletcher appreciates seeing the joy and happiness the Magic Tree brings to the community. He makes flyers for the tree-lighting that express his personal philosophies and answers frequently asked questions.
The Village of Cherry Hill sees a tremendous amount of people every week who come to see the Magic Tree. Parents bring their children, schools bring students, and couples even get engaged under the lights. Calis, who usually watches over the tree from his balcony, sometimes accompanies Fletcher during the tree-lighting process and cares for the tree by picking up trash left behind with his dog in the morning.
"I always take him (Fletcher) hot tea, hot chocolate or treats or something, and there's not much you can really do to help him," Calis says. "It's just phenomenal the amount of time he spends."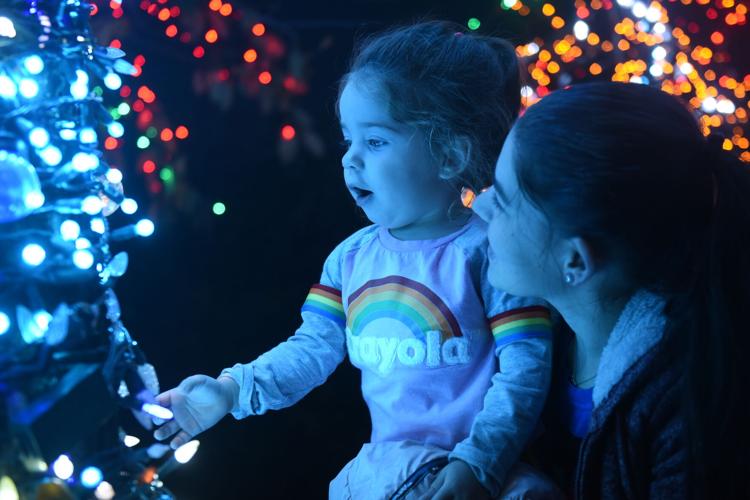 Krista Kippenberger, who owns Focus On Health Chiropractic at Cherry Hill with her husband, says she enjoys being able to walk over and stand under the vivid lights. She describes Fletcher as an innovator and an artist with a sage mind.
Kippenberger started the Magic Tree Facebook page where she posts pictures of the tree and updates on the Magic Tree Festival, an annual event where local businesses usually host open houses and kids can enjoy hayrides and facepainting and meet Santa. This year, the Magic Tree Festival will be held on Dec. 2 at 6 p.m.
Related articles