Within a week of stay-at-home orders being issued, the Boone County Historical Society started fleshing out its "Remembering the Coronavirus" project. Within a month, a website for the project went live and began accepting stories and photos through a digital questionnaire.
BCHS Administrative Services Manager Mary Ellen Lohmann says the museum looked at the 1918 flu pandemic when COVID-19 cases began rising in the county. She says the project documents what we're going through now in hopes of learning lessons and gleaning information from local hardships or silver linings.
"It's really hard to record history as it's happening, so this was definitely a new concept for us," says Lohmann. "It's something we thought was important for Boone County both right now and for future generations."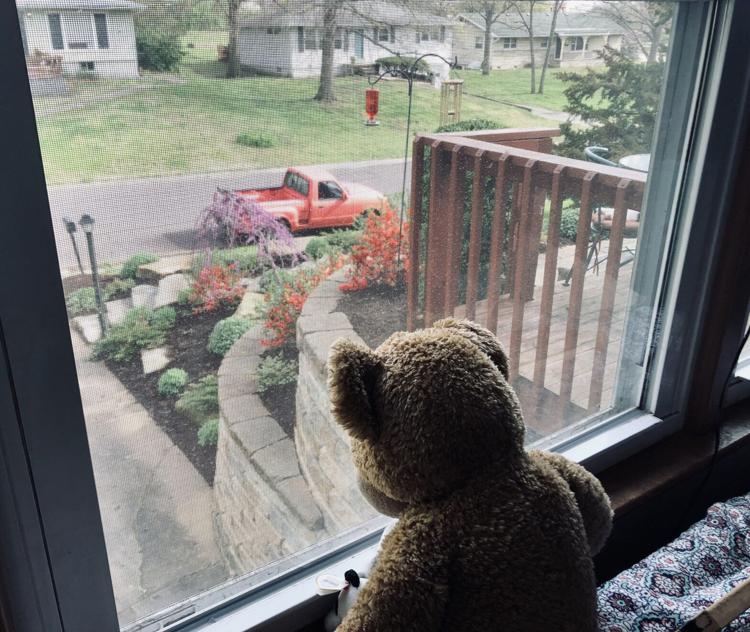 There's something about the submissions that tell a story in a way questions and answers can't.
Phillip Overeem's submission of a teddy bear looking out the window on a spring day is a part of a Facebook group project where folks share their view of their front windows.
"The project is easy to be involved with, and it's positive and constructive," says Overeem. "I like the photo because it contrasts the natural outdoor explosions of spring with our current indoor containment, and there's an odd melancholy in the viewpoint." Overeem says it also represents the fact that his family is fortunate to be sheltered.
One photo submission from Deb Shore shows a socially distanced gathering that has become all too familiar over the past year. On March 9, it was decided that Shore's sister, who is a massage therapist, wouldn't have any contact with her family going forward. "I remember it clearly," says Shore. "We cried a lot that day knowing it was going to be the last day we could sit down at the table and have dinner together for awhile." Hence, the Shore family's socially distanced gatherings began.
Shore says her family had distanced gatherings on her parents' 30-foot porch throughout the summer. She moved in with them to help them through this unprecedented time, and they haven't had any visitors come inside the house. "We are committed to being confined for several months yet," says Shore. "We don't have a timeline so we're just going to watch and see. We voted already."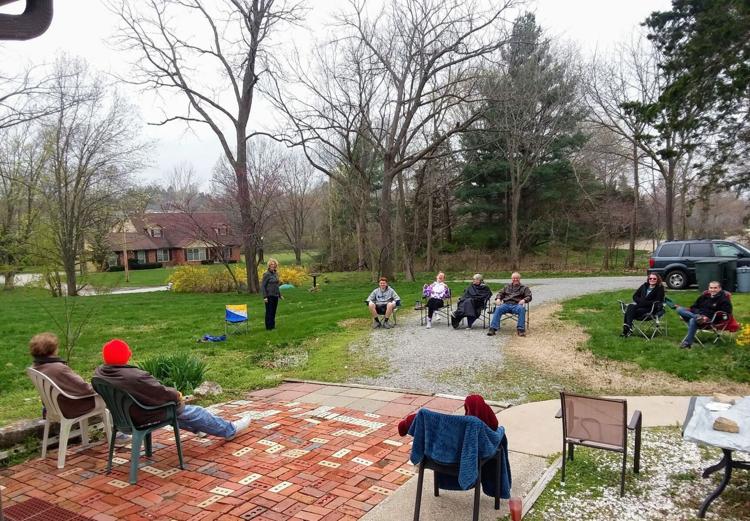 For Sarah Poff, multimedia storyteller and retired elementary school art teacher, participating in the project was a chance to share her artwork. "At first, my daughter wouldn't let me do anything or else I'd get in trouble," says Poff. "So, I sat at the computer and made digital art."
When the opportunity arose, she decided to submit one of her digitally edited photos of a mask. Her online portfolio paints a fuller picture of what Poff calls "The Mask."
Outside of teaching, Poff began making art after the events of 9/11. "I enjoyed different cultural items and icons along the way," says Poff. "But ever since 9/11, things just emotionally strike me, and when they do, I create them in some way or tell a story about them."
As a baby boomer, Poff says she thought she was going to get out of this life pretty easy compared to other generations. "We've seen Vietnam and protests and stuff like that, but we've never seen anything like this," says Poff. "I went from being very active in retirement to not-so-much."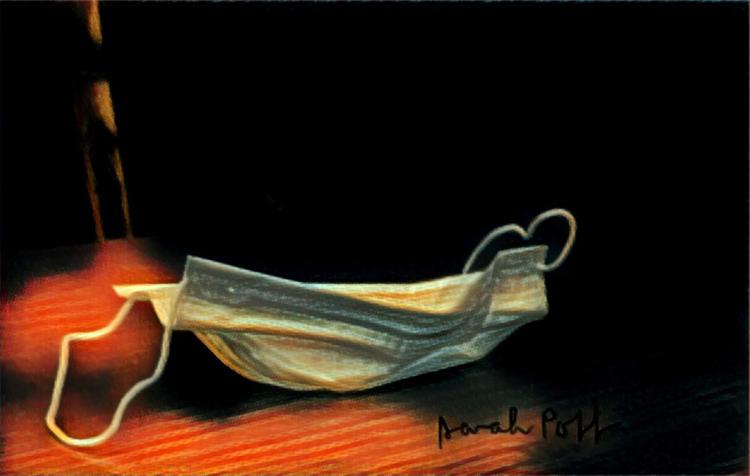 Poff has never sold any of her artwork. "I'm in it for the promotion of freedom in the United States," says Poff. "I don't care what your politics are, I want you to hold our representatives accountable for what our constitution says because I want freedom for my great-grandchildren."
Poff says she wants to ignite a torch in those she comes in contact with to learn, educate themselves and remain free as a country." Poff has been a member of various historical houses and museums for over a decade, and is also a Daughter of the American Revolution.
In terms of the future of the "Remembering the Coronavirus" project, Lohmann says some sort of exhibition will be in order. "I could see us doing an exhibition, and digital might be a good way to start that at first," says Lohmann. "I don't know if it will be five or ten years out, but maybe a visual display that you can actually walk through in the museum." Until then, BCHS encourages all residents of Boone County to share their pandemic perspectives.
"If history isn't recorded as it's going, you miss out on a lot of stories that need to be heard as a community grows and changes," Lohmann says. "One thing we're striving for is to be what Boone County needs right now, but also to record information that we'll need in the future to understand everything that has happened in 2020."
Related Articles