There's no telling how long you might have to wait for a catfish to bite. It could be a couple minutes; it could be an hour; it could be never.
When you're on a fishing boat in the middle of the wide Missouri River, the sky above seems impossibly expansive. The current softly propels you downstream, and your boat gently sways as waves lap up against its hull and wind rushes through the trees. The air is crisp and faintly briny.
Fishing on the Missouri River with a rod and reel is the most common method for catching blue catfish, the river's largest species. You're sitting in your boat all day or all night, maybe chatting with your fishing buddy, maybe playing games on your phone, maybe napping. Fishers love the slow pace intrinsic to river life.
The anticipation, they say, only serves to heighten the frenzied excitement that comes when the tip of your rod curves down, when you feel the jerk on your fishing line from the strength of the muscular fish thrashing in the water, when the waiting game finally pays off. The adrenaline rush when a catfish decides to bite is like no other.
The biggest catfish Shane Wyatt ever caught was a 55-pound flathead, the mid-sized of the river's three catfish species; they're typically between 10 and 45 pounds. When he hooked it, everything sprang into action. He was with his dad and a work friend, Kim. Wyatt reeled while his dad grabbed the rod for support. When the catfish's head breached the surface of the water, Kim grabbed a net. Wyatt lifted the fishing line and guided the big flathead right into the aluminum net. Two of the men had to hold the net so it wouldn't snap.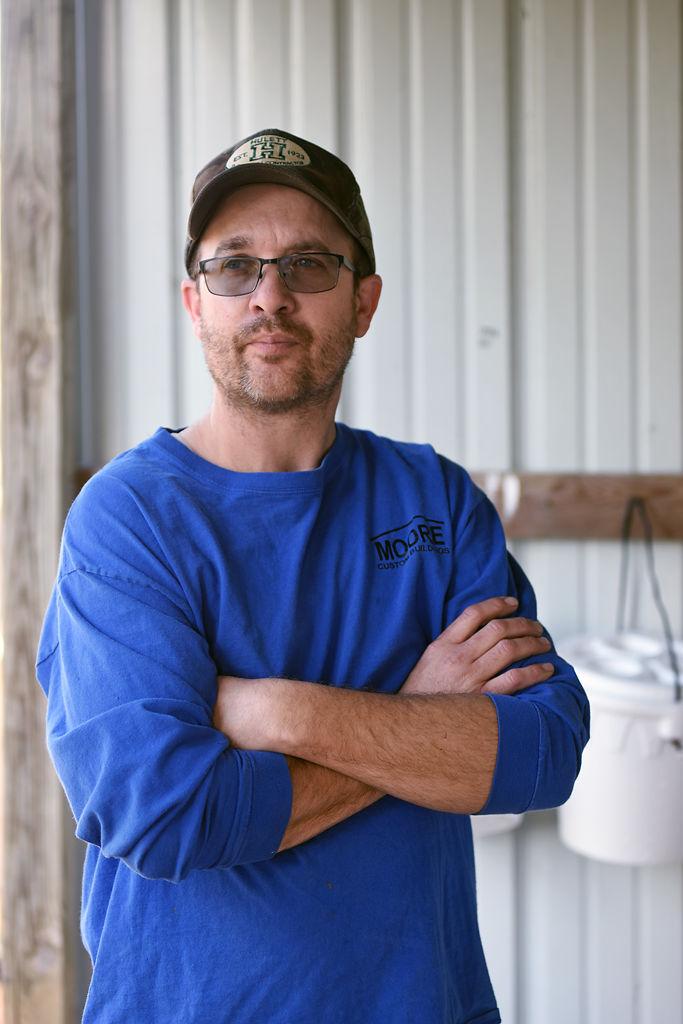 "We get it in the boat, and the first thing I do is I scream, I get happy," says Wyatt, a Moberly bait shop owner who also co-leads a catfishing tournament group called Central Missouri Cats. "I'm excited, you know? Yay! And then you start telling stories. We get the scales out, and it's a 50-pound fish — well, it'll be 60 pounds by the time we get home, you know? Fish always grow."
What you do next, though, is a matter of contention among catfish anglers — do you snap a quick picture and release the fish back into the river? Or, since you caught it, do you get to keep it for dinner?
Fishing is a generational activity. A relative or a friend teaches you how to do it, and you pay it forward by sharing that experience with your children and friends. For that reason, many fishermen and women care deeply about preserving the health of the river and its catfish population for the future. Longtime anglers can remember a time a few decades ago, before the Missouri Department of Conservation banned commercial catfishing in 1992, when catching a catfish recreationally was all but impossible.
"When they stopped (commercial catfishing), the numbers of big fish being caught has really risen," says Matt Sanders, the other leader of Central Missouri Cats. "I've got young kids, and I want them to be able to teach their kids how to do it or grandkids how to do it," he says. "If you kill them all, you can't do it."
The catfish population has reached healthy levels, but fishers have different ideas about how many fish a person can harvest while still being a good steward of the river. After all, a fish caught and released for sport can conceivably be caught again and again, but it was the overfishing of catfish for consumption that almost wiped them out 25 years ago.
"We try to do our part to make it better for the future, and that's the future right there," Wyatt says, gesturing at his 11-year-old daughter, Olivia, whose long blonde hair is tied in a fishtail braid. "I want her to be able to catch a big fish when she grows up."
An accessible community
Wyatt operates much of his bait and tackle shop on the honor system. Anglers needing fishing supplies will have to wait until Wyatt arrives at 4 p.m. Customers looking for minnows, goldfish, frozen shad fish or liver can just drive up to the side of the shop, take what they need from Wyatt's outdoor freezers and tanks and leave money in a collection box.
Wyatt's Bait & Tackle, a white garage on Wyatt's property, a few gravel roads out from Highway 63, is part store and part workshop. He also builds bank poles for people interested in the fishing method, which involves setting thick poles in the mud at an angle with a single line and hook attached to each.
He inherited the shop and the honor system method about five years ago from a woman who ran a bait shop across town. When she died, Wyatt bought the equipment and moved the store to his garage. Now, a wide array of hooks, knives, nets and fishing line floats cover one wall, and refrigerators are lined up along another wall by the door. One fridge has a sign that reads, "For an additional $4.95, we will provide a receipt that matches what you told your spouse you paid."
Shortly after Wyatt opened his shop, he noticed that the dozen or so boxes of worms he set out each morning were disappearing faster than they were being paid for. He installed cameras to see who stopped by and what they took from the bait tanks outside, and at the end of the day, he checked whether the recording matched up with how much money was deposited. Nowadays, Wyatt knows many of his customers personally.
By and large, the fishing community in mid-Missouri is tight-knit enough that an honor system can be a sustainable business model. They're "genuine, good-hearted people" always willing to tow a boat that's broken down or loan fuel to a car stalled on the side of the highway, Wyatt says. In December, Wyatt threw a benefit tournament for a friend who has cancer and raised about $1,200 for the Missouri Cancer Association. And when Jason Charlton, a well-respected fisherman, died earlier this year while fishing on Lake of the Ozarks, friends set up a GoFundMe. It's received over $10,000 in donations since the beginning of March.
Part of what brings anglers together is the accessibility — you don't need to spend much money to go fishing with family, Wyatt says. The grandfather and grandson who placed second at the March Central Missouri Cats tournament caught five fish for a total of 123.8 pounds in "an old, beat-up boat," he says.
"That's what makes me happy," Wyatt says. "When I see somebody that's just an average Joe, that just fishes for whatever reason they fish for, to go out and come back with big fish like that. You know, that kid's going to remember that forever. Even when his grandpa's gone, he's going to have those memories, and then he'll be able to show his kids and grandkids."
However, the tournament-circuit fishers who compete every weekend can spend a lot of money — and time — perfecting their craft. Most fishermen and women, says Gary Taylor, the winner of the March tournament, log between 200 to 400 hours per year on their boat motors. But on his last motor, which he bought brand-new, he racked up almost 4,000 hours on it in just two or three years.
Although Taylor didn't pay full price for his boat because he built relationships with sponsors, he says it was originally listed for $40,000. Taylor also uses a sonar machine to detect precisely where a big fish is so he can try to catch what he sees on the monitor. Fish finders can range in price from a couple hundred dollars to many thousands. And a good rod and reel set can run over $250.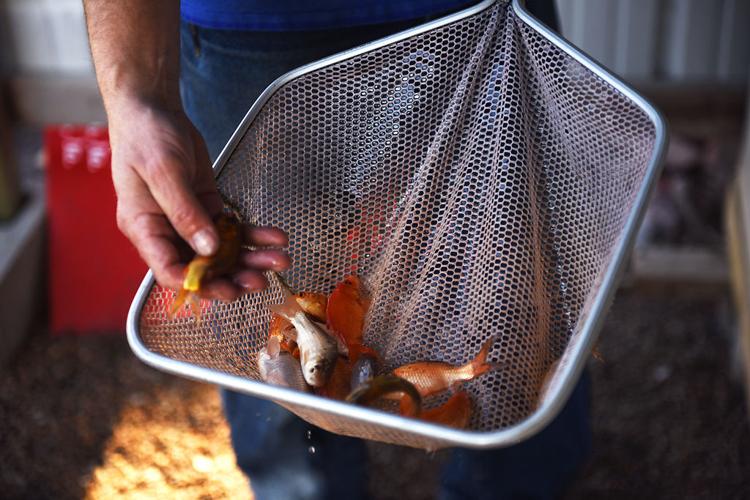 Taylor has been catfishing all his life but started getting into trophy catfishing around five years ago, when he began guiding fishing tours on the side. It was also when he caught the biggest fish he's pulled in from the Missouri River, a 104-pound blue cat.
For the most part, Taylor has learned from experience where the best fishing spots are and what time catfish are most active. During most of the year, apart from spawning season, catfish tend to stay in the same place and really only leave at night to find food. Some anglers say the best catfishing happens after dark. "Creatures of habit out there," says Brian McKeage, a fisheries management biologist with the Missouri Department of Conservation. "(You might) suspect that they'd swim around aimlessly, but they're not really. They have a particular spot that they like, and that's where they hang around."
Rise of recreation
Prior to the 1990s, commercial fishing dominated the Missouri River. The commercial fishing length limit was 15 inches, McKeage says, meaning as soon as a catfish hit that length, it was fair game to harvest. This worked well for the crews who wanted fish around the size of a dinner plate to sell to restaurants, he says. But it became almost impossible for a big fish to survive. Since bigger fish tend to produce larger clutches of eggs each breeding season than smaller fish do, the number of catfish began to dwindle.
The Department of Conservation's team of fish biologists determined a complete ban on commercial catfishing would be best to save the river's catfish population. It went into effect in 1992.
"With that commercial ban, that's allowed the fish to grow larger," says Tom Strother, a Department of Conservation protection regional supervisor. "And so folks who do catch the big fish really really enjoy it, have a ball. They're really satisfied with the opportunity to catch some nice, decent-size catfish."
Gradually, record books started being rewritten. In 2010, Greg Bernal of Florissant caught a 130-pound blue catfish, setting the world record and smashing the previous Missouri River record of 103 pounds, which had been set in 1991.
The concept of trophy catfish tournaments on the Missouri River is relatively new, too. Alex Nagy is the tournament director for Twisted Cat Outdoors, another recreational catfish tournament group. He said in the four years he has been running the tournaments, he has been surprised at how much they've grown. "Having a 30-boat tournament four years ago was a really good tournament for me, and four years later, having a 30-boat tournament is a very bad tournament," he says.
Eating ethically
Central Missouri Cats' first of nine tournaments for the 2018 season took place on a snowy March Sunday near St. Louis. Approximately 30 people gathered under a pavilion at the Columbia Bottom Conservation Area, across a road from the riverbank, to watch as big fish met the weigh-in scale.
Sanders grabbed a wad of paper towels from a black bin of paperwork and wiped some fish blood off the scale, which lay on a plastic fold-out table. The table used to be white before it was covered in dirt and fish slime. Since it was snowing, the paper towels were wet. The fishermen's overalls and rubber boots were wet. Everything was wet.
Boat by boat, fishers and Central Missouri Cats helpers unloaded slippery catfish from the livewells — small holding tanks in the back of the boats — and plopped them into large red buckets to carry to the weigh station.
Gary Taylor and his fishing partner, Jason "Big Cat" Mathenia, heaved a monster fish into another empty red bucket on the scale. Sanders glanced at the scale and knocked the flopping catfish's tail back into the bucket with the outside of his hand.
"57.4," he called out. Taylor and Mathenia hoisted their remaining four catfish into the weigh bucket for a total of 136.5 pounds, enough to win the tournament and $1,000 in prize money.
After the weigh-in and a photo opportunity came the most important part: returning the fish to the river. Both Central Missouri Cats and Twisted Cat Outdoors tournaments operate on a policy of CPR — catch, photo, release — for every fish caught, no matter the size. Even for recreational fishermen, CPR for any fish over 10 pounds is quickly becoming standard practice.
"A lot of spectators who want to come and see the fish, they're not going to want to see the fish just thrown in the back of a truck or something," Sanders says. "The spectators get a thrill out of seeing those fish released. Then they can say, I saw this monster catfish, and they turned it loose. It's still swimming around out there."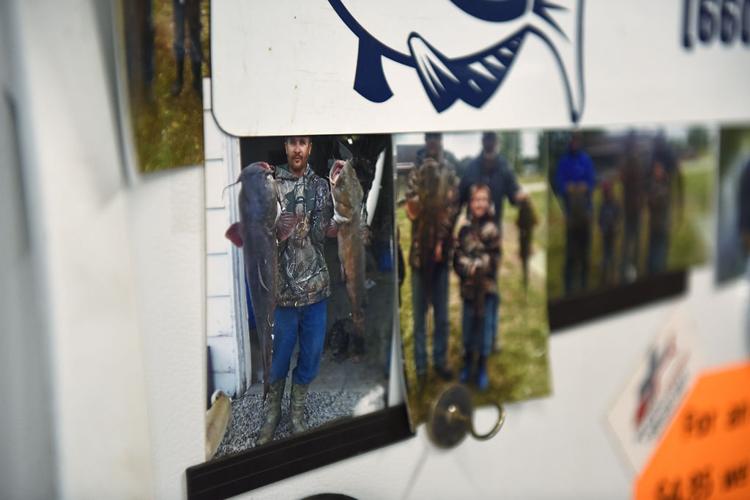 Taylor says he'll keep some flatheads to eat when he's bank poling, but he is pretty strict about throwing back anything over 10 pounds, especially blue catfish.
"The thing is, the bigger fish, they produce the most eggs," he says. "Everybody and their brother wants to catch a 100-pound fish, but if you keep 50s, or 40s or 60s or 70s, they ain't gonna grow to be 100 pounds."
The way Wyatt sees it, a 40-pound catfish will provide him with around five gallons of meat, slightly under 40 pounds, which is more efficient than small fish. If he's going to spend $100 or $150 on a day of fishing, he wants to have something to put on the table to show for it. And at the Wyatt household, it's mostly flathead catfish. Unlike blue catfish, which eat anything they can scavenge off the river bottom, flatheads eat mostly live bait. "So in turn, they taste better," he says. "They won't have the fishy taste; they don't have the muddy taste."
Wyatt skins the fish, filets it, soaks it in saltwater for 24 hours, cuts it into chicken nugget-sized pieces and freezes it. He'll then roll the pieces in Andy's Red seasoning and deep fry them in peanut oil, which he says tastes better than vegetable oil.
At The Station House at Katfish Katy's along the Missouri River in Columbia, owner Zac Culter gets catfish from his food vendor — he can't take it from the river due to the commercial fishing ban — and breads it using an in-house spice blend. "It's not really too big a secret, but fried catfish is the way to go," he says. "Fryer with an oil set at 350. That's the holy grail."
From McKeage's perspective, there's no problem with recreational fishers taking the legal daily limit — five blues, five flatheads, and 10 channel catfish, the river's smallest species — and eating them. He eats the fish he catches, too. He targets channel catfish because they eat pre-packaged baits and are numerous enough that, as long as he sticks to the allowable catch totals, his taste for catfish won't hurt the fishery long-term.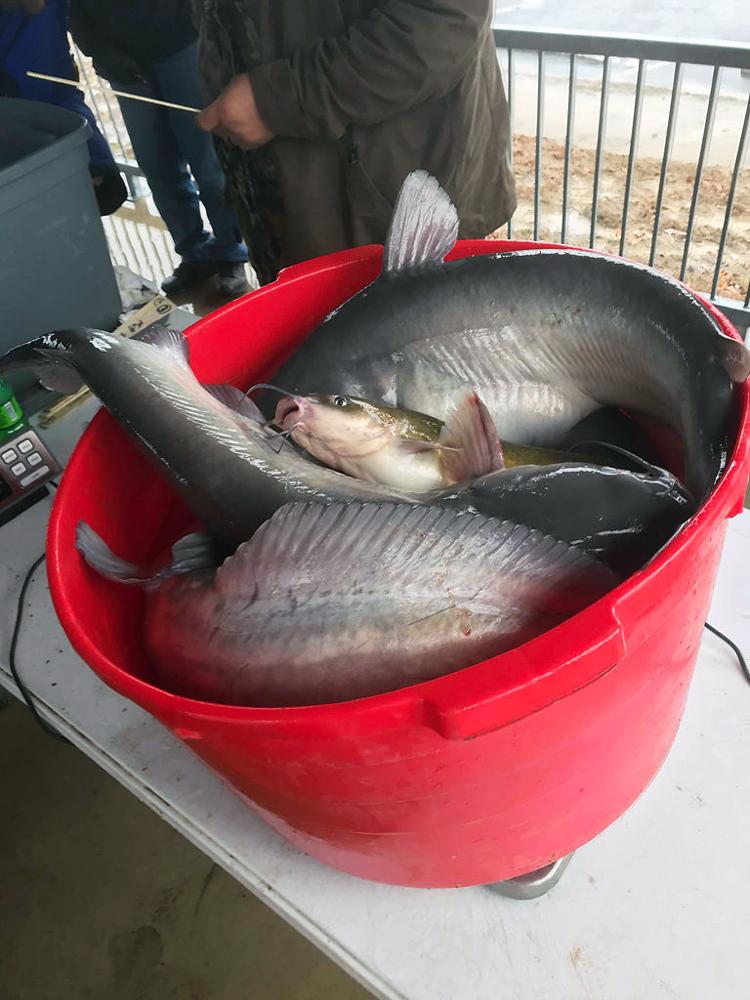 "There's definitely a divide," Nagy, the Twisted Cat Outdoors tournament director, says about those who fish for sport versus for consumption. He hopes the two groups can work something out together, because people can keep fish to eat as long as it isn't excessive.
Even if anglers are strictly adhering to "catch, photo, release" for any fish under 10 pounds, they are still removing younger fish from the river, frustrating some trophy anglers. "They're right in a way," McKeage says, "that people that are taking these to eat them are kind of taking them before they can reach that maturity size as well, but nothing like a commercial fisherman in the numbers."
To Wyatt, if you spend the time and money to catch a fish legally, it's up to you what you want to do with it as long as you're being respectful of the river and the catfish population at large. "If you want to eat it, I'll help you skin it. If you want to let it go, weigh it, take a picture, measure it, let it go, I fully support that," he says. "And I think, if more people harvested less big fish, that's going to help out a lot."
People who don't respect selective harvesting and take home big fish each weekend are likely to gain a bad reputation in the tight-knit fishing community of mid-Missouri, Wyatt says.
Most fishermen and women just want there to be enough healthy catfish swimming around the Missouri River for them to do what they love and share their passion with their children someday.
"It's just a hobby, it's a habit, it's an addiction," Wyatt says. "I don't drink beer, I don't do drugs. I fish."