Missouri winters are known for being unpredictable. In Columbia, it can go from a foot of snow one week to sunny and 60 degrees the next.
But why is our weather this way? Vox asked professionals to look back on how Missouri winters have shifted and what that means for our future.
One clear answer is that winters have become warmer. Two of the three hottest years in Missouri since 1895 have been in the past decade. "Winter in Columbia is about 4 degrees warmer than it was 50 years ago," says Sean Sublette, a meteorologist for Climate Central, a national organization that partners with scientists and journalists to report on climate change.
Experts predict that by 2050, average temperatures in Columbia will regularly exceed the area's normal temperature range since 1970. "We're all headed in the same direction of warming," says Pat Guinan, an MU Extension state climatologist. "Four out of the top five warmest winters on record for Missouri have all occurred since 1991," he says.
"Winter" means meteorological winter, which is December, January and February. Overall, experts say that climate change is the primary driver of higher temperatures and precipitation in the region in the past few decades.
Here's what that looks like in CoMo and the mid-Missouri region.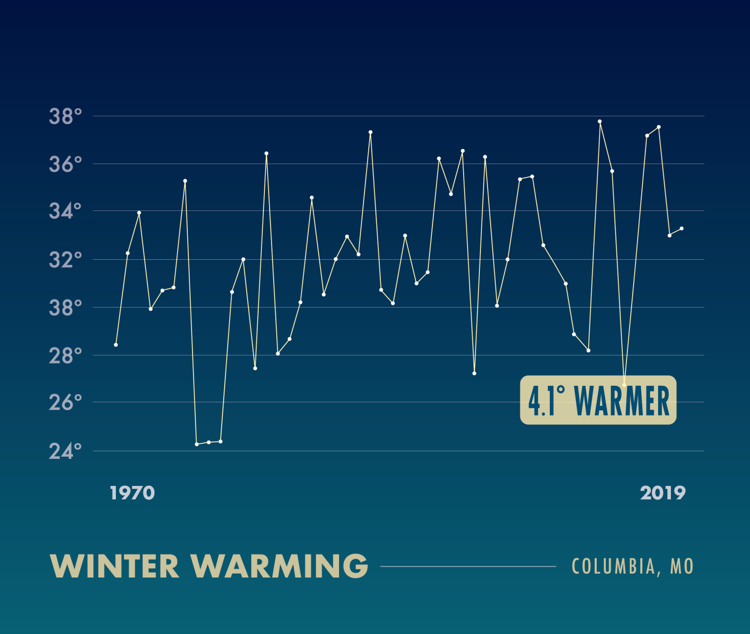 Goodbye, white winters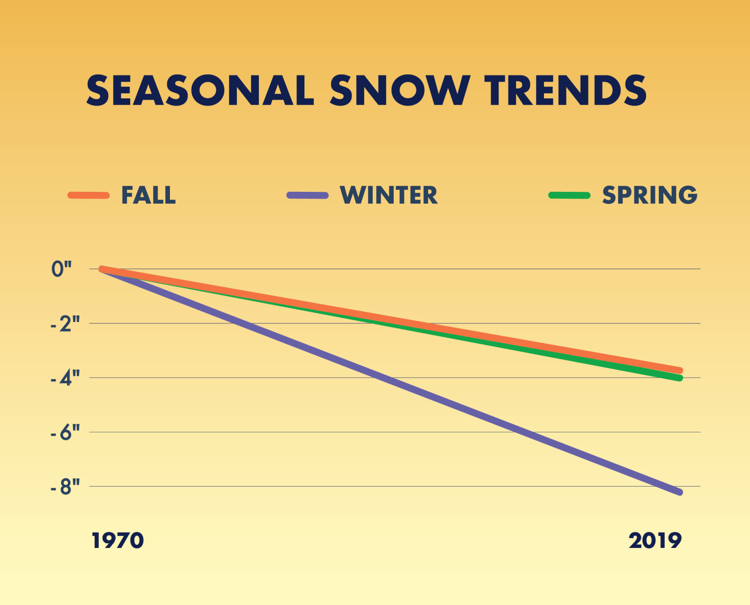 The average snowfall in Columbia is about 18 to 20 inches. However, from the 1960s to '80s, that average was 2 feet.
Having lived in Missouri for 30 years, KOMU meteorologist Tim Schmidt is accustomed to Missouri winters. He says he has noticed an increase in rain compared to snow or ice in recent years. Throughout the winter season, it's typical for Missouri to experience rain, ice and snow "and the warming climate has definitely affected which one we get more of," Schmidt says.
Rain boots on, umbrellas up
The state has also experienced an increase in heavy rainfall events throughout the year, Guinan says, which has caused increased flooding. "We're seeing a 35% increase of those 3-inch events," he says.
Warmer temperatures create more water content in the atmosphere, and this leads to increased precipitation. "Ultimately, I think we're going to be dealing with more stretches of really heavy weather, especially heavy rainfall rates in general," Schmidt says.
Fighting frosts
Warming temperatures are also negatively affecting the agriculture industry. Columbia's growing season has lengthened by about a week, Sublette says. This can be problematic when it results in unexpected freezes in spring. For example, fruit trees need a certain amount of chilling time before the spring comes. When the weather starts to warm up, that's the trees' signal to start flowering and produce fruit. Warmer winters don't allow fruit trees to get the proper chilling time to go dormant.
"They might flower very early, like in February or March, and then if you do get just one quick freeze, maybe in late March — which generally isn't unusual — [it can cause] a lot of damage to your tree crop," Sublette says.
A great migration
Warming temperatures have also affected wildlife. Take, for instance, the armadillo, which has moved north from its typical range in the southeastern United States. In the mid-90s it was news that armadillos had made it as far north as Springfield, says Patrick Market, director of MU's School of Natural Resources. "Now, they do seem to be appearing much further [north]," he says. Armadillos often move into Illinois, Kansas and Missouri, where the species isn't able to make it through winter.
Other animals facing abnormal migrations are bird species, monarch butterflies and green sea turtles. These forced migrations hurt these animals' abilities to find food and survive as they are thrown into new territories. 
Related Articles