An abandoned refrigerator flung into the Missouri River traveled 325 miles downstream within a single year. What happens, then, to a body without an anchor? Or a family careening over the banks in a car? If you go missing in the Missouri, you might never be found. But there are a couple people you might want your family to call — just in case.
It took Tammy and Dennis Watters two minutes to do what the Kansas City Police Department couldn't in two months. On March 8, they discovered the car of Toni Anderson, a UMKC student who had been missing since Jan. 15, 2017. Divers pulled her 2012 Ford Focus out of the silt-laden section of the river near Parkville. The color looked like a Hershey bar, Dennis says. Entrenched in algae, the vehicle scraped the riprap and debris until it reached the surface. As the community of Kansas City collectively held its breath to see if the car was Toni's, the couple left the park and drove home.
Dennis and Tammy have been uncovering vehicles and missing people from rivers, lakes, ponds and any other body of water that will hold a boat since 2005.
Later, the sonar equipment on their fishing boat picked up the signal of an underwater car in the Mississippi River near Alton, Illinois. A sunken feeling passed over Tammy as she recalled a story she'd heard on the news. Inside was the long-decayed body of Wilma Bricker, a retired teacher who had been missing for three years. The couple, who had been fishing professionally for most of their adult lives, had stumbled upon what would soon become their new full-time commitment: helping law enforcement and bereft families locate drowned people.
After Bricker, they haven't been able to say no. For the past decade, they've run their nonprofit, Team Watters Sonar Search and Recovery, Inc., from their home in Moro, Illinois. The 2005 case brought the couple national attention, and calls poured in from across the country; they haven't stopped.
"If we'd never have found these people, their loved ones would go on thinking they might someday walk through the front door," Tammy says.
The Watters accept donations but do not require anyone to pay. Dennis is retired, and Tammy distributes Humminbird equipment, the same type of sonar technology the couple use in their own boat. Money is tight, they admit, but they do whatever they can to help.
"It's our experience that a family will do anything to get their loved one — (even) mortgage their homes," Tammy says. "We won't let them do that."
Keeping their distance
Tammy and Dennis try to keep the families of victims far from their discoveries because searches have brought up bodies in various states of decomposition. Law enforcement usually handles the corpses, but sometimes Tammy and Dennis have to reel them in themselves. She vividly recalls the time they pulled up an 8-year-old boy. "He just looked like he was asleep," she says.
They recently helped recover the body of a woman from Florissant, Missouri, named Barbara Higgins. In November, Higgins' family contacted the couple, and over the next few months, they looked for her in the Missouri and Mississippi rivers.
Higgins' friends and family had been frantically looking. Her brother borrowed a sonar machine from the couple that he attached to his own pontoon boat in a desperate do-it-yourself search and rescue effort. Dennis and Tammy gave him a crash course in spotting cars using the equipment.
In March, the couple finally found her. "A lot of times, we're their last hope," Tammy says. "Do we like doing it? No. But somebody's got to."
Seeing beyond the surface
Sonar machines use an imaging system to show what a river would look like if all the water disappeared, with every object covered by layers of grimy sand. To an amateur, a tangle of logs might very well look like a dust-coated car.
While fishing professionally, Dennis and Tammy were sponsored by the sonar company Humminbird, which allowed them to catch fish at high volumes, and over time they became proficient at reading the software.
"When a car first falls, it doesn't show up clearly," Dennis says. "Sound doesn't come back. It creates a white spot, and without proper training, you can't tell what it is." The buildup of algae and silt over time creates a denser surface for vibrations. Dennis says it's likely that when police first searched for Anderson's car, it was too soon for signals to register.
But nature's obstacles impede even the best sonar searchers out there. Sometimes the couple has to decline to help, such as when someone falls into a river alone. After just one day, the likelihood of a recovery is drastically reduced. In a river with a strong current like the Missouri, there is only so much time before locations change. Sonar doesn't pick up skeletal remains very well, Dennis says. A car provides a more robust signal, and it usually sinks not far from where it entered.
An unsolicited search
Anderson's parents are the only people the couple have ever proactively contacted for a recovery. They usually wait for a missing person's family to reach out to them with a request. This time was different.
After following the case through the media, "we saw how people were speculating about what happened to her," Dennis says. He thought that through the use of sonar, they could find her. At the time of her disappearance, Anderson's friends and family believed she'd gone missing due to foul play. Her mother mentioned sex trafficking. Others speculated about a possible police cover-up. Anderson's story captivated and horrified people all over the country and inspired imaginative conspiracy theories and message boards about her cause of death that are still active today. But the couple felt confident they'd seen this before.
"Before you give up on the water, we need to talk," Dennis told Anderson's father.
The couple felt like they could provide Anderson's friends and family with closure. They knew freshly sunken cars get passed over easily. The Kansas City Police Department welcomed their assistance. Using her last known location from her cellphone data, the couple found Toni's car in the Missouri River near Platte Landing Park, the first part of the river they searched. Dennis says cellphone pings are crucial to finding things that are submerged. The last signal is used to provide a rough location in order to set a quadrant. The Missouri River is 2,315 miles long; you have to start somewhere.
Tammy hadn't even parked the boat trailer when Dennis said he had the signal of a vehicle. They didn't know for sure it was Anderson's car — there are many cars at the bottom of the river — but they had a hunch.
When Anderson was found, the police deferred the call to the fire department, who requested the assistance of multiple outside agencies. It was a community effort that took five days. However, in this case they were lucky, there was never really any question of where the car was because a witness had seen it enter the river. Officials knew where to look, but they didn't have what they needed to carry out the recovery at the time. They had to locate and prepare the necessary equipment, which came from multiple departments.
The couple didn't stop looking, though, until they had a positive identification from the KCPD. The couple's work provides families with truth. They signify the end of hope. They only give bad news. But for a lot of people, having their loved one returned to them, in any form, brings peace. Tammy says that people will never give up hope until they know for sure. The couple's role is to provide the somber ending to these often horrific stories.
The first of many
Anderson will not be the last to go missing in the Big Muddy. From the mouth of the Missouri in Three Forks, Montana, to its basin in New Orleans, the dark river, with its seemingly opaque depths, accumulates devastation.
Last October, in Sioux City, Iowa, in a case that fascinated the river town, search and rescue diver Aaron Lisle spent over an hour submerged in the cold, unforgiving waters.
A car had plummeted into what he called the worst part of the river. A 7-mph current moved thick swells of trash, and Lisle couldn't see his fingers in front of his face. He was looking for Angelica Gonzales, Salomon Medina and their daughter, Vanessa Medina.
"Everything you do in that river is by feel," Lisle says. He relied on a sonar unit hovering above the surface as he blindly probed depths of about 20 feet. He made two trips down the day he recovered the car. After 15 minutes in the water, his line tangled on a log, and he had to come up for air, returning shortly after for his final 50-minute stretch.
Like Tammy and Dennis, who told the police where Toni's car was and left, Lisle rarely sticks around after he attaches the rescue boat's hook to the car.
"You can't forget what you see," he says. "Sometimes you just have to walk away."
The couple's sonar that was used in the Sioux City rescue guided Lisle to the sunken car containing the family. Without it, he'd have been treading impassable waters until he found the missing people.
Lisle remembers every recovery he has done. A voluntary diver and a full-time firefighter, he says his calling in life is to help people. Remembering that everyone is somebody's family gets him through days like Oct. 21, when he recovered the family. It's what makes him choose to, once again, plunge into the pitch-black muddy river.
Lisle's daughter dives, too, but not in the Missouri. He won't allow it; he says it's too dangerous. "You rub up against something, and you don't know what it is," Lisle says. Tammy and Dennis' sonar is what finds people, and he is the one who retrieves them.
He says when it comes to the Missouri, you exercise caution. Everyone involved knew no one was getting rescued the first day of the search, and they couldn't risk losing another life.
All signs lead back to sonar
Tammy and Dennis say that if every police unit in the country had sonar and knew how to use it, recoveries would be almost immediate.
The couple relies on cellphone data to locate vehicles. If they have an area to search, they can map a body of water like a grid and carefully comb through every quadrant. Dennis says he has a contact who gives him cellphone data for free, but the police have to pay for the same information. Cellphone data is usually only available with consent. The data is deleted by the company two weeks after the service is cut off.
The couple try to share what they know. They teach classes to fire departments and search-and-rescue units on how to read sonar technology. Using archived photos from their river recoveries, they show what cars look like on screens. They will install sonar units in boats, as well. If a department is short on money for a presentation, they'll usually do it anyway.
It's the sonar technology and the ability to interpret it that sets the couple apart from law enforcement. But they're hoping this technology gap will be bridged soon and that their services will no longer be required. Until then, they keep looking.
With the proper training, anyone can learn the skill. The couple sells Humminbird equipment to law enforcement. Tammy says that many agencies are more than willing to pay for the equipment when they find out how affordable it is — sometimes it can be only $300.
"We've got the equipment, we've got the know-how, and somebody has to do it," Tammy says.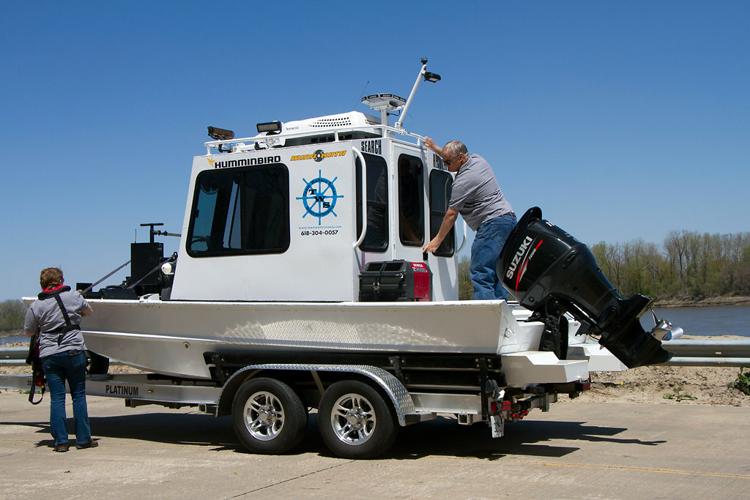 They regularly appear in articles, though not always by name. Sometimes, as in the case of the recovery of Higgins, they are simply the "civilian sonar experts."
The couple rarely has time for fishing between the 12 to 13 calls they receive on average each year. Since 2005, they have helped recover over 90 drowning victims and have searched for many more. They've spent weeks, sometimes months, cross-hatching retention ponds, lakes and rivers from Ohio to Texas. They've accidentally uncovered what the water swallows — sunken airplanes, rusted guns, unopened safes, a woman who'd been missing for 20 years and incriminating DNA evidence. They found about 100 cars collecting moss on the bottom of the urban bayous of Houston. Sometimes, the things they find mean nothing. Sometimes, they find nothing at all. But if you ask them, they will always look.
For their assistance in the Anderson case, KCPD awarded them a certificate of appreciation. The couple didn't have enough money to travel to attend the ceremony, but they're grateful for the recognition. In November of last year, they started a GoFundMe page to raise $6,000 for operational costs, in order to keep searching. They raised only $1,680. They have a loyal following, though, of people who are touched by their seemingly endless generosity. They will continue to dredge up the secrets of rivers and bring solace to those who mourn what the water has taken from them.