When Wakenda, Missouri, finally met its end, Rhonda Reyburn's house was empty. Her mother, Kim, was staying in nearby Marshall, where she worked as a data processor at the Marshall Habilitation Center. Her father, John, was somewhere across the country, driving a semi down the open road. Reyburn was 12 years old then and had been sent to Seattle to stay with Kim's parents. Reyburn sat and watched the coverage on her grandparents' television as the floodwaters slipped into her home, seeping into its every groove.
The Great Flood of 1993 swept across more than 400,000 square miles of land in nine Midwestern states and caused around $15 billion in damages. Built on a floodplain in 1818, Wakenda is recorded to have undergone 13 significant floods from 1884 to 1993, with the second-largest occurring in 1951. By 1993, Wakenda was well past its prime: Only 89 residents had weathered the years of flooding, and most of the town's businesses were closed. All it took, then, was one last big hit to finally drive the remainder of the community away.
According to the 1997 Wakenda Alumni Committee, Wakenda was officially disincorporated in 1996, when Carroll County completed its buy-out of its remaining buildings. Wakenda no longer exists in the eyes of Missouri. The area that used to be called Wakenda now belongs to Carrollton, a neighboring town. For the residents of this unincorporated area — both past and present — the town still feels very real to them 25 years after the flood, even if it exists only in memory.
The Reyburns' house stood about 500 yards down the road from Wakenda School, where Reyburn attended preschool through sixth grade. She played on the girls basketball team and acted as a cheerleader during the boys' matches in the school gym. Reyburn loved her school, even if it was small — multiple grade levels were housed in each of its four classrooms, and the theater stage also doubled as its library, with shelves pulled away during events and plays.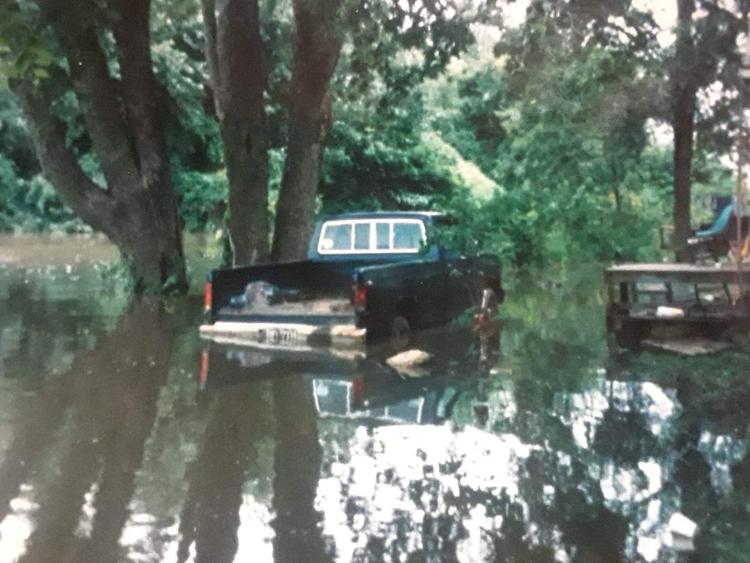 Returning to Wakenda in the late summer of 1993, the Reyburns found their house destroyed. Mold had encroached on the walls. The whole place reeked with a stench of stagnant rot. A layer of water covered everything, even the blacktop between the house and the school building. After the flood, the Reyburns moved to Carrollton, a town about 11 miles northwest of Wakenda. Ever since, Reyburn says her life has always felt, in some way, incomplete.
"It was like I was getting cheated out of something I was supposed to have," Reyburn says, "I didn't want to leave my home. I wanted them to fix it up and continue living there."
When Reyburn started school in Carrollton, students at Carrollton Junior High made fun of her for being from Wakenda. None of her friendships from Wakenda persisted after her move, as though they, too, had been swept away with the flood. In her search for belonging at 13 in an unfamiliar town, Reyburn found a crowd that turned her on to drugs and alcohol. Now 37, Rhonda says this issue still burdens her.
She recounts a night driving her two daughters through Wakenda years later, recalling memories, pointing to what once was: the spot in the cornfield where her house used to stand; the abandoned church across the road with a piano some townspeople claimed would play by itself. Reyburn had a bottle of alcohol in the car during the drive, and the sheriff pulled her over for making frequent stops, but because he recognized Reyburn, he let her go without inspecting the vehicle.
Wakenda, by most accounts, wasn't a particularly busy town, even in its heyday, but it offered a tranquility and small-town affability that few other areas could. Bragg Stanley spent summers there with his grandmother during his childhood and with his father during his time in graduate school at MU in the 1970s. He remembers days spent with his brothers, cousins and friends from the area. They'd hunt and fish, throw firecrackers on rock piles and chuck cherry bombs in Wakenda Creek. Stanley would count train cars from the screened-in porch of his grandmother's house as they passed on the tracks nearby. Sometimes, Stanley and his crew would go into the town deli to grab a fried bologna sandwich or buy an ice cream cone for a nickel. Occasionally, they'd run around the two abandoned jails and lock one another in the cells.
Stanley's father, Valgene, worked at the Pentagon later in his career, but Stanley says his father couldn't wait to get back to Wakenda. After his retirement in the late 1960s, Valgene bought a house near the town and stayed there until he remarried and moved to Salisbury in the late '70s. During his 10 years in Wakenda, he owned and operated an antique shop and furniture restoration business in town, though they have long since been shuttered.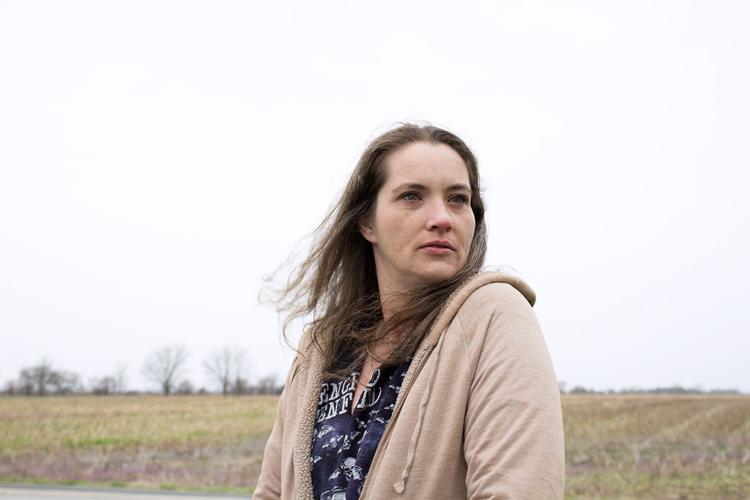 What remains
Today, only three people — or depending on how you draw the boundaries, four people — live in what used to be Wakenda. Ben Gibson is one of those residents. Gibson owns a house on the edge of the town's former border. He grew up in Carrollton, but he moved closer to Wakenda in 2000 to buy land for farming and duck hunting.
On April 6, Gibson was at the home of Ted Miller, a Union Pacific Railroad worker who grew up on a farm south of Bosworth, Missouri, about 14 miles north of Wakenda. Miller also moved near Wakenda in 2000, about a mile farther out from town than Gibson. Miller lives in a simple house adjacent to a graveyard, the Walnut Grove Cemetery, and keeps a few cows in a shed in his backyard. It was a blustery day, and in the warm shelter of his kitchen, Miller had placed a few old county atlases from the Carrollton Public Library out on the table. On the covers of the atlases, the years read: 1876, 1896 and 1914.
"This here is my great-great-great-grandfather, Andreas Miller," Miller says, pointing to a chart in the 1914 atlas of a section of the land around Wakenda. "His farm was originally 340 acres … There's about 160 of it left, is what's left in the family."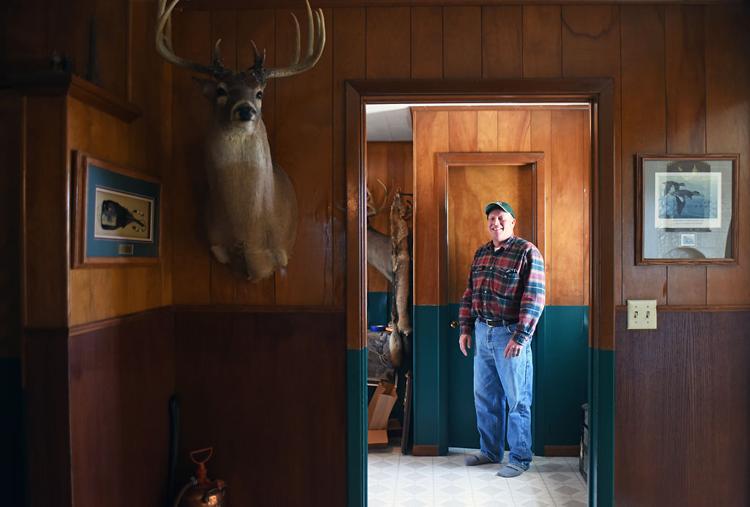 Andreas ran a sawmill on his acreage, and one morning, he arrived at his work site to find the bank of the river higher than before and his steam engine immersed beneath the water. Once before, when Andreas was living on the other side of the river, its current swallowed up his whole farm. The river is fickle and often shifting, and over the last century or so, its movements have cut the Miller family's property in half.
"The farm I own now would've been completely in the river back in those days," Gibson says.
Gibson and Miller aren't keen on relocating anytime soon. They've lived through the flooding incidents in 2007 and 2011, but even with their experiences of boating through floodwaters to retrieve supplies and watching the water lap up onto their lawns, neither man seems particularly fazed by the prospect of enduring more natural disasters. They prepare for floods by moving their belongings to higher ground and stocking up on provisions. Gibson says he'd move if flooding destroyed his house and he was too old to reconstruct it. Miller says he intends to keep living on his property until the day he dies.
"This is my home."
Although neither Miller nor Gibson grew up in Wakenda, they both hunted and played on the floodplain when they were younger. Gibson had childhood friends who lived in Wakenda, and from the time he could walk, Miller would wander through the fields of Andreas' farm to romp and explore. The floodplain is a place Gibson and Miller are familiar with — a place where they have privacy, a place where they know everyone around them and can see outsiders approaching from miles away.
"I don't want to go into the hills and have neighbors next to me," Miller says. "If I want to go to the mailbox in my underwear, you know, I can."
Another reason the two choose to stay in the area is the quality of the land. Although the silt from the river bottom has spread itself over some of the dirt during flooding incidents — with sand dunes reaching heights of about 30 feet after the Great Flood of 1993, Gibson says — the soil is still remarkably fruitful. Gibson says he has a connection to the ground that he farms, and Miller wants to preserve the memory of his ancestors who once settled in the region.
"My ancestors fought so hard for this (land)," Miller says, his voice croaky. "They paid dearly. (Andreas) lost one farm, lost most of another one to the river."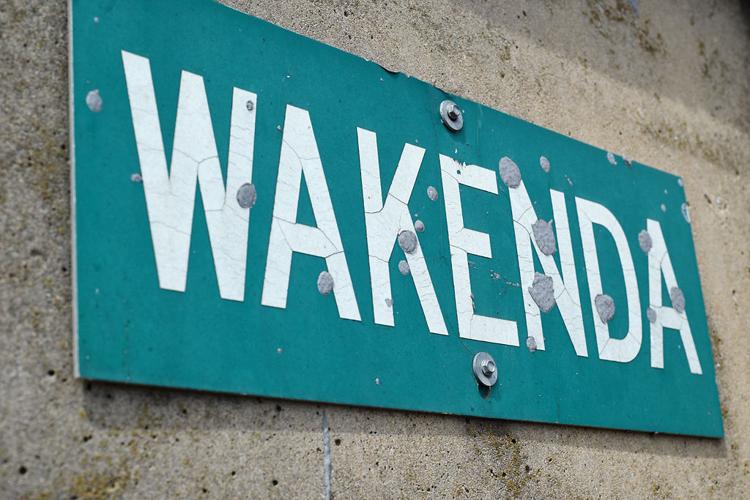 The history of Wakenda and the floodplain is present everywhere in the area, even in the homes that Gibson and Miller own. Gibson's machine shed was assembled on top of the space where Wakenda Grade School used to stand, adjacent to the Reyburns' house, and Miller's garage was built using materials from Walnut School, which was another school building in the county. The wood flooring in Miller's house is still made of its original lumber, and the Walnut Grove Cemetery is only a few hundred feet from his front door.
In Wakenda proper, there's not much left: a couple of houses, a cluster of grain elevators and an auto shop. All that marks the existence of the former town is one of the old jails — a tiny thing, no bigger than a walk-in closet, with the number "1993" spray-painted on an inside wall — a small grave honoring Wakenda veterans and a stone monument with a bell adorning its top.
Despite its simplicity, what's left in Wakenda still carries meaning. Reyburn visits the town and the surrounding floodplain frequently, especially during the warmer months. She camps near Wakenda Creek, hunts for mushrooms in the forest and picks up trash in the cornfield that has replaced her former house. When Reyburn stops in Wakenda, she feels a sense of comfort: "Home … This is my home."