Over the past five years, downtown Columbia has evolved into a hotbed of student housing.
Student apartment complexes have sprung up on the streets surrounding the MU campus from Providence Road to College Avenue and from Walnut Street to Turner Avenue. Developers have cleared away once-beloved restaurants and bars, including Casablanca Mediterranean Grill and Quinton's Bar and Deli, to make way for even more student-housing structures. Even Shakespeare's Pizza, one of Columbia's most cherished establishments, had its original building razed and now resides inside a sparkling new Brookside student apartment building.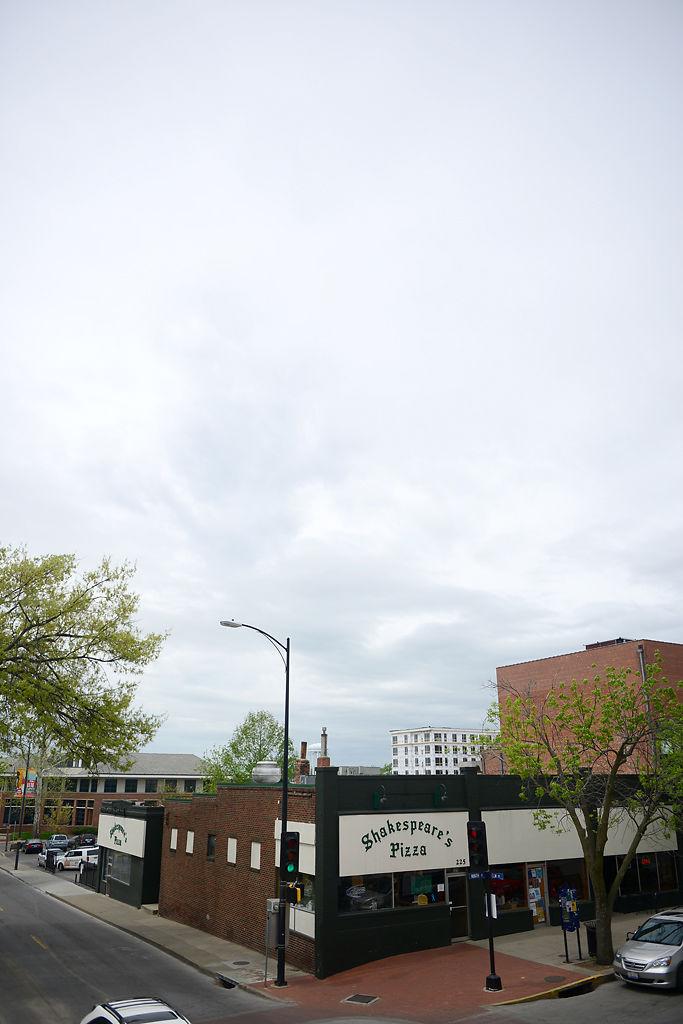 Some streets within blocks of MU boast the progress of student-apartment construction, marked by towering cranes and the frequent droning of machinery. The intersection of Ninth and Locust streets will feature the 205-unit Rise on 9th, and the corner of Fifth and Elm streets will house yet another Brookside building with 128 units. Closer to central campus, American Campus Communities, the developer of The Cottages of Columbia and Grindstone Canyon, is building the 182-unit U Centre on Turner. By August 2017, developers will have added 515 more units to the area.
But proposals for new downtown student-housing development projects came to a halt in May, when Columbia City Council froze the issuing of construction permits for multi-family housing complexes within one mile of the MU campus until Dec. 1.
However, Mayor Brian Treece expects the council to extend the moratorium on multi-family construction permits for about six months. He says he believes this will allow council members to more carefully consider the code and related factors, such as infrastructure and parking needs, before voting.
Now, in the midst of a temporary ban on new downtown student-housing building developments, the construction dust from the current and recently completed projects is settling. As enrollment shrinks and the whirlwind of projects dies down, Columbians wonder, "Where do we go from here?"
Slide the bar below to see before and after pictures of the spot where District Flats now stands. 
Since August 2015 alone, four complexes downtown have opened their doors: 118-unit District Flats at Eighth and Locust streets, 98-unit TODD at Fifth Street and Conley Avenue, 32-unit Lofts on Broadway and 49-unit Brookside building at 225 S. 9th St.
In addition to the student-housing complexes downtown, other structures have sprung up several miles from the MU campus in the past three years. Among these communities are The Den, completed July 2014, and Aspen Heights and The Domain, which opened fall 2013. The Den, located at 1412 Grindstone Plaza Drive, contains 158 units. Aspen Heights at 3600 Aspen Heights Parkway has 318 units, and The Domain at 3100 E. Stadium Blvd. includes 228 units. No developers are actively working on student apartment complexes in the areas a few miles from campus.
After the completion of Rise on 9th, U Centre on Turner and the Brookside at Elm and Fifth streets — all under construction now — these student-housing complexes will provide more than 4,000 apartments. Many of them offer multiple bedrooms per unit. The university provides about 6,000 beds for students in its residence halls.
There will be plenty of beds to sleep in, but there might not be enough bodies to fill them. MU enrollment is down by more than 6 percent for the 2016-17 school year.
Click below to see District Flats in 360 degrees. 
For iPhone and iPad users, view the 360 images here. 

With enrollment down, the supply of student housing in Columbia might exceed demand in the next few years.
Although the university has not yet made forecasts for fall 2017 enrollment, MU spokesman Christian Basi says the university uses Missouri high school graduate projections from the Western Interstate Commission for Higher Education (WICHE) to estimate how many in-state students it might recruit in the coming years. WICHE's "Knocking at the College Door" report predicts that Missouri will experience a 7 percent drop in the number of high school graduates until 2019-20.
A continued decrease in the number of Missouri high school graduates could spell out lower enrollment for MU, leading to lessened demand for student housing in Columbia.
Amanda Jacobs, the vice president and asset manager of Jacobs Property Management, says the Columbia student-housing market is already feeling the heat from lower MU enrollment this year. MU has closed four residence halls for the 2016-17 school year. Jacobs says she thinks these closures foreshadows the decreased demand the student-housing rental market will experience in the next few years.
Jacobs Property Management primarily oversees townhouse-style duplexes throughout Columbia, and it manages a total of 430 units, which they call "front doors" (a duplex has two front doors). Although not all of the property management group's residents are students, about 70 percent of them are undergraduates.
Jacobs has observed the effects of the increasing supply of student housing in Columbia with her property management group's own properties. Her company pre-leases several of its properties to undergraduates, meaning students sign their leases for August in the spring. Jacobs Property Group has 100 properties that students typically pre-lease, but at the beginning of this school year, five of these properties had not yet been leased.
"There was not that feeling of, 'If I don't get my lease signed now, I could be homeless in the fall,'" Jacobs says. "We saw a decline in urgency, and I think that has to do with there being more supply in the market."
Although Jacobs has seen rental rates remain steady for this year, she expects rents to drop slightly in the next three to five years due to oversupply of student housing and falling demand from fewer students.
"When you have more housing and you have less people to fill it, the rent rates are going to go down, or there is going to be a higher vacancy rate (if rents are not decreased)," Jacobs says.
With the number of prospective renters for student-apartment complexes shrinking and with more student-targeted apartments in Columbia, management companies are advertising and offering special promotions to help attract potential residents. 
Click below to see Brookside Apartments in 360 degrees.
For iPhone and iPad users, view the 360 images here. 
Bryan Chester, interim general manager for the Columbia Missourian, says a significant portion of the newspaper's student-targeted advertising sections has come from student-housing complexes. He calculated that 35 percent of the ad revenue from the College Town and Welcome Back sections and 23 percent of ad revenue from the Homecoming section came from student apartment companies.
Chester observed that complexes farther away from campus have been the primary purchasers of advertising in these sections, which he attributes to the addition of new downtown complexes and decreased enrollment.
Becky Diehl, adviser for MU's student newspaper The Maneater, says though her publication runs ads mainly from the complexes located along Old 63, including The Reserve, Copper Beech and Grindstone Canyon, it also sold spots for unfinished complexes, including Rise on 9th and U Centre on Turner.
Although student-housing advertisements published in the MU student paper have remained steady in recent years, Diehl says rivalry is mounting among the complexes.
The student-housing ads, featuring loud, eye-catching colors, show glamor shots of the complexes and their laughing residents, and they boast amenities such as expansive pools, free shuttles and 24-hour fitness centers. To entice students to take tours, the ads promise free months of rent and hundreds of dollars in Visa gift cards if the prospective residents sign leases as soon as possible.
The Arch, formerly known as The Grove, has not advertised in newspapers, but the complex — located at Rock Quarry Road and Grindstone Parkway — has bought online advertising on websites such as ApartmentFinder and Craigslist, says Trevor Davis, The Arch's sales, leasing and marketing manager.
In addition to advertising, The Arch works to attract students by visiting the MU campus three to five times each week to give away free food and $5 gift cards to restaurants such as Chipotle. The complex also distributes Visa gift cards to residents who sign or renew leases. The amounts of the gift cards vary, but according to Davis, The Arch once gave $400 cards to people signing new leases.
When Alice Chen, an MU junior majoring in health sciences, renewed her lease at The Arch in spring 2015, management lowered her monthly rent from $550 to $450. However, The Arch no longer offers reduced or free rent when residents re-sign because it caused confusion with crediting rents in its online system. Instead, it only gives out gift cards.
To fill its more than 500 units spread across three locations in Columbia, Brookside offers group deals on rent to student organizations, particularly fraternities and sororities. This arrangement waives the activity fees and application fees for members of these organizations, and the leasing agents host events for Greek organizations to encourage their members to live at Brookside.
Click to see apartment complex construction in 360 degrees.
For iPhone and iPad users, view the 360 images here. 
Davis feels that though the student-housing market in Columbia is oversaturated, each complex has its own place in the market.
"Downtown focuses on a different demographic than we do," he says. "Not every student who comes to Mizzou can afford $1,000 a month in rent, so we accommodate students who want to save money or who are on financial aid."
Davis, whose complex had 88 percent occupancy as of Sept. 16, does not view lower MU enrollment as a cause for competition with other apartment complexes.
"I think it's more about truly competing with ourselves and trying to set the standard for ourselves to make everyone feel comfortable," he says. "Students are ultimately going to find housing one way or another, and each apartment complex has something different to offer."

When searching for a place to live, students are faced with an array of choices — considering different rents, amenities and locations. They might find it difficult to get some of this important information, however, because student-housing complexes tend to be vague about details unless you're on a tour or in their leasing offices as a potential tenant. Several students and tour guides talked about the living experiences at three local apartments.
Kaitlyn Dossett, a Brookside leasing agent and MU senior studying communications, moved into the new Brookside building at Ninth and Elm streets in August. Dossett said she and her roommates, who had been living in the 6-year-old Brookside building at 260 S. Tenth St. since August 2014, were intrigued by the thought of living in a new building. Dossett had no concerns about signing a lease for an unconstructed building because the leasing office showed her pictures of her prospective four-bedroom apartment.
A tour guide at Brookside Downtown told potential residents that the base rent for most apartments in Brookside Downtown floats near $800 per month, per person. They offer the option to bundle utilities into this rent, which adds an extra $60 monthly for each roommate in four-bedroom units and $80 monthly per person in two-bedroom units.
Dossett describes her sixth-floor, nearly 2,000-square-foot apartment, which provides expansive views of The District, as modern and sleek with wood floors throughout the unit, granite countertops and stainless steel appliances in the kitchen. A spiral staircase leads up to a loft with a living room area where she and her friends often hang out.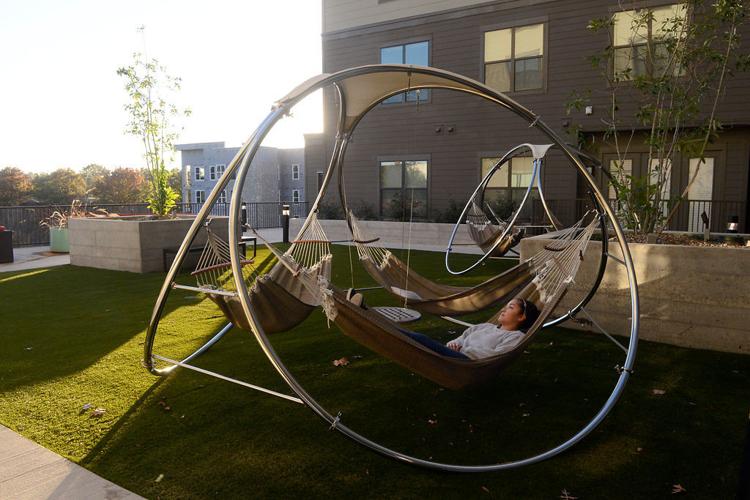 Cara Passi, an MU junior majoring in hospitality management, lives about three miles from Dossett in The Den. She moved into her four-bedroom, 1,348-square-foot apartment in August. Passi says she and her roommates each pay about $650 including utilities for monthly rent. She enjoys her spacious apartment and all of The Den's amenities: a 24-hour cafe with free coffee, a 24-hour fitness area, study rooms with interactive whiteboards, a pool, a volleyball court and a bonfire pit with grills and TVs.
The only complaint Passi has is the complex's distance from campus, which requires her to drive or take The Den's private shuttle. The shuttle's pre-set schedule can be a hindrance to Passi's evening schedule.
"It's not that big of a deal, though, and you're not going to find something like this in the middle of downtown Columbia," Passi says.
Although the apartment complexes farther away from campus tend to offer more reasonable rents, several of the downtown apartments charge students rates higher than many monthly homeowners' mortgage payments.
According to a rental tour guide, the monthly rent for a two-bedroom apartment at District Flats at Eighth and Locust streets hovers around $979 per person, including utilities except electric. Each apartment is furnished and includes a washer and dryer and granite countertops. Parking costs an extra $140 per month, and the monthly electric bill is approximately $30 per person.
When all is said and done, the bill for sharing an apartment with one other roommate at District Flats adds up to $1,149 per month. Each roommate signs an individual lease and pays rent separately. The equivalent monthly cost for a room in an MU residence hall ranges from $805 to $1,194.
This hefty rent at District Flats includes access to a 24-hour fitness center with sleek new equipment and a cardio room where residents can select on-demand workout videos from an electronic personal fitness center program. Down the hall from the fitness center is a computer room with one HP and two Mac desktop computers. There is also a group study room with a flat-screen TV for hooking up a computer and a whiteboard that spans across a wall.
Across the way on the building's first floor is a stand-up tanning bed open during the leasing office's hours and a movie theater room filled with plush blue cloth chairs, an expansive screen and Blu-ray and DVD players.
The airy club room, containing a bar, a lounge area and game tables, hosts a few events for residents each semester. For instance, in October, District Flats threw an Oktoberfest party that featured three kegs of beer from Craft Beer Cellar and giveaways of Craft Beer Cellar and Harpo's gift cards.
The club room leads out to a terrace with two gas grills and a fire pit. Below the complex is a heated parking garage. The six-story complex has 301 residents and was at full capacity as of Oct. 14.

Student-housing developers might have to adjust in the next few years to the city's plan to adopt a new unified development code that could restrict multi-family complexes, both downtown and farther from the MU campus. The code, which the city's Planning and Zoning Commission will likely present to the City Council after Feb. 6, could impose architectural design requirements and new parking standards on multi-family student housing complexes downtown.
However, Pat Zenner, Columbia's development services manager, says he believes the new code could prevent student-housing complexes from being built in areas several miles away from the MU campus in the future because most of the available land in these regions would have to be rezoned to accommodate multi-family housing. He says he thinks the City Council will more closely scrutinize rezoning requests for these sections of the city to explore whether the area's infrastructure could sustain these communities.
"I think the future applicant (for a rezoning request) will have to really prove up its case that multi-family development is needed, especially for a student-centric population, and that we've got the sufficiency of resources to serve that via roads, water, sewer and possibly electric," Zenner says. "I think council has a significant amount of opportunity for control over the suburban environment (areas several miles away from campus)."
Zenner doesn't foresee downtown posing the same roadblocks for future student-housing construction as the areas farther from MU because The District's zoning would more readily permit the building of multi-family complexes. To expand downtown's sewer capacity, the city has been working on the Flat Branch watershed relief sewer project since June and anticipates completing the project's first phase by December.
Slide the bar below to see before and after pictures from the view of Hitt Street Garage.
In other words, new student-housing developments might be more likely to spring up downtown than several miles from the MU campus. Zenner is not aware of any development companies waiting to announce building plans for complexes downtown after the multi-family housing construction permit freeze is over.
But the destiny of student housing in Columbia might crystallize only after the building permit freeze expires and a new development code goes into effect.
"I think council may have passed the administrative delay to pull all the pieces (of downtown development, such as infrastructure and parking) back together and find out what's the direction for development generally in downtown," Zenner says.
Once the city institutes the new code, Treece says he hopes downtown will offer attractions that appeal to students as well as Columbia's permanent residents.
"I want a downtown that is diverse and attractive to people of all ages and incomes," Treece says. "I think people are realizing that downtown Columbia is becoming oversaturated with luxury student-housing beds, but the future of downtown is really up to what the market determines."