Hundreds of yellow strings of yarn vibrate softly in the wind as they are wound through and around one another at the Roots N Blues unity tent. Run by Storage Mart and Big Brothers Big Sisters, the goal is to bring people of all backgrounds together to realize the similarities between human beings instead of the differences. 
"It takes a community to build this and make something together," says Drew Bennett with Big Brothers Big Sisters. "It takes diverse backgrounds and experiences to join together and create this deeper sense of belonging."
Bennett tells people who approach to wander around the bars in the ground, look at the identifying words and decide what connects to them. Then you pick up the yellow yarn in the middle, wrap it around those words that resonate with you most and become part of the intricate pattern of those who came before. Some people connect to one, and some (adorable children) connect with all of them. The greater hope – to instill a sense of connection to those who participate.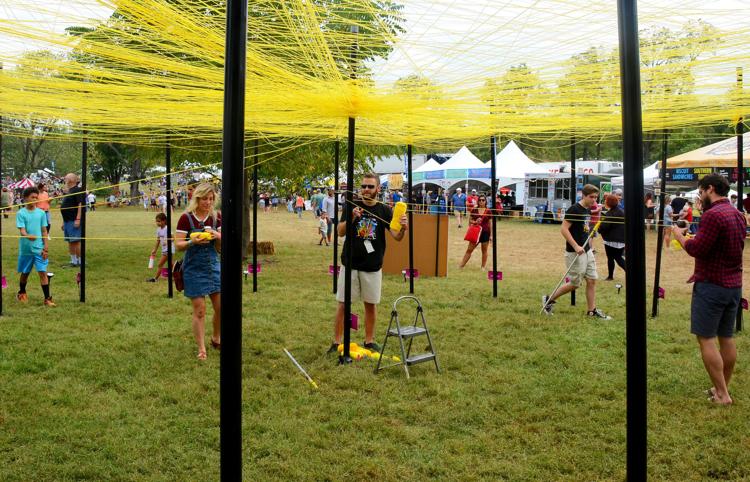 "My favorite part of the activity is that it brings so many people together, from young kids to people in their 60s, introverted or extroverted," he says. "You see them coming together in the middle of the tent and they're communicating, and you might not see that in a lot of other situations."
The Unity Project was created by Nancy Belmont three years ago to fight against the divisiveness of American politics. With the hopes of using self-given and projected labels as a way to connect instead of divide, the strings are a metaphor for that unity Belmont hoped to inspire.
Heather Huffman, part of the marketing team at Storage Mart, says this is the second year the unity tent has been at Roots N Blues and began after Jamie Varvaro, one of the owners, suggested it. The concept fits right into the homegrown, community feel of the festival. Hundreds of people roll through the tent, choose their labels and are left to reflect on the experience. 
"There's a lot dividing the country right now, and it's nice to have something that brings people together," Huffman says. "I love how much people have been laughing and smiling. When they get tangled up in their yarn and they're joking around, nobody is judging one another."
Even if two people choose completely opposite labels, their strands and their stories still intertwine. It may just be a small tent in a small corner of the world, but these small connections influence people and the communities in which they live. So check out the tent, participate in something thoughtful and reflect on the deeper meaning behind the yarn.
Related articles