Stand-up comedy open mic nights are one of the riskiest plans I can make for a night on the town. I never know what I'm going to get. I hope that I'm going to see the next George Carlin or Kathy Griffin, but more than likely, I'll witness a lot of thick silences and uncomfortable laughs. 
But that unpredictability is exactly why I keep going back. Anything can happen. The residents of comedy hotspots like New York City and Los Angeles know this well. But for small-town scenes like Columbia, it's tricky to turn people on to the allure of unexpected entertainment. It's even trickier when local residents don't know said unexpected entertainment exists. 
Columbia used to have its very own professional comedy club, Deja Vu Comedy Club, but the spot closed up shop in 2016. Yet most local comedians will argue the club did little to support local acts, anyways. Most of the laughter you'd find at Deja Vu was courtesy of an out-of-town guest, leaving locals on the sidelines. In its absence, Columbia comedians have found a way to step into the limelight. 
Just stop by Eastside Tavern on any Tuesday night for proof. Given that it's a Tuesday night at a bar, the crowd is often sparse, allowing you a clear view of walls decked out in comic book posters, horror movie figurines and classic rock albums. Be sure to snag a spot to take in the act of the night. This is where local comedy flourishes. 
"It's open mic; there's a whole lot of raw talent here," Kovoski George half-jokingly says to the audience from the Eastside stage this particular evening in October. "Whenever you go raw with anything, problems can happen. OK? So, I don't care if y'all decide to leave. Well, I do care. But, whatever, you got good pull-out game. That's all I'm saying to you."
George is one of several comics performing for the "As Yet Unnamed Comedy Show."  Originally from Albany, Georgia, George complains from the small, dimly lit stage that his neighborhood on Demaret Drive is so bad that even the homeless don't stay there, and he tries to convince the audience that raccoons are the most gangster of animals. From his lighthearted set and winning smile, you'd probably never guess that he's a retired Marine. He now works security at Reality House Programs Inc.
We chat at the back of the bar. I'm lucky to get anything out of him. I called him ahead of time to set up an interview, and he thought I was a prank caller — a fact I learned when he called me back about a week later.
George had heard there was a comedy scene in Columbia before making the move from Georgia last year, but he didn't really believe it. Once he found out he was wrong, he realized he had a lot of work to do in order to catch up.
Although he's relatively new to the local comedy scene, George is quickly finding his place in the community. He helped start and now hosts the Sideline Jokes comedy show at Sidelines Sports Bar along with Caleb Wright, who works as an automotive tech for Joe Machens Toyota. Wright is also performing tonight.
Onstage, in casual, laid-back tones, Wright tells stories of his puppies rebelling over dry food and why they motivated him to not have kids. Offstage, in professional interview mode, he tells me that the Columbia comedy community works because everybody wants to see everybody win, and local audiences are interested in diverse acts.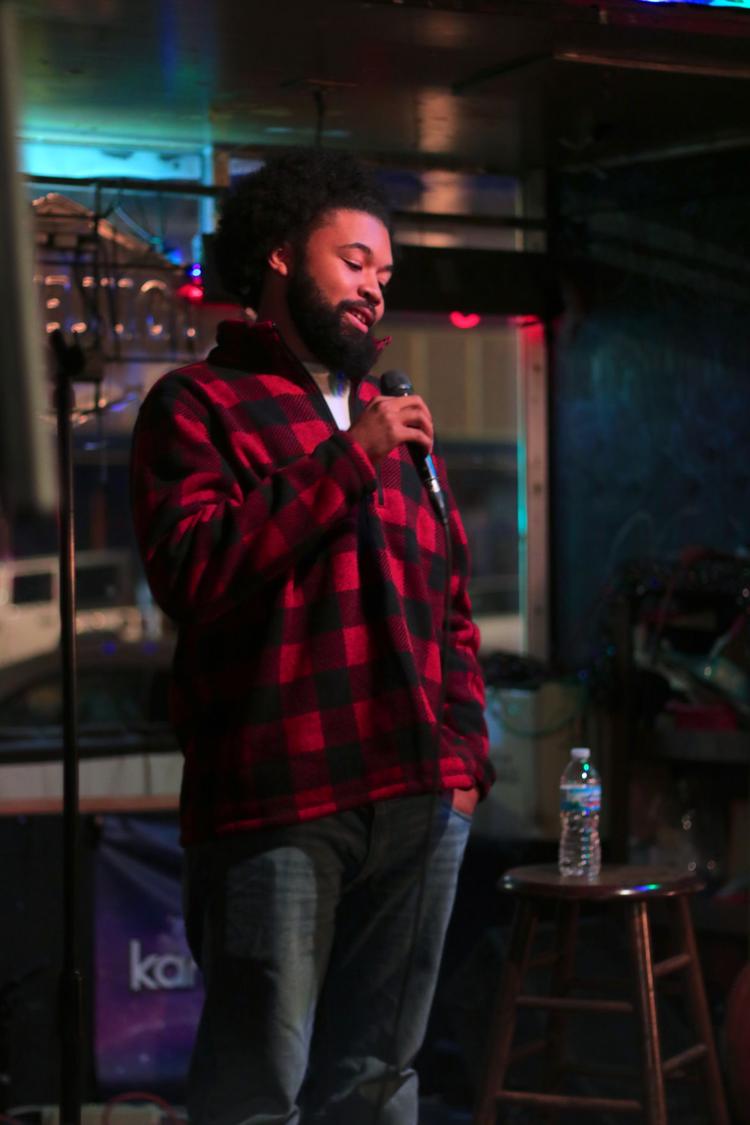 Up next, the evening's first female comic takes the stage. Ellie Bonilla, who has been in the Columbia stand-up game for a little more than two years, uses her stage time to confess her love for the white-girl way of dealing with roommate issues and to share that she took an extra shot before the show.
I was able to grab her right as she was heading out the door with some friends. She's happy to share her life story, though Bonilla can't get through two sentences without the interruption of a sarcastic comment from nearby comics listening in on our conversation.
She came from southern California with no expectations because she didn't think there would be a stand-up community in Columbia. Compared to the exploding California comedy scene, Bonilla thinks that Columbia has fewer shows but more friendship. "When I was in L.A., it just felt like it was just me on my own," Bonilla says. "And now all my closest friends are from the comedy community … Since I moved here, my comedy has gotten 110-percent better because I've had to challenge myself."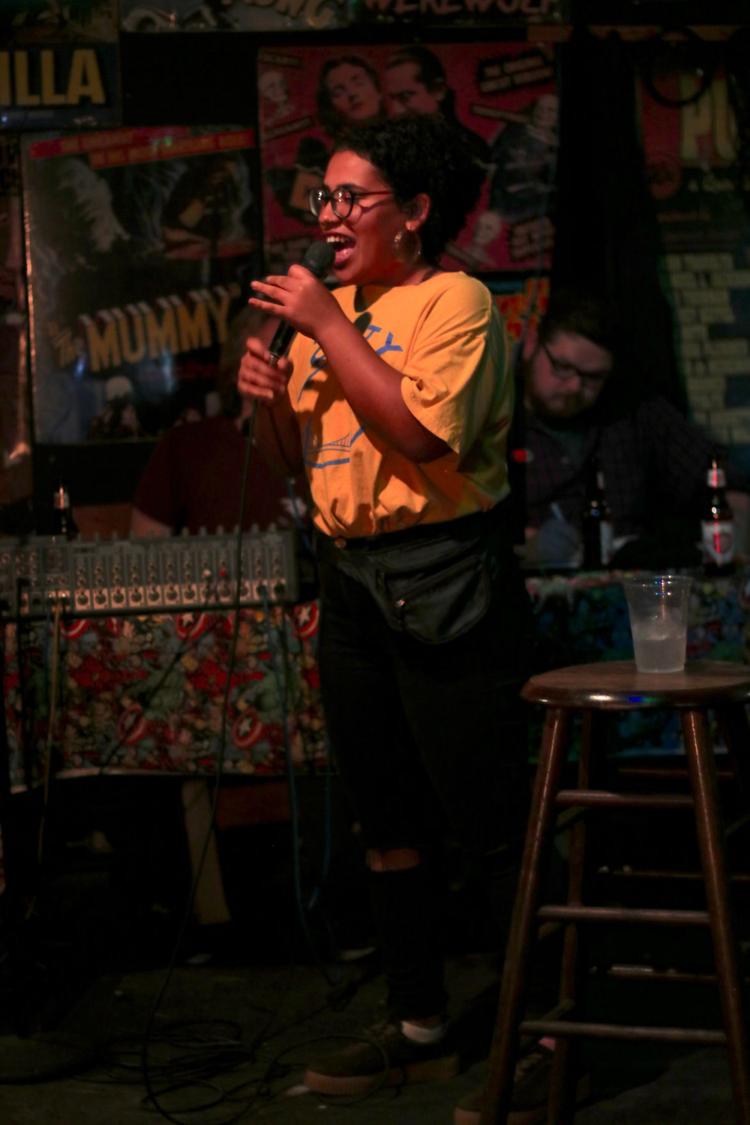 Sitting at the bar after her own set is Kaitlin Rounds, an MU graduate and now assistant manager at Ann Taylor Loft. She started her stand-up career after graduation, thanks to some encouragement from her friends. We talk out on the sidewalk in the cold fall evening.
For her, making people laugh has a special power, and she looks to pursue it in Kansas City and Chicago. Rounds had some comic friends out in Kansas City, and she considers Chicago a classic stop on the road to comedy success.
Rounds says that Columbia has a mix of older, more experienced comics but that the colleges also bring in young talent. As she prepares to leave Columbia for bigger and better things, she feels bittersweet because of her six years here.
"It's definitely a really good place if you want to get your start," Rounds says. "There's a lot of potential in a lot of these comics, but it's a jumping-off point, not a forever place."
Back inside, overseeing this whole evening, is Bill Donald, the man behind a lot of the "As Yet Unnamed Comedy Show": the crowd, the camera, the YouTube channel, even the Facebook page. He has photographed and recorded the open mic nights at Eastside Tavern for seven to eight years. He manages the "Fans of the 'As Yet Unnamed Comedy Show'" promotional Facebook page and posts the videos to his YouTube channel.
"He provides you with pictures and videos, and that's amazing," Rounds says. "You don't get that in other stand-up scenes. If you do, you have to pay 10 bucks, and stand-up comics don't have 10 bucks."
Donald began his comedy career in 2006 after working as a U.S. agricultural researcher for 25 years. He doesn't do much stand-up anymore because of his osteoarthritis, but he also loves the range of ideas and styles present in local comedy. Columbia comedians "use language differently than I use it," Donald says. "They're interested in different things than I'm interested in. This keeps me aware of where the culture is going."
Despite differences in styles and perspectives, the comedians in Columbia can agree on one thing: The comedy is here, and it's very real. George heard about it before he came here. Wright says that it comes from a positive communal attitude. Rounds sees it as a good launching pad. And Donald is just happy to be here to witness it.
"There's a community, for sure," Bonilla sums up for me as we finish my last interview for the night at the front counter of El Rancho. "People need to know that it's happening, that there is comedy. If you want to do stand-up comedy, you've got to find it. It's not easy. Just go for it. Be unafraid, and do that shit."