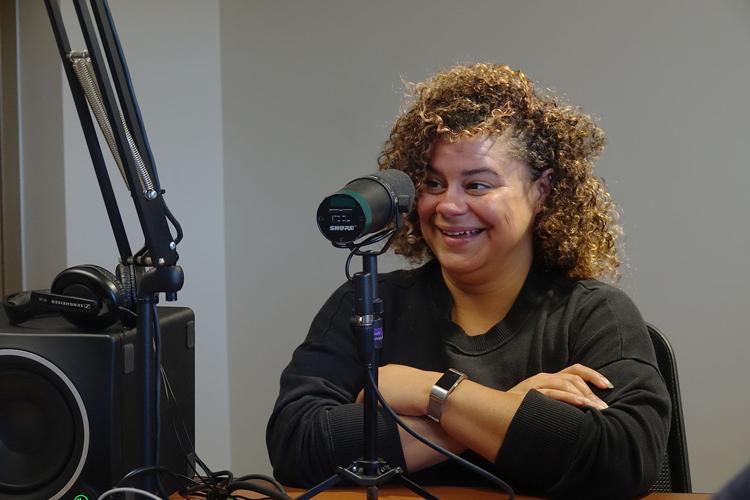 Nickie Davis is the executive director of the Downtown Community Improvement District (CID). Born and raised in Columbia, Davis owned Muse Clothing on Ninth Street before working for The District. In addition to helping downtown host festivals and events such as True/False Film Fest and Unbound Book Festival, she also works as a liaison between small business owners and the city government. One of her first trials as executive director was helping business owners navigate the COVID-19 pandemic.
Nickie is working to herald more minority-owned businesses in The District, and she aims to keep downtown a "diverse, forward-thinking, unique, weird community." On this episode of Vox Voice, we hear about her goals for The District, the challenges faced by the community, and her surprising journey to love and embrace Columbia as her home.  
Listen to Vox on Spotify, Apple Podcasts, TuneIn and Blubrry.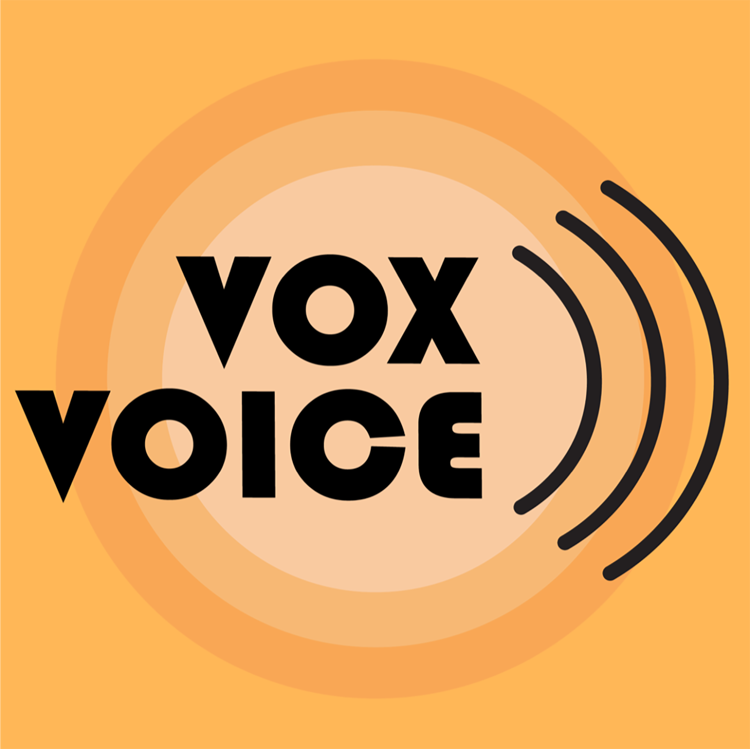 Want more Vox?
Don't miss a thing: Get more Vox straight to your inbox. Fill out the forms to receive highlights from our monthly issue, hand-picked calendar events, reviews, recipes and everything else you need to thrive in Columbia..
Sign up for our newsletter to get more Vox straight to your inbox.
Episode Transcript
Grace Cooper: Nickie Davis is the executive director of the Downtown Community Improvement District, better known as the CID. Davis is a Columbia native. She works to address the issues that small businesses face in the downtown district. As a previous downtown business owner, she has an intimate knowledge of the unique challenges the location brings, including advertising, trash, gun violence and adapting to the ebb and flow of the student population. Her mission now is to keep downtown Columbia vibrant and interesting with a little bit of something for everybody.
I'm your host, Grace Cooper, and here's Nickie Davis in conversation with our reporter, Sherell Williams. Welcome to Vox Voice.
Sherell Williams: Hello, everyone. I am Sherell Williams, and I am joined by Nickie Davis, the executive director of The District and Downtown Community Improvement District (CID). Nickie, thank you so much for joining us today.
Nickie Davis: Thank you.
SW: So I'm just going to ask you a few questions, and so we'll start with this: What drives you to be involved in the community?
ND: I am definitely a person of, you know, "be the change." So if I have chosen to live here, I feel like we need to make sure that it's someplace that we want to be at. So, you know, growing up here, small businesses are really the driving force behind, like, what makes Columbia so unique. So making sure that those small businesses are safe and doing well and being vibrant is kind of a goal of mine.
SW: So what do you hope to accomplish through working with The District?
ND: Well, working for The District, we do all of those things. We help small businesses. We help the community in general, whether that's advocating for them with the city or the state or just throwing fun events. We are here to kind of make sure that the projects go through, the city doesn't forget about the small business owner, and it's always something different every day. So it's always very interesting to see what comes up and what we're going to do next. So, you know, obviously my overall goal is to support however we can, and I think The District allows me to do that.
SW: We've heard that you were a small business owner or you used to own a business yourself. So, what was your small business, and what struggles did you face in Columbia as a small business owner that you want to make better for the small businesses now?
ND: Yeah, so I had Muse Clothing on Ninth Street for about five years. It was a men's and women's clothing store. It was a little bit more alternative for Columbia. And it's something that you would probably see in bigger cities, which is a niche I felt like we did not have here. And starting a small business, period, in Columbia is incredibly hard. Sometimes it literally feels like the city doesn't want you to start a small business here. So, that kind of red tape that unfortunately we have here is something I've been very passionate about trying to figure out why that is and how we can make it easier. Not just to start a small business, but even to throw events here, to bring new festivals.
We're trying really hard to bring back horse-drawn carriages during the holidays, and it's almost impossible. Why? I mean, that's something that all these other towns around us do — St. Louis does with the Clydesdales. That's something we should be able to do. So the difference between owning a business and learning what you have to do to get through the city is obnoxious. So that's really something that I've enjoyed trying to help out and pare down a bit for everybody, not just small businesses, but, you know, for companies like myself who want to do great things for our city. So, yeah, that's been a big one, one of the best things. I think one of the biggest things about owning my business, what I realized is that I liked the community aspect of it. We had a ton of different events that these people were just looking for spaces that weren't $6,000 to do different things in. And we were able to do that for the community. We were also able to bring in other businesses to collaborate with. And it was really kind of that, that collaboration with the community that I loved and at The District. We do the same type of thing in multiple different ways, but we do 13 events a year that we work with everybody with. So, we were able to kind of bring that over as well and just make things bigger and better and open and available to everyone.
SW: What roles do you find yourself playing in the community or through CID?
ND: There's been a lot of roles put on me that I assure I'm proud to do and wear the hat, but, you know, for the most part, I think it's the connection part. It's the part where I can help businesses, again, make their lives easier. So whether that's connecting them with some of the cities, someone at the chamber (Columbia Chamber of Commerce), or making sure that the trash gets picked up from the front of their area. Those are all the different types of things that we deal with every day, and for me, when I owned my business, I didn't even know where to go for any of that type of thing. I didn't even know that we had City Council every other Monday, you know, that it was open to the public. So it's that type of thing to just, again, make life easier for small business owners and for their customers or the people that want to support them.
SW: So what new perspective do you bring to the CID coming from a background of being a small business owner?
ND: A hugely different one, and I think it was for the better, for the most part. You know, they'd never had someone that had owned a business, to my knowledge, be a director in the past. And they hired me at the end of 2019, and the pandemic hit. So me having that background, understanding what it's like in a day-to-day setting for a small business owner and how already hectic that is, to then have this horrible thing set upon them. I really think it helped for me to have the understanding on how to reach out to them, what they needed. So, we were able to bring in bankers, bring in SBA (Small Business Administration) people, bring in anybody that had to do with getting loans to these small businesses in a timely manner and in a way that they could understand, I think really helped a lot of our businesses. If you came from a different background, that might not be something that you would put together so quickly, you might think that it might, you know, be this other area, but small business owners are the busiest people in the world. Like, hands down to me, they are the busiest people. So anything that we could do to get them those PPP loans (Paycheck Protection Program) and SBA loans was hugely important.
However, because I have this different background than what you would typically see, probably, in a director of a political subdivision, there's a lot of learning curves. There's definitely more politics to this job than I ever realized. Whereas somebody that may have had this background might know those types of things, but in general and the time that it happened, it seemed like it happened for a reason.
SW: So as you said, you kind of communicate between these businesses and the (CID) board and things like that. So how do you navigate these communications and advertising preferences since every business has its own preference? So for example, maybe one business is more into doing newspaper advertisements versus one that may want to do more online stuff. So how do you cater to each business?
ND: So as far as advertising or marketing, we have a marketing committee. So if your business has specific ideas, you are welcome to join our marketing committee. But for the most part, you know, when I was on the CID as a board member, before I got hired in this position. When I was on the CID as a board, we were only advertising in the newspaper. There was no social media for the CID. So when I got this job — which I was the director of outreach before I was executive director — that was a big change for us to limit the newspaper marketing and get on social media. And it was very helpful, but because we so long marketed in the paper and we did have a random, really big following on Twitter, we knew we needed to make sure that we continued to keep that audience, that kind of obviously older audience while making sure that we captured the college students. College students didn't even know there was such a thing as True/False (True/False Film Fest). So we do a little bit of everything, basically, for our marketing. And a lot of that does go through our marketing committee, and then as we go throughout the year, if we can pick up other things, we will.
SW: So how do you go about making Columbia's downtown a place for everyone? Since it can be hard to please everyone, as the saying goes.
ND: Yeah. So as much as we can try, we will never please everyone. We are aware of that. But again, with the marketing tactics, making sure that we do reach, you know, we do have places here that are geared towards a certain age. We have other ones that are geared towards a totally different age. And other ones that want everybody. So we definitely make sure that we capture that and all of our marketing. We plan events, we have 13 events a year, going up to probably 14 events a year, and we are a staff of three. So that's quite a bit on top of everything else that we do, and each of those events, kind of, targeted different types of business. So, this last weekend was Spring Shop Hop, so obviously that's retailers. We do Restaurant Weeks. We do Drinks In The District. We do Wedding Stroll, which we cater that towards our venues that rent out for weddings. And then, you know, one that's in the works right now is a Wellness Weekend where we'd start off with a 5k. So that's a wholly, entirely different audience there. So we try and touch a little bit of everybody as much as we can, but it is definitely always a struggle to make sure that families know that they're welcome. And so does, you know, your grandmas as well as college students. So it's always ... it's a unique, but fun struggle.
SW: Sounds like it. OK. So as you were just saying, having this association is invigorating. Then what are some of the most fun parts of your job, and what are the hardest parts of your job?
ND: You know, I think the most fun is just getting to know the business owners, seeing what they have, what they're bringing to our town. Everybody is so different, and their thoughts about how to run their store and what they want to have in their store and who they represent is so different. It's really just fun to walk around and talk to people. And, not only that, but then hear their woes, you know, like what's going wrong for you or what are you seeing that I don't get to see anymore because I'm not in a store on Ninth Street every single day anymore. So that's definitely nice. I'm also not a 9-to-5 person. So being able to, you know, go to something at 8:00 (p.m.), you know, go to lunch and then come back at 11 and talk to those businesses that are now open, is really, really nice for me to be able to just switch it up like that.
The hardest part is that we have the same problems every downtown has. It's safety, it's parking, it's cleanliness. And it's something we will forever fight. There is no way in a realistic world to fix any of those things. It will be something that we are forever fighting, and we will continue to do it, but it is frustrating every now and again to just know that this is the same problem I'm going to have next year, too.
SW: OK. So how have you been able to fight against these issues to help make the downtown safer, better work, more efficient for the small businesses and even the community?
ND: I think the biggest thing is bringing all the right people to the table. Making those correct connections and getting them on the same page, getting them to really understand what this is doing to our businesses and their customers. And then realistically looking at how we can all help. It's not just going to be us that fix any of these problems. It's going to be us. It's going to be the city. It's going to be community counterparts. And we need everyone there. So, I think that's the best way to start anything is just really making sure you're reaching out to the correct people and that everyone is on the same understanding as to why we need to fix this. "How" might be different for everybody, but getting everybody on the "why" we're fixing this page.
SW: So another issue that has been a problem downtown has been violence, specifically gun violence. So how has gun violence, if it has at all, affected the way you do your job?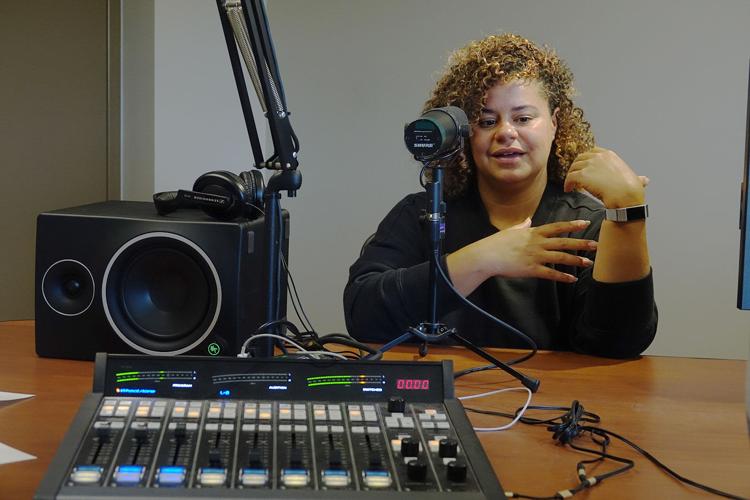 ND: Yeah, absolutely. I just got back from Atlanta. I flew there with CPD (Columbia Police Department) to look at their security systems and see if that's something that we could implement here in Columbia, not just downtown but Columbia in general. So as far as the way it affected me doing my job, it's just made me more aware of what other cities are doing. You know, when something happens downtown, it's all over the news for days. And it does that because it never happens downtown. It's such a big deal 'cause it just doesn't happen down here that often compared to other parts of town. It is much rarer than I think a lot of people think right now, but, you know, we are, we have paid the city over a year ago to install over 90 new lights around downtown. I'm still waiting on those, sounds like it's still about another eight months out. But, what these lights do is they come up to daylight level. So, at 2:00 AM when the bars let out, these lights will come up to daylight and, kind of, help disperse those crowds because it's the crowds on the sidewalks and the streets, that's the issue. It's not stuff happening in the bars. But then they (the lights) also speak with CPD. So, if there's something happening at 11 (p.m.), CPD can go and turn those lights up in that specific area to help see or disperse or whatever. And this is something we've worked on for a very long time, so we are very ready to get these lights installed.
The security or the camera system that we went and looked at, it's a massive system where any camera can be linked into it, and CPD can then use these cameras for different incidences. So whether that's a business's camera or your own camera that you just have on your garage, if you want to, you can link it to the system. So if something happens on your street, CPD can just immediately look at that camera and not have to come bang on your door. It obviously helps them get people faster, it's less burden. There's also an AI (artificial intelligence) component that if they're looking for a certain car, colored car with a dent on the front of it, it can find that type of thing. So really, really intriguing and definitely something the CID is looking at helping our businesses pay for.
But in general, before this even came up, we were able to create grants. 'Cause again, we're taxable. So we were going to create a grant for our businesses to put more cameras up on the outside of their buildings or inside facing outward if they wanted to. So there's, you know, a lot of things that we are able to do. It's just trying to figure out which is the right one that fits our community best. So again, it's a forever conversation. We work closely with CPD. I texted the chief (CPD Chief Geoff Jones) over the weekend because there was a ton of amazing events happening, and I wanted to see if there was more police presence that could be around downtown, just to make sure that everyone was safe. So we have a great relationship, and I think that's the best thing that we can do. And then continue to get ideas from business owners or whoever else might have something from a different city that they have seen work. We're always open to that type of thing.
SW: As we said, Columbia is very diverse. And so there are a lot of businesses downtown. So do you think for minority business owners or even just diverse business owners, you think it's easy for them to tie their identity into being a business owner of that certain minority group?
ND: That's interesting. I think it really depends. What we see downtown right now, for certain groups, yes, and for certain groups, no. We are embarrassingly lacking Black-owned businesses. But we have a very strong Hispanic-owned businesses. So I think it's, you know, it depends on the different group that you might be in.
I think with the Black-owned businesses, it's a direct result from the city displacing Black-owned businesses in the 1960s. We had Sharp End District, which was a historic Black-owned business district. It was thriving, and the city came in and basically pushed everybody out. And now that's where the post office is, it's where they're REDI building is, it's where a giant parking garage is. I think that still lingers. And it's still very much felt in the Black community here in Columbia. I think it's something that needs to be acknowledged, and The District has put out a minority-owned business grant to encourage Black-owned business owners to move back to The District because, as of right now, with 600 businesses, you could probably count on two hands how many Black-owned businesses we have.
I'm not sure if this is normal or not for most downtowns, but we have incredibly strong women-owned business. I mean, it's probably at least half, if not more of our businesses downtown. It's kind of interesting.
SW: Alright, so you've kind of touched on COVID a little bit and how it changed the way you do things. So, would you mind elaborating a little bit more on how COVID-19 has affected the way you had to do your job? And even now that we are two years into it?
ND: Yeah, well, I was hired right before it, so really, I don't know what a normal year looks like from this position. I will say that, at least when I was the director of outreach, you know, we knew what to expect. We knew what events were coming up and how to do them, and when COVID hit, you know, it was a very, very big point to me that we did not cancel our events. So we put all of those events online, or we tweaked them a bit in one way or another to make them work, which was hugely successful.
But getting back, even this last weekend, something we used to do in the past is we would put out these little black bag stuffers for our businesses to put in people's bags, totally forgot about that because it's been two years. So getting back to kind of a "normal," it's almost been — no, not true at all, it's been challenging to remember what we used to do. And then, you know, a lot of it is we're still keeping those vocal, virtual parts of the different things 'cause they were so successful and allowed people not only that weren't comfortable coming out, but people that lived in different states to take part in our events, which was great. One of the best things you could say is that communication was really lacking before COVID not just between us and our businesses, but between the city and us and the chamber and us. So it really shone during the COVID period, the really intense time. And now I feel like we have a much better handle on how to communicate with our businesses, how the city should be communicating with its public. So I see that continuing, and that's very exciting to me. But, yeah, I think overall we're still trying to figure out and remember how it used to be. And just, you know, get back to that place where we are comfortable having full-blown events and different things like that. So yeah, we're still working on it, we're still seeing what normal is.
SW: COVID-19, we already know is a very extreme situation. So what lessons have you learned working in this extreme situation that you think you would not have gained otherwise?
ND: I think just the ability to reach out to people when you don't know what's coming next. And, you know, we basically scoured every platform we could to see how to help our businesses. So, whether that was platforms that we were already on, like the International Downtown Association, or if we went elsewhere. I think that just realizing that there's so many answers out there already when you're in a dire situation, that it's great to just do that sometimes as opposed to remaking the wheels. So, I think it just really put me in touch with a lot of different sources, I guess, for different things. Totally different things I never thought I'd have to deal with.
SW: So how has Columbia been an integral part of your story?
ND: Well, I was born and raised here. So that helps with my story. But you know, when I grew up here, I hated it. I hated it so much. No offense, I hated college students. I was like, "get off my streets." And I graduated high school and then lived in St. Louis for about six years and came back here and finished my degree. And even then, about 'til the time I opened up my business, I still was, like, looking to get out of here. But once I opened up my business and really dug into what Columbia had to offer — with First Fridays and constant events, these amazing world-class festivals, and like the community that supports these types of things, getting from one side of the town to the other in 15 minutes — I really started to realize that I was like: "Ooh, do I love it here? Like what's happening? This is very weird." And it just, I think being able to travel other places, but come back to a place that has the same quality theater, the same quality arts, is pretty astounding. And, I think just Columbia has a lot to offer. And if you're not, if you're bored, I think you're just not looking hard enough.
SW: So in light of everything that we have just talked about, what kind of city do you want to live in, and how have you helped and will continue to help make that a reality in Columbia?
ND: I want to live in a diverse, forward-thinking, unique, weird community. And I'm upset that Austin stole the "keep Austin weird." I would love to have that for Columbia, but whatever. So I, you know, that's my big thing, is keeping Columbia, and specifically downtown, individually owned. Keep it small businesses not necessarily chains or franchises. I want small, unique businesses; that uniqueness is what people travel here for. That's why True/False Film Fest was able to, you know, grow from the ground up to an international film festival. So, I think just supporting the small businesses as much as possible. Whether that's with purchasing from them or just posting on social media about them or, you know, being in this job where I can actually help them. It's important that we keep them here and they're not being replaced by Forever 21's ones or, you know, something like that.
And don't get me wrong, Lululemon is fantastic. We have them down here downtown, but they did it right. You know, they came in, and they kept the space small. They kept it feeling like Columbia. So if, if we need to drop those in every now and again, if they're respectful and do it the way that the city reflects, I think we can deal with that. But keeping that kind of interesting, who-knows-what's-around-the-corner feel for our downtown is what I'm interested in.
SW: You clearly have a passion for keeping downtown unique, weird, as you say, alive, diverse. So what type of legacy or what would you like to be known for here in Columbia?
ND: That's a great question. I would love to see an actual ordinance passed where you do have to be a ... that keeps the big franchises out —  essentially the big box stores — out of downtown. 'Cause it's not right now, which is concerning to me. But you know, I think just being a great person in this capacity and the director of the downtown's capacity is rewarding enough. And, if we just continue to grow the wonderful community that we have, you know, that leaves a good enough impression, and I'm happy there.
SW: Well, Nickie, thank you so much for joining us today on this special episode of Vox Voice.
Related Stories