The thing is, our city has a $1.9 million budget surplus from last year, and it seems to be distributed on March 18th.
There are few money-spending options that have been publicly discussed, and among them Mayor Bob McDavid's proposal to put $500,000 in restoring Blind Boone Home, the former residence of the renown ragtime musician "Blind" Boone" on Forth Street, gains some controversy.
Some of you might not even know who is this "Blind" Boone, I invite you to do some research by clicking this link.
According to one article in The Columbia Heart Beat, readers and commentators are furious about this squandering idea. Some say it's a move to win votes in elections while others argue, with the same amount of money, they can finish several luxurious home-building projects.
But the article also points out that saving Boone Home is a must-do priority to the city because supporting public facilities projects like building the downtown Garagezilla in 2011 is one of the government's major responsibilities.
So, what exactly does the mayor's proposal include to make this project so expensive and what are other options out there?
McDavid propose we:
Make the Boone Home "a proud and visible display of our heritage"
Finish the interior renovation
Build a $36,000 garden with its designed layout like this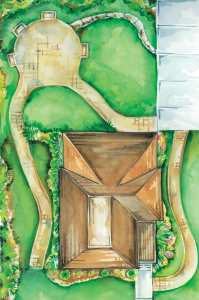 Other proposal on the tables are:
Fix Streets (with approximately $160,000 per mile)
TalkBack:
Tell us what do you think about Mayor Bob McDavid's proposal, and what do you think the city should spend the money?