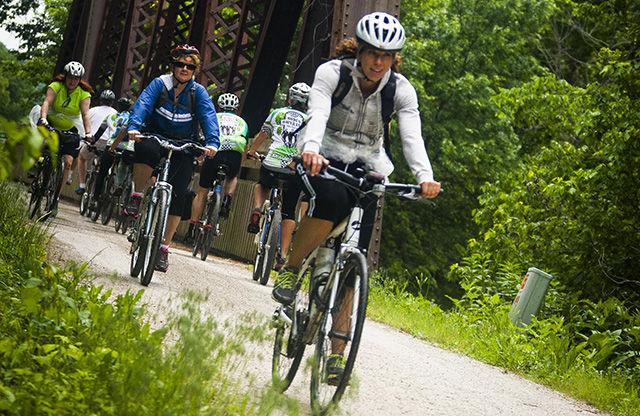 This one's not a race. Kemper Park will play host to thousands of bicyclists as they enjoy music, food and riding over Memorial Day weekend for Pedaler's Jamboree.
Bikers will start at Flat Branch Park Saturday morning before traveling 30 miles to Boonville's Kemper Park to reach the epicenter of the event. "This is probably the world's biggest traveling music festival," event planner Mike Denehy says. "People are migrating from all over the nation."
Planners are hoping for 3,000 riders.
Michelle Windmoeller, a competitive cyclist who is attending the festival for her fifth time, says she loves the relaxed atmosphere. "Pedaler's Jamboree is a really laid back, an easy going time to be out on my bike with my friends," she says. "It doesn't matter how fast or slow you go, everyone gets there." Attendees will camp overnight in the park and ride the same route back to Columbia the next day.
Several bands and food tents will be stationed in the surrounding counties along the Katy Trail as pit stops for riders. This year's lineup includes Jessica Hernandez and the Deltas, Moon Hooch, Old Salt Union and the Hooten Hallers.
"We are adding more bands than last year," Denehy says. "It's going to be an all-around bigger event. Expect lots of high energy, good food and good music."
Whether you're a competitive rider or someone who hasn't touched a bike in months (OK, years), Pedaler's Jamboree will help set your wheels in motion.