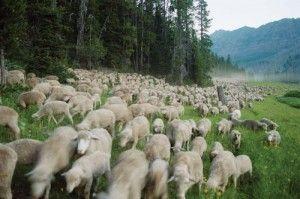 Post directed by Emily Senoff.
Sheep are cute. They baa, and their small bodies are covered in a thick, puffy coat of wool. They always seem to be smiling. At least that's how it looks in Lucien Castaing-Taylor's film Sweetgrass. Co-winner of the True Vision Award, which honors directors who creatively advance nonfiction filmmaking, Taylor gives the audience an immersive documentary about ranchers as they lead 3,000 sheep through the Absaroka-Beartooth Mountains in Montana.
The film begins with a close-up shot of some of the sheep. Taylor follows two ranchers on horseback, a few dogs and their herd of sheep as they travel through wooded forests, across small creeks and down the empty streets of Big Timber, Montana. Pat and John, the ranchers, share laughs, frustrations and hard work. The audience gets a sense of the ranchers while Pat shouts swearwords at the sheep and John sings broken melodies to himself. The end of the film leaves viewers with an overall sense of the ranchers' tough journey as well.
It's not hard to see why Castaing-Taylor won the award for this film. Even without music tracks, sound plays a big part in Sweetgrass. The first 20 minutes consists solely of the sheep communicating to one another and other environmental sounds. Viewers get to see intimate occurrences on the ranch, such as two baby sheep entering the world. Along with the sound, panoramic shots and detailed frames complete this poetic film package. It seems as though Castaing-Taylor and his camera are a part of the herd at some points. His lens-to-wool shots are balanced with distant views of grassy mountains and wide-open skies.
For a film that's simply about the monotonous and rigorous travels of present-day herders, Sweetgrass entices the viewers from the very first shot to the very last. The story of a dying tradition told in any other less-engrossing way would have been a lost cause, but Taylor's creative filmmaking efforts make the film a masterpiece.
Vox rating – VVVV
The Rating System:
VVVVV = Awesome! See it twice.
VVVV = Definitely go see it.
VVV = Hmm … it's okay.
VV = Eh. DVD, maybe?
V = Don't bother.