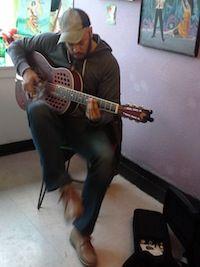 While ice cream filled their stomachs, French tunes and blues numbers filled the air at Sparky's Homemade Ice Cream. French quartet Les Trois Coups and Portland, Maine singer Samuel James took turns belting their hearts out and taking their clothes off at one of the last True/False buskers.
James kicked off the event playing an instrumental song on his beautiful Mahogany Tricone Resonator guitar. With his eyes closed, he strummed in a trance and showed off his loud, growly voice commanding control of the room with a mix of original and cover songs such as Leonard Cohen's "Tower of Song."
There was hardly a moment when James didn't have one foot swinging wildly in the air while the other rhythmically thumped the ground. The audience quickly followed suit, bobbing their heads and stomping their feet, not caring about the dirt and snow their shoes tracked in from the outside.
Performing two rounds each, James and Les Trois Coups alternated performances in 20-minute sets. A playful camaraderie developed between the two acts, as Les Trois Coups and James mimed hitting imaginary tennis balls to each other when it was time for the other to play. "I learned this from the French guys," James says near the end of his first set when he took off his hoodie and revealed a white sleeveless shirt underneath.
Produced by Nicole Lunger
The audience soon learned what James meant when Les Trois Coups dramatically stripped down from their fleece jackets to black sleeveless shirts during their second song. "Les Trois Coups is amazing," attendee Frankie Russick says. "They have so much fun and the best stage presence I've ever seen. People just can't stand still once they start playing."
The members of Les Trois Coups, Arti, Coach, Peyo, and Tomvaiche, had audiences moving from the first note of Coach's accordion. With a medley of instruments including guitars, wood blocks, and tambourines, the quartet mixed fast-paced, traditional French songs and theatrics. At one point, they were bouncing around Sparky's mimicking monkeys.
During one of their slower songs at the end of their second set, the quartet requested that audience members find a partner and dance. There were only around 15 people left, allowing far more room for the audience to move than earlier in the event when the crowd peaked around 40. Opting for a ballroom style, four crowd members managed to create some pretty swooping patterns.
Arti, who balanced singing and playing the flute and the saxophone, says Les Trois Coups has really enjoyed the fest and all the people they've gotten to meet. Much like the two performances at Sparky's, Arti says his True/False experience has been "something incredible."