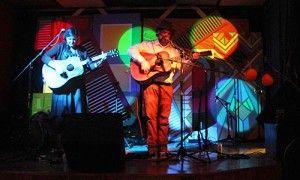 By Abigail Geiger
The windows fogged the expanded Café Berlin bar as a winter storm swept through downtown Columbia. As the weekend's bitter temperatures dropped, the shoulder-to-shoulder crowd paid little mind to anything but the four bands at the Toast/False Saturday Showcase.
Cindy Woolf and Mark Bilyeu, La Operación Jarocha, Toughcats and Les Trois Coups brought toe-tapping melodies of Missouri twang, Maine bluegrass, French charm and Mexican passion to the final Toast/False showcase.
The crowd built slowly as the showcase progressed. Festgoers swilled whiskey and pushed back the fatigue of the third day of the fest with some dance moves.
Openers Cindy Woolf and Mark Bilyeu offered clean and genuine Missouri-infused country. When La Operación Jarocha jumped on the stage, their stringed instruments and bright smiles showed their infectious happiness through their fiddling fingers and beautiful accents. Toughcats followed with a bluegrass performance that provided a mellow break amongst higher-energy acts. The trio of Les Trois Coups, after a long set-up, finished off the night with a charismatic performance inspired by traditional French music.
Josh Arnett said he had really just come there for a drink but was surprisingly pleased with the show, particularly with Cindy Woolf and Mark Bilyeu. "It's pretty good," Arnett says, peering around at the huge crowd. "I'm really glad I came."
Ice clinked in glasses as bundled-up attendees enjoyed the deep, bluesy music. As one of the fest's last musical events, both performers and audience members showed the desire for fun that is so indicative of True/False. By Saturday night, most fest attendees are riddled with exhaustion, but the motivation to keep on experiencing all the fest can offer is what puts smiles on their faces and leads their feet to the dance floor.
Across the street, Mojo's A Go Go offered a more electronic experience with SpaceIsThePlace, Née and MNDR. Two little beacons in the cold, both showcases transformed the corner of Tenth Street and Park Avenue into a musical refuge for the night.